Women's world U20 hammer champion Silja Kosonen in Nairobi (© Dan Vernon)
If there was any doubt over just how much the World Athletics U20 Championships experience means to athletes, then the upset women's hammer champion Silja Kosonen showed when she discovered she was due to travel home before her medal ceremony made it clear.
"Getting European U20 Championships gold, going to the Olympics and now this, it's like crowning everything," said the Finnish thrower after her win in Nairobi. "I'm super happy but I was just crying because I don't know if I am going to make it to the medal ceremony, but I guess my team is going to try. Other than that, I am super happy. I am going to remember this day forever."
Thankfully, she did make it to the ceremony, and the 18-year-old could not contain her joy at being on top of the podium and making even more memories alongside her fellow medallists Rose Loga of France and Maryola Bukel of Belarus.
Asked how much her medal meant, Kosonen replied: "It means everything. It shows that I can get good results, even under a lot of pressure. I can say that I am a world champion. It means so much."
On who she will dedicate it to, she added: "To my family, my coach and to everyone cheering me on."



It has been a remarkable year for Kosonen, who opened her season with a senior national record of 72.44m to also break the long-standing European U20 record set by the late 2000 Olympic champion Kamila Skolimowska.
The rising throws star then improved by almost another metre, throwing 73.43m in June to break the 16-year-old world U20 hammer record held by China's Zhang Wenxiu. That performance came in Vaasa, where Kosonen claimed her second Finnish title, and she went on to win the European U20 title in Tallinn and compete at the Olympics in Tokyo before her World U20 Championships success in Nairobi. The teenager threw beyond 70 metres at each of those competitions and has broken that barrier at a total of seven events in 2021, adding more than two metres to her best this year.
It is coach Jani Pihkanen who has guided her to that success, with that partnership having begun in 2018.
"I think many underestimate him because he is only 26, but he is very good because he has thrown," Kosonen said of Pihkanen. "So he knows what he is talking about and he is so young that we connect well."
Kosonen also attributes her development to her training set up and having avoided illness and injury during the pandemic. She trains in Raisio, near Turku, which is just five minutes from her home.
"Everything has gone well," she said. "I haven't had any injuries, I haven't been sick. I have been super careful, because of Covid."
Kosonen's journey in athletics properly began around three years ago, when she decided to focus on the hammer ahead of her other sports.
"I have done everything from swimming and orienteering to skiing and cross country," she explained. "I focused on athletics maybe at the age of 15 because I didn't have time for everything. I played football for a long time and ended that in 2019.
"This is the best, I like this so much."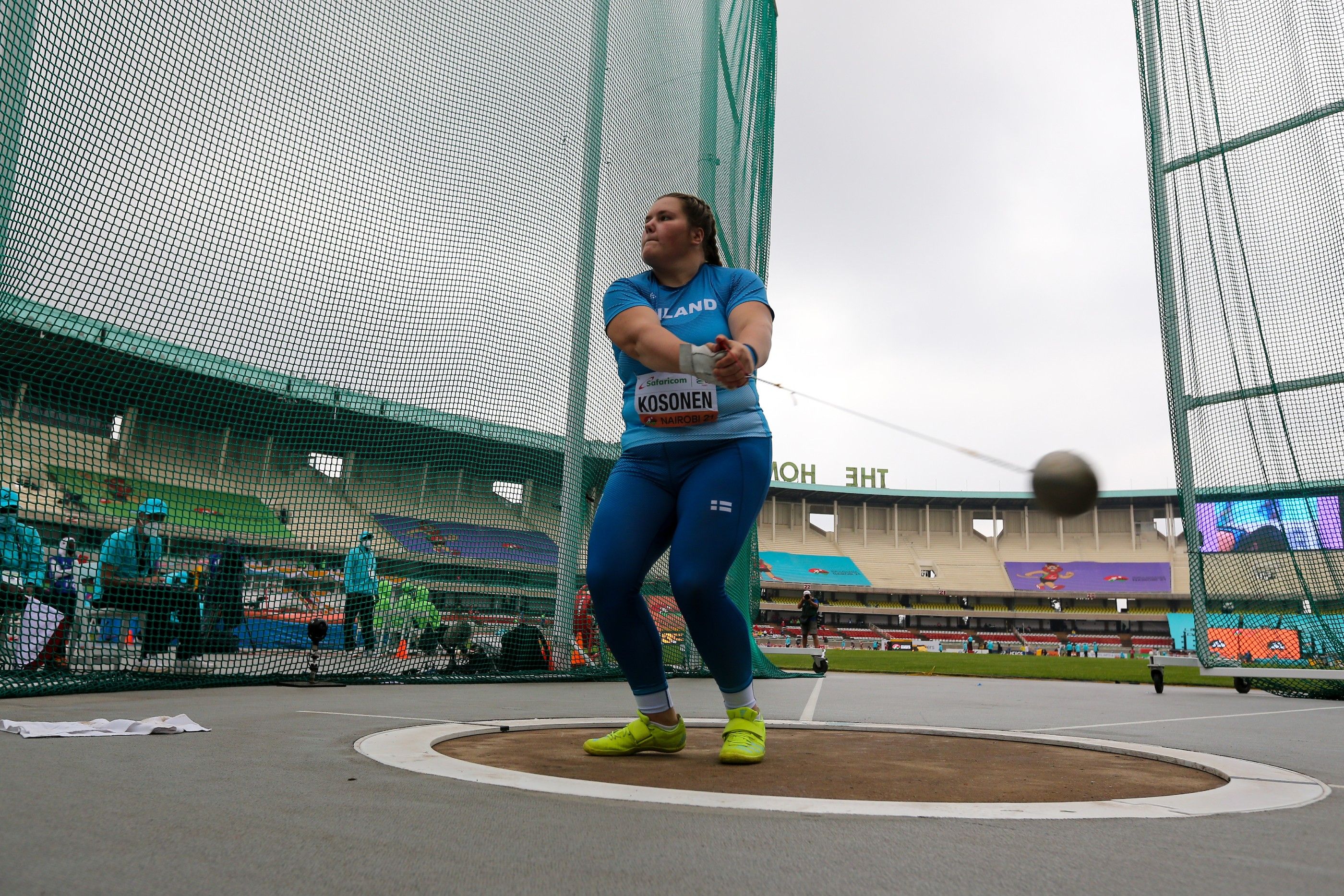 (© Roger Sedres)

With four gold medals and one silver at the World U20 Championships, the Finnish team placed second on the medal table behind hosts Kenya and Kosonen believes that is the result of a good team spirit, good facilities and lots of hard work.
Forming part of a well-rounded team, her fellow gold medallists were heptathlete Saga Vanninen, 400m hurdler Heidi Salminen and javelin thrower Janne Laspa, while Juho Alasaari secured silver in the pole vault.
"It's so good," beamed Kosonen, delighted to be continuing Finland's throws success but helping to put the hammer in the spotlight. "And it's not only the medals, but making finals."
Having made her Olympic debut in Tokyo at the age of just 18, Kosonen is sure to be targeting more global championships action as she steps up to the senior stage, with much to look forward to with two editions of the World Athletics Championships and the Olympic Games all taking place within the next three years.
She also has some key figures to look to for inspiration.
"Sophie Hitchon in Rio was really good," replied Kosonen when asked about her idols. "Her last throw there, it took the bronze medal.
"And of course Anita Wlodarczyk," she smiled. "You have to say her because you know, 82 metres, almost 83!"
The way she has started, don't be surprised to see Kosonen following in their footsteps.
Jess Whittington for World Athletics