Mine De Klerk celebrates her shot put win at the World U20 Championships in Nairobi (© Dan Vernon)
South Africa's Mine De Klerk sealed a sensational medal double with a golden performance in the shot put, while Yonathan Kapitolnik made history once again for Israel on the penultimate afternoon of action at the World Athletics U20 Championships in Nairobi.
Just one day after her silver medal-winning performance in the discus, De Klerk returned to the Kasarani Stadium on Saturday (21) to complete an impressive throws campaign.
The South African champion and national U20 record-holder would have needed just one throw to secure victory in her favoured event, as she launched the shot 17.30m in the first round, but she went on to enjoy a solid series from which any of her five valid throws would have been enough to take the title. She eventually capped her afternoon with 17.40m in the final round.
"It's overwhelming, I still can't believe it's true," said the 18-year-old, who followed her opening 17.30m with throws of 17.24m, 16.77m, 17.15m, a foul and then 17.40m.
"I definitely wanted to win a medal in the shot put, gold was my goal. In the discus, I didn't expect to get a medal at all. I just came to enjoy it. When I got the silver I was blown away."
Turkey's 17-year-old Pinar Akyol went into the competition with a world U20-leading PB of 17.65m, a mark 10cm better than this season's No.2, De Klerk. But the tables turned in Nairobi as De Klerk got gold and Akyol the silver, with the European U20 champion having thrown 16.72m in the third round.
There was double medal success for South Africa, with De Klerk's teammate Dane Roets, the 2018 African Youth Games champion, claiming bronze with a best of 15.61m.
Theirs are two of South Africa's eight medals claimed so far in Nairobi and on the success of the whole squad, De Klerk added: "I'm very proud of what we all have achieved because everyone is doing brilliant, it just keeps amazing us every day."
Another athlete who is sure to have amazed his team is Israel's Kapitolnik, as he became his nation's first ever world U20 champion. The 18-year-old high jumper had already made history in July by claiming Israel's first ever European U20 title in Tallinn and in Nairobi he had the competition of his life to add global gold to that continental success.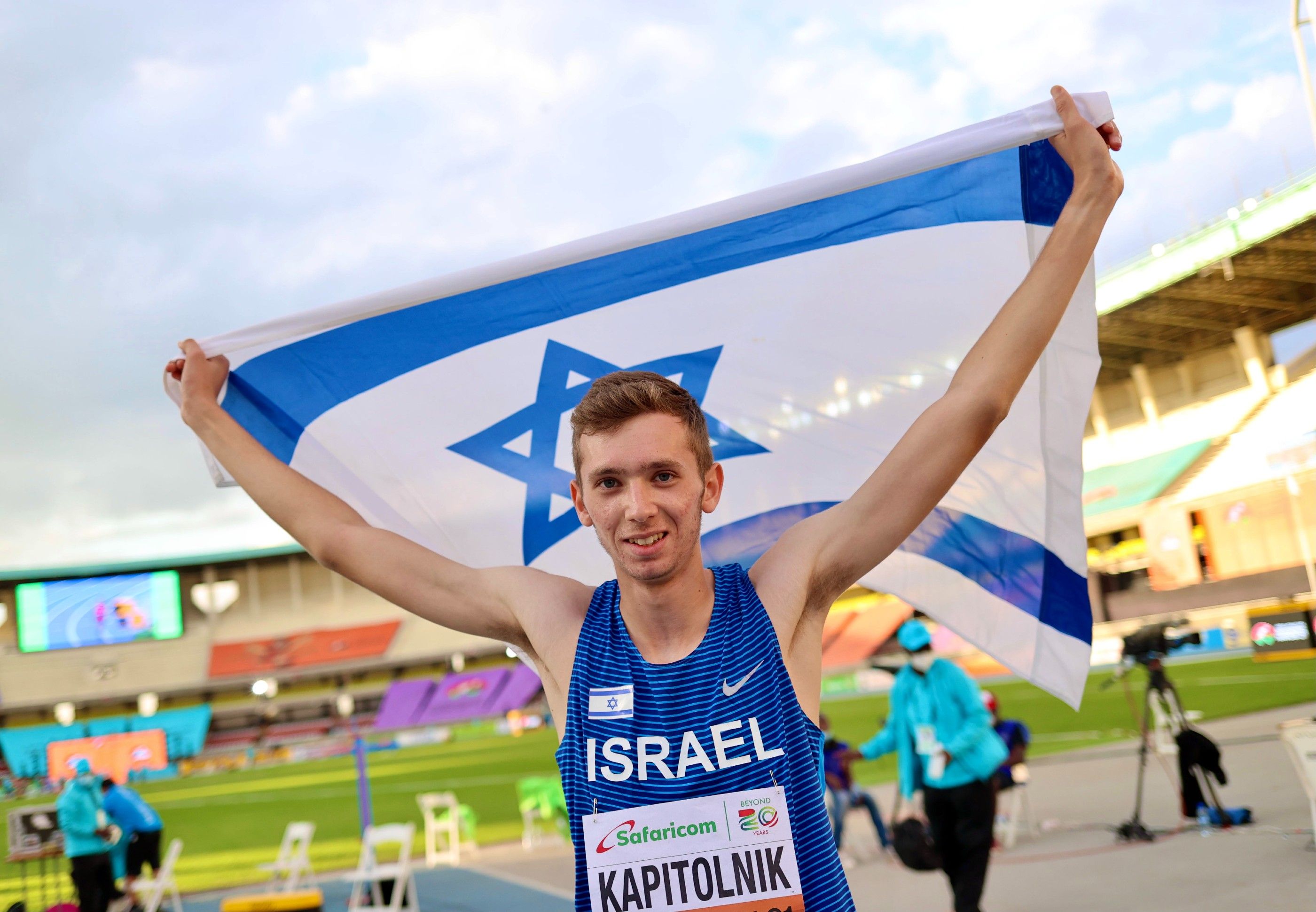 The high jump final had come down to a four-way battle for the medals but 2.17m proved to be the decisive height. Kapitolnik had entered the competition at 2.06m and, like Italian U20 champion Massimiliano Luiu, Poland's European U20 silver medallist Mateusz Kolodziejski and Nigerian U20 record-holder Omamuyovwi Erhire, he had a perfect record up to 2.14m. While Kapitolnik and Luiu soared clear first-time at 2.17m, Kolodziejski needed three attempts. The medals were then decided, with Erhire unable to make it over that bar, and when Luiu and Kolodziejski both couldn't manage 2.19m, Kapitolnik's victory was secured.
He decided to skip 2.21m and with the bar at a PB height of 2.26m he soared clear first time to add one centimetre to his previous best set in Tallin. Prior to this year, his PB had been 2.18m.
"I'm feeling great," said Kapitolnik. "Everyone that comes here is such a great athlete, you can't come to this world competition if you are not the best of the best. So the fact that I am coming here, competing with the best of the best in our age, and being able to do this and win, it's really great."
Luiu's first-time clearances up to 2.17m secured him the silver, with Kolodziejski getting bronze on countback.
"I had a point to prove in Kenya, having failed to make the final in the European Championships last month," said Luiu. "You can say I was motivated for revenge, which I did in style. Both the medallists were really very strong."



Finland's Silja Kosonen had broken the 16-year-old world U20 hammer record in June, throwing 73.43m, and she was in record-breaking form again in Nairobi. Dominating the competition, the 18-year-old European U20 champion opened with 70.53m before improving to a championship record of 71.64m in the second round. She managed 68.41m in the third round and fouled the fourth, before 65.28m in the fifth and then 70.63m in the sixth.
French thrower Rose Loga, who set a national U20 record of 71.09m in January and secured silver behind Kosonen in Tallinn, was again the runner-up as she threw 67.11m. It was a repeat of the European podium as Maryola Bukel of Belarus claimed bronze thanks to a 65.20m throw.
"It has just been the perfect season," said Kosonen, who also competed at the Olympic Games. "I'm going to remember this day forever.
"Out of my five well taken throws, three of them were above 70 metres, and that shows me that I am on the right track in my career."
A barrier was broken in the decathlon as Frantisek Doubek of the Czech Republic achieved an 8000-point performance for the first time, scoring a world U20-leading 8169 points to get gold ahead of Belgium's European U20 champion Jente Hauttekeete.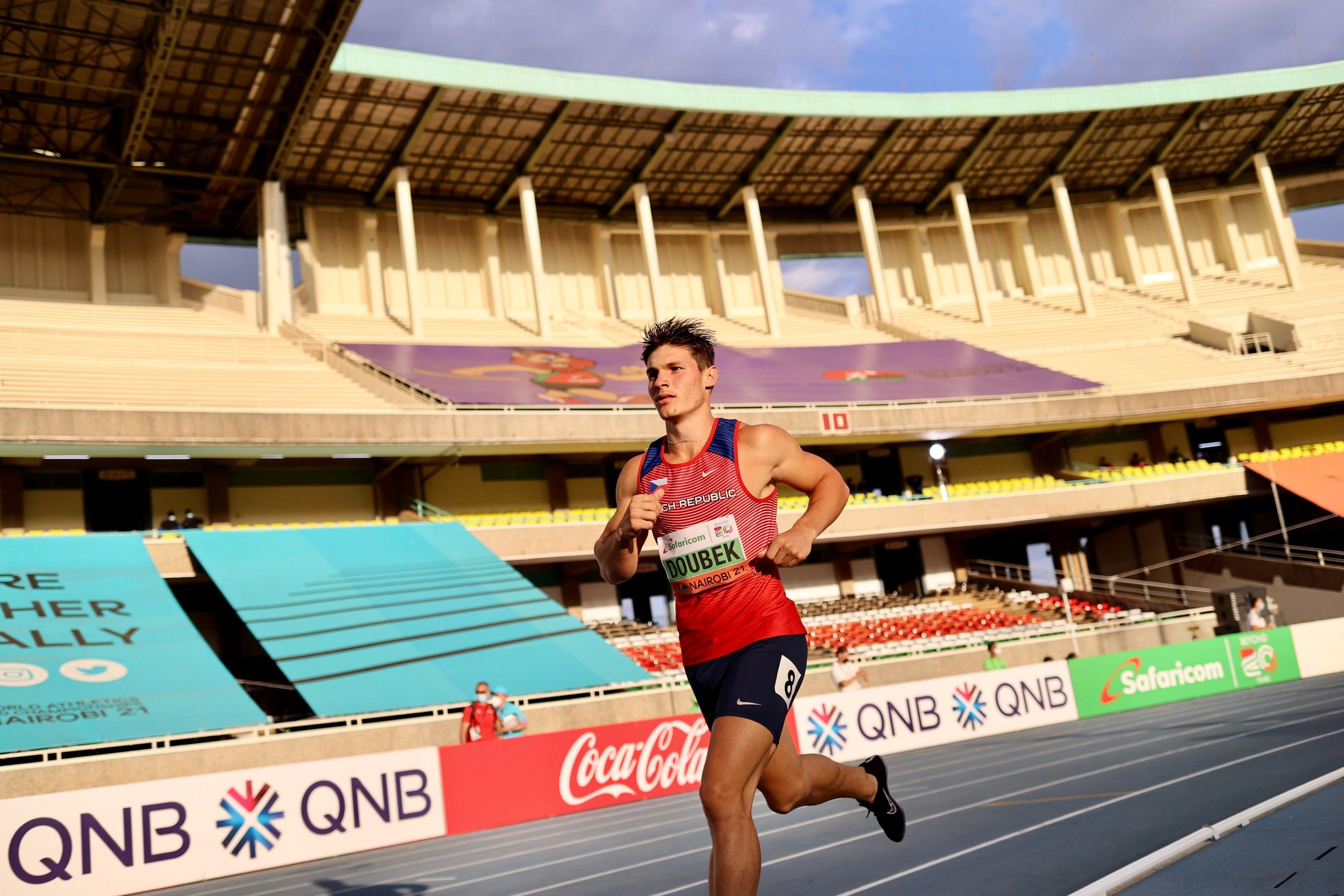 Doubek didn't have the chance to go for gold in that competition in Tallinn, as he was disqualified from the decathlon 400m, and so this victory offered something of a redemption.
"I feel really amazing right now, I never thought I could score over 8000 and now it is 8169," said Doubek, who improved Jiri Sykora's Czech U20 record and moved to fourth on the world U20 all-time list. "I'm really happy with that."
On his disqualification in Tallinn, he added: "I was so sad about it, because I felt that I could beat 8000 points there."
Pushing him in Nairobi was Hauttekeete, who secured silver with 8053 points, while Spain's Jose San Pastor will join them on the podium after scoring a national U20 record of 7430 points to also bounce back after a 400m disqualification during the European U20 competition.
Doubek achieved his victory thanks to superb consistency across the 10 events, which saw him finish top in the 400m (48.72) and discus (45.74m), and second in the 100m (10.93), long jump (7.19m), high jump (1.97m), 110m hurdles (14.10), pole vault (4.80m) and javelin (64.03m). He also threw 14.96m in the shot and ended the two days of competition with 4:52.39 in the 1500m.
Hauttekeete, meanwhile, had led through the first eight events, before slipping to silver when Doubek's 64.03m javelin throw saw a 50-point deficit turned into a 142-point advantage. He clocked 10.89 in the 100m, leapt 7.44m in the long jump, threw 15.61m in the shot, cleared 2.09m in the high jump and then ran 48.99 in the 400m to finish the first day in top spot. On day two he ran 13.95 in the 110m hurdles, threw 41.47m in the discus and cleared 4.50m in the pole vault, before a 51.24m javelin throw and 4:48.18 1500m.
Finland's Ville Toivonen and Aleksi Savolainen placed fourth and fifth with respective scores of 7275 and 7183.
Jess Whittington for World Athletics