Letsile Tebogo and Udodi Onwuzurike (© Roger Sedres)
Although mostly known for its success in the middle and longer distances, Africa has also produced some excellent sprinters over the years.
The likes of Wayde van Niekerk, Akani Simbine, Marie-Josée Ta Lou, Divine Oduduru and Isaac Makwala have been the sprinting torchbearers for the continent, but now their younger counterparts are already gearing up to take over.
At the recent World U20 Championships Nairobi 21, African athletes achieved the continent's best ever haul in the sprints, earning 13 of the 18 medals on offer in the men's and women's 100m, 200m and 400m.
Letsile Tebogo, Udodi Onwuzurike, Christine Mboma, Anthony Pasela, Imaobong Nse Uko and Benjamin Richardson are just some of Africa's rising sprint stars, and their achievements this season could signal a revival for the continent.
When Tebogo opted to compete in the 100m and 200m, despite hailing from a country best known for its quarter-milers, it was with the aim of breaking barriers and inspiring a change in Botswana.
But the 18-year-old surpassed even his own expectations in Nairobi when he gifted his country its first ever global gold medal in the 100m, setting national U20 records of 10.22 and 10.11 in the process. His 10.11 clocking actually broke the senior national record, surpassing Makwala's former mark of 10.20 set seven years ago.
"The motivation to get into athletics was from watching the big guys like Isaac Makwala, Karabo Sibanda and Nijel Amos," said Tebogo. "However, I just really wanted some change in the country, so I had to do something different from the big guys, that's why I opted to compete in the 100m and 200m. I'm really proud of my performance and I know back at home they're proud of me bringing the first gold medal to Botswana."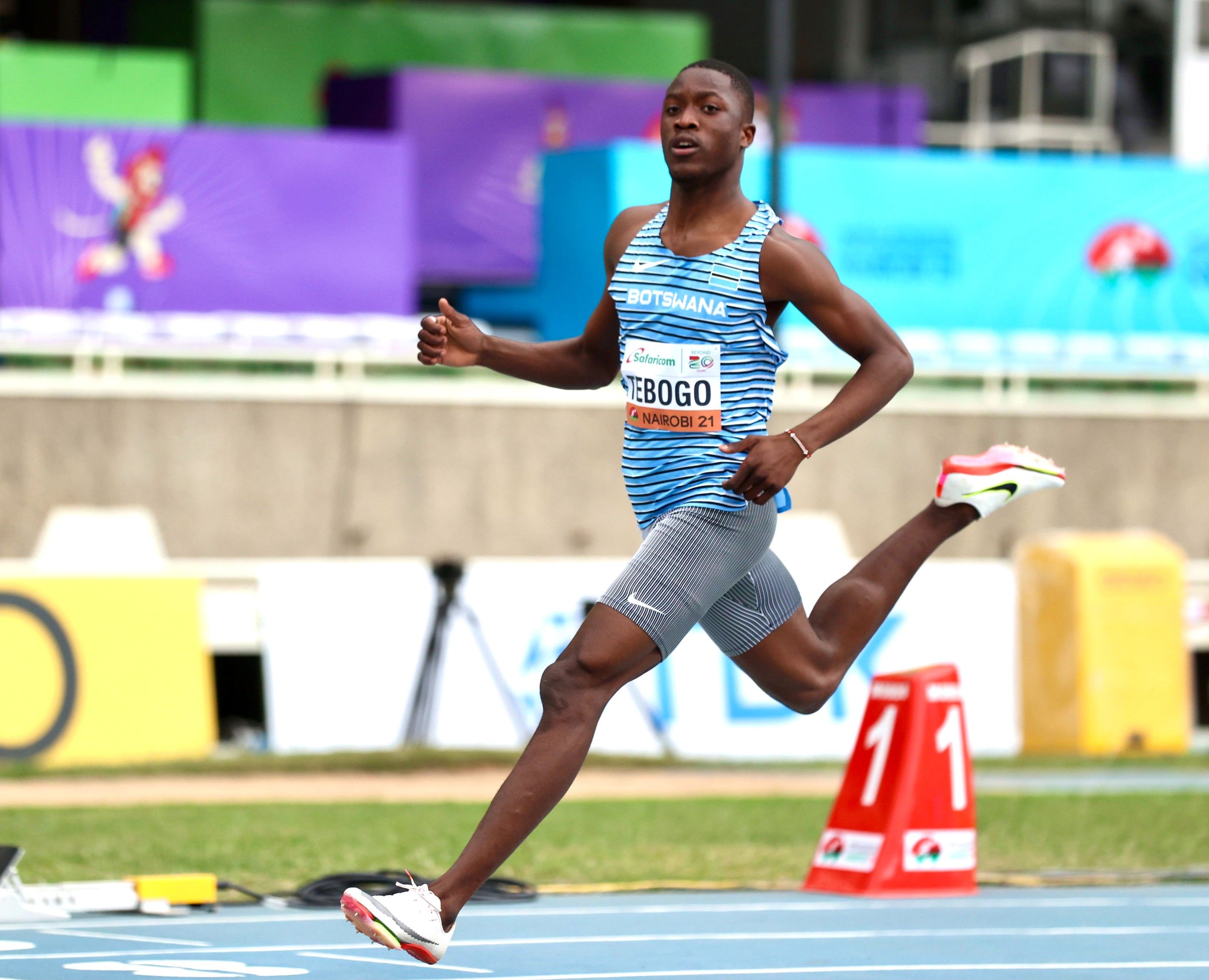 Tebogo led a 1-2 for Africa as Benjamin Richardson of South Africa took silver in 10.28 while Cuba's Shainer Rengifo earned bronze with 10.32.
For Richardson, who would go on to anchor his country to Africa's first ever gold in the men's 4x100m in a world U20 record of 38.51, the podium finishes by Botswana and South Africa in the men's 100m is the start of something big for the continent.
"We've started to become better," he says. "Two Africans finishing first and second; you can see that there's something coming. We're going to dominate soon."
Tebogo also competed in the 200m, which had been regarded as his stronger event. A sprint double was not to be, though, as he eventually took silver behind Nigeria's Udodi Onwuzurike, who didn't appear as a likely medal contender in the build-up to the championship.
Onwuzurike also started in track and field when he was about eight years old, and he grew up watching his brother Chiebuka, who is older by almost six years, compete in the 100m and 200m. The older Onwuzurike went as far as competing for Boston University and holds personal bests of 10.46 and 21.37. For the younger Onwuzurike, the dream was to take things a notch higher: become an NCAA champion, an Olympic champion and a world champion. And so began his quest.
At the World U20 Championships in Nairobi, Onwuzurike's first ever outing for Nigeria, he lowered his personal best from 20.78 to 20.47 in his heat, and then clocked 20.13 in the semifinals which would have been a championship record but for the wind (2.4m/s).



He then stormed to gold with a national U20 record of 20.21 to become the first Nigerian in World U20 Championships history to win 200m gold since 1996 when Francis Obikwelu won the sprint double, and the second fastest Nigerian over the distance in 2021. South Africa's Sinesipho Dambile clocked a season's best of 20.48 for bronze, completing the African sweep.
Though stung by his loss to Onwuzurike, Tebogo said that the overall 200m result was a good one for Africa. "I'm really proud and excited about this," he said. "It (an African sweep) was my dream. Even in the call room I told Dambile 'Bro we have to do this. We have to bring the medals back home'. I felt it should be a 1-2 or 2-3, but maybe the Nigerian overheard us and that's why he came to beat us," he added with a chuckle.
For Onwuzurike, who is off to Stanford University soon, making history for Nigeria and Africa is a dream come true.
"I would say it's surreal, it's amazing," he said. "I never thought I would be able to make it to this level of track, I never even knew I would be able to go to college running track. Track was always first like a fun sport because I've always been a little quick but it's amazing. Having this as one of my last high school races before I go to college, it's an amazing moment.
"I had a very rough year and got injured numerous times and felt my numbers were not really good at showing what I'm capable of, so coming out and being able to show on the global stage that I'm truly the best is amazing. It's all I ever wanted, all I ever prayed for."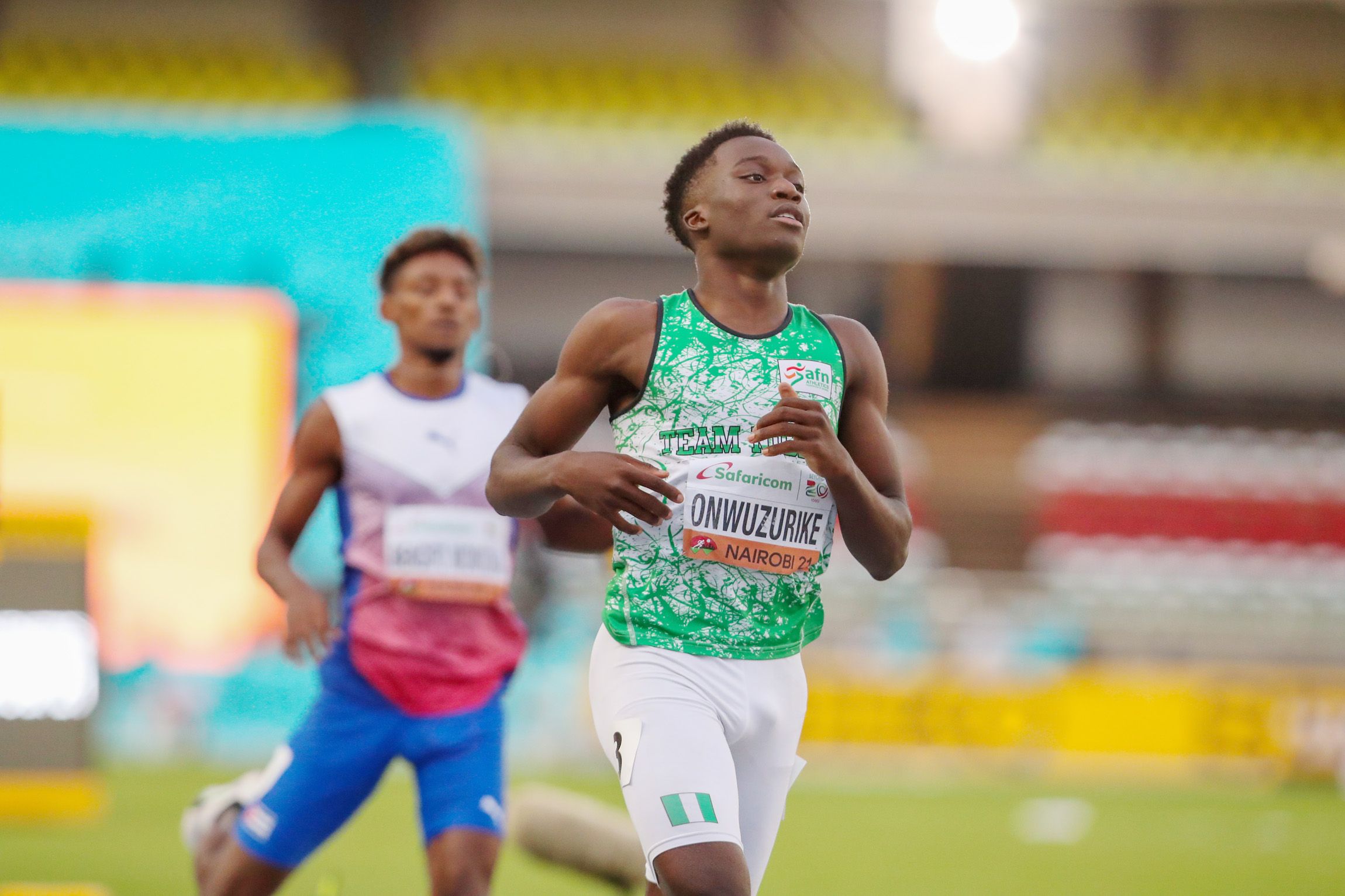 Nigerian 400m runner Imaobong Nse Uko was the only athlete in Nairobi to win three golds, securing them in the women's 400m and 4x400m as well as the mixed 4x400m, proving instrumental in setting world U20 leads and championship records in both relays. Her gold-winning time of 51.55 in the 400m, a personal best, is the second fastest by a Nigerian this year as she finished ahead of Poland's Kornelia Lesiewicz and Kenya's Sylvia Chelangat who set lifetime bests of 51.97 and 52.23 respectively.
Despite Botswana's prowess in the 400m, Anthony Pesela became the first athlete from his country to win gold in the event at the World U20 Championships, improving on Karabo Sibanda's bronze from 2016.
Coming to Nairobi with a personal best of 46.10, Pesela stunned the rest of the field to win the title in a championship record of 44.58, becoming only the third African after Nigeria's Awotoro Adediran (1994) and Nduka Awazie (1998) to win the men's 400m.
Mexico's Luis Avilés set a national U20 record of 44.95 to take silver while South Africa's Antonie Nortje upstaged pre-championship favourite Lythe Pillay to place third in a lifetime best of 45.32.
Pesela's PB in Nairobi makes him the second-fastest Batswana across all levels this season, second only to Makwala's season's best of 44.47. The 19-year-old said he was motivated by Tebogo's feat in the 100m and had to maintain the winning streak for his country: "He (Tebogo) told me 'Go and jog those boys' so it really motivated me because he's also my roommate. I just told myself that my roommate can't come here and win a gold medal and I go back home without a medal."
Pesela also ran a blistering second leg for Botswana in the men's 4x400m as the team raced to a world U20 lead of 3:05.22, with Jamaica and Kenya following in second and third respectively.
As the curtain gradually falls on the 2021 season and the countdown to the 2022 World Championships in Oregon begins, some of these rising stars are already eyeing the big stage. Onwuzurike, Pesela, Mboma, Masilingi and Ofili have already surpassed the entry standards for Oregon by virtue of their performances in Nairobi while Tebogo and Uko are close to qualifying.
On learning that he had already qualified for Oregon, Onwuzurike definitely echoes the sentiments of his fellow youngsters when he says, "I'll see you guys at the World Championships".
Yemi Olus for World Athletics