Tadese Worku celebrates his 3000m win at the World Athletics U20 Championships in Nairobi (© Dan Vernon)
As he crossed the Kasarani Stadium finish line, Tadese Worku threw his arms in the air, delighted to be following in the footsteps of his idols.
The 2019 world U20 cross country silver medallist this time got the gold as he dominated the 3000m final at the World Athletics U20 Championships Nairobi 21 on Wednesday (18), leading an Ethiopian 1-2.
The 19-year-old, who improved his PB to 7:34.75 in Szekesfehervar in July, clocked 7:42.09 in Nairobi to gain his first global gold ahead of his teammate Ali Abdilmana, who ran a PB of 7:44.55. Habtom Samuel of Eritrea claimed bronze in 7:52.69, part of a series of PB performances as his compatriot Merhawi Mebrahtu clocked 7:55.50 and Lionel Nihimbazwe of Burundi ran 8:04.07.
"I'm feeling good, I'm feeling very happy because I got the gold," said Worku, speaking through an interpreter. "Congratulations to my country."



The men's 3000m was being held at the World U20 Championships for the first time and big pre-race favourite Worku was determined to make history by becoming the inaugural champion. Controlling the race, he was joined by Abdilmana and they ran together until Worku kicked to victory.
"I know myself, I prepared myself a lot in my country," explained Worku, who saluted the stands on his way to the finish and had enough time to drop to the track in celebration and get back up again before bronze medallist Samuel reached the end of the race. "When I was running with my competitors, I tested myself, and then I tried to kick."
It was at the 2019 World Cross Country Championships in Aarhus, Denmark, where Worku made his major championships debut. That year, as a 17-year-old, he ran 7:43.24 for 3000m and 13:18.17 for 5000m. Under the guidance of coach Teodros Hailu, a former football player and the husband of Ethiopia's two-time Olympic and two-time world 5000m champion Meseret Defar, Worku has since improved to that 7:34.75 for the 3000m as well as 26:58.30 for 10,000m – a time which saw him finish fifth at the Ethiopian Olympic trials in Hengelo in June.
His hope had been to also compete at the Tokyo Games but he was pleased to see his compatriot, role model and training partner Selemon Barega take the 10,000m title there.
"My role model is Barega," Worku explained. "In the Olympics I saw him, I felt proud, and I followed his footsteps (to win in Nairobi). I prepared myself to be like him."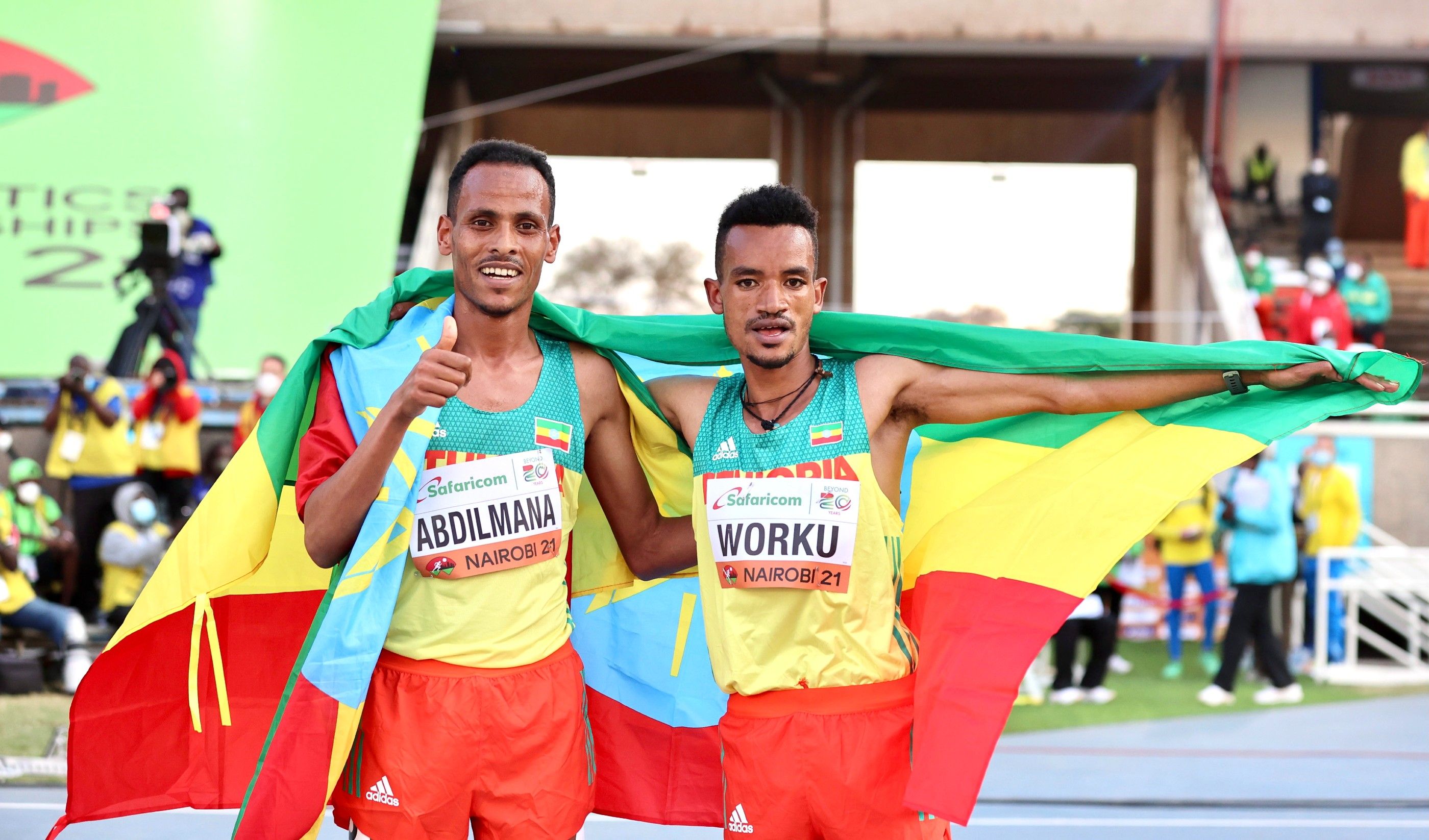 Barega claimed his own world U20 title in 2016, when he won the 5000m in Bydgoszcz. The event's roll of honour also includes the likes of multiple global gold medallist Haile Gebrselassie (1992), two-time world 5000m champion Muktar Edris (2012) and two-time world indoor 3000m champion Yomif Kejelcha (2014).
"I have been training with Teodros twice a day to get myself into better condition," said Worku. "I was training in the centre of Addis Ababa and around Addis, in places like Sululta and others. Sometimes when we want to train in the city we train on the track at the academy.
"My training partners are legends of the Olympics and World Championships," he added. "Muktar Edris, Selemon Barega. They are my friends and I have been training with them."
And now Worku also has a global gold medal, just like them.
Jess Whittington for World Athletics