Ecuador's Angela Tenorio in action at the World Relays (© Getty Images)
While qualifying for major championships is serious business for most teams competing at the World Athletics Relays Silesia 21, there's still scope for some light-hearted and less-pressured disciplines at the Silesian Stadium on 1-2 May.
Indeed, these non-championship-qualifier disciplines have provided some of the more memorable and surprising moments at the World Relays since the inaugural edition in 2014, and that looks set to continue this year.
The mixed shuttle hurdles relay and mixed 2x2x400m will be held as straight finals on day one, while the men's and women's 4x200m events will be held as straight finals on day two.


Men's 4x200m: Germans carry slight edge
Having finished third in 2015 and 2019, Germany will be aiming for another top-three finish when they line up for the two-lap event.
Their line-up for Silesia, however, is completely different than the quartet that set a national record of 1:21.26 in Yokohama two years ago. Two-time national champion Steven Muller is the fastest member of their squad, but he has limited relay experience.
In terms of pure speed, Ecuador boasts the strongest sprinter of the entire field in the form of world bronze medallist Alex Quinonez. His four teammates – three of whom are teenagers – will be hoping the Pan American champion can put the team in the mix.
Kenya has a surprisingly solid record in this event at the World Relays, having placed fourth in 2019 and fifth in 2014. Mark Odhiambo, who featured on Kenya's team in 2017 and 2019, is back for his third World Relays performance and is fresh from a recent 10.11 100m PB.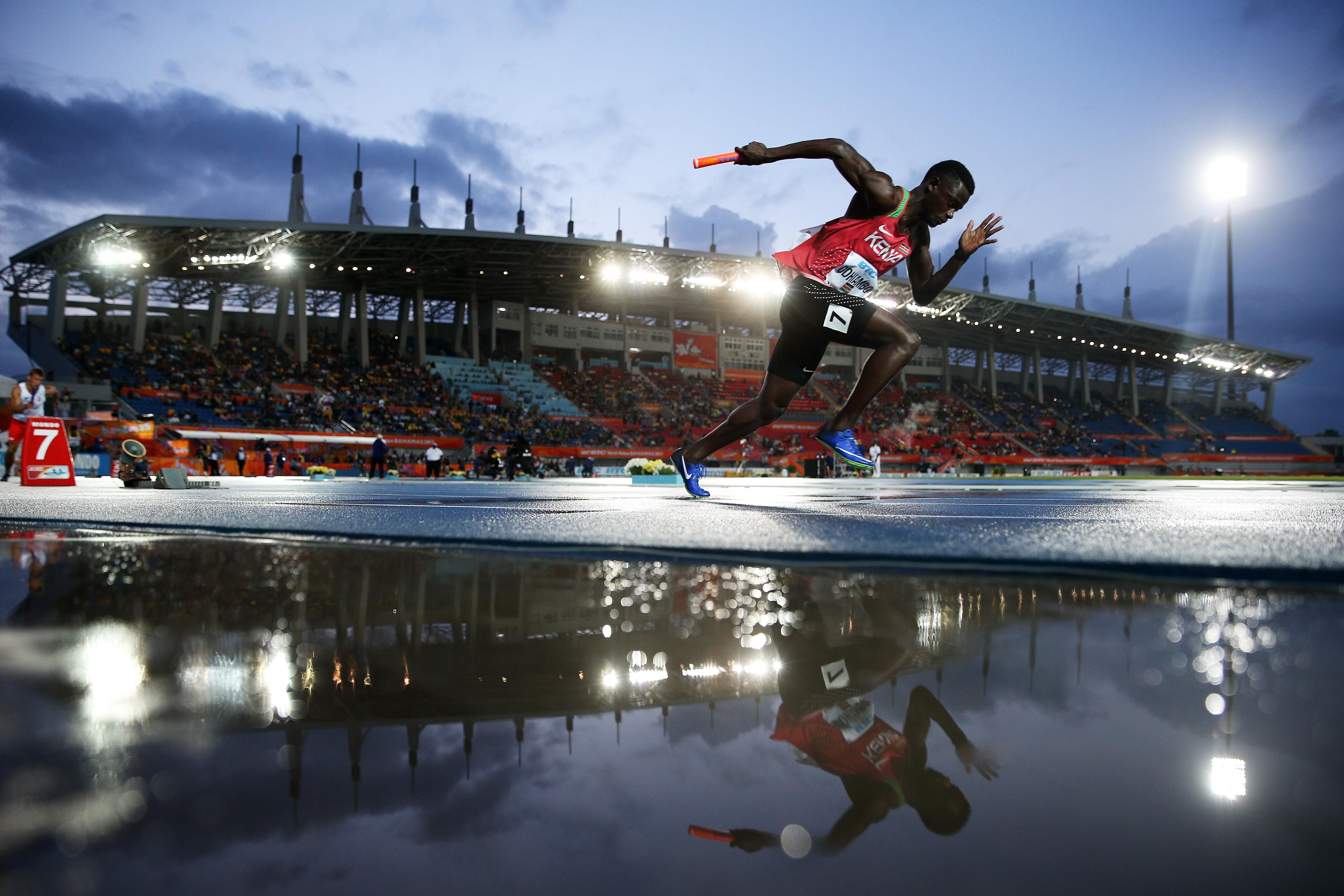 Kenyan sprinter Mark Odhiambo at the 2017 World Relays (© Getty Images)
Denmark may not have the same depth as some nations, but teenager Tazana Kamanga-Dyrbak – who recently set a Danish record of 20.48 – is their secret weapon. Even if they fail to finish in the top three, the national record of 1:25.53 is an achievable target for the Danish quartet.
Hosts Poland, the fourth-place finishers in 2015, has also entered a team, as has Portugal.


Women's 4x200m: wide open race with new winner guaranteed
For the fifth consecutive edition of the World Relays, the women's 4x200m will have a new winner.
All four of the past winners – USA, Nigeria, Jamaica and France – haven't entered a women's 4x200m team for Silesia. It should still be a highly competitive race, though.
Ecuador, who set a national record of 1:35.91 to finish sixth in Yokohama two years ago, has entered the same quartet. Bolstered by the likes of multiple world U18 and U20 medallist Angela Tenorio and rising talent Gabriela Anahi Suarez, who ran 11.16 last year as an U20, the Ecuadorian squad has plenty of speed. It's just a question of whether their baton passes can do them justice.
Poland's 2019 European indoor 60m champion Ewa Swoboda and national 200m champion Marlena Gola feature on the host nation's team.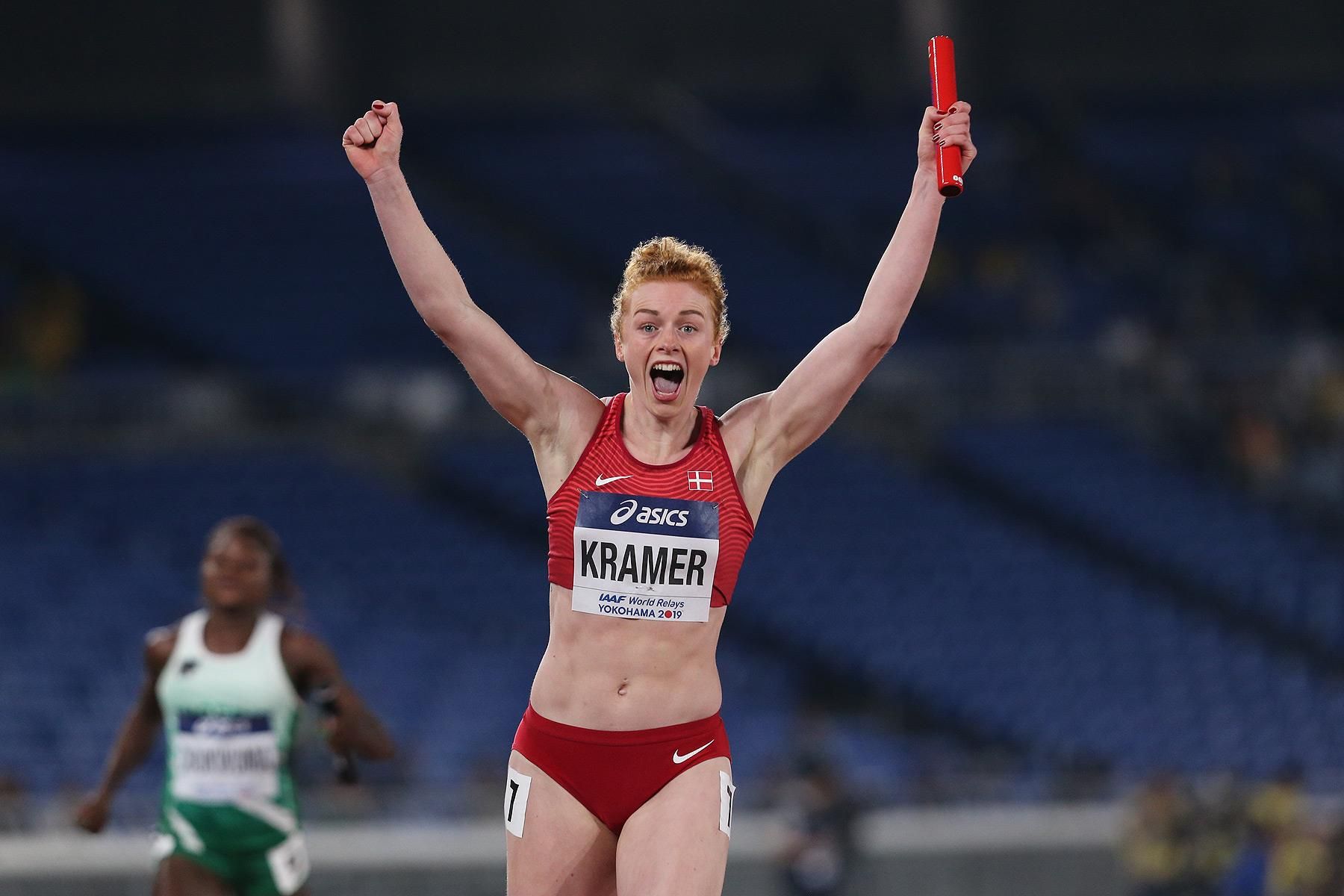 Mathilde Kramer of Denmark in the women's 4x100m at the World Relays Yokohama 2019 (© Roger Sedres)
The four women who set a Danish 4x100m record to win their heat at the last World Relays – Astrid Glenner-Frandsen, Ida Karstoft, Mette Graversgaard and Mathilde Kramer – have been named in the 4x200m for this year's competition. As is the case with the men's event, the Danish record (1:39.35) appears to be living on borrowed time.
Ireland's sprint depth has been steadily improving in recent years, and some of their rising stars – including 2017 European U20 champion Gina Akpe-Moses and hurdles specialist Molly Scott – will be in action in the 4x200m in Silesia.


Mixed 2x2x400m: hosts Poland take on the mighty Kenya
When this discipline made its debut at the 2019 World Relays, it became clear – roughly when the athletes were half-way through their second lap – that it suited middle-distance runners more than pure sprinters.
Armed with that knowledge, most countries have entered 800m specialists for Silesia.
Poland has a strong line-up which includes Patryk Dobek, the 400m hurdler who switched to the 800m earlier this year and won the European indoor title in what was his fourth competition at the distance.
He helped Poland to a fourth-place finish in this event two years ago, but with that 800m experience now in his legs, he'll be better equipped for the unique demands of this race. Olympic finalist and European indoor silver medallist Joanna Jozwik is also on the team.
But Kenya has also named a strong line-up for this event, featuring world 800m bronze medallist Ferguson Cheruiyot Rotich, Commonwealth 800m champion Wyclife Kinyamal and 1:58.04 performer Emily Tuei. Just two of those will compete, of course, and the race will all boil down to who has best distributed their energy between their two 400m efforts.
Slovenia, represented by Anita Horvat and Zan Rudolf, should also be in contention. Other entries include Belarus, Portugal and the Slovak Republic.


Mixed shuttle hurdles: close contest expected between Germany and Poland
Just three teams have been entered for this discipline this year, though just two of those carry realistic hopes of winning.
Poland's line-up features national record-holder Artur Noga and multiple national champion Damian Czykier. Klaudia Wojtunik, who clocked a PB of 13.08 last year, is the fastest woman on the team.
Germany, meanwhile, may call upon the vastly experienced duo of Erik Balnuweit and Gregor Traber, placing them alongside European finalist Ricarda Lobe.
Kenya is the third team entered, though their best hopes of relay success in Silesia lie in other events.
One of the newest disciplines on the World Relays programme, the shuttle hurdles relay features two men and two women on each team, running 110m legs. The race begins with the women running their standard 100m hurdles race from the finish line towards the traditional start, but running an extra 10 metres at the end of their leg to account for the extra distance.
They will then change over to the first man on the team who will run the standard 110m back up the straight in the adjacent lane and then change over to the second woman, who in turn will change over the second man who will run the anchor leg.
Jon Mulkeen for World Athletics