Mondo Duplantis celebrates his world pole vault record of 6.20m in Belgrade (© Getty Images)
The danger with an athlete as great, as gifted, as astonishingly accomplished as Mondo Duplantis is that we could easily become complacent about his class.
Such is the ruthless, clinical efficiency with which the 22-year-old has taken apart the pole vault record books in recent years, it's become almost routine, expected, for him to dominate, his greatness by now almost a given among fans.
But it's worth remembering – every time he does what he did on the final day of the World Athletics Indoor Championships Belgrade 22 – that this is no ordinary champion. These are no ordinary achievements.
With his clearance of 6.20m at the Stark Arena on Sunday night (20), the Swedish vaulter set his second world record in the Serbian capital in the space of just 13 days.
"I feel like Belgrade is going to be a special place in my heart forever," he said.



When searching for context about his achievements, the obvious starting point is with Sergey Bubka, who broke the outdoor pole vault world record 17 times during his career, the indoor world record 18 times – his 6.14m mark lasting 20 years before Renaud Lavillenie improved it in 2014.
While Duplantis has some distance left to go to rack up the same number of titles as Bubka – who won one Olympic gold, six world outdoor titles and four world indoor titles – the Swedish star looks well on his way.
He has studied the history of his event, which is the first step towards rewriting it.
"I know how much Bubka has pushed this sport to where it is today," said Duplantis on Sunday. "I want to do something similar to what he has done, because we're a lot more capable than we think we are. When you push the limits, you realise how possible the next (level) is."
At 22, Duplantis is already the reigning European indoor and outdoor champion, the Olympic champion and, as of Sunday night, the world indoor champion. Few would bet against him adding more gold at the World Athletics Championships Eugene22, and it seems improbable his dominance will end anytime soon.
But at the level he operates – far above his world-class contemporaries – improvements can be hard to find. It's worth noting that it took Duplantis two years and 54 attempts at 6.19m to finally clear that bar. His improvement to 6.20m took just two weeks and just three attempts, however, Duplantis giving the bar a slight rattle – but not nearly enough to knock it – as he folded his body over it on Sunday night.
Then he set off for the stands, showing his gymnastic ability by bouncing off the mat high over a horde of waiting photographers – off to hug his girlfriend and his parents, Greg and Helena, who have been the key architects of his success.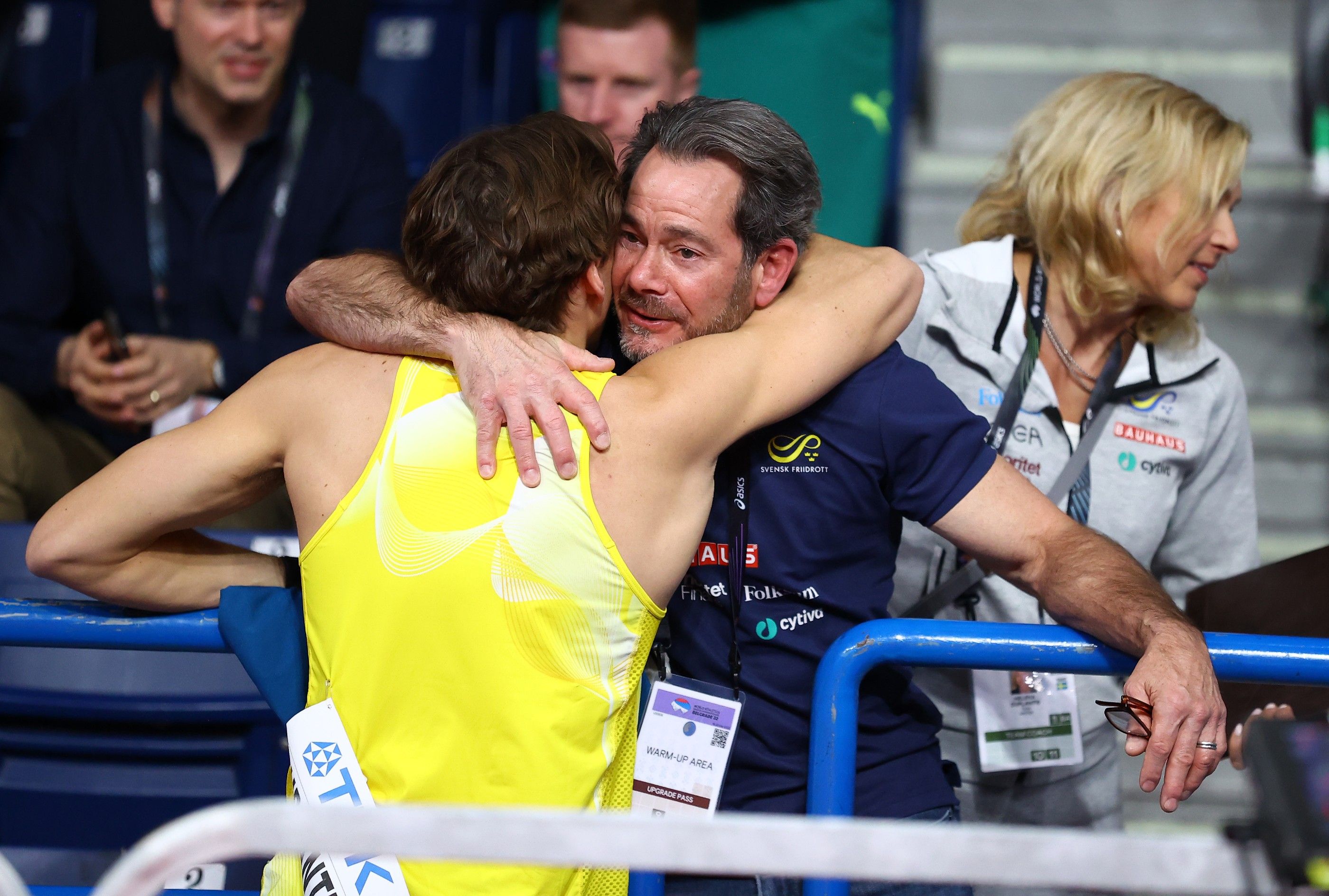 Helena was a national-level heptathlete in Sweden in her youth, who met Greg Duplantis – a world-class vaulter who retired with a best of 5.80m – while attending Louisiana State University in Baton Rouge, USA.
The couple reared four children in Lafayette, USA – Andreas, Antoine, Mondo and Johanna – all of whom displayed sporting ability at an early age. When realising that, Helena got involved in coaching, and she and Greg have nurtured Mondo's gift for pole vaulting with great care ever since.
Duplantis was perhaps the ultimate pole vault prodigy, clearing the highest known marks at every age from seven up to 12, and winning the world U18 title in 2015 at the age of just 15.
Like Usain Bolt, Lionel Messi or LeBron James, he performed at a level of those several years older in his teens, and rivals watched his progression knowing it was a matter of time before he completely took over. They were powerless to stop it.
In his childhood, Duplantis practised at home on a runway his father built, dreaming of nights like the one just passed in Belgrade.
"Vaulting in my back yard for 10 years, it was me just visualising myself on this stage, thinking about the crowd going crazy for a world record attempt," he said.
As great as he's been on the biggest stage in recent years, Duplantis had never set a world record at a major championships, but this first one of those is highly unlikely to be his last.
Following his record clearance, he unleashed a celebration that delighted the crowd, which packed the stands to the brim for Sunday night's session. Duplantis broke into a traditional Serbian dance, the Kolo, a video of which he'd studied on the bus on his way to the stadium.
Two weeks before, he had a "little taste" of rakia, a Serbian brandy, following his 6.19m world record in Belgrade, but Duplantis made sure not to indulge too much that night with his eyes firmly set on world indoor gold.
"I guess I don't have any excuses tonight," he laughed, before heading off into the night, having lit up yet another arena with his breathtaking talent.
Cathal Dennehy for World Athletics