Miltiadis Tentoglou in the long jump at the 2018 World Indoor Championships (© AFP / Getty Images)
Among athletics fans in his home country, Greek long jumper Miltiadis Tentoglou is known as 'the golden one'.
It's easy to see why, too.
Back in 2018, aged just 20 at the time, he struck gold at the European Championships in Berlin, becoming the youngest Greek man to win a continental title. It was the first of three successive European titles for Tentoglou as he followed it with indoor crowns in 2019 and 2021.
Later in 2021, Tentoglou achieved the biggest victory of his career so far when winning gold at the Olympic Games in Tokyo. His last-round leap of 8.41m was just enough to sneak the title on countback, overtaking long-time leader Juan Miguel Echevarria.
The 23-year-old now starts the 2022 season as No.1 in the world long jump rankings and his first big test of the year will be at the World Athletics Indoor Championships Belgrade 22 on 18-20 March.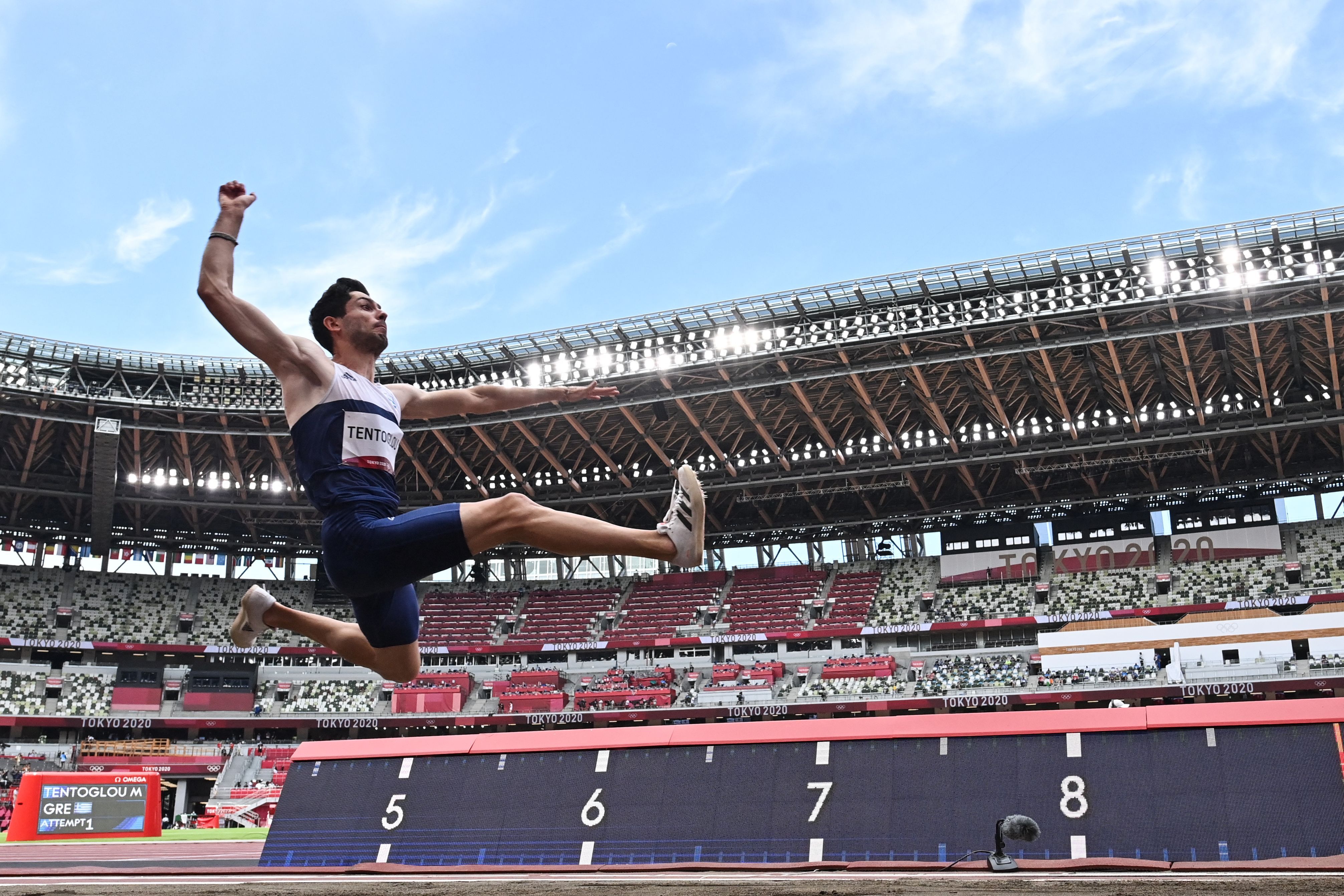 "My only competition in Belgrade so far was the Balkan Indoor Championships in 2017 when I placed fourth, jumping 7.48m," says Tentoglou. "I have not been in Serbia since then but this year I'm planning to compete at the 'Belgrade Indoor Meeting' (a World Indoor Tour silver meeting on 7 March) and stay in Belgrade after the event to prepare for the World Athletics Indoor Championships.
"I am aware that the Serbian organisers are doing their best to prepare the best possible competition for us, and I hope that spectators will be able to support us live during the championships."
As with any athlete after winning an Olympic gold, there will be more expectation placed on Tentoglou's shoulders each time he takes to the runway in 2022, but he is determined not to let it get to him.
"I am as always focused on my results and I am doing my best at every competition to give all I can and get the best results," says Tentoglou, who was encouraged to take up athletics after a jumps coach spotted him doing some parkour exercises on the streets of his hometown.
"I am aware that the expectations might be high now but I do not pay attention to what others think or what they say. My coach and I are trying all the time to improve my technique and not to talk about the expectations and favourites since we just want to jump as far as possible. Winning a medal is always on my mind at every competition."