Jarret Eaton at the World Athletics Indoor Championships Belgrade 22 (© Getty Images)
For Jarret Eaton, winning a medal at the World Athletics Indoor Championships Belgrade 22 was "the icing on the cake" at a key point in his career.
After eight years as a professional hurdler, Eaton had been ready to run his final season in 2020 but the pandemic put paid to that plan. Instead, the 32-year-old went back into training and refocused. Two years later, his patience was rewarded.
Already a world indoor silver medallist from four years prior, he doubled that medal tally with 60m hurdles bronze in Belgrade's Stark Arena. Clocking 7.53, he finished third behind his US teammate Grant Holloway, who had equalled his own world record of 7.29 in the semifinals and then ran 7.39 in the final, and French multiple medallist Pascal Martinot-Lagarde, who ran 7.50.
"It has been a wild, tremendous season for me," says Eaton, reflecting on a busy couple of months that featured 15 top-three finishes from the 16 races he contested, including heats and finals.
"Being able to come out and compete overseas in Europe, I think that helped tremendously. I was able to go to USAs (US Indoor Championships) and compete with Grant, and I think everybody is looking at Grant – he is the world record-holder for a reason, and it was really exciting to be in a race like that with him. He is something special. For me to even just have the opportunity to be there and then to get a medal alongside him is a highlight for me in my career. I'm truly thankful that everything aligned and all the hard work cumulated to this moment, to get a medal for my country and to be in some of these historic races.
"I was planning to run my last indoor season in 2020," he adds. "That didn't happen, so we postponed things and I said that this was going to be my last year. So, I put all my focus and energy into this indoor season and I was able to come out with a medal and I am truly happy. I think that is the icing on the cake. It's just a beautiful way to put a close to this chapter of my life."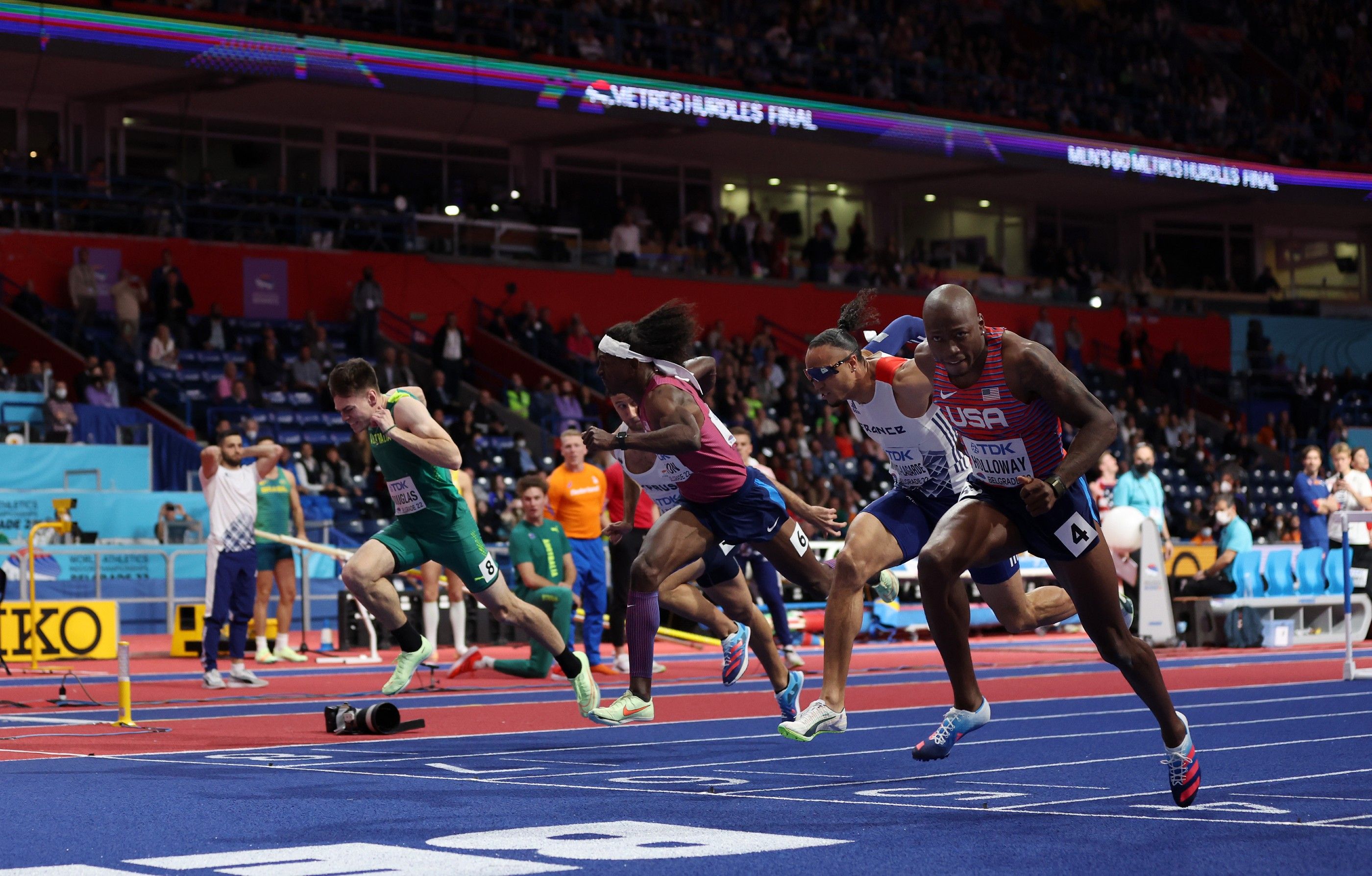 Jarret Eaton dips for 60m hurdles bronze at the World Athletics Indoor Championships Belgrade 22 (© Getty Images)

Eaton has overcome many barriers throughout his career, both literally and figuratively, and it is this adversity that provides the foundation for his next chapter. While still undecided on whether he will target a full outdoor season, his focus now – as it has also been during his own competitive career – is helping the next generation. Unsponsored, Eaton was working as a substitute teacher when he secured world indoor silver in Birmingham in 2018 and he is now a coach based in Phoenix, Arizona. His decade of elite experience and his journey in the sport has left him well equipped to help the sport's future stars.
"I have gone my whole career without a sponsorship," he says. "I have been blessed to know people and to be able to market myself in a certain way and I have found that there is a gap between what I expect and what actually is. So, I want to be able to fill that void and essentially try to become a media and marketing manager for a lot of these athletes, to bring in more income and help them profit off their name, in a sense. We're missing exposure.
"I have been a substitute teacher, I've worked in retail, I was on government assistance, and these are things that I don't want other athletes to do if they are trying to pursue an athletic career. I've been able to be really smart with my money. I'm terribly diligent, so I think that has also helped tremendously.
"I wanted to still be connected in the sport in some way, so I've got some side projects I want to continue as I transition out of the competition side."
Eaton's transition into the sport came when he was at school, where he took part in athletics and American football. In eighth grade he tried the hurdles because everyone else seemed scared of the event, but he wasn't.
By the time he moved to Syracuse University, Eaton's full focus was on athletics and he became the university's first individual NCAA champion in track and field, winning the 60m hurdles title in 2012, before moving on to South Carolina – first to Clemson and then Columbia.
After some challenging times, it was making the 2016 World Indoor Championships team that kept him in the sport.
"I thought I was going to quit track, my roommate Spencer Adams did too, and for us to come from the same track club, the Basics Track Club in South Carolina, to beat out tough Americans and make the team was one of the highest moments in my career. I still think back to that day, it was true excitement," recalls Eaton, who won his first US title that season.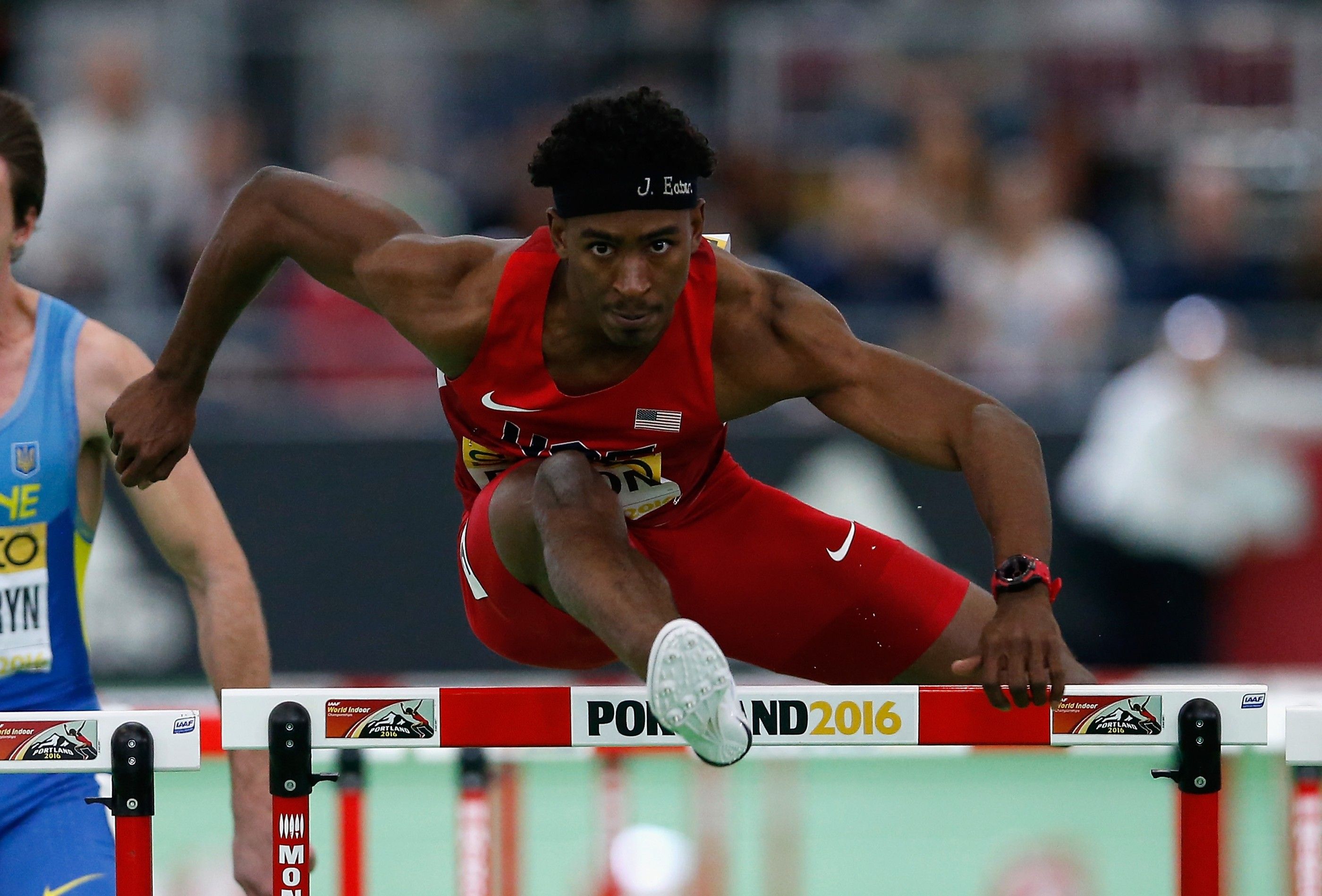 Jarret Eaton at the 2016 World Indoor Championships in Portland and with winner Andrew Pozzi at the 2018 World Indoor Championships in Birmingham (© Getty Images)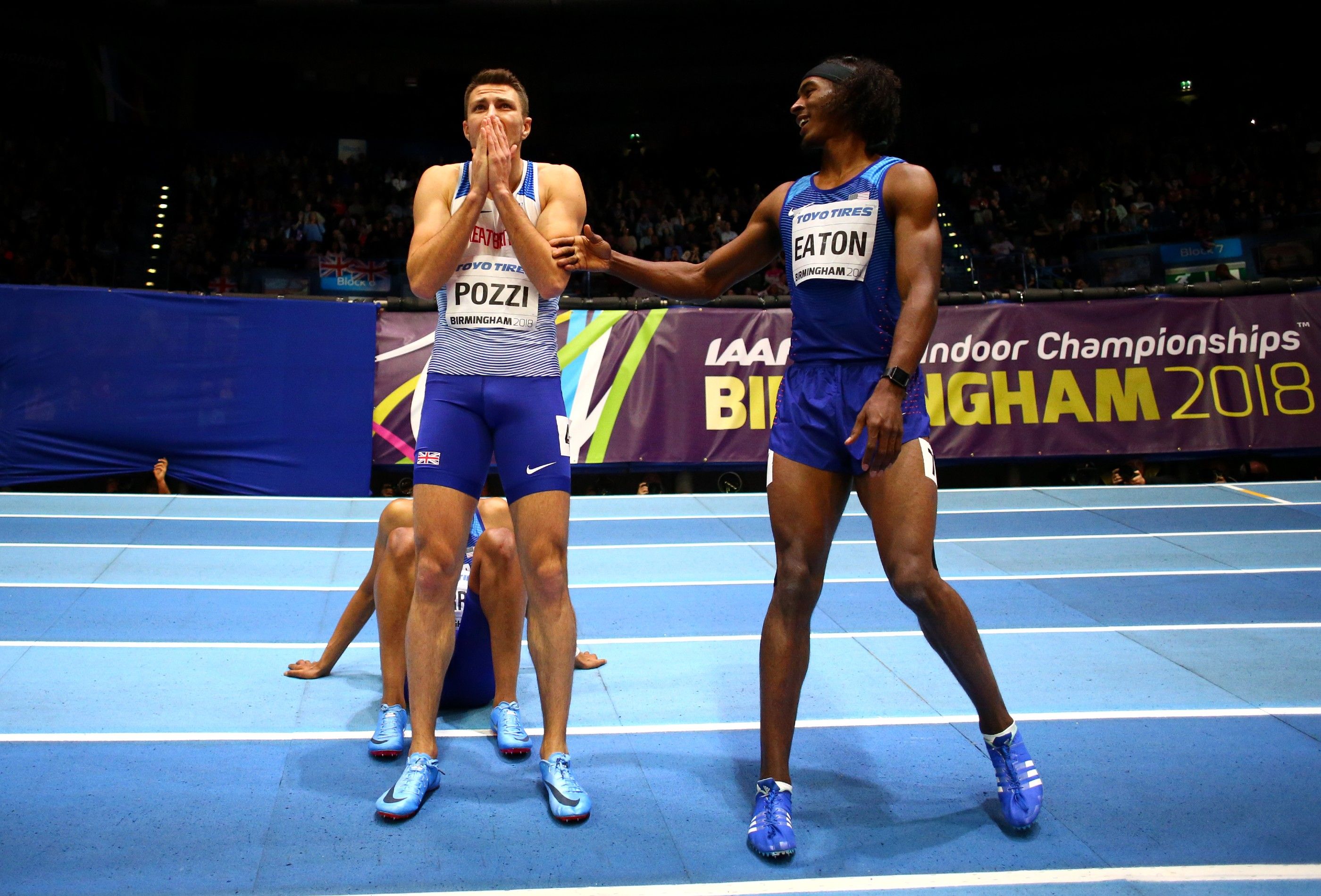 He finished fourth in that world final on home soil in Portland, with Adams fifth. For Eaton, it would prove to be just the start. He clocked his 110m hurdles PB of 13.25 later that summer, while his 60m hurdles best of 7.43 was run two years later, when he gained the second of his US titles to secure his spot on the team for the 2018 World Indoor Championships.
Not only did Eaton compete and win at those national championships in Albuquerque, he also led "An Extra Pair Campaign", a community project that encouraged athletes competing at the championships to bring an extra pair of running shoes or track spikes to donate to athletes of Rio Grande High School.


View this post on Instagram

"Winning my world silver indoor medal, that was really special to me," reflects Eaton, who was just 0.01 off gold in Birmingham. "It was my first world indoor medal, and to have it be such a close race, I couldn't ask for more. I was just out there trying to fight for my name and get a medal, and I did. So that was mission accomplished, I felt good about myself like 'you're on the right track, you can do this, you belong here'."
Now based in Arizona at the Phoenix Track Club, he is guided by coach Tim O'Neil and it was his fellow Syracuse alum Freddie Crittenden who convinced him to join the group.
"It was one of the best decisions I made in my career," he says.
On his next decision – when he might hang up his racing spikes – Eaton adds: "I think this (year) is the right time. I wanted to be able to go out on my terms. Not all athletes get the chance to do that, they kind of get thrown out of the sport, and I didn't want that to happen to me. I wanted to go out on a high note, on a joyous moment, and I'm so glad that the World Indoors came to a close like this. Honestly, I couldn't ask for anything more.
"We'll see about outdoors. We'll take it one step at a time."


View this post on Instagram

There is also the lure of a home World Athletics Championships in Oregon in July, which Eaton will embrace either as an athlete or fan.
"I'm so excited for the Americans to host something so big," he says. "We did the World Indoors and I think once you guys see that field in Eugene, it's truly amazing, it will blow your socks off.
"I'm sure there's going to be a lot of performances that are record-breaking, world-leading and beyond. It's good to have the world looking at Eugene."
And if all goes to plan, the eyes of future generations will also be on Eaton, as he fulfils a new role in the sport.
"I just hope to be, if not an inspiration, then an aid for other people," he adds.
Jess Whittington for World Athletics