Gudaf Tsegay after breaking the world 5000m record in Eugene (© Getty Images)
Many athletes would be more than happy after running down Sifan Hassan in the final stretch of a major final to lead their nation to a podium sweep. But when Gudaf Tsegay did so in the 10,000m at the World Athletics Championships in Budapest last month, she thought her job was only partially complete.
Most athletes would be delighted with one medal, especially if it's gold. Tsegay wanted two.
Though she fell short in the 5000m and faded to 13th in Budapest, Tsegay used her frustration to go after the world 5000m record set earlier this year by Faith Kipyegon. At the Prefonatine Classic, which this year doubled at the Wanda Diamond League Final, Tsegay lowered Kipyegon's mark by five seconds, running 14:00.21.
Gudaf Tsegay on her way to breaking the world 5000m record in Eugene (© Matthew Quine)
"After the 10,000m in Budapest, I had some pain under the bottom of my foot," Tsegay said. "I think it had something to do with the hot weather."
After the race she could barely walk for a few days, and she lay awake at night unable to sleep with frustration.
Tsegay was able to get through the first round of the 5000m in Budapest, and in the final she took the race out hard, hoping others would join in making it a fast pace. But the heat got the better of the field, and she faded sharply towards the end of the race.
"I was so mad," Tsegay explained of what remains her only defeat in nine races this year. "Training had gone so well and I really wanted to bring two medals back to my country, back to my people, so it was really disappointing. But life and sport are like this; sometimes you fall down, sometimes you win."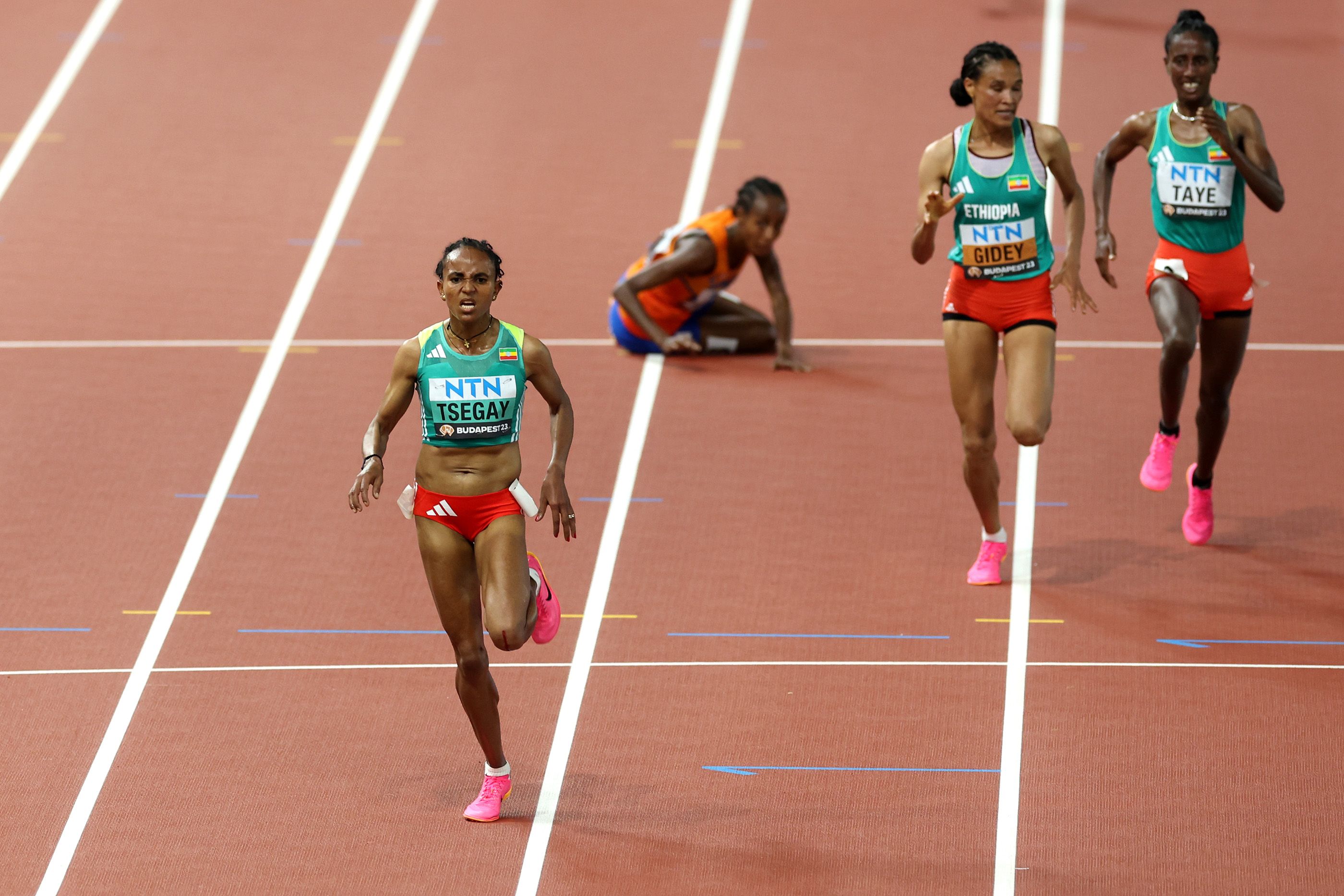 Gudaf Tsegay on her way to the world 10,000m title as a fallen Sifan Hassan looks on in Budapest (© Getty Images)
When Tsegay returned to Ethiopia after the World Championships, she had a lot of local media obligations and celebrations and didn't have much time to train but knew the training she had done throughout the year could position her for a good result. "My coach told me, 'you can still break the [world] record with the fitness you have'."
In fact, her coach and husband, Hilufe Yihdego, told her earlier this year that he thinks she could approach the 14-minute barrier. After Tsegay ran 8:16.69 – just 0.09 shy of the world indoor record – for 3000m indoors in Birmingham in February, Yihdego suggested to Tsegay that she was capable of breaking the outdoor world 5000m record, which at that point stood at 14:06.62 to Letesenbet Gidey.
When the pacing requests were announced before the Prefontaine Classic, some observers commented that the conditions were not necessarily ideal; most distance records are run in cooler conditions, in the evening, and earlier in the season. None of this phased Tsegay, who said she had an extra fire and motivation burning after her disappointment at the World Championships. She didn't want to leave 2023 without leaving a mark on the distance.
In addition to two pacemakers, Elise Cranny and Sinclaire Johnson from the US, Tsegay's teammate and training partner Birke Haylom told her she would help her break the record in the women's 5000m. Haylom ran the 1500m the day prior, but she returned to help pace the middle stage of the 5000m.
"We do all of our training together, and I really need to thank her for all of her support," Tsegay said afterwards.
Still, for a while it did not seem like a sure thing. While Haylom stayed on pace until five laps to go, world cross-country champion Beatrice Chebet remained close on Tsegay's heels, clipping her a few times. 17-year-old Haylom led the field through 3000m in 8:26.03, which would have been a two-second improvement on the long-standing world U20 record, had Haylom remained in the race to make her make record-eligible.
The focus, though, was on Tsegay, who was still comfortably inside world record pace. With about 1400 metres to go, and now having to lead the race along while battling a head wind, it seemed like Tsegay was falling off the pace, with Chebet still on her tail.
But with two laps to go, Tsegay closed back on to the pacing lights and pulled away from Chebet. Even as she grimaced through the closing stages, Tsegay continued to pull away from the lights, and by the time she reached the final lap, the question was not whether or not she would break the record, but whether she could finish inside 14 minutes.
Having to navigate her way around lapped runners probably cost Tsegay a sub-14-minute finishing time, but she was nevertheless delighted to emerge with her first senior outdoor world record, crossing the line in 14:00.21.
It was the latest of several landmark performances in Eugene for Tsegay. Hayward Field is where, back in 2014, she earned her first major medal, taking world U20 silver over 1500m. She returned to nearby Portland in 2016, still a teenager, to win her first global senior medal, taking world indoor bronze over 1500m.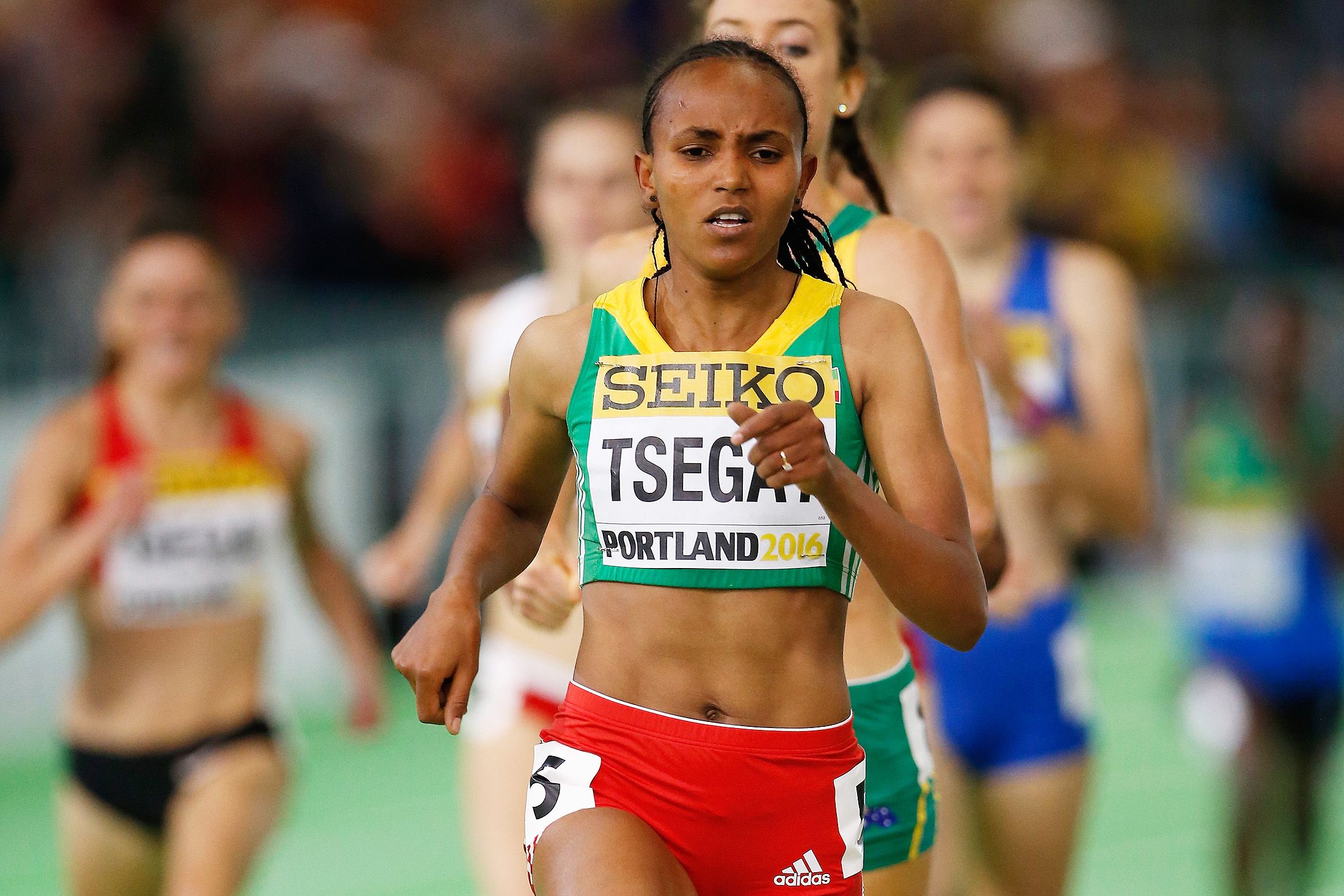 Gudaf Tsegay in action at the World Indoor Championships (© Getty Images)
She made her 5000m debut in Eugene back in 2018 and struck gold over the same distance on the same track at the World Championships last year.
"I have a lot of history here, so it's become a special place for me," she said. "Today makes it even more special."
With Tsegay having now wrapped up her outdoor season, she'll soon start to look ahead to 2024 and the Paris Olympic Games. A bronze medallist in 2021, Tsegay will have her eye on taking gold in the French capital.
Before that, though, there's the likelihood of an indoor campaign and a possible appearance at the World Athletics Indoor Championships Glasgow 24. She struck gold over 1500m in 2022, so she may decide to defend her title at that distance or, having moved up in distance outdoors, she could target the 3000m. Or perhaps even both.
Outdoors, it's likely that she'll continue to split her focus between the 1500m, 5000m and 10,000m. Now she – and the world – knows that it's just a matter of time before a woman breaks 14 minutes for 5000m. Tsegay hopes to be the first to break the barrier, in Oregon or otherwise.
Hannah Borenstein for World Athletics