Stewart McSweyn and Oliver Hoare at the start of the mile in Burnie (© Simon Sturzaker)
On a cool night on the north coast of Tasmania, more than 2000 of Devonport's 26,000 residents watched Commonwealth 1500m champion Oliver Hoare assess the white lines spray-painted on Devonport Oval.
Hoare wore a wry smile as he ambled over to his handicap mark of 'scratch', accompanied by Australian 1500m record-holder Stewart McSweyn.
"When I spoke to (organiser) Richard Welsh and got the gist of it, I didn't really know what I was walking into," said Hoare. "It was handicapped, it was on grass, they had wood chopping and cycling… For me it was more about being able to engage with the running community."
Hoare's double checking with race officials is understandable. 29 December 2022 was his first race in the Tasmanian Christmas Carnivals series. Hoare's encounter with McSweyn over a mile on grass marks the first meeting of the pair in Australia since a 5000m race in Hobart in 2016. The fifth and sixth fastest 1500m runners of 2022 raced twice over the mile distance in McSweyn's home state of Tasmania. The carnival series sees local athletes of all abilities receive 'handicaps' of 40 to 490 metres on McSweyn and Hoare as they contest the full race distance from 'scratch'.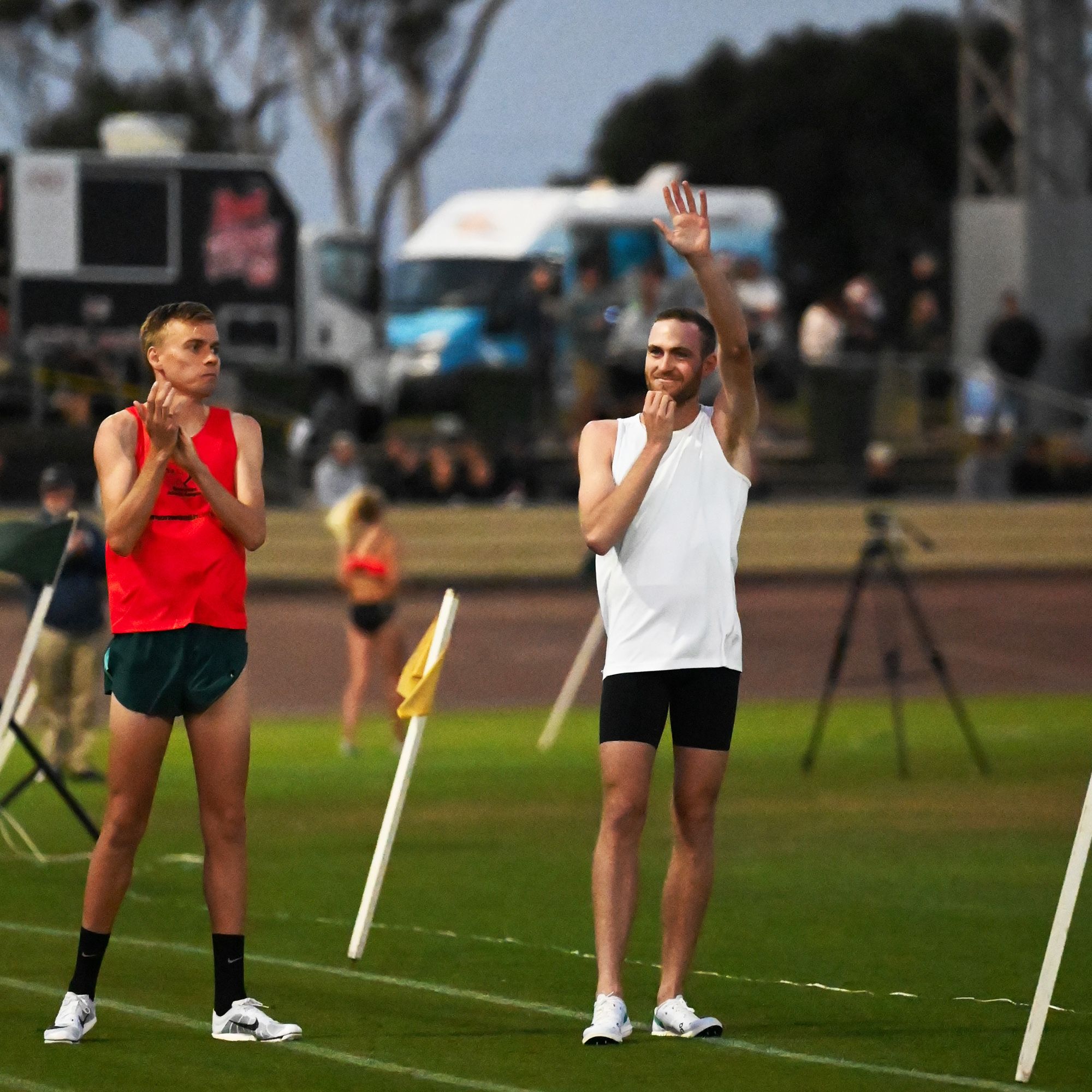 Oliver Hoare before the mile in Devonport (© Tyler Stretton)
The Devonport and Burnie Carnivals have hosted Australian milers Craig Mottram, Ryan Gregson and Matthew Ramsden. The Tasmanian coastal towns combine running, cycling and wood chopping on grass ovals wrapped by concrete velodromes.
But how did the carnival series convince the Australian mile record-holder to travel south? Meeting director and World Athletics Cross Country Championships Bathurst 23 organiser Richard Welsh hatched the idea in August.
"I asked Ollie, what better way is there to prepare for a 2-kilometre relay leg at the World Cross Country Championships than racing two one-mile races against fellow Aussie world beater Stewart McSweyn?"
Hoare noted McSweyn's annual visits to the carnivals were key in coaxing him down.
"He's done so much for the sport already," Hoare said of McSweyn, who hails from Tasmania. "He's been a great advocate in the sport and in my event. To be able to run with him in this sort of format leading into Bathurst, Budapest and Paris – it just all adds up and hopefully gets more people excited and engaged in athletics."
Hoare stated that while his profile has typically been greater in the USA, he wanted to race on home soil, an easy sell to coach Dathan Ritzenhein.
"It was about going to an event that I knew was engaging that could bring a crowd, but also have something with Stewy. To have the unique privilege of having somebody at his level in my own country, only a select few countries have that. So, it wasn't a hard sell, Dathan was very open to it."
The pair thrilled crowds in Devonport, entering the home straight side by side as Hoare pulled away with 75 metres remaining to finish second overall (4:03.73) with McSweyn fourth (4:03.92). Hoare drew comparisons between the track surface and the difficulties of opening the first 400m in 58 seconds.
"It was harder than what I expected," said Hoare. "I thought it might feel fast like a track, but it felt a bit different – a bit more of a cross country feel. That was when I knew it was going to be a huge battle between Stewy and me."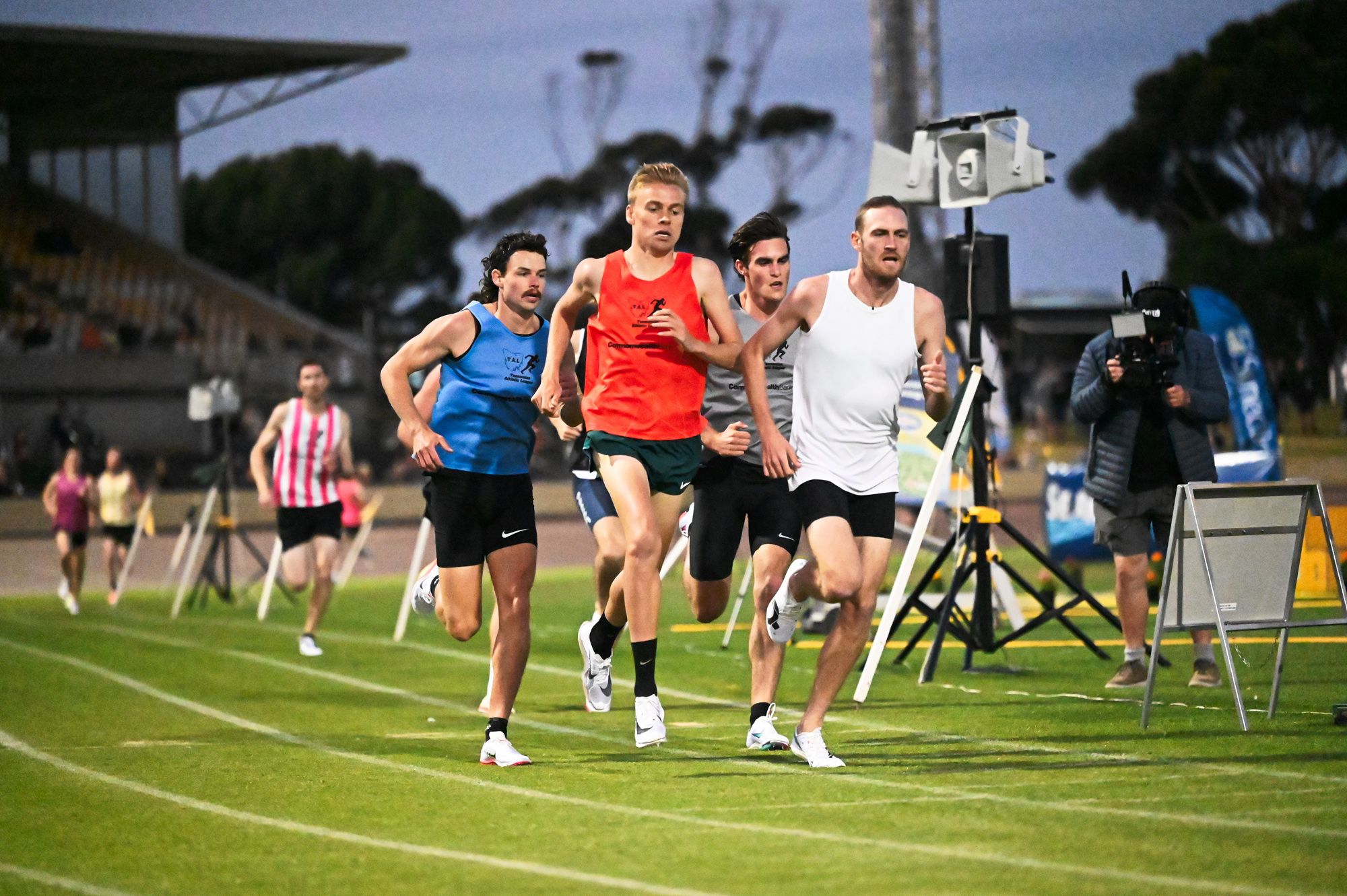 Stewart McSweyn and Oliver Hoare in the mile in Devonport (© Tyler Stretton)
McSweyn was quick to point out the parallels between passing runners in the final lap and the push and shove of Diamond League racing.
"You're weaving in and out of people a fair bit, but it gets us ready for the European season," said McSweyn. "All the racing over there is pretty tough, you've got to get good at riding the bumps, but that's the fun of the series, dodging 30 odd guys and girls makes it extra fun."
The race in Devonport was everything Welsh had hoped for, the crowd roaring two of the best milers in the world down the home straight. 12 months ago, Hoare was a relative unknown to the Australian public, but his Commonwealth Games win became the most watched individual performance of any Australian athlete.
The Burnie Athletic Club hosted its 136th annual gift race in 2022, a 120-metre sprint featuring world U20 medallist Calab Law and national relay team members Jack Hale, Joshua Azzopardi and Jacob Despard. A heritage listed event predating the modern Olympics, club secretary Allan Johnson was thrilled to have Hoare and McSweyn race the mile.
"To have Stewy come here year after year, perhaps it doesn't always suit his programme, but he always comes and competes here to his utmost," said Johnson. "Then if that's not good enough, he drags along Ollie Hoare. To bring him here after his run in Birmingham, it's just sensational. Now that Stewy's got the national 1500m record and Ollie's got the mile record, well you couldn't get it better, could you?"
Burnie's oval looks out to Bass Strait, a notorious body of shipwrecked water. The oval sits on a slope, meaning athletes run up an incline over the final 50 metres of each 400m lap. Hoare led out an opening lap of 58 seconds, reaching halfway in two minutes before McSweyn utilised his experience at Burnie, a pointed move with 500 metres remaining breaking Hoare up the hill. McSweyn evened the grass mile ledger, finishing sixth overall (4:04.87) to Hoare's 4:09.56 ninth place. McSweyn was upbeat post-race, emphasising the impact of Hoare's racing.
"I knew it was going to be a tough race, any handicap race you're running full bolt the whole way trying to catch the field," said McSweyn. "Having such a class athlete like Ollie come down, it boosts the profile of the events not only in Australia, but across the world. It's exciting, I'm a northwest Tasmanian guy so this is as close as I get to racing at home. I love coming back; I've grown up with this event as a kid, and then to see the next generation we get to race as well, it's huge for them."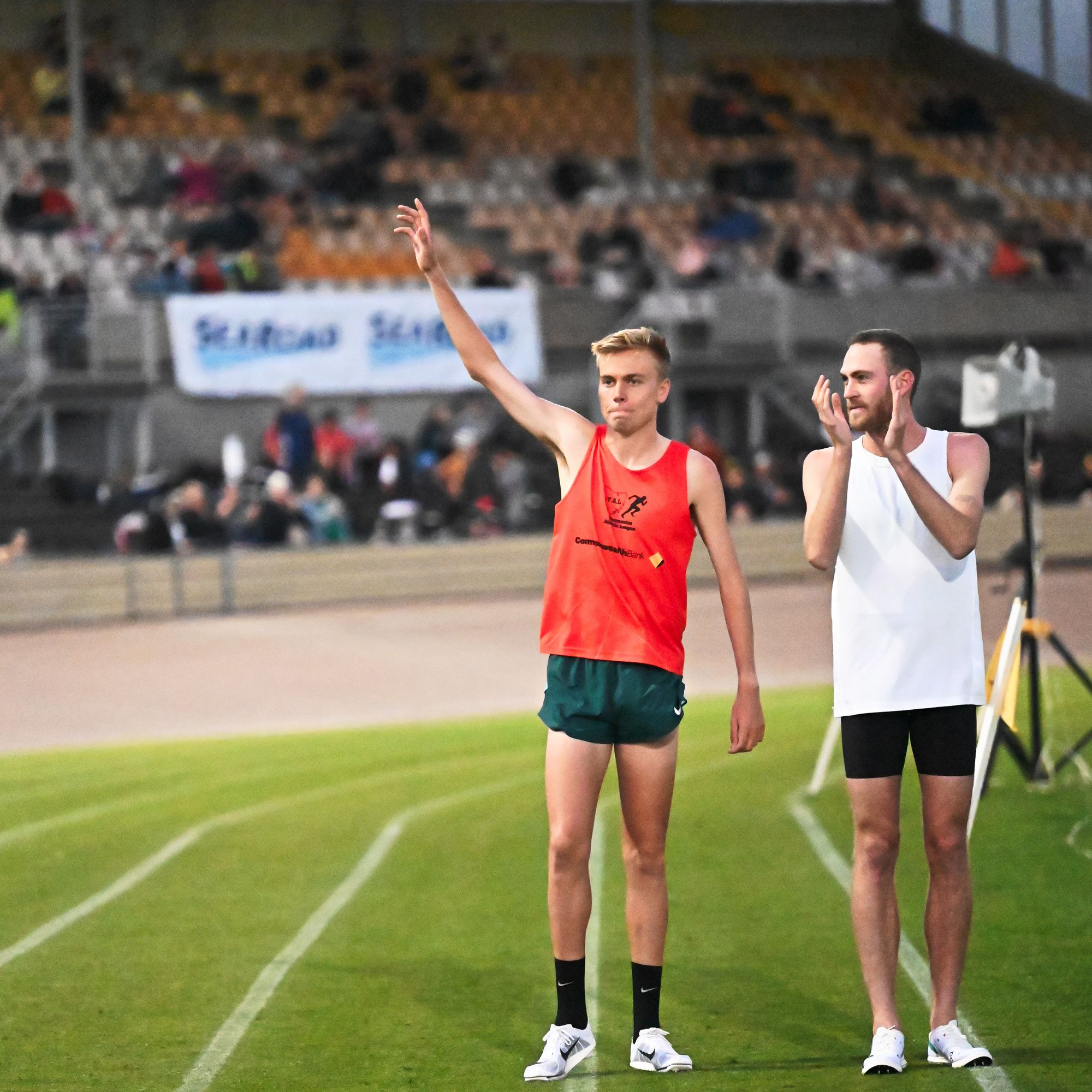 Stewart McSweyn before the mile in Devonport (© Tyler Stretton)
Hoare was gracious in defeat, complimenting McSweyn and the event concept.
"This is 100% good for the sport," said Hoare. "Events like this are a rarity, and people are engaged with it so much that I think it's another option that should be invested in."
While Burnie had a community feel, Hoare joked he felt nervous the morning of the race, wanting to put on a good show for the crowd and the international livestream.
"I was very excited to be able to see Aussies just yelling out, cheering from the pub," said Hoare. "It's a very Australian thing I don't see in America. It definitely put a bit of warmth, a bit of nostalgia in the heart.
"I'm excited to push more boys like Morgan (McDonald) and George (Beamish) when they come home – to come down here and experience this. At the end of the day, in a couple more years we're all going to look like melted candles. We're going to hang up the spikes, and you want to look back and think – 'what did I do in the sport that was cool?' – I went to the Olympics, I won a Commonwealth Games gold medal, but I also ran the Burnie Mile, and it was one of the coolest experiences ever. I was running against guys and girls in an entirely different setup with a crowd cheering. It's those aspects of the sport we love, and we talk about on the podcast. I'm very happy I was able to participate and be a part of it."
McSweyn closed the night by assessing the Australian team's relay chances in Bathurst.
"I think we're going to have a strong team for Bathurst, I'm excited!" said McSweyn. "Ollie and I are using these races as preparation, and while we still need to qualify, it's a good chance to see where our fitness is at. Hopefully we'll be there in Bathurst, where I think if we're all in good shape we can be right in the mix, which is so exciting at a home world championship."
McSweyn's upbringing on King Island, a farming island of 1600 people in the middle of Bass Strait, has instilled a strong sense of state and national pride in the 27-year-old, bringing him back to race in Devonport and Burnie. As the crowd moved into the bar to ring in the New Year, the enduring image of the night was McSweyn and Hoare jogging laps of the Burnie oval as the floodlights were switched off. Two of the world's most prominent milers racing in regional Australia to drive interest in the sport, preparing on grass for a Bathurst relay in February 2023.
Sean Whipp for World Athletics