The men's long course race at the 2003 World Cross Country Championships in Lausanne (© Getty Images)
Kenenisa Bekele spent the evening before the 2003 event with his head buried in the pages of the newly-published history of the World Athletics Cross Country Championships onboard a cruise ship on Lake Geneva.
While his rival competitors were soundly tucked up in bed on dry land in Lausanne, the reigning long- and short-course champion was out until after midnight on a four-hour-long World Athletics dinner cruise.
As contented as he was with the canape of fresh goats' cheese, the emince de boeuf and the chocolate mousse, the young Ethiopian spent most of his time metaphorically devouring Mark Butler's excellent story of the first 30 years of the World Athletics Cross Country Championships, The Toughest Race in the World.
Asked if he was looking forward to featuring in a future volume, Bekele was happy to report: "Well, no, I am already in the book. But I was even more interested in reading the long history and achievements of Ethiopians at the World Cross Country Championships."
Even before he completed his teenage years, Bekele had made a historic mark of his own on the championships.
Winner of the U20 men's race and runner-up in the senior short course event in the mud of Ostend in 2001, he became the first male runner to complete the double of senior long course and short course victories in Dublin the following year. At 19, he was also the youngest ever senior men's long course champion, eclipsing Bekele Debele, the 20-year-old Ethiopian Air Force officer who edged home in a blanket finish at Gateshead in 1983.
What nobody could have appreciated on the eve of the 2003 championships was that Bekele – Kenenisa Bekele – would etch his name into the updated 2023 version of Butler's tome, 50 Years of the World Athletics Cross Country Championships, as the most successful runner in the half-century-long history of the event.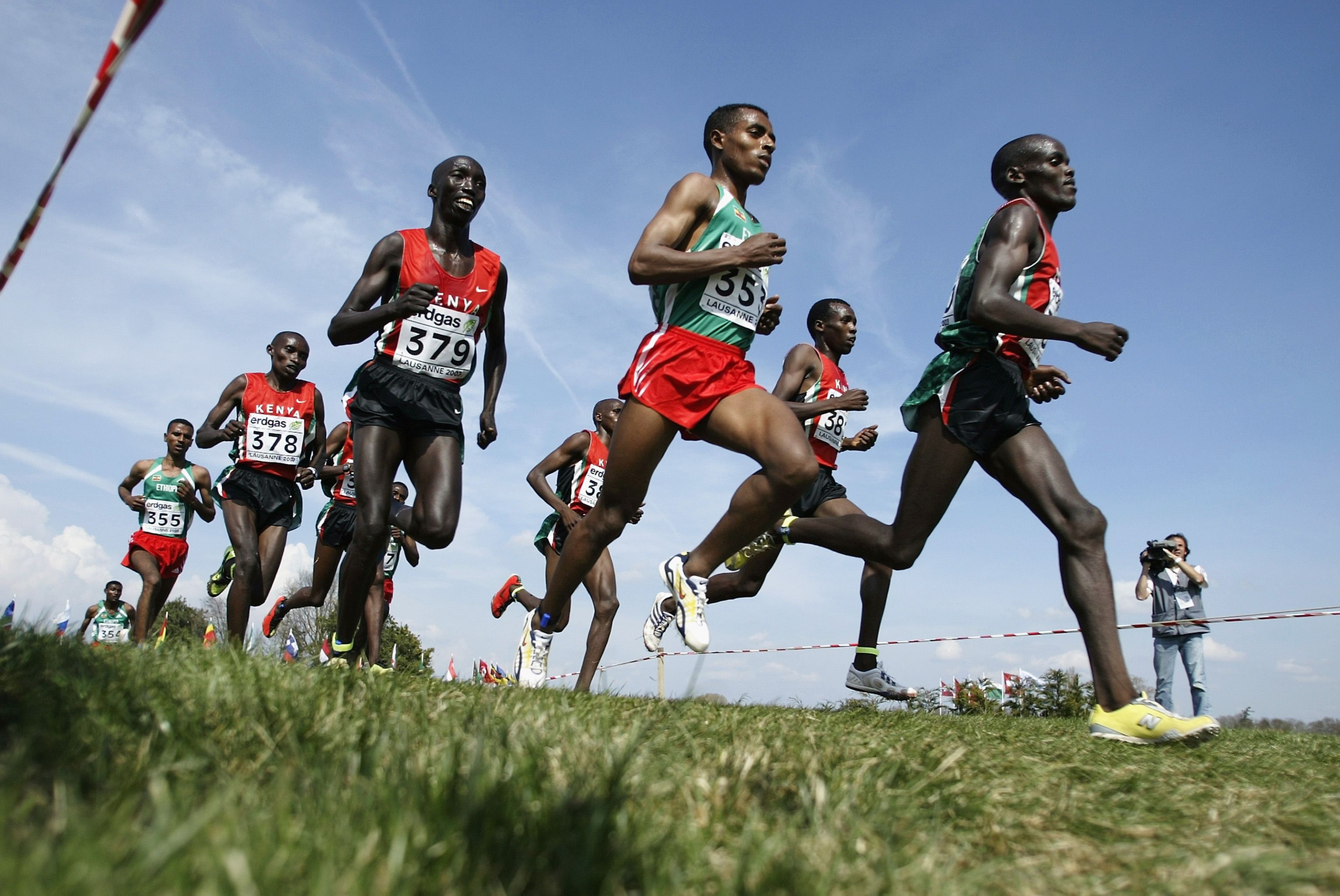 Kenenisa Bekele in action at the 2003 World Cross Country Championships (© Getty Images)
Back then, two decades ago now, there were concerns that the defence of his short course crown on the opening day of action at the Swiss National Equestrian Centre might be undermined by his prolonged late-night cruise.
"I was a little concerned that it might affect me, but I went on the cruise knowing I would not get back until after midnight," Bekele said. "It was my first time ever on a boat. I did not want to miss it. I'm glad I went."
Little more than 12 hours after getting to bed in the early hours of Saturday morning, the smooth-striding 5ft 5in Ethiopian had to work hard to hold on to his 4km crown. He trailed Kenyans John Kibowen and Benjamin Limo entering the final 800m, but made sure he didn't miss the boat, kicking his way clear with 250m to go.
"It was a little bit harder than last year," confessed Bekele, who confirmed reports that his preparation had been hampered by a bout of typhoid. "It was not just the illness," he said. "It was more the typhoid medication. It can also affect your strength."
In the circumstances, it would have been understandable had Bekele chosen to quit while he was ahead – with a fourth individual world cross country gold – but he decided to put his strength to the test in what Time magazine one famously dubbed "the world's greatest footrace."
The roots of the senior men's 12km race stretched back beyond the advent of the World Athletics Cross Country Championships in 1973 to the inception of the event's forerunner 100 years before Bekele lined up for his second title defence in Lausanne.
Back in 1903, at the Hamilton Park Racecourse in Scotland, Alf Shrubb won the solitary race on the programme of the inaugural International Cross Country Championships. The slightly-built Englishman with the "pretty" running style was the Bekele of his day.
The 5ft 6in, 8.5 stone Shrubb was dubbed 'The Little Wonder.' A building site labourer from rural Sussex, his talent for running was discovered by chance one evening when he chased a fire engine in his working boots. In 1904 he set a 10-mile world record (50:40.6) that stood for 24 years before being eclipsed by the great Flying Finn Paavo Nurmi.
In Lausanne in 2003, Bekele, the Little Ethiopian, worked wonders of his own to secure a second successive world cross country double.
Facing a fresh set of Kenyan challengers, 24 hours after his short course success, he toiled in tandem with fellow Ethiopian Gebre Gebremariam, winner of the 2002 U20 men's race, to break a rival pack in which Abraham Cherono and Patrick Ivuti were prominent.
Bekele made his big effort at the start of the final 1705m lap, surging hard up an artificial hill and finishing with 13 seconds to spare. Ivuti, in second place, led Kenya to an 18th successive team title.
Bekele went on to complete three more doubles: in 2004, 2005 and 2006. Then, after wilting in the heat and humidity of Mombasa in 2007, he won the senior men's long course title for a record sixth time in Edinburgh in 2008. In all, he amassed 27 medals, 16 of them gold (12 individual and 4 team) – all record tallies.
At the age of 40, after two decades on the international scene, the three-time Olympic gold medal winner, five-time world outdoor track champion and multi-world record breaker is still competing among the world's elite. In October last year he finished fifth in the London Marathon, clocking 2:05:53.
With his 2019 Berlin time of 2:01:41, Bekele is the second fastest marathon man of all-time. The fastest, Eliud Kipchoge – who improved his global mark to 2:01:09 in the German capital last September – make his first major impression on the international scene as winner of the U20 men's race at the 2003 World Athletics Cross Country Championships in Lausanne.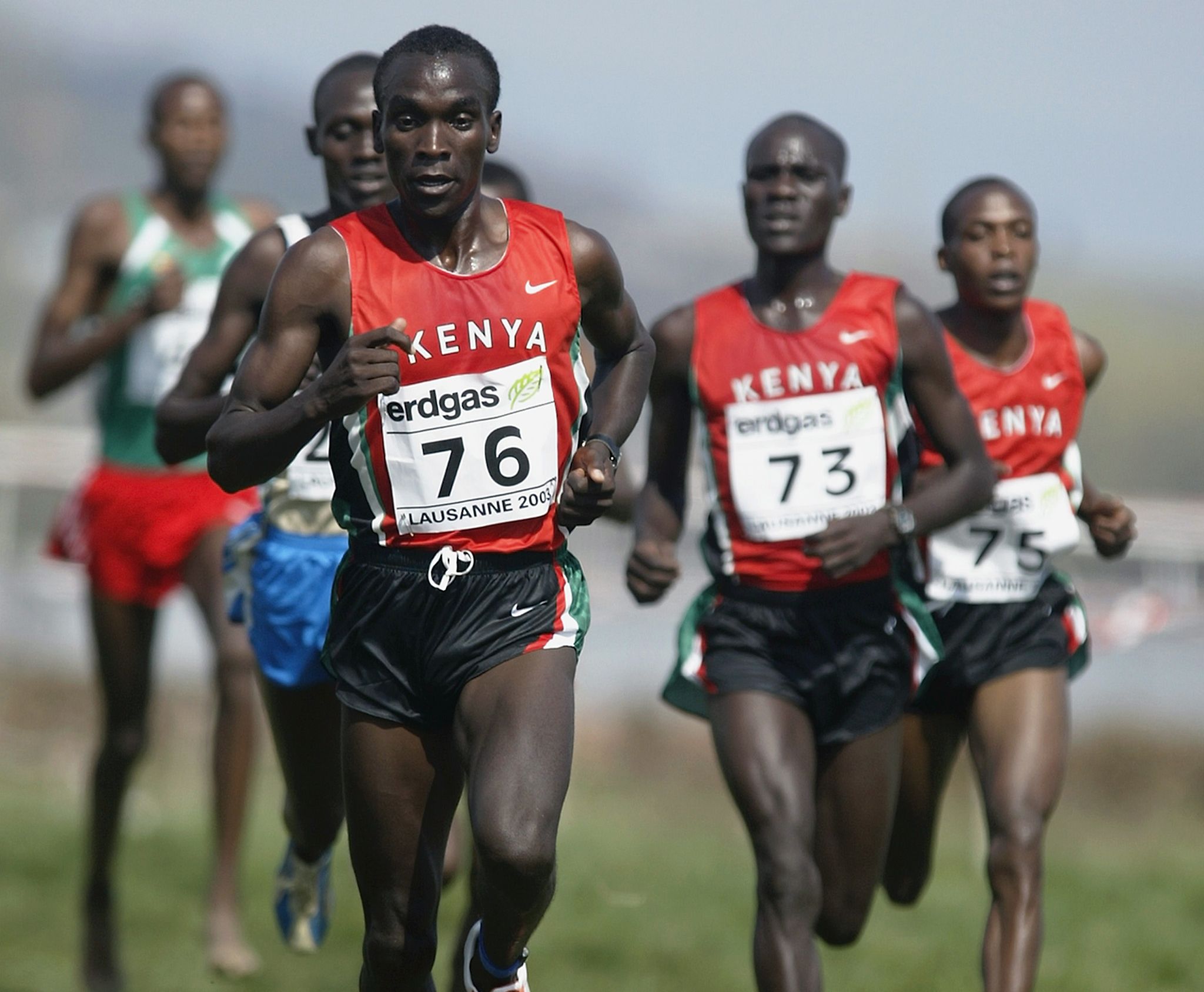 Eliud Kipchoge in the U20 men's race at the 2003 World Cross Country Championships (© Getty Images)
Having finished fifth as a 17-year-old international debutant in Dublin in 2002, the future double Olympic champion showed how much progress he had made under the tutelage of his coach Patrick Sang, the 3000m steeplechase silver medallist at the 1991 and 1993 World Championships and 1992 Olympic Games.
With the exception of the two brief moments when compatriots Solomon Bushendich and Augustine Choge edged their vests in front of him, the 18-year-old Kenyan led all the way from the starting pen to the finishing line. Kipchoge was challenged on the third and final 1705m lap by 2002 bronze medallist Boniface Kiprop but pulled clear of the Ugandan with a blistering turn of speed 150m from the line, winning by two seconds.
Five months later, still aged 18, Kipchoge won an epic battle for the 5000m title at the World Athletics Championships in Paris, outsprinting Hicham El Guerrouj and Bekele for what has been the only global track gold of his career.
The winner of the U20 women's 6215m race in Lausanne also went on to become one of the all-time greats of distance running.
Tirunesh Dibaba had finished fifth as a 15-year-old in Ostend in 2001 and a close second to Kenya's Viola Kibiwott in Dublin a year later. In Lausanne, the 17-year-old Ethiopian – a cousin of double Olympic 10,000m champion and three-time world cross country long race winner Deratu Tulu – kept her powder dry before unleashing a devastating kick in the final 200m.
The 'baby-faced assassin' proceeded to secure three Olympic gold medals and five world outdoor track titles, starting with the 5000m as an 18-year-old in Paris.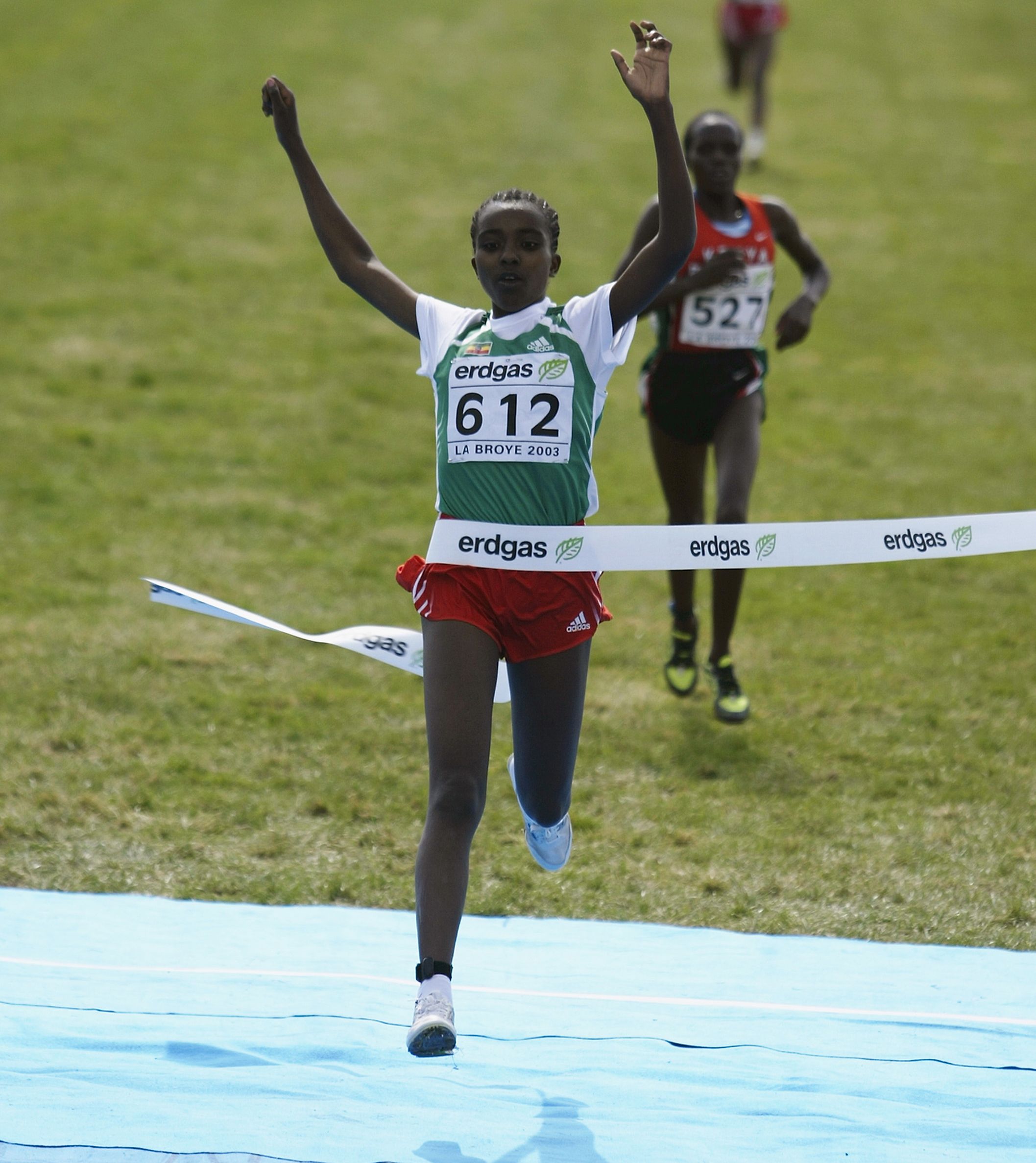 Tirunesh Dibaba wins the U20 women's race at the 2003 World Cross Country Championships (© Getty Images)
Like Bekele, who hailed from the same rural town of Bekoji in the Arsi Province of Ethiopia, Dibaba proceeded to amass a record total of 13 world cross country gold medals: eight individual and five team, the highest tally by a woman. At Saint-Galmier in 2005 she won the senior long and short course titles. Only two other athletes have completed a world cross country double: Bekele and Ireland's Sonia O'Sullivan.
Worknesh Kidane came within a whisker of achieving the feat in Lausanne. The day after beating Deena Drossin of the US to the long course title, the Ethiopian finished a solitary second down on Edith Masai in the women's short race, the 34-year-old Kenyan prison officer prevailing for the second successive year.
Dibaba – half Masai's age – followed up her U20 victory with a senior debut in the race, placing seventh. Her elder sister, Ejegayehu, who finished ninth, went on to place runner up to Australian Benita Johnson in the long course race in Brussels in 2004.
In Edinburgh in 2008, Dibaba became the first woman to complete a hat-trick of senior long race titles since her cousin Tulu in 2000. Just an hour earlier, her 17-year-old sister Genzebe won the U20 women's race.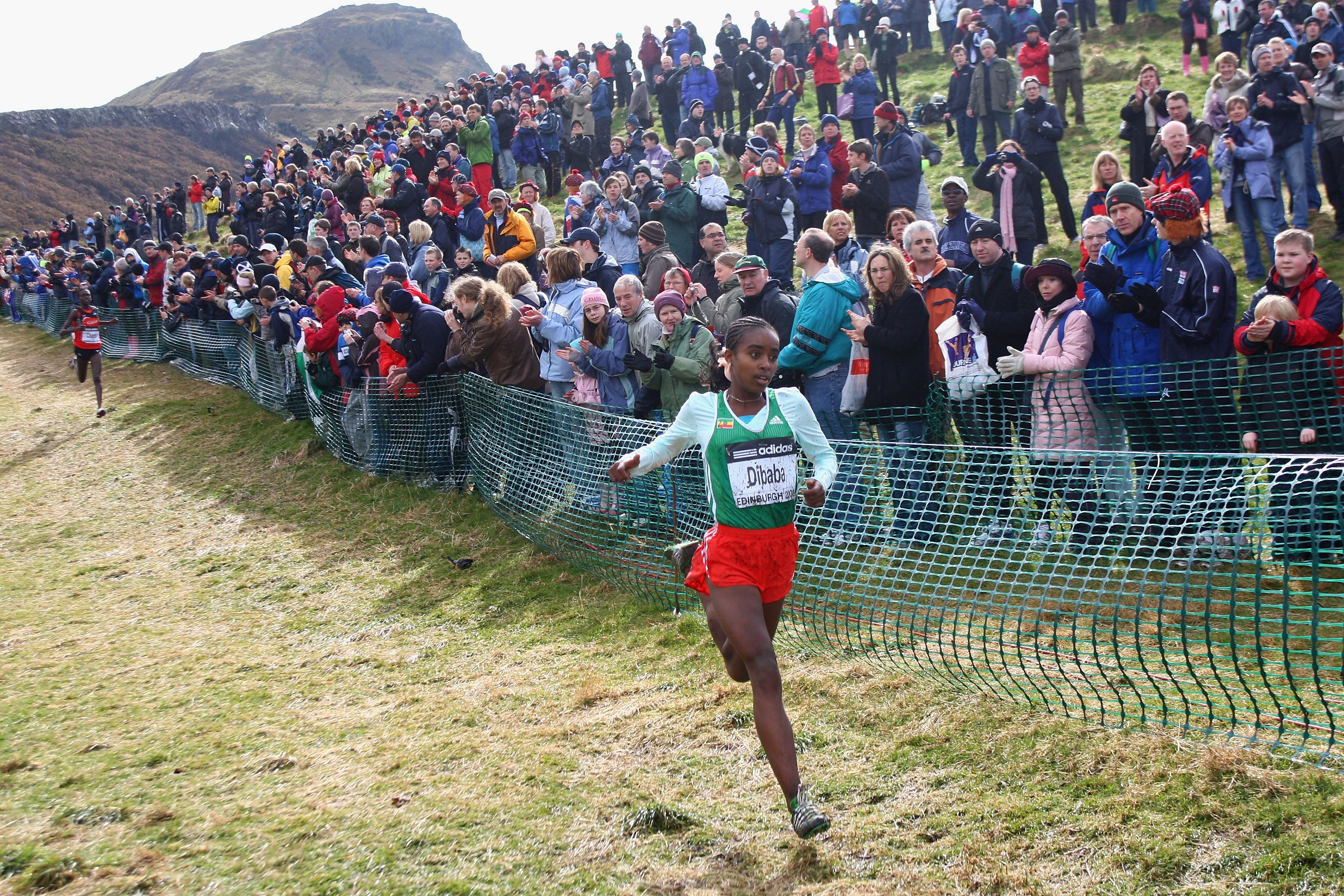 Genzebe Dibaba on her way to an U20 women's win at the 2008 World Cross Country Championships (© Getty Images)
Genzebe retained her age-group crown in Amman in 2009. As a senior athlete, however, the 1500m world record-holder has yet to find a Midas touch.
In her only appearance thus far in the senior women's long race, in Punta Umbria in 2011, she finished ninth, earning a team silver. She won another team silver in the mixed relay in Kampala.
Fourth decade of World Cross action
2004 Brussels, Belgium
A momentous weekend for Ethiopia, who ended Kenya's 16-year grip on the men's long course team title when Kenenisa Bekele, Gebre Gebremariam and Sileshi Sihine completed an individual medal sweep ahead of Eliud Kipchoge. Bekele secured his third successive double, becoming the first three-time winner of the men's short race, Gebremariam taking silver. Former Australian U20 hockey international Benita Johnson finished 12 seconds clear of Ethiopia's Ejegayehu Dibaba in the women's long race, while 36-year-old Kenyan Edith Masai became the oldest ever individual champion as she completed a hat-trick of short race victories.
2005 Saint-Galmier, France
Three months after the tragic death of his 18-year-old fiancée Alem Techale, an emotional Bekele gained a fourth successive long-short double in unseasonably hot (27 C) conditions. Fellow Ethiopian Tirunesh Dibaba became the second woman to achieve a long-short double, following in the footsteps of Ireland's Sonia O'Sullivan.
2006 Fukuoka, Japan
The final staging of the senior short course races. Tirunesh Dibaba retained the women's long course crown and fellow Ethiopian Gelete Burka, the 2005 U20 women's champion, claimed senior short course gold. There was a fifth double for Kenenisa Bekele, pushed close in the short race by Isaac Songok of Kenya. His younger brother Tariku took bronze in the U20 men's race.
2007 Mombasa, Kenya
Stifling conditions (33 C and 73% humidity) took a toll on Bekele's bid for a sixth successive long course win. After building up a sizeable lead, he ground to a halt 800m from the finish, former Eritrean pro cyclist Zesenay Tadese snatching victory. Dibaba had to settle for silver in the women's race, the Kenyan-born Dutch runner Lornah Kiplagat leading virtually from gun to tape.
2008 Edinburgh, Scotland
Tirunesh and Genzebe Dibaba secured a famous family double with senior and U20 victories. Despite having to stop mid-race to re-secure a loose shoe, Bekele claimed his sixth long race win.
2009 Amman, Jordan
Seven years after succeeding Bekele as U20 champion, Gebremariam followed his Ethiopian teammate as winner of the senior men's title. Florence Kiplagat became the first Kenyan in 10 years to win a senior long course gold.
2010 Bydgoszcz, Poland
Kenya dominated. Joseph Ebuya was the first Kenyan men's long course winner since Paul Tergat in 1999. Emily Chebet took the senior women's title, while Caleb Ndiku and Emily Chebet claimed the U20 crowns.
2011 Punta Umbria, Spain
Kenya's world 5000m champion Vivian Cheruiyot emerged victorious from the senior women's race, teammate Linet Masai finishing runner-up for the third successive year. Imane Merga was the eighth Ethiopian men's winner in 10 years.
Simon Turnbull for World Athletics Heritage