Paola Cacchi leads from Joyce Smith and Anne Garrett at the inaugural World Cross Country Championships (© Mark Shearman)
Memories of the Munich Olympics were still vivid when the Waregem Hippodrome opened its gates to welcome the world to the inaugural World Athletics Cross Country Championships in western Belgium on 17 March 1973.
Just six months previously, the watching world had marvelled at the sight of the US phenomenon Dave Wottle – resplendent in trademark golf cap, throttling from nowhere to 800m gold – and at the launch of a whole new squadron of Flying Finns.
Lasse Viren's double in the 5000m and 10,000m, Pekka Vasala's 1500m victory, and Tapio Kantanen's bronze in the 3000m steeplechase recaptured the glory days of Paavo Nurmi, Hannes Kolehmainen, Ville Ritola and Volmari Iso-Hollo, when Finland's finest captured 20 Olympic distance titles, from 1912 and 1936.
It was another of the new-wave Finns, sporting a cycling cap in Wottle-fashion, who emerged with the senior men's title from a race overflowing with drama on the Waregem racecourse, some 65km west of Brussels.
Eighth in the 3000m steeplechase in Munich, the willowy Pekka Paivarinta prevailed by 0.10 after a titanic tussle with Mariano Haro, the squat, muscular Spaniard who had finished fourth in the Olympic 10,000m final behind Viren, Belgian Emiel Puttemans and Ethiopia's Miruts Yifter.
The first women's world cross country champion was Paola Cacchi, the Italian who claimed bronze in the inaugural Olympic women's 1500m final in Munich behind Lyudmila Bragina of the Soviet Union and East Germany's Gunhild Hoffmeister.
All 286 runners taking part in the three races in Waregem – the senior men's 12km, the women's 4km and U20 men's 7km, won by Scotland's Jim Brown ahead of Haro's younger brother, Jose – were breaking new ground.
An international cross country event had been held since 1903 under the auspices of the International Cross Country Union but the International Cross Country Championships, or Cross de Nations, was contested by few countries beyond the boundaries of Europe.
In the interests of making it a truly global affair, the ICCU asked the IAAF, the forerunner of World Athletics, to take over its running from 1973 onwards.
The inaugural ICCU event, at Hamilton Racecourse in Scotland in 1903, comprised just a single men's race and was contested by 45 runners from four nations (England, Scotland, Ireland and Wales). It was won by Alf Shrubb, the celebrated English distance runner whose 10 mile world record of 50:40.6 the following year stood for 24 years before Nurmi broke it in 1928.
The IAAF invited 150 countries to take part in Waregem. Only 21 accepted: the usual ICCU group of countries plus the USSR, Finland, Germany and Denmark. Just two African nations attended: Morocco and Tunisia.
Having finished runner up to Belgium's Gaston Roelants in the final International Cross Country Championships race in Cambridge the previous year, Haro was determined to go one better and claim the inaugural world title in Waregem
He worked hard to build a lead of 20m before himself and the chasing pack were ambushed by a group of demonstrators protesting for a single team representing Ireland rather than two (Ireland and Northern Ireland). Dressed as athletes, the interlopers wrought havoc.
Haro was pushed into a ditch and Morocco's Haddon Jaddour was punched so hard he was forced to drop out. Rod Dixon, the Olympic 1500m bronze medallist from New Zealand, broke stride to throw one of the protestors into a ditch.
As Mel Watman subsequently wrote in his event report in the Athletics 74 annual: "It was greatly to Haro's credit that, on rejoining the race, he set off in such determined pursuit that before long the little Spaniard was back among the leaders.
"After four of the five laps, Haro and Paivarinta were locked in conflict some 20m ahead of Dixon. Haro tried all he knew to break away from his gangling Finnish opponent. He succeeded in opening up a lead of 10m with 800m to go, but it wasn't sufficient.
"Paivarinta, sporting his cycling cap, pulled that back as the finish loomed in sight and, after a tremendous scrap along the final straight, Europe's answer to Dave Wottle emerged the winner."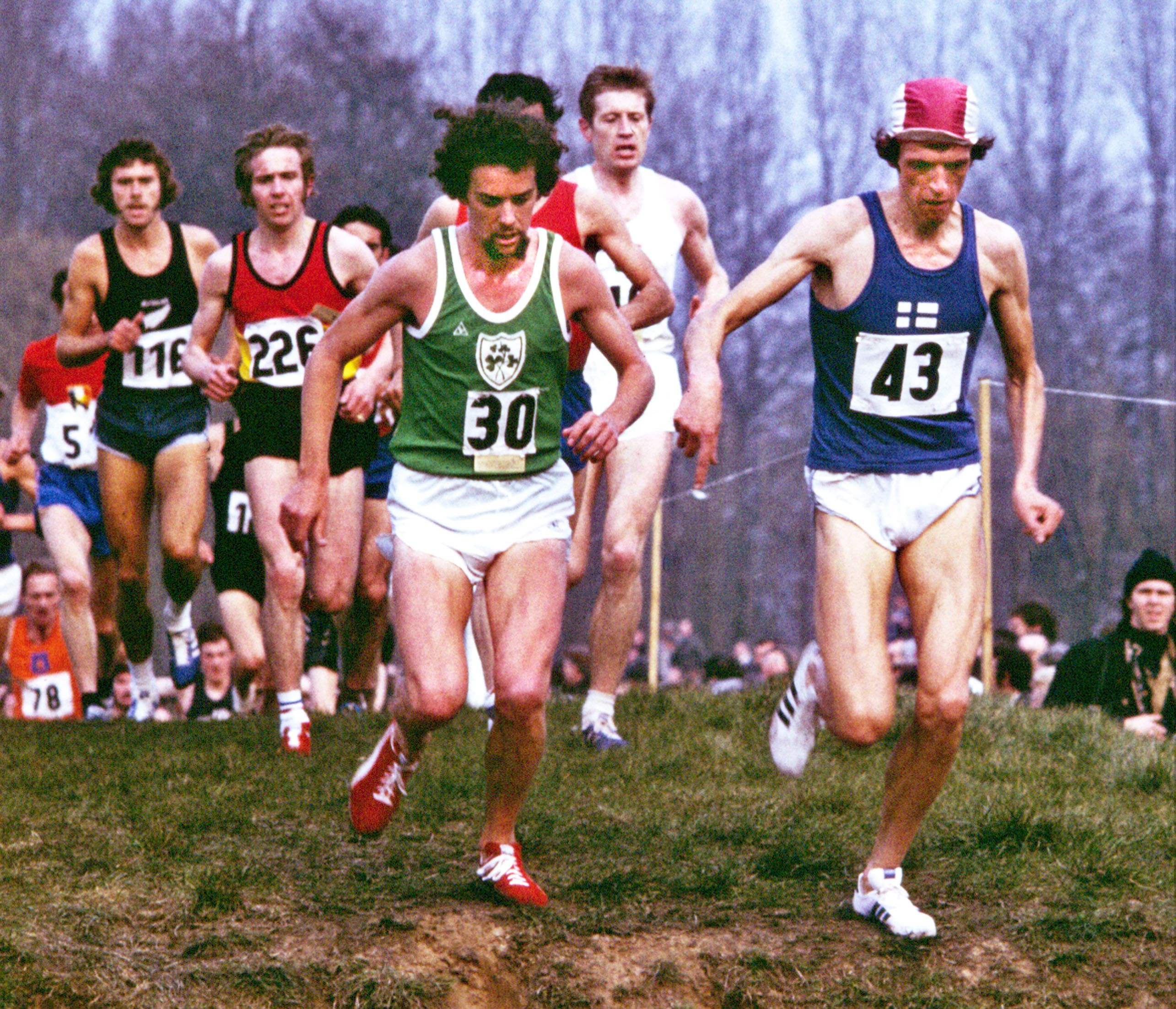 Pekka Paivarinta leads from Neil Cusack at the inaugural World Cross Country Championships (© Mark Shearman)
Both men were given the same time, 35:46. The difference between them was one tenth of a second: 35:46.4 to 35:46.4. Dixon finished third in 36:00 and Kantanen fourth in 36:05. With Willy Polleunis in fifth and Roelants eighth, hosts Belgium claimed the team prize ahead of the Soviet Union and New Zealand.
Farther down the field, in 24th, was Portugal's Carlos Lopes, the future Olympic marathon champion and world record-holder. In 131st (of 148 finishers) was Jos Hermens, the Dutchman who broke the one-hour world record and became the manager and guiding light of the most successful world cross country runner of all-time, Ethiopia's 16-time gold medal winner Kenenisa Bekele.
It was the third time in three years that Haro had fallen victim to formidable Finnish finishing speed, having been one of those blown away by Juha Vaatainen's dynamite last lap in the European 10,000m final in Helsinki in 1971 (crossing the line fifth) and by Viren's world record run over the same distance in Munich
The plucky Spaniard was to finish runner up to Belgium's Eric De Beck and Scotland's Ian Stewart in the next two World Athletics Cross Country Championships. Including the 1972 International Cross Country Championships race, that made it four silver linings in a row for Haro.
As for Paivarinta, a 23-year-old caretaker from Turku, it was his second international medal in the space of a week, having won European indoor 3000m bronze behind the Belgians Puttemans and Polleunis in Rotterdam the previous weekend.
It was to be the only success on the international stage for the European Wottle, though he came preciously close to European indoor 3000m gold in Katowice in 1975, losing out in a photo finish with Stewart, both men clocking the same time – and won another silver in the same event in 1977, behind West Germany's Karl Fleschen.
On home ground in Oulu in 1975, Paivarinta managed to run his way into the world record books, clocking 1:14:16.8 for 25,000m on the track, but at the 1976 Olympics in Montreal he dropped out of the 10,000m heats and finished 13th in the 5000m. Viren, whom he regularly beat in regional and national events, completed his second Olympic double.
Fifty years on, Paivarinta's 1973 success remains the only one by a Finnish athlete in a senior event at the World Athletics Cross Country Championships. There was a neat historical symmetry to his victory, coming 49 years after the last of the three individual men's cross country races held at the Olympic Games
All three of those were won by Flying Finns: Kolehmainen in Stockholm in 1912 and Nurmi in Antwerp in 1920 and Paris in 1924. Cross country would doubtless have remained on the Olympic agenda had the Paris race not been such a disaster, Nurmi and his rivals having been obliged to negotiate a course that included stone paths covered in knee-high thistles with poisonous fumes belching from a nearby energy plant – all on one of the hottest days on record in the French capital.


First decade of World Cross action
1974 Monza, Italy
Paola Cacchi became the first back-to-back world cross country champion, retaining the women's crown on home ground by beating Finland's Nina Holmen. The little-known Erik De Beck, a protégé of 1964 Olympic steeplechase champion Gaston Roelants, took the individual senior men's title ahead of Spain's Mariano Haro – runner up for the second year in succession – helping Belgium to retain the team title.
1975 Rabat, Morocco
A week after outsprinting Pekka Paivarinta to European indoor 3000m gold in Katowice, Scot Ian Stewart did the same to the luckless Mariano Haro in the Moroccan capital. Future marathon great Bill Rodgers of the US claimed the bronze medal, with fourth-placed John Walker leading New Zealand to the team prize (assisted by 42-year-old Jack Foster in 36th place). Julie Brown of the US won the women's race ahead of Poland's Bronislawa Ludwichowska and Carmen Valero of Spain.
1976 Chepstow, Wales
Spain's Carmen Valero of Spain went two better than her third-place finish the year before, finishing 100m clear of Tatyana Kazankina, the future Olympic 800m and 1500m champion from the Soviet Union, in the women's race. Five months before taking Olympic 10,000m silver behind Lasse Viren in Montreal, Lisbon bank clerk Carlos Lopes won the senior men's world cross country title ahead of England's Tony Simmons.
1977 Dusseldorf, West Germany
Leon Schots outsprinted Carlos Lopes to take the senior men's individual prize and help Belgium sneak the team title ahead of England. Carmen Valero retained the women's crown.
1978 Glasgow, Scotland
Norway's Grete Waitz comfortably claimed the first of her five women's titles, winning ahead of Romania's Natalia Marasescu and Maricica Puica, while 20-year-old Irishman John Treacy emerged from the quagmire of Bellahouston Park as the surprise winner of the men's race. England's Mick Morton won an U20 men's race featuring future Olympic champions Gelindo Bordin (19th) and Said Aouita (34th).
1979 Limerick, Ireland
John Treacy produced a tactical masterclass to retain the senior men's title on home soil, finishing nine seconds clear of Bronislaw Malinowski, the Polish steeplechaser who was killed in a car crash a year after his 1980 Olympic victory. Grete Waitz was a clear winner of the women's race for a second successive year, this time claiming victory ahead of Raisa Smekhnova and Ellison Goodall.
1980 Paris, France
Grete Waitz completed a hat-trick of women's titles in style, triumphing by 44 seconds, a record winning margin at the World Athletics Cross Country Championships. Long-time leader Nick Rose of England had to settle for third place in the senior men's race, behind the fast-finishing Craig Virgin of the US and West Germany's Hans Jurgen Orthmann.
1981 Madrid, Spain
The entry of the East African masters, Ethiopia and Kenya making their championship debuts. Ethiopia claimed the men's team title ahead of the USA and Kenya, despite their first six runners miscalculating their lap counts and sprinting for the line with one circuit still remaining. Mohamed Kedir recovered to take individual silver behind Craig Virgin, with Rod Dixon in third. Grete Waitz resisted the early challenge of Maricica Puica, who had ended the Norwegian's unbeaten record on the roads three weeks previously, to win her fourth successive women's title.
1982 Rome, Italy
This time, suffering from injury, Grete Waitz finished third in the women's race behind Romanians Maricica Puica and Fita Lovin. With Craig Virgin's bid for a third senior men's crown having been scuppered by an operation on his only kidney, Mohammed Kedir became the first African champion, helping Ethiopia to retain the team title. They also won the individual and team titles on their debut appearance in the U20 men's race, Zurubachew Gelaw leading the way.

Not until 1967 were women officially welcomed into international cross country competition. Doris Brown of USA won the inaugural women's race at the International Cross Country Championships in Barry, Wales, that year, the first of five successive titles for the bespectacled Seattle runner.
The World Athletics Heritage Colletion has recently received a donation of the gold medal Brown received at that 1967 competition and it will go on display in the Museum of World Athletics (MOWA).
One of the great pioneers of women's distance running, Brown was the first woman to run a sub-five-minute mile indoors and in 1987, as Doris Heritage, she became the first women to be elected to a World Athletics committee (other than the women's committee), serving eight years as a member of the Road Running and Cross Country Committee.
Despite being hampered by injury, Brown ran in the inaugural World Athletics Cross Country Championships women's race in Waregem, finishing 15th and leading USA to third place in the team race behind England and Finland.
The individual women's title went to Cacchi. The Olympic 1500m bronze medallist built up a solid lead over England's Joyce Smith, winner of the 1972 International Cross Country event, and finished 13 seconds clear in 13:45. Smith was second and Belgium's Josee van Santberghe third.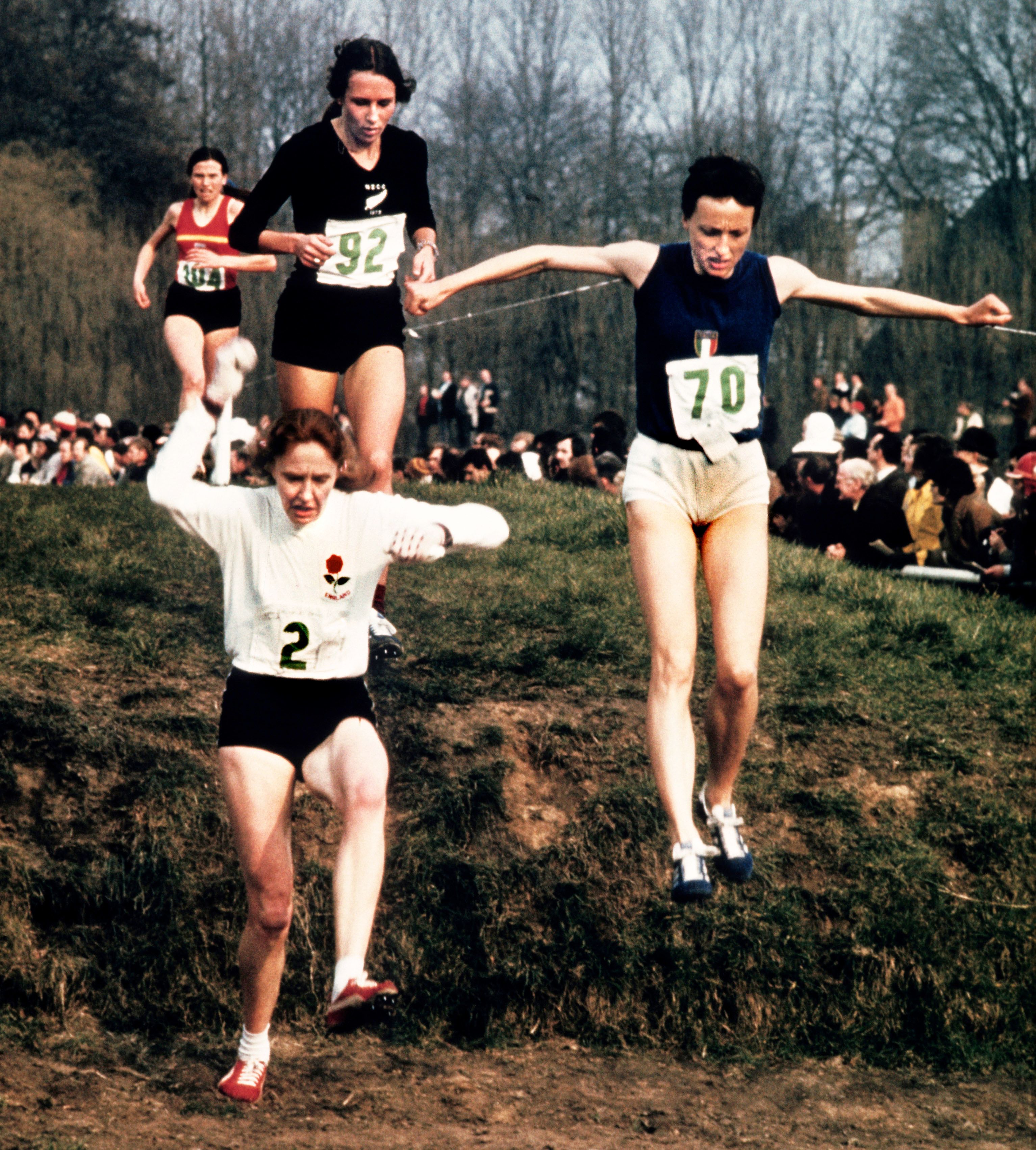 Joyce Smith leads the women's race ahead of eventual winner Paola Cacchi in Waregem (© Mark Shearman)
With her teammates Rita Ridley in fourth, Penny Yule in 14th and Carol Gould in 20th, Smith led England to the team title ahead of Finland and USA.
At 27, Cacchi was already established as one of the European trailblazers of women's distance running. Between 1969 and 1973, she set eight world records at distances from 1500m to 10,000m.
In 1969, as Paola Pigni, she became the first woman to crack 16 minutes for 5000m, running 15:53.6 in Milan, her home city. In August 1973, she was the first woman to break 4:30 for the mile, clocking 4:29.5 in Viareggio.
While Paivarinta went on to finish 15th in defence of the men's world cross country title in Monza in 1974, Cacchi won the women's race again, making history as the first back-to-back world cross country champion.
Simon Turnbull for World Athletics Heritage