Emma Coburn, Joshua Cheptegei, Paul Tergat, Sebastian Coe, Jess Hull, Geoffrey Kamworor, Matt Whitbread (© Steve Christo)
Absence, they say, makes the heart grow fonder. But in the case of World Athletics Cross Country Championships, it also seemingly makes the courses tougher.
Four years have passed since the memorable 2019 edition in the Danish city of Aarhus, where athletes had to run up a museum roof, trudge through a mud pit, and dash through a Viking zone. It was widely regarded as one of the most unique and challenging courses ever at a World Cross.
Now, on the eve of the World Athletics Cross Country Championships Bathurst 23, many people are convinced that the course for this year's edition is even tougher.
"In recent years we've talked about reinvigorating cross country, and we adjusted the course in Aarhus to create a more challenging one," said World Athletics President Sebastian Coe. "I'm delighted that the team here in Bathurst have picked up that torch and done an outstanding job. I'd say this is certainly one of the toughest courses ever for a World Cross.
"We are really pleased to be here," he added. "In the 50-year history of the World Cross, this is just the second time it has been held in Oceania, and it's the first time it has been held in Australia.
"Bathurst has one of the most iconic motor racing tracks in the world, but now, in the same breath, people will think of Bathurst staging the World Cross Country Championships."
Local Organising Committee Co-Chair Matt Whitbread expressed his pleasure at welcoming the world to Australia for a global athletics event.
"We're delighted to have everyone here in Bathurst," he said. "After the last edition in Denmark, there was plenty of inspiration. We got the brief that the course needed to be hard, and hopefully we've achieved that.
"We were originally scheduled for 2021, then 2022, and we're finally here now," he said. "We're thrilled to be here and we welcome you all."
Coe also used the opportunity to underline the importance of cross country.
"World Athletics takes cross country very seriously, and the importance of cross country goes beyond a great World Championships like this," he said.
"Cross country is an absolutely essential part of the development of young athletes. Any athlete who can master cross country and can do so from a young age is going to be well placed to pursue an endurance career on the track."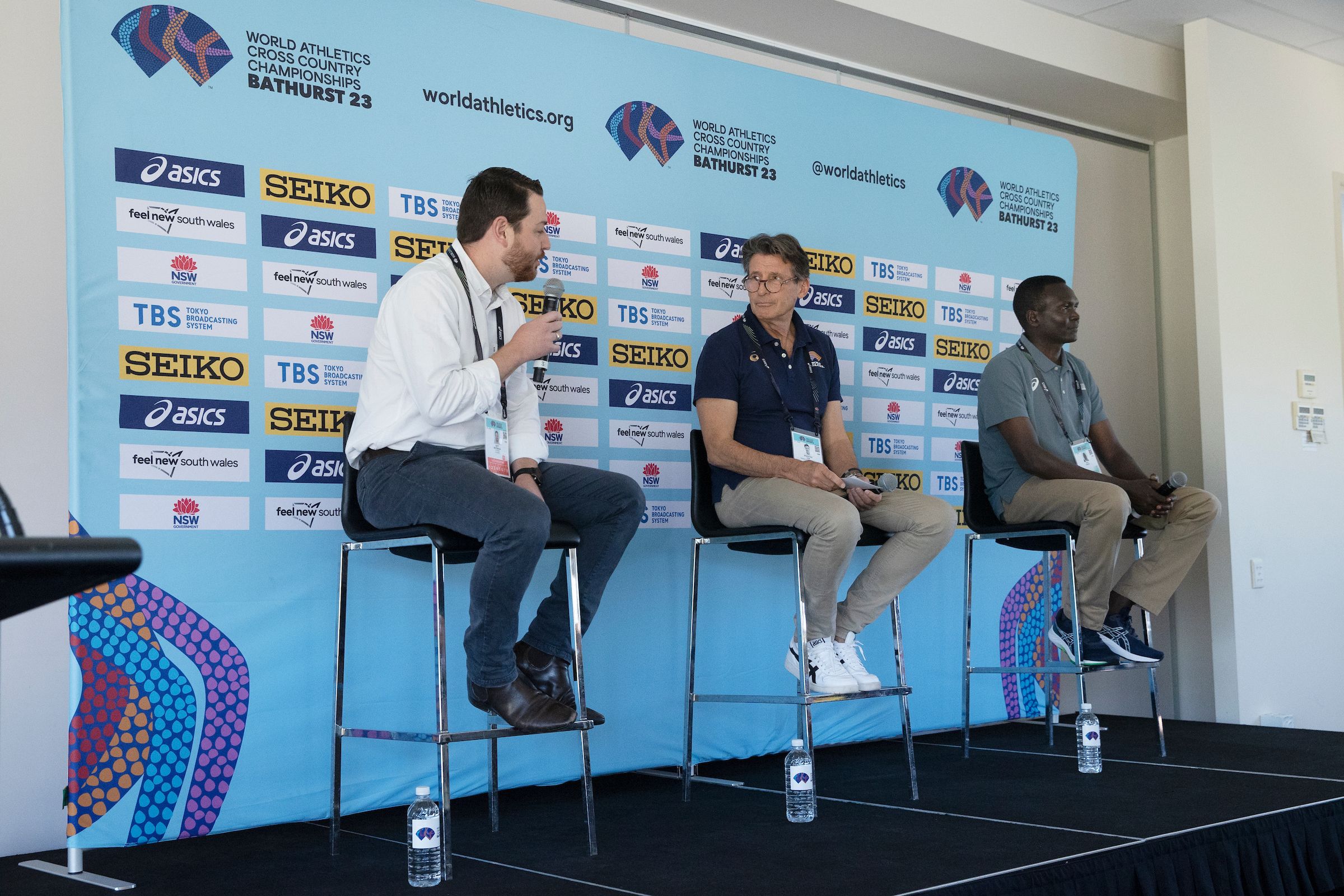 Matt Whitbread, Sebastian Coe and Paul Tergat at the press conference in Bathurst (© Steve Christo)
Championships ambassador Paul Tergat is living proof of someone who benefitted from cross-country running. A five-time world champion at cross country, the Kenyan legend also set world records on the track and roads during his long career.
"Cross country is part of my DNA," said Tergat. "This is where my career started. Being here, especially in Australia where I have such fond memories, makes it more special.
"With cross country, not only do you have to think about the athletes you're racing against, you also have to think about the terrain and the course," he added. "I believe that makes you tougher. Each course is different, which makes cross country unique."
Cheptegei and Kamworor ready for rematch
Uganda's Joshua Cheptegei and Kenya's Geoffrey Kamworor – who, between them, have won the past three senior men's titles – will once again go head to head on Saturday.
Cheptegei's compatriot Jacob Kiplimo, who took silver in 2019, is also in Bathurst, meaning the full podium will be reunited.
"It's exciting that the people who shared the podium in 2019 are all back here," said Cheptegei, the 5000m and 10,000m world record-holder. "I know it's going to be mind-blowing and will be something that will stay in our hearts and minds for a long time."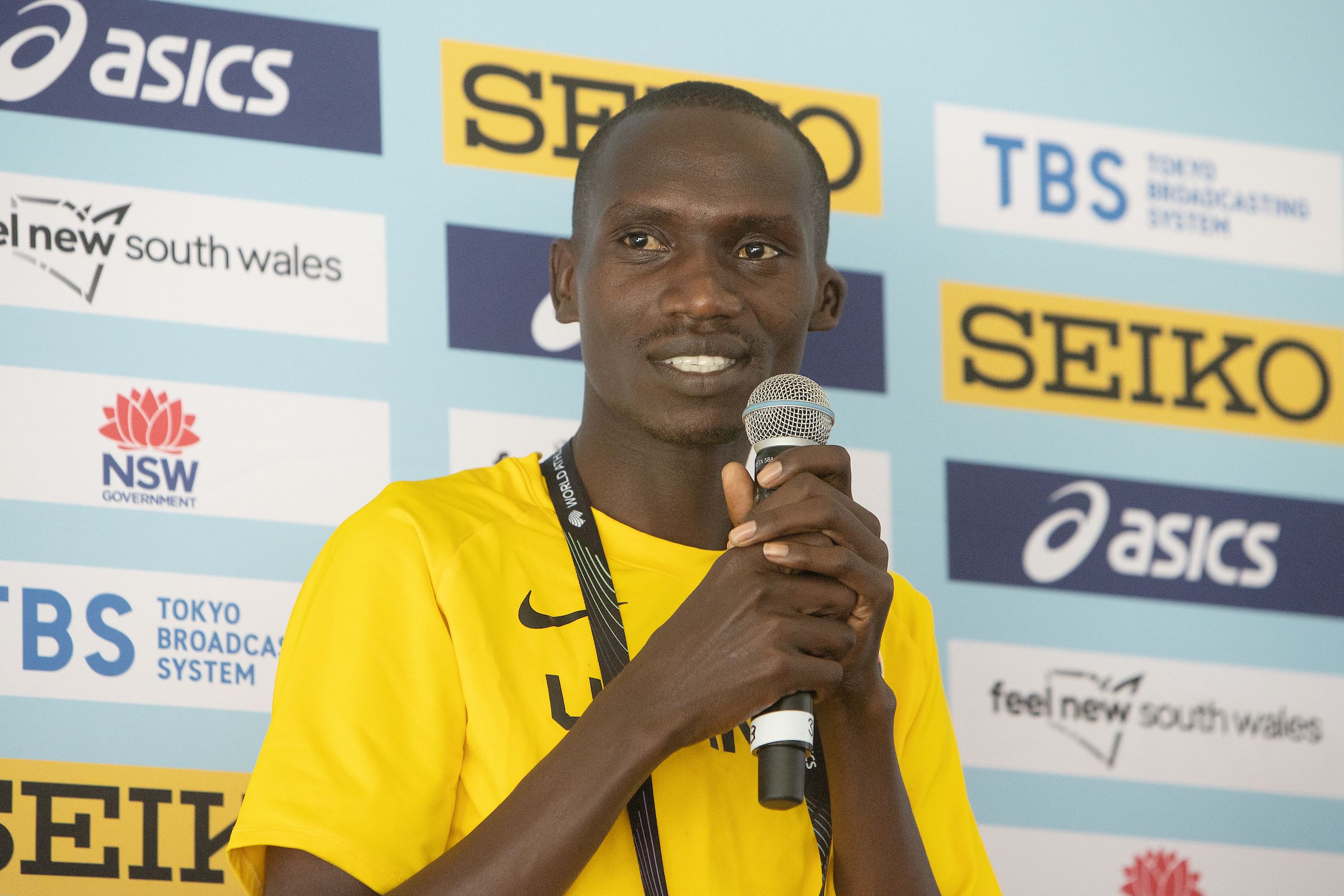 Joshua Cheptegei at the press conference in Bathurst (© Steve Christo)
Memories of the 2017 World Cross Country Championships have certainly stayed with Cheptegei over the past six years. On that occasion, with the World Cross taking place on home soil, Cheptegei had built up a huge lead but fatigue eventually got the better of him and he faded to 30th, as Kamworor successfully defended his title.
"Sometimes you have to accept what life throws at you and then learn from it," said Cheptegei. "I can proudly say that I am a better athlete because of the incident in 2017. It taught me a lot of lessons about my life and my career. When you want something in life, it's important to chase your goals, but you also have to be patient and make certain judgements."
For Kamworor, it was the 2011 edition of the World Cross that holds most significance.
"The first major title I won was the U20 title at the 2011 World Cross Country Championships," he said. "That motivated me so much, and ever since then I have loved cross country."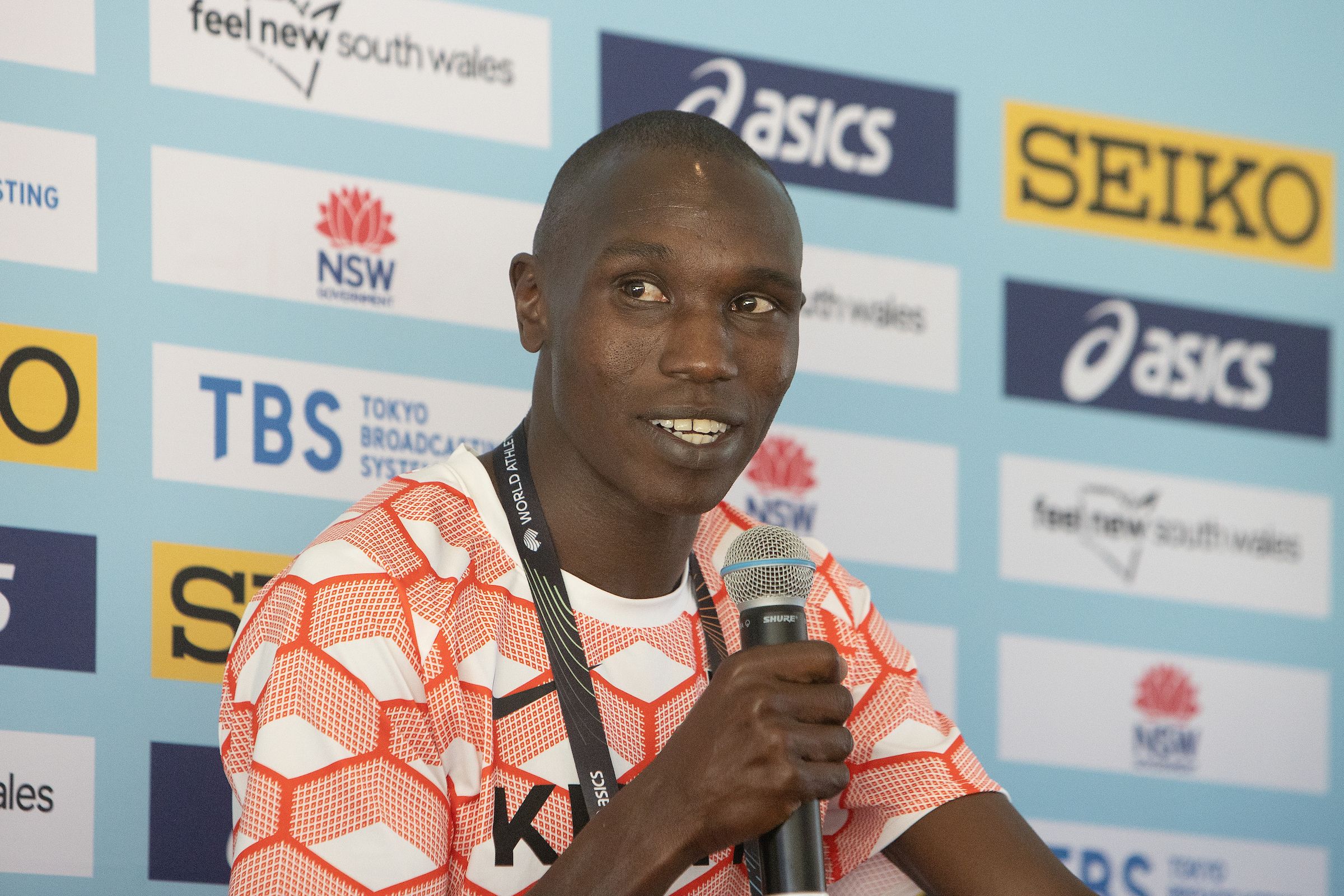 Geoffrey Kamworor at the press conference in Bathurst (© Steve Christo)
Despite winning two individual senior titles and one U20 title, Kamworor is yet to win a senior team gold at the World Cross. He hopes that will change on Saturday, though.
"We had great training with the team and we hope to do our best tomorrow and hopefully win the team title," he said.
Hull and Coburn take different routes to Bathurst relay
Dramatically contrasting paths have led accidental contender Emma Coburn and child prodigy Jessica Hull to the World Cross Country Championships in Bathurst where they are both in contention for medals.
Colorado-based Coburn, 32, is looking forward to leading USA in the mixed relay, despite being an athlete who spurned cross country at school and college in favour of volleyball and track.
Coburn instead went on to become a steeplechase specialist, winning the 2017 world title at that discipline, as well as the 2019 world silver and 2016 Olympic bronze.
Coburn said the longer cross country courses were the reasons she never got into the discipline.
"I was never that mentally into it (cross country) because I played volleyball during the same season in high school," Coburn said. "In college I tried it, but I wasn't that great. I always loved the steeplechase and the track."
Being able to compete in a mixed relay – the ninth time Coburn has represented the USA at a global championship – where each runner completes a 2km loop has changed her attitude about cross country.
"This 2km distance I think is really fun," she said. "The muscular strength in my legs will be beneficial on some of the technically challenging parts of the race, like the mud pit.
"As a steeplechaser, I like the challenge of this course. We'll be going for it, trying our hardest to conquer the course and come out with some hardware.
"This is a fun opportunity and something different for me. I'm eager to try new things and mix it up and this is an opportunity to challenge my mind and body."
Coburn will be supported in the mixed relay by US teammates Heather MacLean, a 2021 Tokyo Olympic 1500m semi-finalist, steeplechase expert Alec Basten, and 2019 mixed relay runner Jordan Mann.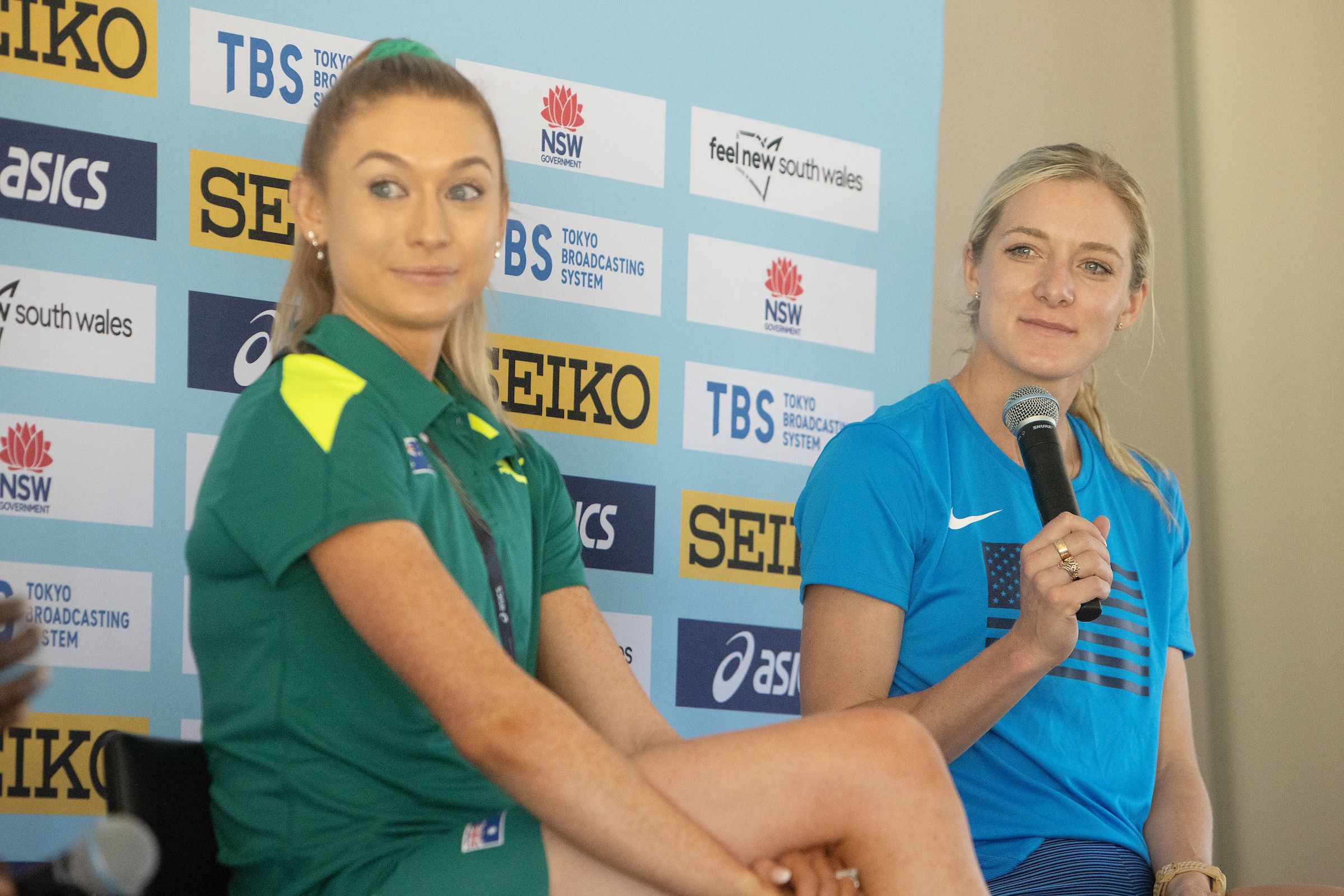 Jess Hull and Emma Coburn at the press conference in Bathurst (© Steve Christo)
The USA will be vying for the medals alongside Australia, whose team boasts a cross country child enthusiast in Hull.
Twenty years ago Hull kicked off her athletics career doing 2km primary school cross country carnivals across the road from her home in New South Wales, Australia.
"It's kind of scary," Hull said. "It was part of my school sports days and it was 2km. Now I'll do a 2km hot lap of the Bathurst course. So it's kind of a full circle moment.
"If we were to get the win out there, it would be pretty special," she added. "It is incredible that we can talk about the Aussie team even having a win. It would be quite a remarkable day if we got to hear the national anthem while we are out there."
Athletics has taken Hull, 26, from school cross country carnivals to the world stage where she's been a 1500m finalist at three majors – the 2021 Tokyo Olympics (11th), the 2022 World Championships in Oregon (7th) and the 2022 Commonwealth Games in Birmingham (8th).
Hull will be joined on the tough Bathurst course by three other Australian 1500m specialists: Commonwealth champion Oliver Hoare, Commonwealth bronze medallist Abbey Caldwell, and Olympic finalist Stewart McSweyn.
The mixed relay is the first medal event on the championship programme on Saturday (18). 15 teams will compete for the medals, running in a 4x2km man-woman-man-woman format with each athlete having a wristband which they transfer to their teammate in the takeover zone.
Jon Mulkeen and Louise Evans for World Athletics