Kimberly Garcia wins the 20km race walk at the World Athletics Championships Oregon22 (© Getty Images)
Peru's Kimberley Garcia dealt with everything the Chinese favourites could throw at her in the women's 20km race walk before pulling clear over the final third of the race to claim the first gold medal of the World Athletics Championships Oregon22.
No Peruvian has ever won a medal at these championships, but Garcia, who took silver at the 2019 Pan American Games on home soil in Lima, provided her country with huge reason for pride after moving decisively away from the Chinese race walker with whom she shared the lead for the bulk of the race, 2012 Olympic champion Qieyang Shijie.
As temperatures on the one-kilometre loop on Martin Luther King Jr Boulevard in the east of Eugene's city centre rose towards 28C, the 31-year-old Qieyang, who won world silver in the humid heat of Doha three years ago, dropped back in the closing kilometres as Poland's Katarzyna Zdzieblo came through for second place.
Garcia smashed the national record of 1:28:38 she set earlier this year as she finished in 1:26:58.
Zdzieblo also set a national record, finishing in 1:27:31, with Qieyang holding on to earn a second bronze to the one she claimed in 2011 as she clocked 1:27:56.
Australia's Commonwealth champion Jemima Montag missed the podium by one place in 1:28:17, finishing one place ahead of China's defending champion Liu Hong, who had been seeking a fifth consecutive title but missed out as she finished in 1:29:00, having dropped off the lead after the opening four kilometres.


Most big favourites through
Wherever Gianmarco Tamberi is, it seems, there is also high emotion. Those watching the joint-Olympic champion today were sent on a familiar up and down ride – or rather, down and up – as the Italian stuttered on the brink of failing to qualify for Monday's final. And then succeeded!
Things looked bad for the 30-year-old, who earned another joint medal at this year's World Indoor Championships in sharing third place with New Zealand's Hamish Kerr, as he failed twice at 2.25m. One more failure and it was definitely finito for the maestro. But he didn't fail.
After dousing his head, neck and chest with water as the morning sun, directly overhead, grew in intensity, Tamberi proceeded to create similar drama with the bar at 2.28m, managing that height also at the third and final attempt, leaving the bar – and his supporters – quivering.
He is into Monday's final. Knowing him, anything could happen. But on the evidence of this morning session the favourites would appear to be his co-winner in Tokyo, the endlessly supple and eternally cool Qatari Mutaz Barshim, and the South Korean who missed an Olympic medal by one place but won world indoor gold this year, Woo Sanghyeok, both of whom made it to 2.28m without blemish.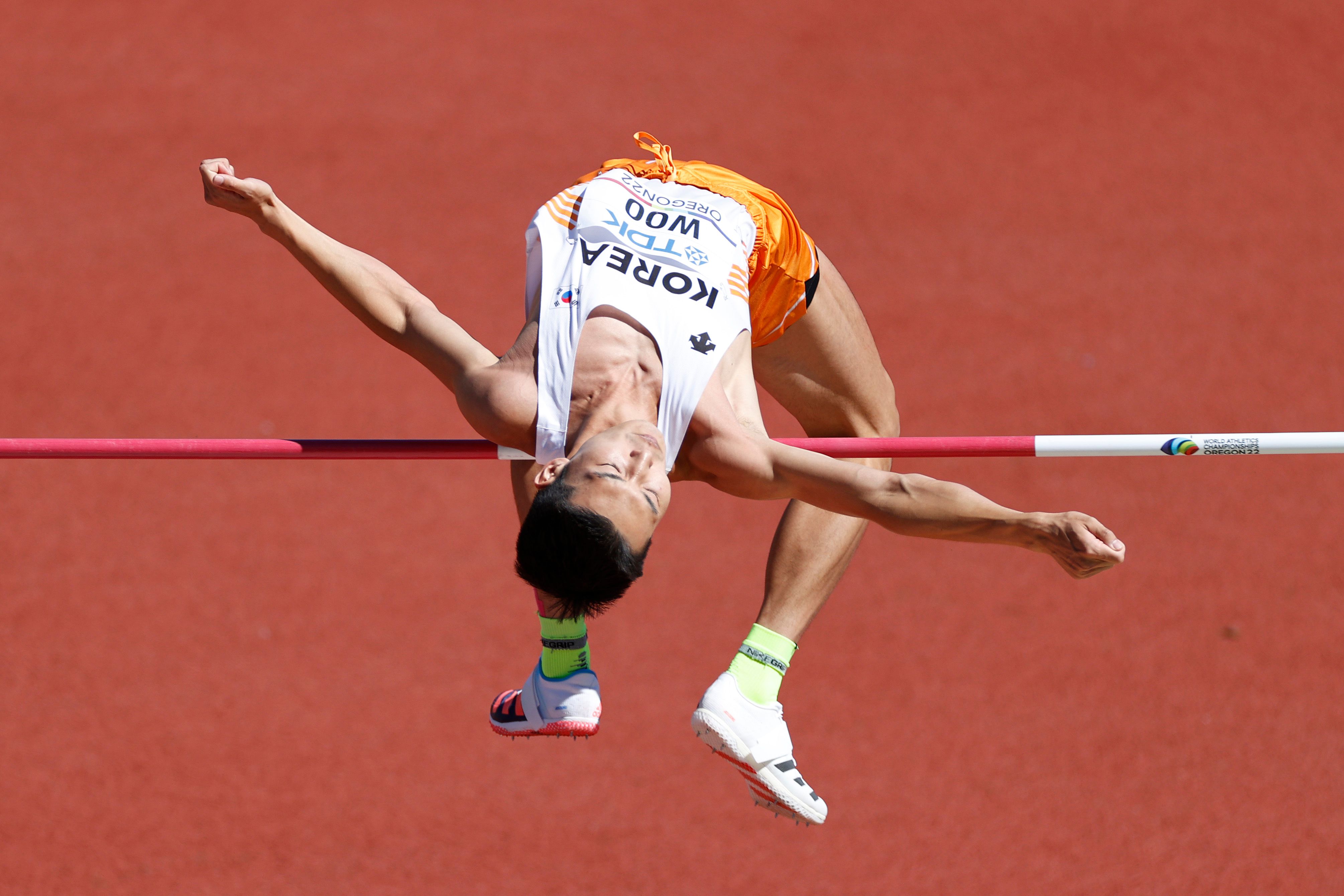 Woo Sanghyeok in the high jump at the World Athletics Championships Oregon22 (© Getty Images)

Woo might as well have been named Woo-Hoo, such was his exuberance after each smooth and easy clearance, while Barshim, eyes hidden behind a sweep of blue-glazed sunglasses, was arching over the bar with masses to spare.
The final is going to be fascinating – especially as it will also involve talents such as Canada's Commonwealth bronze medallist Django Lovett and Ukraine's 34-year-old Andriy Protsenko, who jumped 2.40m in 2014.
But while Tamberi progressed, his fellow bronze medallist Kerr failed to do so. Israel's 19-year-old world U20 champion Jonathan Kapitolnik, meanwhile, encountered triumph and disaster in short order as he cleared 2.28m but then lay agonised on the pit bed clutching his left calf and being assisted away.
The men's hammer qualification precipitated the two mighty Poles – Olympic champion Wojciech Nowicki and the man seeking a fifth consecutive world title, Pawel Fajdek – into tomorrow's final.
While Fajdek has always found Olympic medals hard to come by, earning his first, a bronze, last summer, he has found world gold medals less tricky to collect and he topped qualifying here with 80.09m.
Nowicki was third best on 79.22m, with home thrower Daniel Haugh second on 79.34m and Hungary's Bence Halasz was fourth with 79.13m ahead of USA's North American record-holder Rudy Winkler on 78.61m.
The women's hammer qualifying lacked the two women who have bettered 80 metres, world record-holder and Olympic champion Anita Wlodarczyk of Poland – who has had surgery on her thigh after injuring herself apprehending someone who tried to steal her car – and home thrower DeAnna Price, who withdrew from the championships after a recent bout of covid.
Those proving themselves most ready to fill the vacuum were two other home throwers, Janee Kassanavoid, who topped the first qualifying group with 74.46m, and Brooke Andersen, who led the second group with 74.37m.
The heats of the mixed 4x400m saw Olympic champions Poland heading towards the exit after a poor start in the opening heat only for their individual European champion Justyna Swiety-Ersetic to move from fourth to third in the final 50 metres behind the United States and the Netherlands.
The second heat, won by a Dominican Republic team anchored by Olympic silver medallist Marileidy Paulino, saw Ireland – Olympic finalists last year – earn another prestigious qualification, with Jack Rafferty's third leg split of 45.37 being the fastest in the race, and Rhasidat Adeleke astonishing with her anchor leg of 49.80.
Emanuel Archibald of Guyana was the fastest finisher in the men's 100m preliminary round, clocking 10.31 to move through to the heats later in the day, with Ebrahima Camara of Gambia second fastest in 10.37 and Indonesia's Lalu Zohri in 10.46.
Mike Rowbottom for World Athletics