Shaunae Miller-Uibo and Michael Norman (© Getty Images)
Women's 400m
Timetable | world rankings | 2022 world list | world all-time list | how it works
As the reigning two-time Olympic champion in the women's 400m, Shaunae Miller-Uibo is still in search of an elusive prize: the world outdoor title.
The 28-year-old Bahamian has twice won the silver medal at the World Championships, in 2015 and 2019, as well as a bronze in the 200m in 2017. She now goes in as a gold medal favourite at the World Athletics Championships Oregon22.
Fresh off winning her first world indoor title in March in Serbia, Miller-Uibo clocked 49.91 – the third-fastest time this year – at the Tom Jones Memorial Invitational in Gainesville, Florida, in April.
She faded to a sluggish third-place finish in Doha in May in 51.84, her first defeat in a Diamond League race since 2015. But she bounced back a month later at the Paris Diamond League meeting, building a big lead and slowing down over the final 50m to win in 50.10.
"At this stage, I'm quite confident about my chances to succeed at Eugene," Miller-Uibo said. "I'm healthy, everything is doing great at training. I'm exactly in the shape I wanted to be at this time of the season."
If she is anywhere near the form she was at this time last year, Miller-Uibo will be virtually impossible to beat. She was imperious in Tokyo, running away from the field to win in 48.36, more than a second faster than her victorious time in Rio de Janeiro in 2016.
Oregon shapes up as perhaps Miller-Uibo's last global championships in the 400m. She said earlier this year she does not plan to go for a third straight Olympic title in the event and will focus on the 200m for the 2004 Games in Paris.
Among Miller-Uibo's main challengers in Eugene will be Marileidy Paulino of the Dominican Republic, who burst on to the world stage when she took the Olympic silver in Tokyo behind the Bahamian.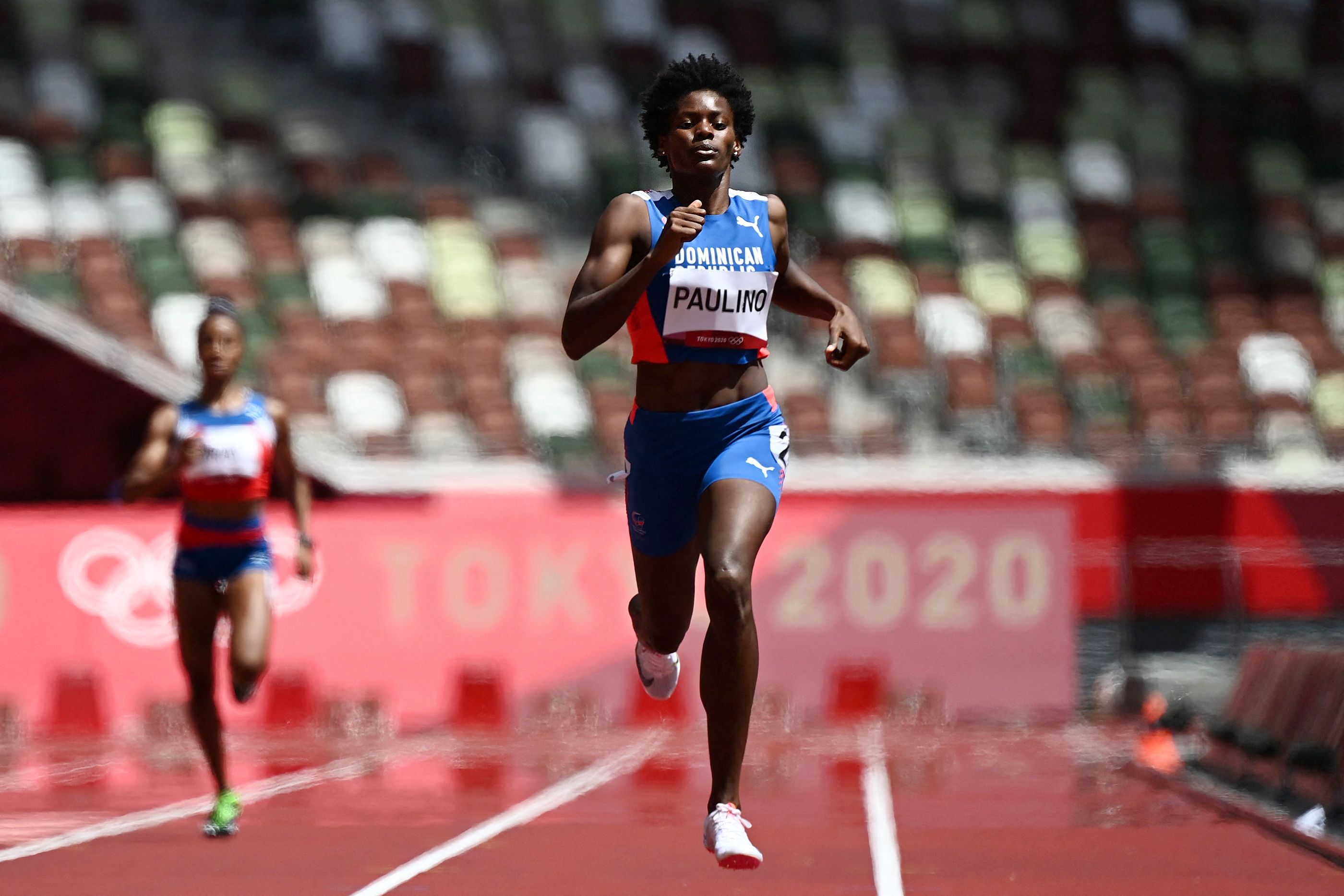 Marileidy Paulino in action at the Tokyo Olympics (© AFP / Getty Images)
Unbeaten in the 400m this year, Paulino ran a world-leading 49.49 in La Nucia, Spain, in May. She beat Miller-Uibo in Doha, running 51.20 into a head wind, and also won at the Diamond League in Rabat on 5 June, clocking 50.10.
The rising star in the event is 19-year-old Talitha Diggs, the new NCAA and US national champion. The University of Florida sophomore captured the NCAA title at Hayward Field in 49.99, becoming the youngest US athlete ever to run under 50 seconds. She then dug deep to win the national title, storming from third place in the final straight to win in 50.22.
Diggs comes from an exalted track and field family: she is the daughter of four-time Olympian in the 800m Joetta Clark Diggs and the niece of three-time Olympian Hazel Clark.
"My family, they are integral to my success," Diggs said. "Just to see my mom and my aunt win so many titles, for me to get my own is a blessing."
Another young contender to watch is Jamaica's 21-year-old Charokee Young, whose 49.87 in Gainesville, Florida, on 16 April stands as the world's No.2 time. Running for Texas A&M, she finished second to Diggs in the NCAA Championships in 50.65.
Young is joined on the Jamaican team by national champion Candice McLeod, who finished fifth in Tokyo, and 2013 World Championships bronze medallist Stephenie Ann McPherson, fourth in Tokyo.
Also in the mix will be Natalia Kaczmarek of Poland, gold medallist in the 4x400m mixed relay and silver medallist in the 4x400m women's relay in Tokyo. She has a best time of 50.16 this year.
Men's 400m
Timetable | world rankings | 2022 world list | world all-time list | how it works
Three-time Olympic medallist and 2011 world champion Kirani James. World record-holder and former world and Olympic champion Wayde van Niekerk. Two-time US champion Michael Norman.
It's safe to say the field for the men's 400m at the World Athletics Championships Oregon22 is loaded with big names.
Perhaps no one will have more at stake at Eugene's Hayward Field than the 24-year-old Norman, who has a golden opportunity on home soil to finally claim an individual 400m title on the global stage.
Long viewed as the next great US quarter-miler, Norman was considered the favourite at the 2019 World Championships in Doha and the 2020 Tokyo Olympic Games. But he left without a medal each time, eliminated in the Doha semifinals with a hamstring injury and fading to fifth place in the Tokyo final.
Now comes a chance for redemption for Norman, who has enjoyed an outstanding 2022 season to establish himself again as a leading contender for gold among a powerful quartet of US athletes.
Unbeaten this year in three events, Norman broke Michael Johnson's 22-year-old meeting record and set a Diamond League record when he clocked 43.60 to win the 400m at the Prefontaine Classic in Eugene on 28 May.
A few weeks later, Norman returned to Eugene and captured his second consecutive national title, running 43.56 in the final for a Hayward Field record. Champion Allison finished a close second in a personal best 43.70, making him the world's second-fastest 400m runner this year.
Another US athlete, Michael Cherry (season's best 44.28), won a bye into the World Championships as the reigning Diamond League champion in the 400m.
Back at Hayward Field for a third time in six weeks, Norman should be full of confidence in his bid for a first global title.
"I guess I have a pretty good history at Eugene," he said. "I think I'll have a slight advantage."
After his huge disappointment in Tokyo, where he slumped to 44.31 in the final, Norman said he went "back to basics" in winter training under coach Quincy Watts.
"Hard work and consistency with diet and training," he said. "My motto this year has been that if it's comfortable, it's too easy – in the weight room or on the track. I'm going to train like I want to do something special, and when the time comes, the time comes."
Among those standing in Norman's way is James, winner of gold, silver and bronze from the last three Olympic Games. The Grenadian was world champion in 2011 and bronze medallist in 2015. He finished fifth at the Doha World Championships in 2019.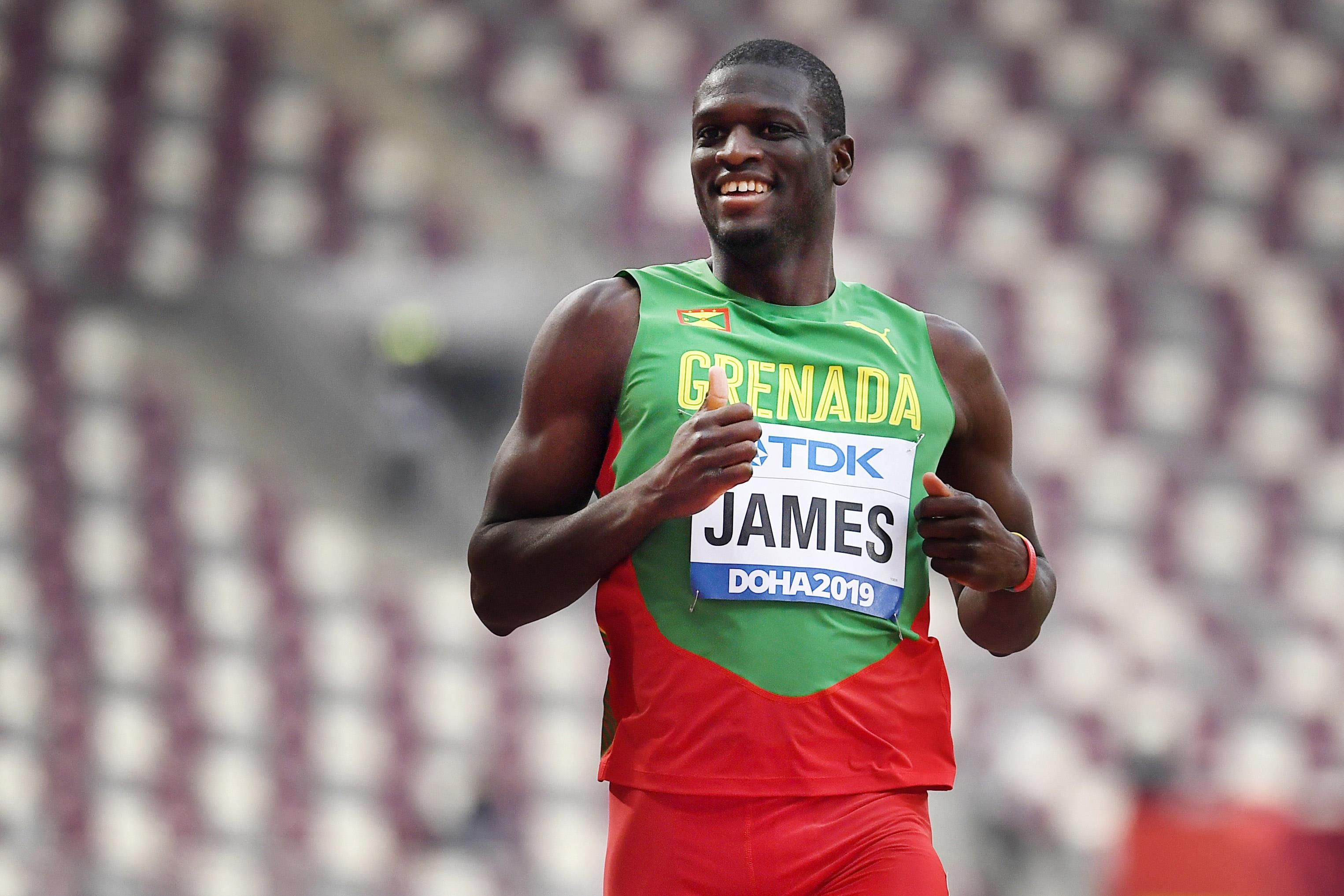 Kirani James in the 400m at the World Athletics Championships Doha 2019 (© AFP / Getty Images)
James has been in sharp form, winning two consecutive Diamond League races, clocking 44.54 in Rome on 6 June and, 10 days later, running 44.78 in tough conditions in Oslo. Earlier, James clocked 44.02 to finish second behind Norman at the Prefontaine Classic, making him the third-fastest man this year.
Uncertainty surrounds Van Niekerk, the South African still fighting to return to top fitness following the freak knee injuries suffered in a charity rugby match in 2017. In Tokyo, he failed to reach the final, finishing fifth in his semifinal in 45.14.
Hampered by niggling injuries this year, Van Niekerk withdrew from the South African Championships and pulled up during a 200m race in Italy in late May. He ran his season-opening 400m on 3 July and looked smooth in winning at the Stars and Stripes Classic in Marietta, Georgia, clocking 44.58.
"Blessed weekend and a positive step forward," Van Niekerk tweeted after the race. "Grateful for finishing my race healthy and looking forward to the next."
The South African, who set the world record of 43.03 at the 2016 Rio Olympics, turns 30 on the opening day of the championships. Whether he will be fully fit for the 400m heats two days later remains to be seen.
Also to keep an eye on is Matthew Hudson-Smith, the five-time British champion and 2018 European champion. He finished third behind Norman and Steven Gardiner at the Prefontaine Classic in 44.35, eighth on the season's list. He also won the Diamond League meet in Birmingham in 45.32.
Reigning world and Olympic champion Gardiner will not be joining them in Oregon, however, the Bahamian announcing on social media that he would be withdrawing from the event due to a tendon problem.
Steve Wilson for World Athletics