DeNorval Unthank Jr. (© UO Libraries Special Collections and University Archives)
Strides for Social Justice adds two University of Oregon tours
Strides for Social Justice has added two new University of Oregon routes to its series of Black History tours throughout Eugene, Ore., as part of the community's celebration of Black History Month.
Strides for Social Justice is a collaboration between PeaceHealth and the Eugene Marathon for people to learn about the lives and achievements of Eugene's Black residents while encouraging physical activity for people of all ages and fitness levels.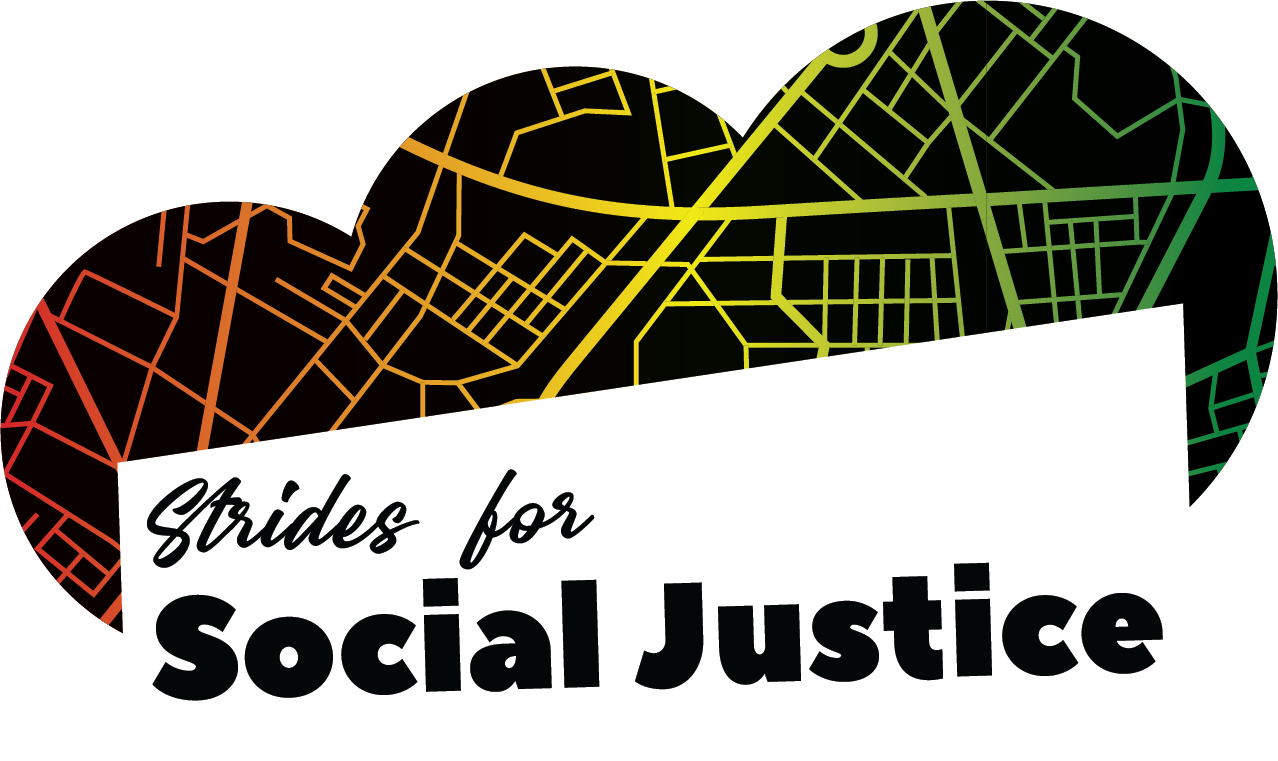 Launched in February 2021, Strides for Social Justice takes people on journeys into Eugene's Black history while raising awareness of organizations focused on social justice, including the NAACP. With the two new University of Oregon routes, Strides for Social Justice now offers seven self-guided tours that can be accessed from a free app. Links to the app can be found here as well as historical information. All tours are free.
Participants on these tours are encouraged to think about what life was like for Black residents in the early 1900s during a time of hardship and exclusion for people of color. While many link Eugene to liberal politics and openness, that narrative isn't consistent with Black reality. Oregon was the only state admitted to the union with a Black exclusion law in its Bill of Rights, which prohibited Blacks from even being in the state. In the early 20th century, Oregon had one of the highest per capita KKK memberships in the country, and the Eugene chapter was particularly strong, as mentioned in Racing to Change, a University of Oregon Museum of National and Cultural History online exhibit. Even today, less than 5 percent of the Eugene population is Black.
The University of Oregon routes, introduced on February 1, are about first milestones by Black people in athletic and academic pursuits.
Denise Thomas, a University of Oregon alumna and founder of Healthy Moves, begins each route with a short video demonstrating some helpful stretches.
Yvette Alex-Assensoh, vice president for equity and inclusion at the University of Oregon, ends each route with a reflection, designed to encourage participants to think deeply about what they have learned and to consider what steps they might take to advance social justice.
The athletics tour starts at historic Hayward Field on the southwest corner of Agate Street and 15th Avenue, continues to the university's recreation fields and tennis courts, and then to Jane Sanders Stadium, the Oregon softball home since 2016 and built on its former facility. After leaving Jane Sanders Stadium, the tour goes next door to McArthur Court, the longtime home of Oregon men's and women's basketball before Matthew Knight Arena opened in January 2011. The tour then crosses the Willamette River's Dave and Lynn Frohnmayer Bridge to Autzen Stadium, home of the Oregon football team, and concludes at Pape Field, the home of Oregon soccer and lacrosse, next door to Autzen Stadium.
Among the iconic athlete firsts highlighted on the tour stops are:
•

Bobby Robinson and Charles Williams, the university's first Black athletes in 1927. Both played football at Hayward Field, which was home to Oregon football until Autzen Stadium opened in 1967. Robinson also ran track for the Ducks.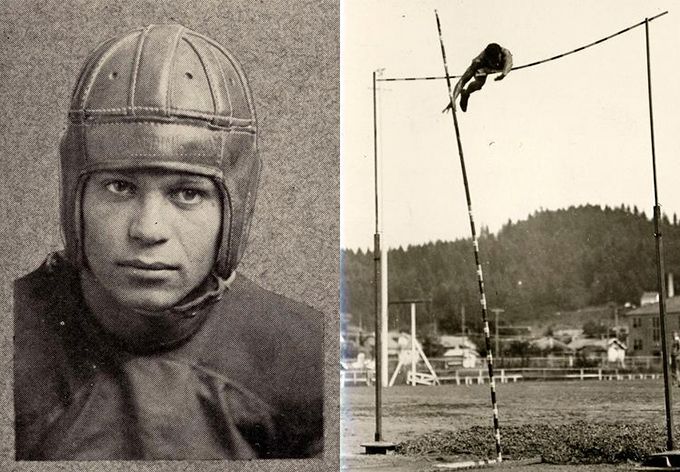 Photo courtesy of UO Athletics.

•

Mack Robinson, the brother of Jackie Robinson, won a silver medal behind Jessie Owens in the 200-meter dash at the 1936 Berlin Olympics, and became Oregon's first Black NCAA track and field champion, winning the 220-yard dash at the 1938 NCAA meet.

•

Otis Davis was the first track and field athlete who won a gold medal while enrolled at the university when he won the 400-meter dash at the 1960 Rome Olympics and ran on the gold-medal winning 4x400 relay team.

•

Georgene Ross and Quenna Beasley. Ross was Oregon's first Black women's athlete when she competed for the track team in 1976, and Beasley was the Ducks' first Black women's all-American in any sport when she placed seventh in the shot put at the 1983 AIAW national championships before the NCAA sponsored women's sports.

•

Ashton Eaton won gold medals in the decathlon at the 2012 and 2016 Olympics and set two world records in the event. He also set three world records in the indoor heptathlon, and along with Davis, has his likeness portrayed on the 10-story tower at the reimagined Hayward Field.

•

Ernie Kent was the first Black head coach of any sport at Oregon when he returned to his alma mater and was hired as the men's basketball coach in 1997. He won one conference regular season and two conference tournament

championships, and

led the Ducks to five NCAA Tournament appearances.

•

Robert Johnson became the first Black Oregon head coach to win an NCAA championship when he led the 2014 men's and women's track teams to a sweep of the indoor national meets. Johnson had led men's and women's teams to a combined 13 NCAA titles in cross country, and indoor and outdoor track and field.

•

Willie Taggart was the head football coach at Oregon for only one season in 2017 before leaving for Florida State. He's the only Black head football coach in school history.

•

Victoria Taylor was the first Black woman to play on a national tournament team at Oregon when the Ducks advanced to the 1981 AIWA soccer national tournament.

•

Yogi Johnson became Oregon's first Black softball player in 1981 and led the Ducks in home runs. Jasmine Minor became Oregon's first Black women's tennis player in 2013, and Sydney Lawrence, in 2019, became the school's first Black women's lacrosse player.

•

Debbie Adams and Edniesha Curry were standout women's basketball players at Oregon. Adams was the first Black women's basketball player in 1977 and the first to earn all-district honors. In 2002, Curry was the first Black Oregon player to be taken

in the WNBA

draft, and

made history again last year when she became the first woman hired as an assistant coach for the

Portland Trail Blazers

of the NBA.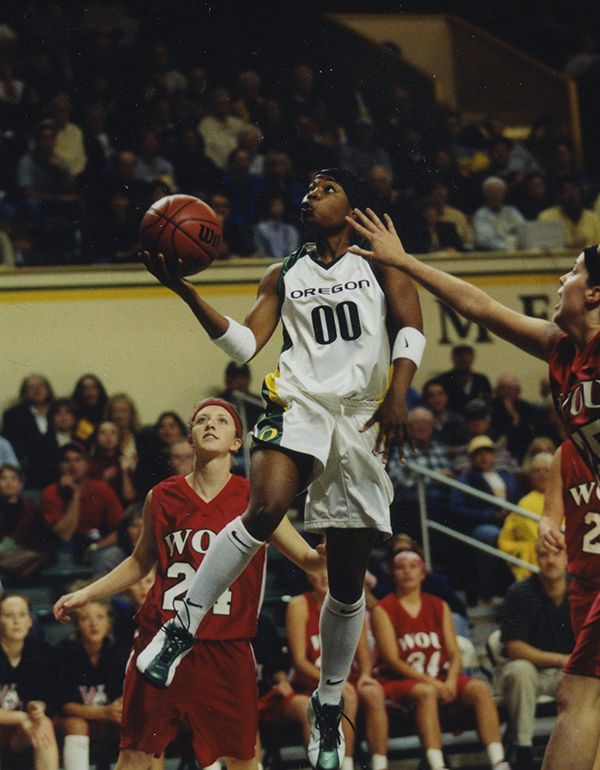 Photo courtesy of UO Athletics.

•

LaReina Woods was one of Oregon's greatest two-sports women's stars and became the Ducks' first Black volleyball player in 1991. She led the Ducks in digs for three straight seasons. On the track, she tied the school record in the 100-meter dash in winning the 1993 Pac-10 title and ran on record-setting relay teams at Oregon.

•

Black superstar football players at Oregon include Mel Renfro, Bobby Moore, now known as Ahmad Rashad, Akili Smith, Jonathan Stewart, and LaMichael James. Moore was a record-setting running back and receiver at Oregon and was the fourth overall pick of the 1972 NFL draft. He played for 10 years in the NFL before becoming a sports broadcasting superstar. Smith, a record-setting quarterback, was the first Oregon player, in 1998, to be named Pac-10 player of the year. Renfro was a track all-American for the Ducks on NCAA championship teams under Bill Bowerman, and a two-time all-American running back in football in 1962-63, who later won a Super Bowl with the Dallas Cowboys. Stewart and James were also record-setting running backs with Stewart also a two-time all-American. James was the school's first unanimous football all-American who won the 2010 Doak Waker Award as the nation's best running back.
The search for justice and belonging
There are six stops on the University of Oregon academic tour, starting and ending at the Lyllye Reynolds-Parker Black Cultural Center, the first building on campus named after a Black woman. The building of a Black cultural center was one of 13 demands the university's Black Student Task Force requested of campus leadership in 2015.
The university's Black cultural center opened in 2019 and was named for Reynolds-Parker, a Eugene native who was a member of the first graduating class at Sheldon High School. The civil rights activist enrolled at the University of Oregon as a 40-year-old single mother in 1991, and earned a degree in sociology. She was a student adviser at the university until retiring in 2012.
Reynolds-Parker is the daughter of Sam and Mattie Reynolds, a Black family that came to Eugene in the 1940s. The family is the focus of Strides for Social Justice's West Eugene Tour as the Reynolds family helped establish and develop one of the city's first Black congregations. One stop is on a street named for Sam Reynolds, and another is the site of a future park named after Mattie Reynolds.
The Black cultural center stop also pays tribute to Mabel Byrd, a Portland resident who was the first Black person to enroll at Oregon in 1917. Byrd lived and worked in the home of a university professor because she was barred from on-campus dorms because of her race. The stop also highlights William Sherman Savage, the first Black person to get a graduate degree from Oregon in 1926, and Nellie Louise Franklin, the first Black woman to graduate from the university in 1932.
Other on-campus tour stops include Unthank Hall, Prince Lucien Campbell Hall, the Erb Memorial Union, and Friendly Hall.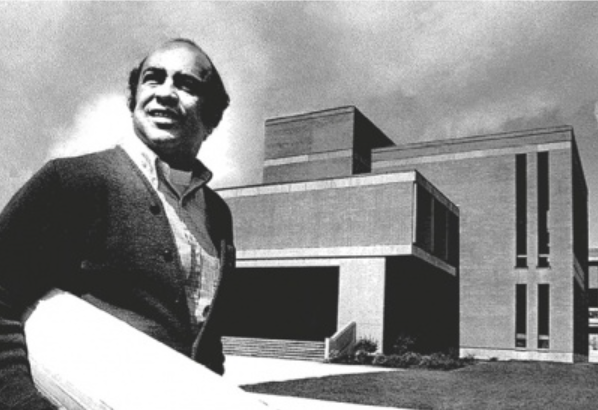 Photo courtesy of UO Libraries Special Collections and University Archives.

Unthank Hall, a university residence hall that opened in 2021, honors DeNorval Unthank Jr., the first Black graduate of Oregon's architecture program. In 2017, an older dorm called Dunn Hall was renamed Unthank Hall after the university's Black Student Task Force demanded that the name be changed. Dunn was a university professor who was also a local Ku Klux Klan leader in the 1920s. The hall was renamed to honor Unthank, who designed notable buildings around Eugene such as the Lane County Courthouse, Kennedy Middle School and Thurston High School in nearby Springfield, and was also an Oregon professor from 1965 to 1980. When the older dorm was no longer in use, the university continued to recognize Unthank by transferring his name to this new residence hall.
Dr. Edwin Coleman Jr., who graduated from the University of Oregon and advocated for the creation of the Department of Ethnic Studies, now known as the UO Indigenous, Race and Ethnic Studies department, is honored on the third stop of the academic tour. Coleman was an educator, musician, civil rights activist, community and campus organizer, and writer in his 50 years in Eugene, including 30 years teaching at Oregon. He worked with the Democratic Party of Lane County, the naming of Martin Luther King Jr. Boulevard, and the dedication of the Rosa Parks Plaza in downtown Eugene.
Strides for Social Justice's Westmoreland Park Tour also honors Coleman, whose name adorns the park's community center, and has two murals of him on it – one highlighting Coleman's devotion to education and civil rights, and the other combining his passions of social justice and music.
The Erb Memorial Union (EMU), located in the heart of campus, opened in 1950. Since then, the EMU has been a gathering place for students to speak their minds, protest, and rally on social and political issues, including civil rights. In 1966, following protests and negotiations with university administration, Black students formed the Black Student Union — the first student union to be recognized by the Associated Students of the University of Oregon. In the late 1960s and early 1970s, the Black Panther Party, was active in Eugene, attracting crowds at the EMU and other locations on campus.
Friendly Hall is home to classrooms and faculty offices, but was the university's first dormitory when it opened in 1893. Bobby Robinson and Charles Williams, the school's first Black athletes, were initially banned from living in campus dorms but moved into Friendly Hall in 1927 after their football teammates petitioned for them to live on campus.
Wiley Griffon was Eugene's first Black resident recorded in city history by name, and he worked as a janitor at Friendly Hall as the university's first Black employee. Griffon is the focus on Strides for Social Justice's South Eugene Tour.
Here is a look at what other tour routes have to offer:
Westmoreland Park Tour
Besides Coleman, this tour honors Margaret Johnson Bailes, who ran in the 1968 Mexico City Olympics as a 17-year-old Eugene student and won a gold medal on the world-record setting U.S. 4x100 relay team.
Skinner Butte Tour
The shortest of the five tours explores Eugene's large riverside park and shines a light on a painful and hidden chapter of Oregon history, including Black exclusion laws and the proliferation of Ku Klux Klan chapters in the early 20th century. Participants can hike up the short, but steep, climb to the top of Skinner Butte Park via a gravel path for a spectacular view of downtown Eugene. The butte was renamed after Eugene Skinner, the town's first mayor.
Downtown Eugene Tour
Participants can visit Eugene's first Black communities and homes. Among the tour stops is the Historic Mims House, once a Black-owned residence, which is now managed by the Lane County branch of NAACP. The Mims family was one of first Black homeowners in Eugene and their house and an adjoining boarding house they owned served as a haven for Black travelers from 1948-66, and hosted such prominent individuals as Louis Armstrong, Ella Fitzgerald, and Nat King Cole.
Another stop includes a statue of Rosa Parks at the Downtown Eugene Bus Station. Although not part of the tour, visitors can check out a large mural of Martin Luther King Jr. at 1106 Oak Street. Another mural at 749 Willamette Street is of Jesse Owens and incorporates found objects, including wood from the Hayward Field renovation. The tributes to King and Owens are part of the legacy mural project done by street artists from all over the world for the World Athletics Championships Oregon22.
Learn more about Strides for Social Justice in these articles from Travel Oregon and Travel Lane County.
By Ashley Conklin