Anjelina Nadai Lohalith at the World Athletics Championships Oregon22 (© Getty Images)
While more than 1700 athletes from around the world flocked to Eugene for the World Athletics Championships Oregon22 last week, there were a few whose journey to this year's biggest global stage has been more arduous and remarkable than most.
These individuals belong to the Athlete Refugee Team, a squad that represents a community of more than 89 million people from around the world who have been forcibly displaced from their homes. This year marked the third time the Athlete Refugee Team have competed at the World Athletics Championships, continuing an almost uninterrupted streak of appearances at each World Athletics Series event since 2017. Through their hardships and triumphs, a trio of world-class athletes provided inspiration for the tens of millions of displaced peoples around the world.
The team was represented by Dorian Keletela, a 100m sprinter native to Congo residing in Portugal; Anjelina Nadai Lohalith, a native of South Sudan, who is based in Kenya and competes in the 1500m; and 5000m runner Jamal Abdelmaji Eisa Mohammed, a native of Sudan, who is based in Tel Aviv. All three athletes were also a part of the Olympic Refugee Team in Tokyo.
Here's how they did in Eugene.
PB for Nadai

Nadai came to Eugene as the team's most experienced runner, having been part of the original Olympic Refugee Team at the 2016 Rio Olympics and more recently competing at the World Athletics Indoor Championships Belgrade22 and the African Athletics Championships. Nadai, who fled from her village in South Sudan at only 9 years old, was targetting a new personal best and to dip under 4:30.
Her hopes were fulfilled.
Rallying from back, Lohalith made a move around 800 metres into the race that positioned her with the front pack. She held on for half a lap before drifting back, but the move might have made all the difference. Lohalith crossed the line in 4:23.84, improving her personal best by almost 8 seconds.
"I can't believe I did my personal best," Nadai said. "I really feel so great. That is something I was really coming for, and I really tried to fight so hard so that I can run that today - I can't even explain my feelings."
Nadai said she cherishes the opportunity and responsibility to represent refugees from around the world.
"I didn't run alone," she said. "I ran for the millions of refugees, because not all of them can manage to come here. I'm sure they have that hope. That, 'oh, we got that chance with our fellow refugee competing at the World Championships.'"
Keletela disappointed

Keletela advanced from the preliminary round in Tokyo one year ago, so it was no surprise to see the 23-year-old accomplish the feat again in the championships' opening session on the morning of day one. Keletela finished second in his preliminary round race in 10.48. Keletela arrived in Eugene with a 10.27 lifetime best and ambitions to run sub-10.20.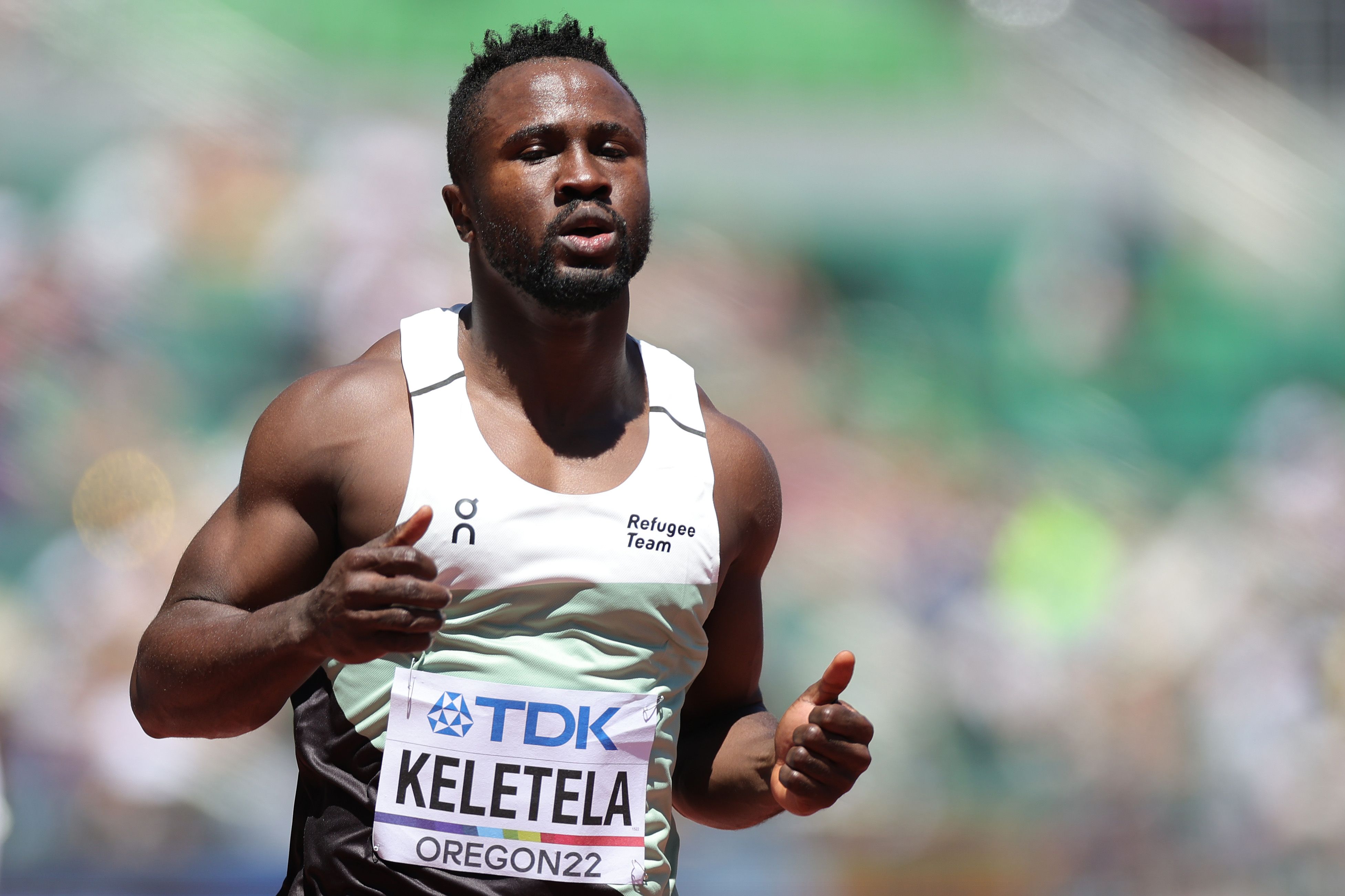 But he fell well short in the heats later that day, finishing a distance seventh in his heat clocking 10.52.
His self-assessment was blunt.
"Today, I am not happy," he said. "I am very disappointed."
Mohammed bounces back from injury

Mohammed, was the last member of the refugee team to compete, running in the opening round of the 5000m on day seven. The 28-year-old came into the championships on the mend from an injury in June. but he was still able to complete a two-week training stint in St. Moritz, Switzerland, prior to arriving in Eugene. He was hoping to mount an assault on his 13:42.98 PB and run sub-13:40.
There were no signs of a nagging injury early in the race, as Mohammed ran toward the front of the pack for the first few laps.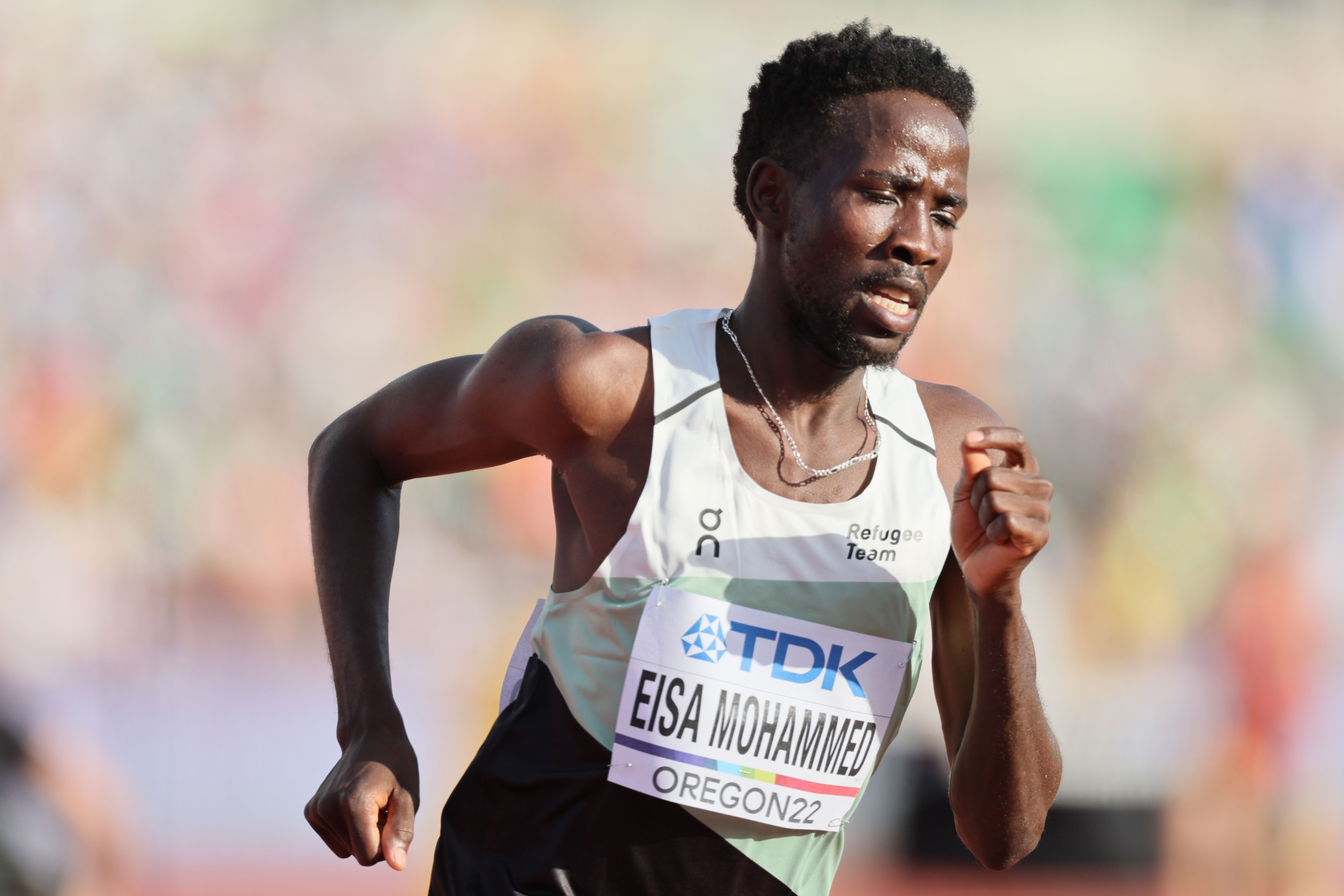 "I ran in front to make them a little bit jealous," said Mohammed. "Like, to push, you know?" He ran comfortably for the first half but lost his rhythm over the second and eventually reached the line in 14:02.79, a season's best.
It wasn't the time he was hoping for, but given the injury that cut into his training time just one month ago, he was too disappointed. Mohammed, who fled Sudan's civil war at 17 to help support his family, said he likes to take risks. No risks, no achievements, he said, and it was never a question for him whether he would compete.
Good thing, too, because he grew rather fond of Eugene, even with the heat.
"It's my first time coming to the United States," Mohammed said. "Beautiful city. Beautiful stadium. Everything here is like perfect, even the weather is cool."
He also enjoyed the four days he spent with his teammates and the new experiences they shared together.
"It was quite fun to represent people who have no country," he said. "We were just having fun, talking with each other, telling stories between each other."
Tokyo Olympian Tachlowini Gabriyesos, who made waves one year ago when he finished 16th in the Olympic marathon in Sapporo, was named to the team but was a late hour withdrawal, forced out by a virus in the lead-in to the championship that cost him 10 days of training. Gabriyesos is slated to compete in the marathon at the European Athletics Championships in Munich next month.
Elias Esquivel for World Athletics