The Reimagined Hayward Field
The reimagined Hayward Field at the University of Oregon effortlessly embodies the core values of Eugene and its natural wonders. Inspired by its jaw-dropping surroundings, Hayward Field encapsulates and displays Oregon's natural environmental beauty from every angle. The spectacular wood structure highlights local forest products, the permanent backdrop for the lives of Oregonians. As legendary track and field coach Bill Bowerman once stated, "Oregon is wood and wood is Oregon."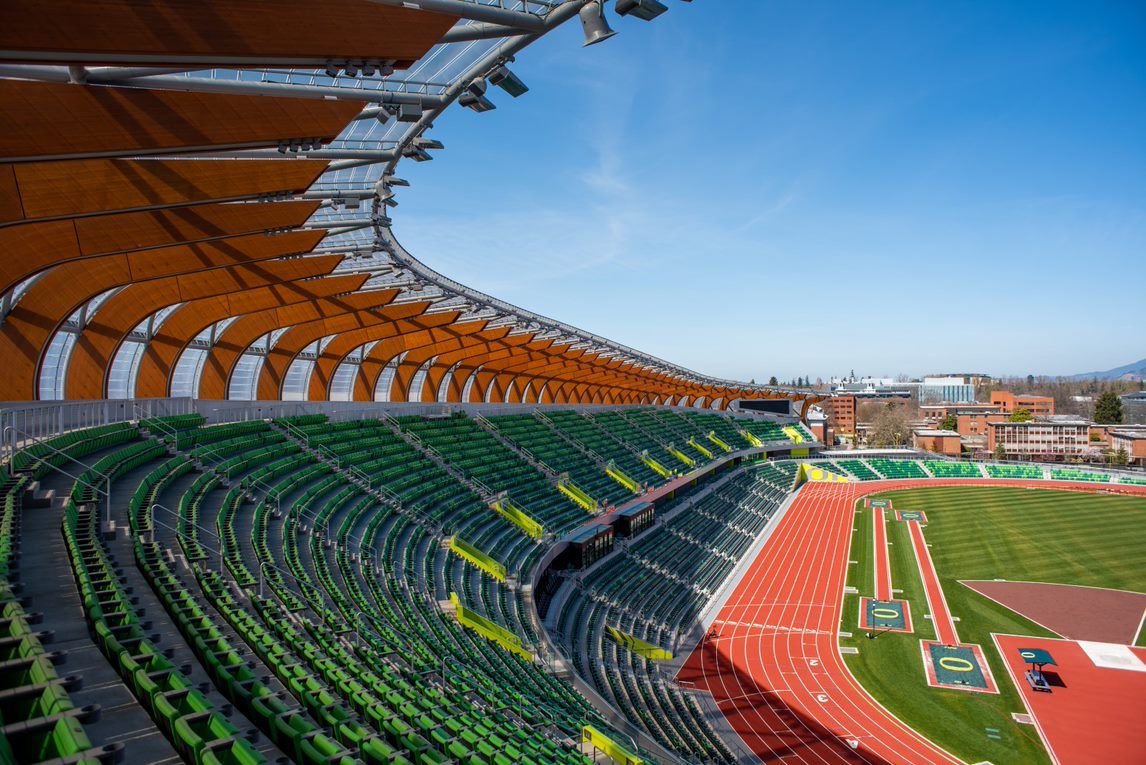 Photo by Jake Willard // TrackTown USA
To merely define Hayward Field as a 'stadium' does not do Eugene's newest athletic spectacle justice. The stadium was meticulously crafted to embody the characteristics of a theater to ensure the most engaging possible fan experience. Additionally, Hayward's construction was motivated by a more environmentally friendly future for track and field and its infrastructure.
SUSTAINABLE BUILDING
Hayward's sustainable features align with the eco-conscious values shared by World Athletics and the WCH Oregon22 Local Organizing Committee. Paired with World Athletics' commitment to the United Nations' Sports for Climate Action Framework, the encouragement and utilization of sustainable infrastructure is an essential practice in the sport now and moving forward.
With the location's rich history of track and field in mind, Hayward's reimagined design figuratively and structurally showcases its legacy of glory. Salvaged materials from the Historic Hayward Field were incorporated into its modern form. For instance, Hayward Hall, a museum located on the east side of the property, features significant historical pieces of the original structure. Further, other historic materials were injected back into the Oregon track and field community, ensuring the legacy of the original TrackTown USA staple. Composite lumber, or glulam– a sustainable wood product –completes the canopy covering the innovative spectacle. By embracing the legacies of Oregon's nature and environmental awareness, the perfect home for track and field has been created.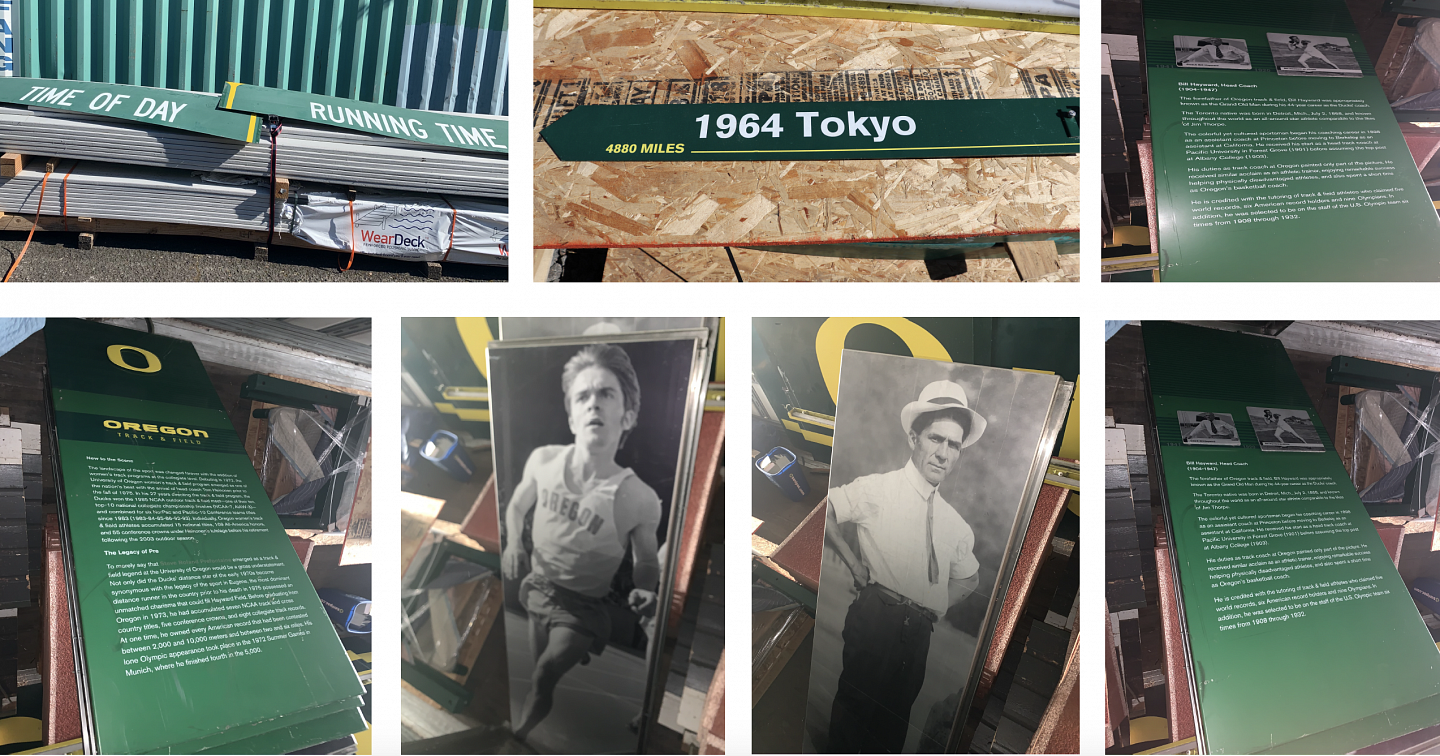 Hayward Field Salvaged Material
BECOMING THE HEART AND HOME OF TRACK AND FIELD IN THE USA
Constructed in 1919 to serve the University of Oregon football program, the legend of Hayward has continued to evolve over the past 101 years. Following the conclusion of the 1966 season, Oregon football transitioned to Autzen Stadium, giving the track and field program sole possession of their home turf.
Since ground was first broken on the edge of the University of Oregon campus, Hayward Field has cemented itself as the cornerstone of TrackTown USA, the mecca of track and field glory. Iconic figures such as Steve Prefontaine and Bill Bowerman influenced the feel and design pioneers that have followed in their blazing footsteps.
Now a sustainable, state-of-the-art stadium inspired by history will serve around 2,000 athletes traveling to Eugene, Oregon from over 200 nations. Hayward Field effortlessly encapsulates the core values of both Oregon and its shining city. Beginning with the 1962 NCAA Championships, the prestigious Hayward Field has witnessed track and field greatness and set the stage for the World Athletics Championships taking place in July 2022.
Driven by past, present, and future glory, Hayward Field and WCH Oregon22 will set the standard for the future of sustainable global sport.