Tobi Amusan after breaking the world 100m hurdles record at the World Athletics Championships Oregon22 (© Getty Images)
The new world champion and world record-holder in the women's 100m hurdles only got into hurdling through a quirk of fate.
Tobi Amusan started out as a sprinter and long jumper as a youngster in her native Nigeria.
At 13, she turned up to compete in a local athletics meet, only to find that just one event remained on the programme: the hurdles.
Amusan's coach encouraged her to enter. She ended up winning the race and the rest, as they say, is history.
The switch to the sprint hurdles paid off in sensational fashion on Sunday (24) when the 25-year-old Amusan smashed the world record, clocking 12.12 in the semi-finals at the World Athletics Championships Oregon22. She shaved 0.08 off the previous mark set by Kendra Harrison of the US in 2016.
Less than two hours later, Amusan came back for the final and ran another spectacular race to secure her first global gold medal and the first ever for Nigeria at a World Championships.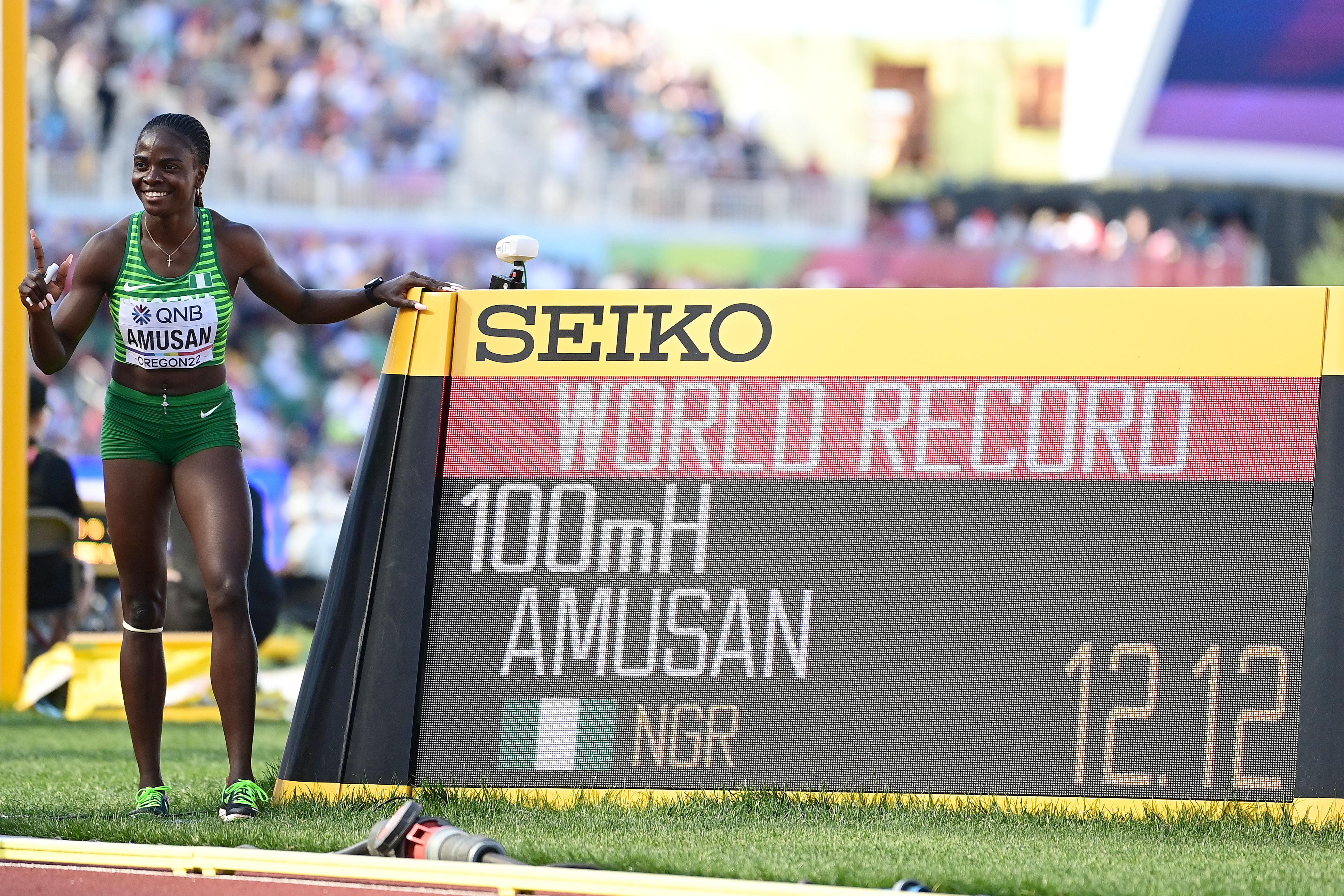 Amusan was clocked in 12.06, but the time won't be recognised as a world record due to a tail wind of +2.5 m/s.
After fourth-place finishes at the 2019 World Championships in Doha and last year's Tokyo Olympics, Amusan finally made it – not just onto the podium, but to the top of the medal stand.
"I was the 'almost girl'," she said. "I got fourth, fourth, fourth. Now I finally did it."
And with a world record for good measure.
"The goal was to come out and to win this gold," Amusan said. "I just did it. Honestly, I believe in my abilities but I was not expecting a world record at these championships. You know, the goal is always just to execute well and get the win. So the world record is a bonus. I knew I had it in me but I could not believe it when I saw it on the screen after the semis. But it was just a matter of time."
Looking back on how she made it here, Amusan said: "It has been a long journey."
Born in the town of Ijebu Ode in the western Nigerian state of Ogun, Amusan gradually made the transition to hurdles as a teenager.
She continued competing in sprints and long jump but managed to squeeze in one hurdles session a week. She put cones and tires on the track to jump over because there were no hurdles in her town.
When she was replaced as a member of Nigeria's 4x100m relay squad at the trials for the 2014 African Youth Games, she figured she had nothing to lose and entered the hurdles. She won that and went on to earn silver at the African Youth Games in Botswana.
Then followed a trip to Ethiopia in 2015, where she won African U20 gold, followed by a breakthrough victory at the All-African Games in Brazzaville, Congo.
"It was one of the biggest milestones of my career; winning that championship set me up for who I am today," she said.
There was no looking back; she was now a full-time hurdler.
In 2016, Amusan received a scholarship to attend the University of Texas, El Paso, where hard training brought her personal best down from 13.10 to 12.83.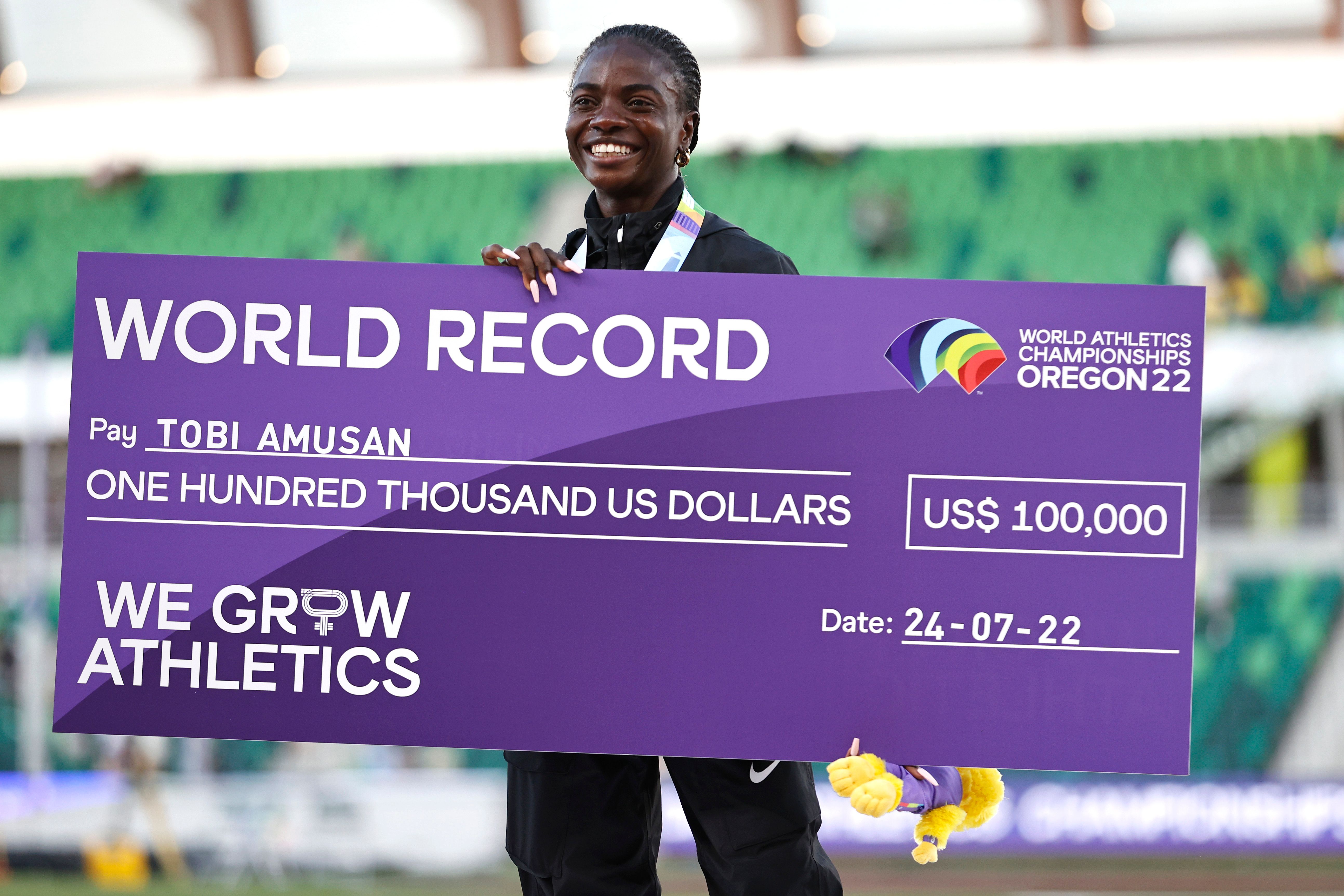 At UTEP, she worked with new coach Lacena Golding-Clarke, a three-time Olympian from Jamacia and the 2002 Commonwealth Games 100m hurdles champion.
There were setbacks along the way, of course. At the U20 world championships in Bydgoszcz, Poland in 2016, Amusan struggled with her technique and finished in fifth place. She was so devastated that she thought about quitting the sport.
But she regrouped and, after reaching the semi-finals at the 2016 Rio Olympics, Amusan went unbeaten in the 2017 outdoor US collegiate season and won the NCAA title in a PB of 12.57.
She went into the 2017 World Championships in London as the season's fourth-fastest hurdler, but cramped up in the cold conditions and failed to make the final.
"After London," she said, "I learned that the fact that I was in the mix, knowing I was capable of doing stuff at this age – I was just 20 – and being ranked in the top eight makes me confident that when I get my technique right, my speed right, and get a bit stronger, I'll be fine."
Indeed.
Amusan turned pro at the end of that year and went on to win gold at the 2018 Commonwealth Games in Gold Coast, Australia, at the age of 20. She also triumphed at the African Championships later that year.
In 2019, she finished just 0.02 shy of a bronze in Doha. Last year, she came 0.05 from a medal at the delayed Tokyo Games.
"I don't think there is a track and field event which can teach humility quite like the sprint hurdles," Amusan said. "You can be the fastest in the field but one mistake can spell the end for your race. A hurdler should never go into any race with any level of complacency or arrogance. It teaches you to be humble."
For now, at least, Amusan can afford to be a little less humble.
After all, she's simply the fastest of all time and the best in the world.
Not bad for someone who became a hurdler by chance.
Steve Wilson for World Athletics