Malaika Mihambo celebrates her win at the 2019 World Championships in Doha (© Getty Images)
For Malaika Mihambo, it's never over, it would seem.
It was put to the German long jump queen on the eve of her fourth competition of this crowded 2022 outdoor season, the FBK Games in Hengelo (6 June), that she was the "Chef der letzten Runde" - the chief of the last round.
The suggestion drew a wry smile from Mihambo, an engagingly erudite individual who likes to spend her off-seasons meditating and absorbing the culture in India and Thailand.
"For me, the competition is only over after the sixth attempt," the world, Olympic and European champion said. "I'm all in until the competition is over. Whether it's the sixth round, or the third, it doesn't matter: I'm giving it my all. Even if the odds don't seem that good, I don't give up."
As if to prove the point again – after the dramatic last-gasp effort that took her to Olympic gold in Tokyo last year – Mihambo proceeded to propel herself out of the long jump equivalent of the last chance saloon with another victory-grabbing final round leap in the rain-lashed Fanny Blankers-Koen Stadion.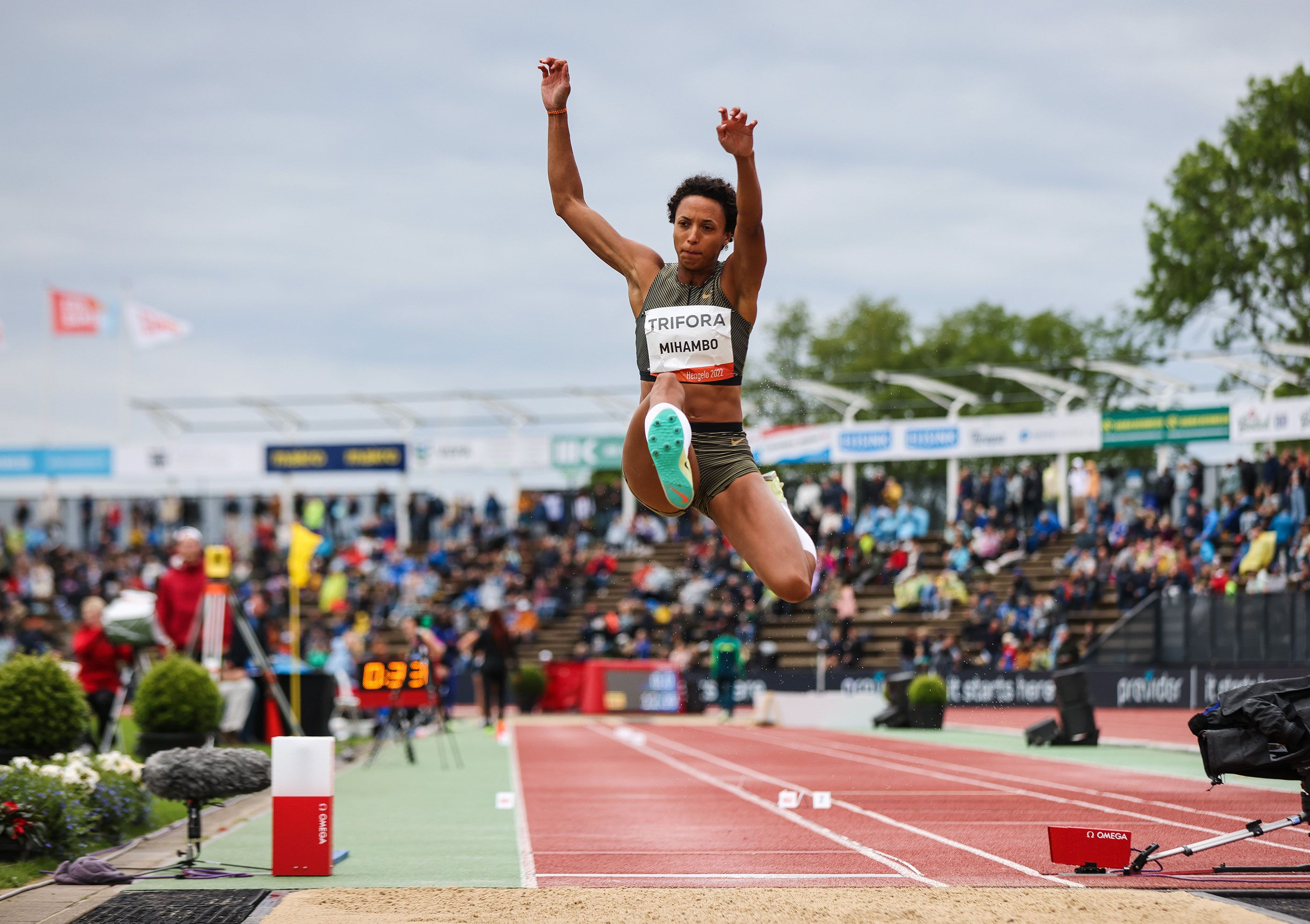 Malaika Mihambo competes in Hengelo (© Dan Vernon)
Trailing to a wind-assisted 6.53m from Quanesha Burks of the US, the 28-year-old graduate in political science from the quaint university town of Heidelberg in south-west Germany uncorked a sixth-round leap of 6.65m. In the Wanda Diamond League meeting in Rome three days later, she was unable to repeat the trick, finishing 6cm down on Maryna Bekh-Romanchuk, the Ukrainian she beat to world gold in Doha three years ago, with 6.79m.
Still, with a world lead of 7.09m from the Birmingham Diamond League meeting on 21 May, and five wins from six competitions in the 2022 outdoor season, Mihambo is on an encouraging overall roll as she seeks to complete a hattrick of consecutive global outdoor titles at the World Athletics Championships Oregon22 next month. She won the German outdoor title for a sixth time with 6.85m in Berlin on Sunday (26) and faces a final test before Oregon in the Wanda Diamond League meeting in Stockholm on Thursday (30).
Having bagged the world title ahead of Bekh-Romanchuk in Doha in 2019 with a mighty 7.30m leap and the Olympic crown in Tokyo last year, the Oregon trail beckons with the promise of the pride of TSV Oftersheim producing the first three-peat on the global outdoor stage since Brittney Reese of the USA hit the gold standard at the 2009 and 2011 World Championships and 2012 Olympics – plus, one more time, for good measure, at the 2013 World Championships in Moscow.
It was a measure of Mihambo's mettle that she managed to finish on top of the pile in Tokyo - not just because of the stunning fashion in which she upgraded from bronze to gold with her final effort, her 7.00m leap trumping both Reese and Nigeria's Ese Brume, who had both jumped 6.97m.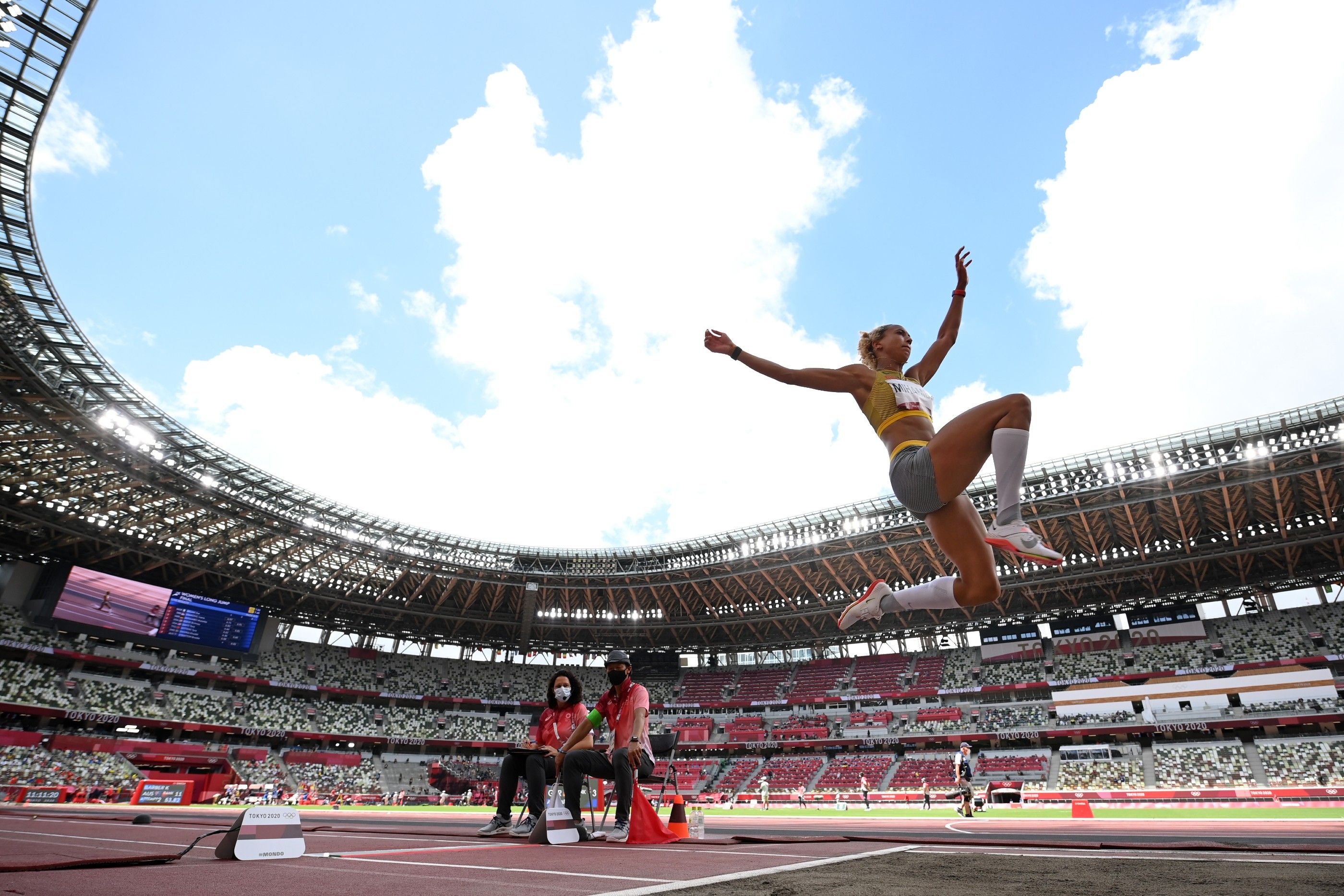 Malaika Mihambo competes in the women's long jump final at the Tokyo 2020 Olympic Games (© Getty Images)
All through 2021 Mihambo struggled to find her rhythm on the runway. After winning at the Oslo Diamond League on 1 June, she only won one of five competitions: the Olympic final in Tokyo. In 2019, pre Covid, she triumphed in 10 out of 10.
The drop in consistency followed a period of turmoil off the track: a prolonged break from training because of a back injury and the Covid pandemic, a change of coach and a struggle to shift from shortened to full-length run ups.
Having parted with her coach of 15 years, Ralf Weber, Mihambo was preparing to move to Houston to train under Carl Lewis and Leroy Burrell until the advent of Coronavirus.
Instead, she stayed at home and hooked up with Uli Knapp, Germany's national women's long jump event coach. Though the switch is bearing dividends now, Mihambo confides that her hopes of linking up in some form with Lewis and Burrell are – like her approach to the totality of rounds in the competitive arena – far from over.
"It's not finished," she said, when asked about Lewis, the four-time Olympic and two-time world long jump champion, and Burrell, the former 100m world record-holder.
"It was delayed because of Coronavirus but then I found Uli. I'm really happy training with him because of what he can do on the one hand with his technical expertise and also on the human level. He's a really special person.
"I'm still interested to go outside and see the training camp of Leroy Burrell and Carl Lewis but right now I have my coach and I'm happy. I would like to see their training camp and how they work together, but with my coach now still as my head coach.
"Uli is really a great person. He's super-empathetic. He's really kind-hearted - always looks as me as a person, not only as an athlete. My personal wellbeing is always the most important for him.
"It makes working together something really special. I'm really grateful for having that with Uli."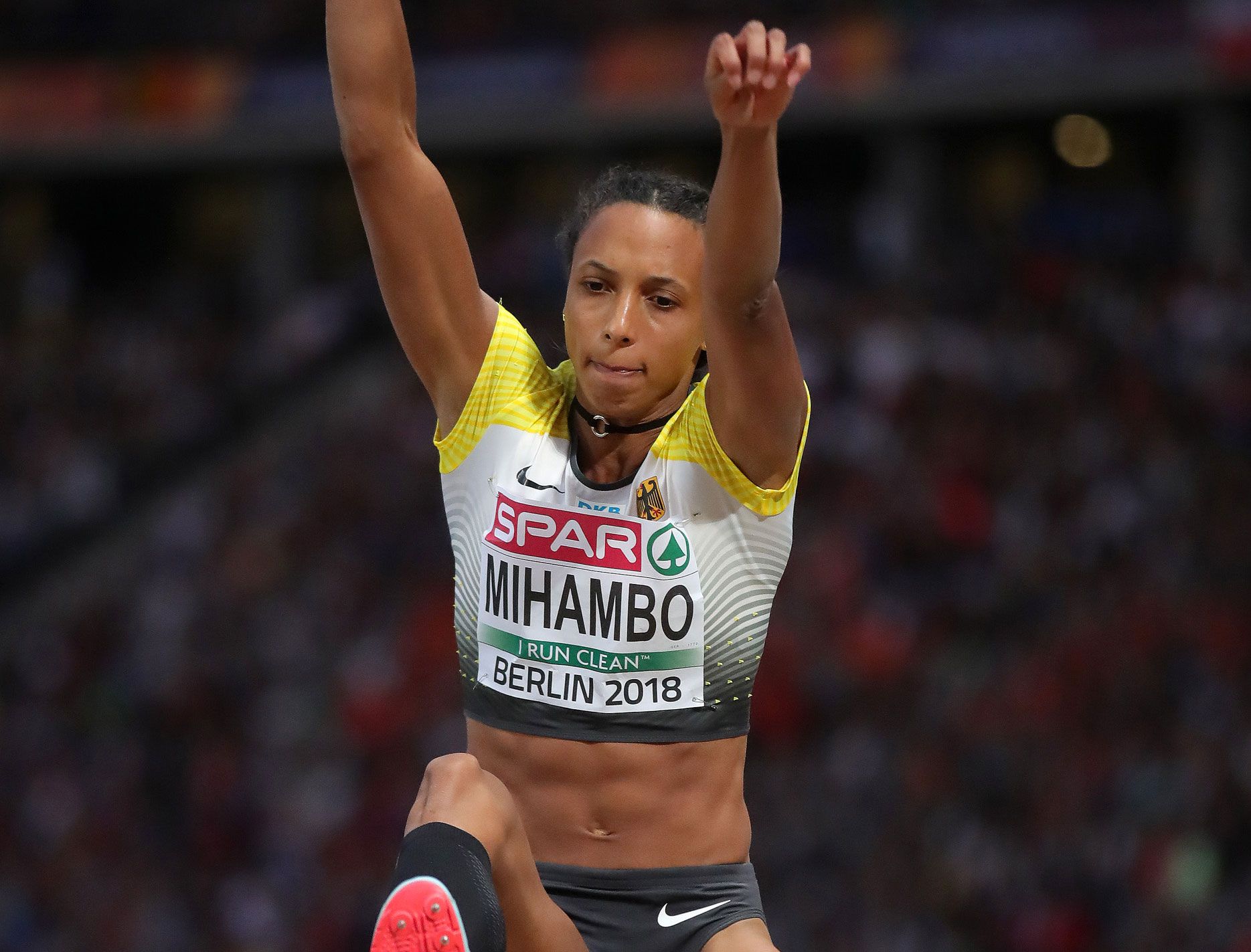 Malaika Mihambo competes at the 2018 European Championships in Berlin (© Getty Images)
The pair first started working together in June 2020 and Mihambo confessed: "The first year was a bit tough. I had a three or four-month break in the first Coronavirus lockdown because my back was injured. I couldn't train or jump.
"You lose much of your substance that you have built up. So we decided then to jump from the short approach, only 16 steps, and the rhythm was completely different form the long approach, about 20 steps. It's around 10 metres less.
"Then, coming back to the long approach in winter 2020-21, it was really difficult to change the rhythm back to normal. I had a confused approach set-up in my mind. I couldn't really find a stable approach.
"In the last winter season we focused on sprints and technique, on stability in sprinting, and I think it's paid off. I feel really good now and I'm confident about this season."
The pinnacle of the season, of course, is the World Athletics Championships Oregon22 – a fourth World Championships for Mihambo.
She made her debut as a 19-year-old in Moscow in 2013, fresh from victory at the European U20 Championships, placing 18th in qualifying. Two years later in Beijing, the year she won the European U23 title, she reached the final and finished sixth.
Then, in 2019, came victory in Doha - with the 7.30m jump that places her 12th on the world all-time list.
Beyond Oregon, there is the chance to win European Championships gold on home ground for a second time. Having taken the continental title in Berlin in 2018, Mihambo will get the chance to defend it in Munich in August – in the Olympiastadion arena where Heide Rosendahl claimed home Olympic long jump gold for Germany half a century ago.
"For sure, it's a really amazing thing to jump in front of your home crowd," said Germany's sportswoman of the year. "That's where my heart is.
"Titles are nice and I am really happy that I have achieved them, but for me sport is something where I can train to be the best version of myself - where I can try to overcome my limits and grow, not only as an athlete but also as a person.
"That is why I keep focused and motivated and why I am always looking to get better - not just for the titles, but to grow and be happy."


View this post on Instagram

That personal growth has encompassed broadening the mind on off-season travels to foreign shores. "I've been to India two times," said Mihambo. "I've really enjoyed it because India has its own magic. People can feel it only once they've been there.
"I really like the history, the culture, the nature, the landscape and the people. I'm really into meditation and I enjoyed meditating there. I've been to Thailand and meditated there.
"I've also been to Finland to see the deepest snows. I'm just curious to see the world."
Simon Turnbull for World Athletics