Kimberly Garcia after claiming Peru's first world title (© Getty Images)
Sometimes the worst moments can, over time, be seen for what they are: a place from which the only way is up, an opportunity to change, grow and to come back stronger.
For Peru's Kimberly Garcia, that's exactly what happened at the Tokyo Olympics. The 28-year-old race walker had gone to the line in the 20km event in Sapporo thinking she could be a contender. She left it downbeat, disillusioned, having stepped off the course around the 15km mark, her body going into shutdown after she tried – in vain – to keep up with the world's best.
"I thought I was prepared but I wasn't and it was really painful, the most difficult part of my career," she says now, before adding a key update to her story's epilogue: "But I bounced back."
On Friday, Garcia produced the performance of her life to take gold in the 20km race walk at the World Athletics Championships Oregon22, Peru's first ever medal in the championships' history. What will her victory mean to young athletes back home?
"This will show that nothing is impossible," she says. "The road has been long, tough, full of sacrifice, but it's a road I love."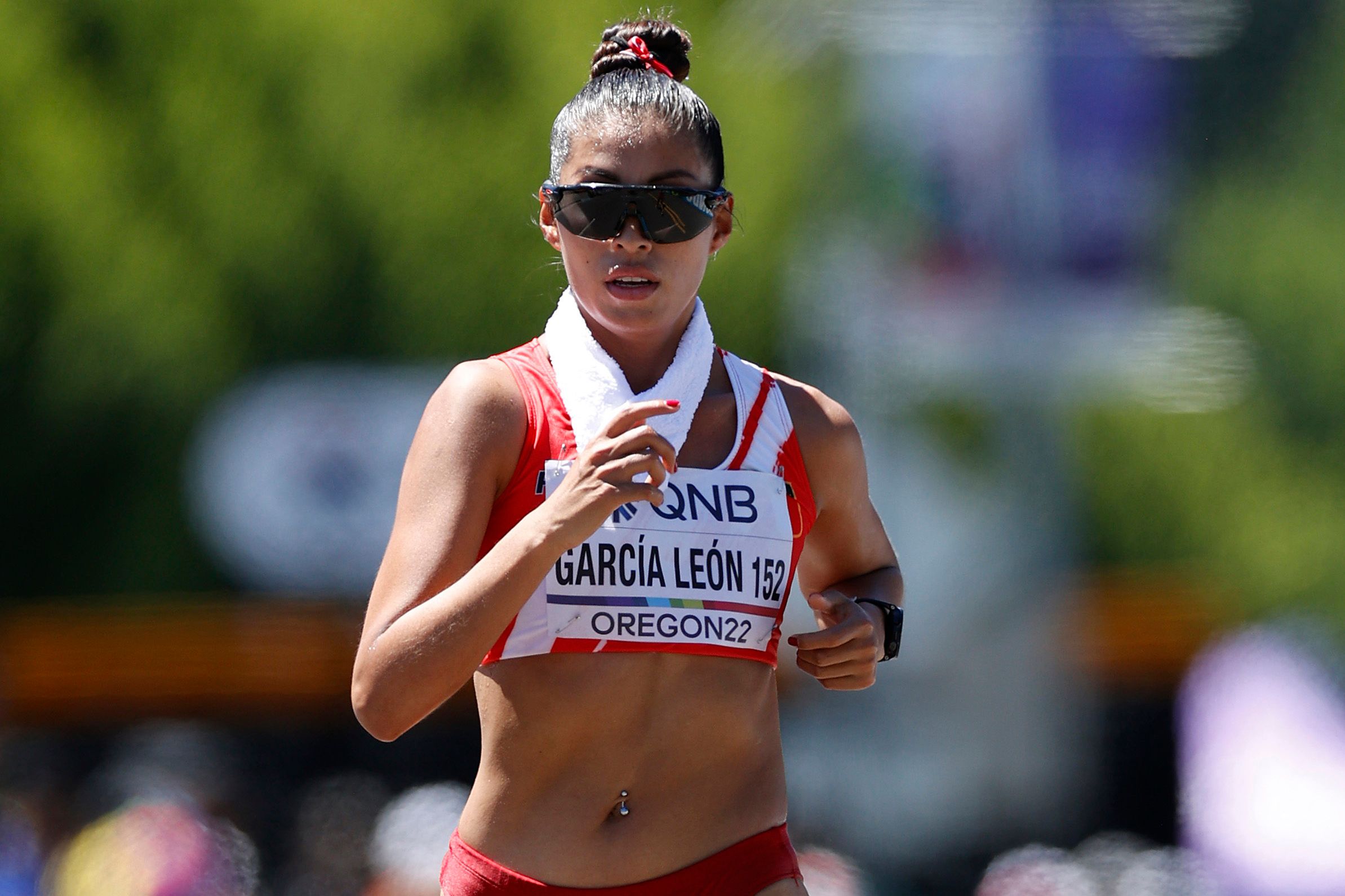 Race walking has been Garcia's thing for a long time – 23 years, and counting.
She first took up the sport at the age of five, drawn towards it by her brothers and cousins, who formed a race walking club in their home city of Huancayo.
Sitting in the central highlands of Peru, at an altitude of 3,200m, it's a place that proved an ideal starting point to build an endurance champion. As a kid, Garcia would watch the Olympics and World Championships on TV with her father. "My dream was to win a medal," she says. "And I have followed that dream."
At the age of 13, she began competing in schools championships and she made international appearances at underage events in the years that followed, including at the World U18 Championships in 2009.
Race walking is typically not a lucrative pursuit, and Garcia needed help from those around her to chase the dream through her late teens and early 20s.
"When I first started it was my family chipping in to support me," she says. "Eventually it was private companies chipping in with sponsorship so I could do training camps, to get that exposure to compete with the best in the world."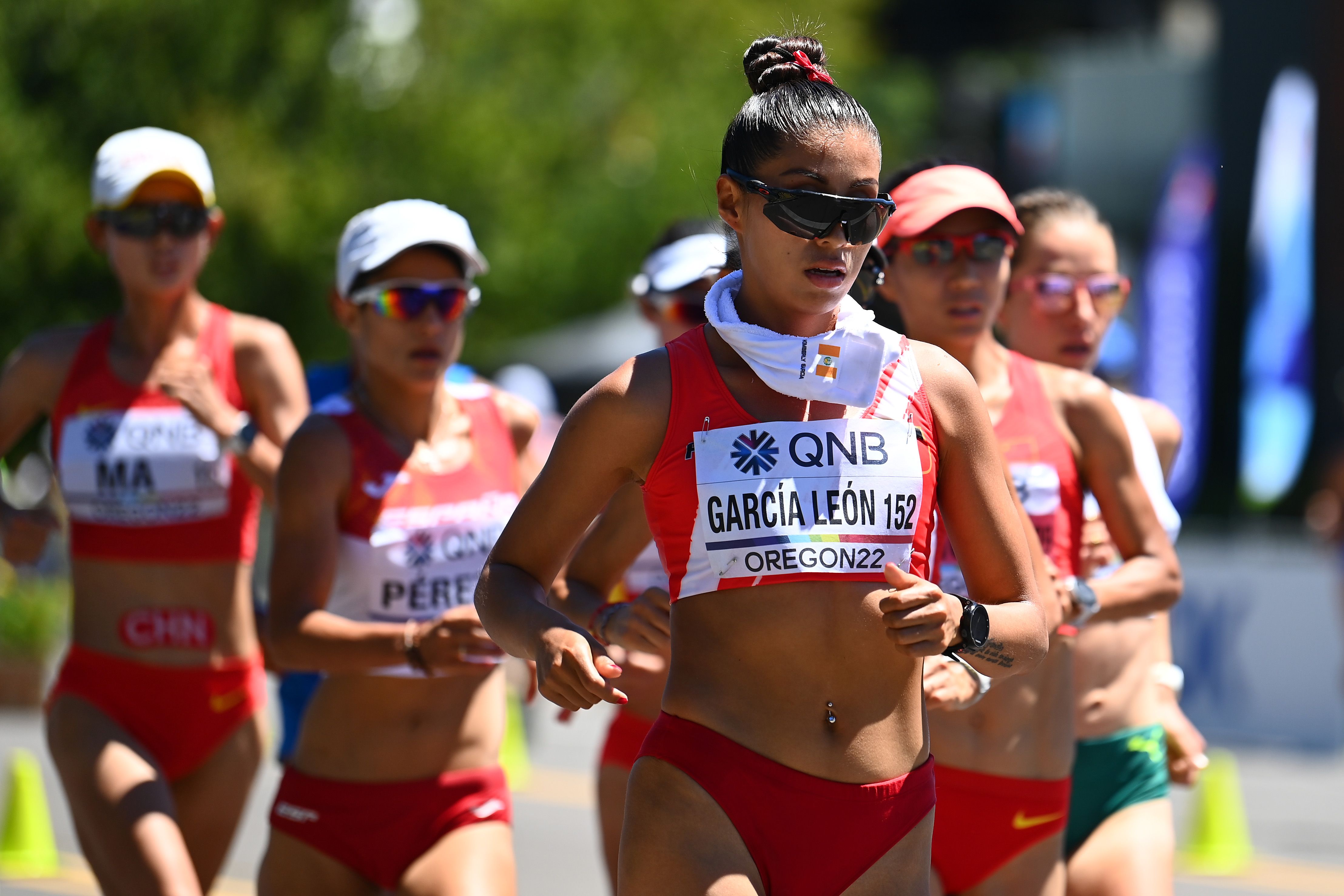 She finished 10th at the World U20 Championships in 2012 and made her senior World Championships debut the year after, finishing 32nd in Moscow. Two years later in Beijing, she failed to finish the 20km event but at the 2016 Rio Olympics she improved to 14th in 1:32:09. In London a year later she was seventh.
Over the years, she always made race walking her priority, putting it even ahead of her university studies and completing a degree in administration on the side, which she hopes to resume in September.
As she ascended through the ranks, her sporting hero was Jefferson Perez, the three-time world champion and Olympic gold medallist from Ecuador. But it was another Ecuadorian, Andres Chocho, who would make the key difference in her career.
Following her disappointment at the Tokyo Olympics, Garcia linked up with Chocho and joined his group of world-class walkers. For most of the past year they worked remotely, chatting on Zoom and sharing videos for technical feedback.
"I admire him as a person and as an athlete," she says. "We connected well from the get-go. Confidence and trust is important, and he asked me what I wanted. We started with modest goals, but he said I had what it took to achieve (more)."
Having finished third at the World Athletics Race Walking Team Championships Muscat 22 in March, Garcia began to harbour medal ambitions for Oregon. On the build-up to the World Championships, she went to Ecuador to spend 40 days training under Chocho's guidance. She improved each week, and a month before she raced in Oregon, her goals shifted.
"That's when I really started to believe I could win," she says.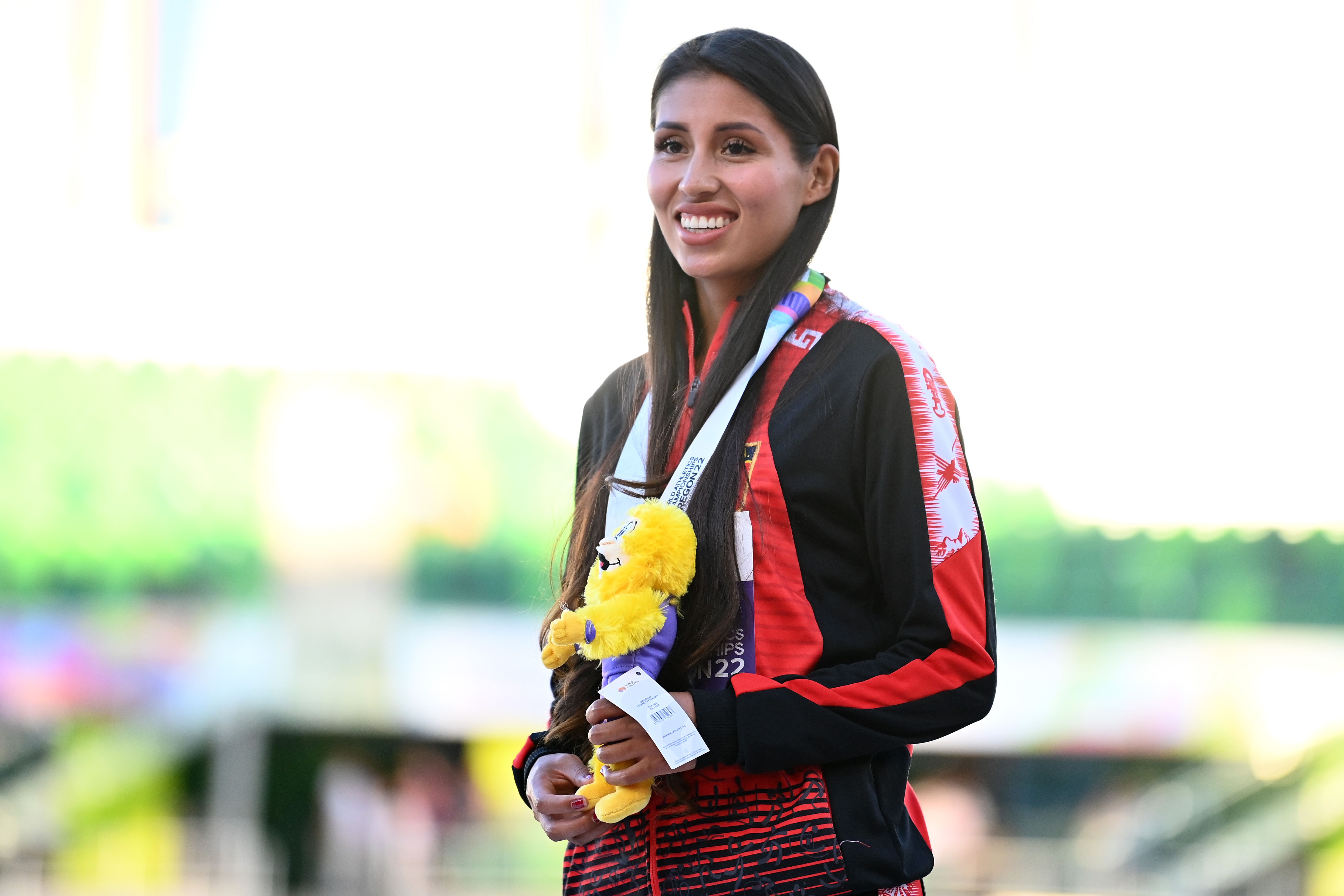 For Peruvian athletes, finance is often a huge issue, with athletics federation president Javier Chirinos explaining that their budget in the past year is now one third of what it used to be. "It would be a gamechanger to provide an opportunity to do training camps – that's all she needs," he says. "The athletes are having a really hard time."
The value of her camp in Ecuador was brought home to Garcia on the build-up to Oregon. She'd put in 20-30 kilometres every morning, typically followed by a recovery 5-6km in the afternoon, with Chocho's technical expertise and feedback having a huge effect.
In the race in Eugene, she made an early break along with China's Qieyang Shijie, the pair racing together until 14km, at which point Garcia began to edge away from the 2012 Olympic champion. Under a burning sun, which she described as "perfect conditions," Garcia turned up the heat in the closing laps, making her last kilometre, 4:13, her fastest.
She hit the line in 1:26:58, smashing her national record by a whopping 1:40 – a performance she hopes will make a difference to how athletics is viewed in her home country.
"The road is not easy, but hopefully we get more support," she says. "If we have more support, we can do much better. I'm very proud of myself, my country should be very proud of me. We worked very hard to get here."
Cathal Dennehy for World Athletics