World Athletics Championships Oregon22 - Day Three (© Getty Images)
Grant Holloway's special relationship with Hungary began in 2019, when his first competition in abroad was at the Gyulai István Memorial - Hungarian Athletics Grand Prix. It was already obvious by then that the sprinter has a special charisma. He demonstrated his talent to the Hungarian audience with a 13.16 running.

He flew over the hurdles with such a beautiful technique that only a few people can match. It is no coincidence that he became the favourite of many on that July evening. Shortly afterwards, he won the most prestigious success of his career to date, winning the gold medal at the Doha World Championships in late September/early October 2019.
Holloway can start with an amazing speed similar to the performance ofShelly-Ann Fraser-Pryce.
This ability makes him by far the best of the world in the 60m hurdles. Not just of our age, but perhaps of all time. It's pretty awesome that he is still yet unbeaten indoors. That's how he became world indoor record holder in Madrid, 2021.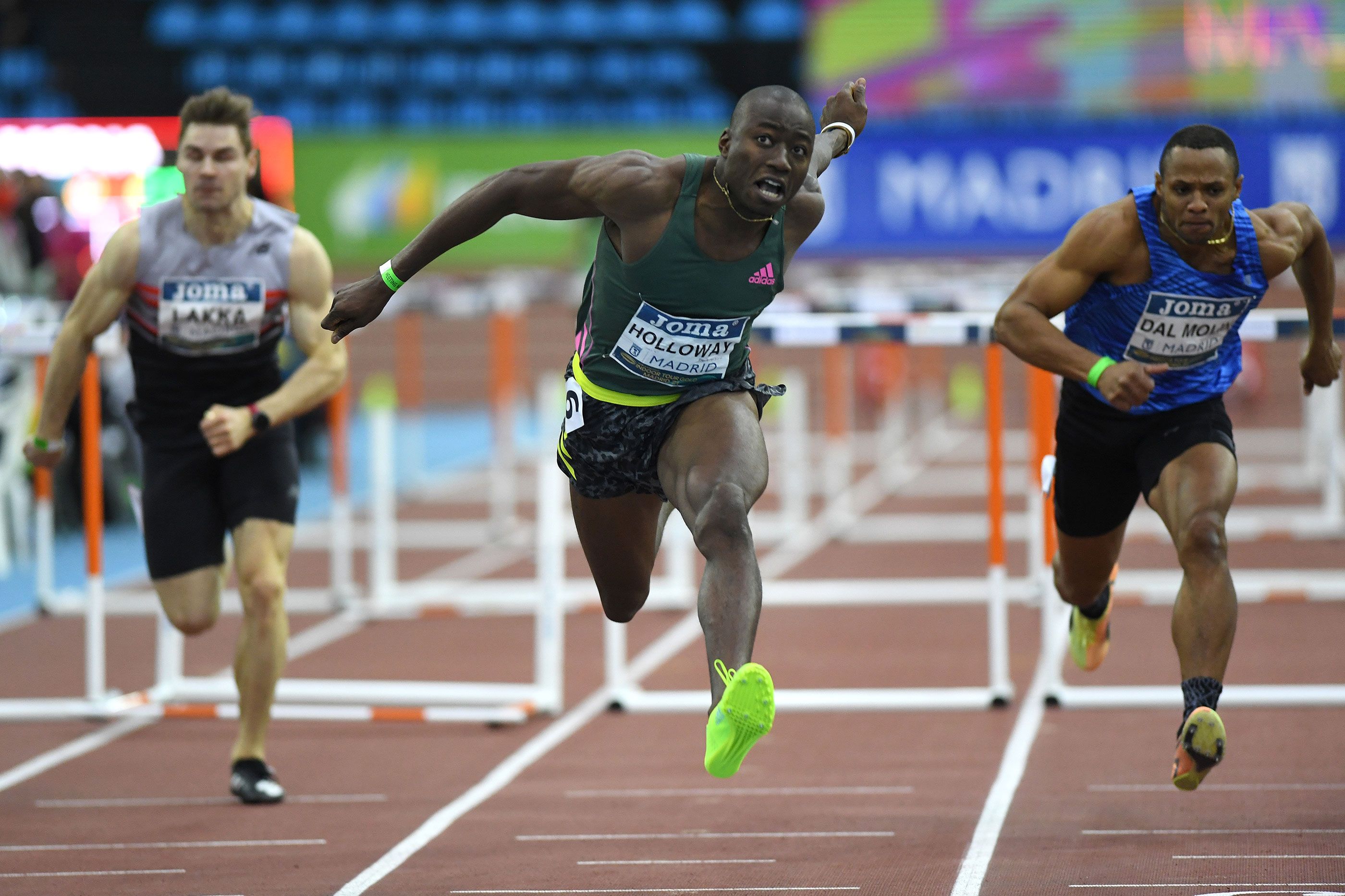 Grant Holloway runs a world 60m hurdles record in Madrid (© Getty Images)
With a dizzying 7.29 seconds, he carved one hundredth of a second off the record set by Britain's Colin Jackson in 1994. He matched that time in the semi-finals of the World Indoor Championships in Belgrade in March 2022 and went on to win the World Indoor Champion title in the final. All this happened six months after a huge disappointment of losing the final of the Tokyo Olympics.
"I just think the nerves, the big atmosphere, got the best of me a little bit," he said. "But I'm young, I've got a lot of races under my belt, so I'll take this with a grain of salt and I keep moving forward." "This was not the outcome that I wanted but it enables me to say I'm an Olympic medalist," said Holloway following the last few meters at the Olympics, which only made him stronger.
"I love the hurdles and I can't wait until next year for the World Championships in front of a home crowd (Eugene, Oregon). I think that's going to be really good for me," the still 24-year-old world star was optimistic after Tokyo.
The World Championships gold and world record setting in Belgrade showed that Holloway had quickly got over losing the gold medal at the Olympics by Hansle Parchment. However, at the beginning of the outdoor season it looked like he would get a fearsome challenger for the Oregon World Championships.
In mid-June at the Continental Tour Gold in New York City, Devon Allen, who was just four hundredths off the world record of 12.80 in the 110m hurdles, gave Holloway a very big beating. The clash between Allen and Holloway at Hayward Field was eventually cancelled after Allen was disqualified for jumping out of the start by a single thousandth of a second in the final.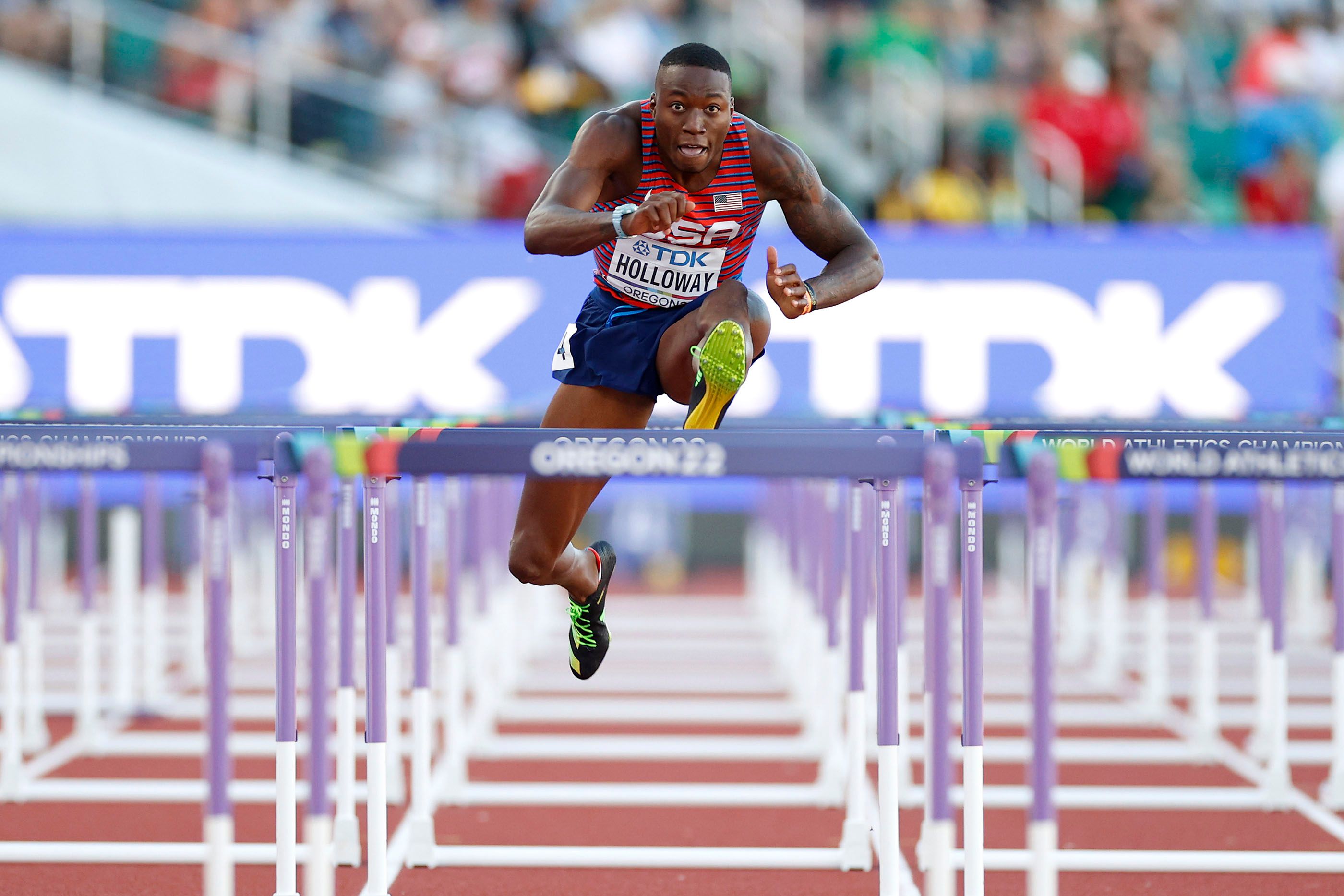 Grant Holloway on his way to the 110m hurdles title at the World Athletics Championships Oregon22 (© Getty Images)
Holloway was thus left without a real rival, but the example of Tokyo showed that despite a one-and-a-half-year unbeaten streak, it is not easy to turn a chance into a gold medal. But this time he managed it, running 13.03 to defend the World Champion title he had won in Doha.
Allen, drafted in 2022 by the Philadelphia Eagles, and Holloway have American football in common, but our superhero chose athletics because he had a dream of becoming an Olympic athlete. Moreover, the University of Florida, where he studied, didn't expect him to play with an egg-shaped ball even though, like Allen, he could have been an excellent receiver.
The nickname "Flamingo" was not given to him because of the pink shorts Adidas gave him but was inspired by a prank he played with his opponent Omar McLeod back in 2019. While he named his Jamaican friend Mr. Silk after a musician who looked a lot like him, McLeod started calling Holloway a flamingo.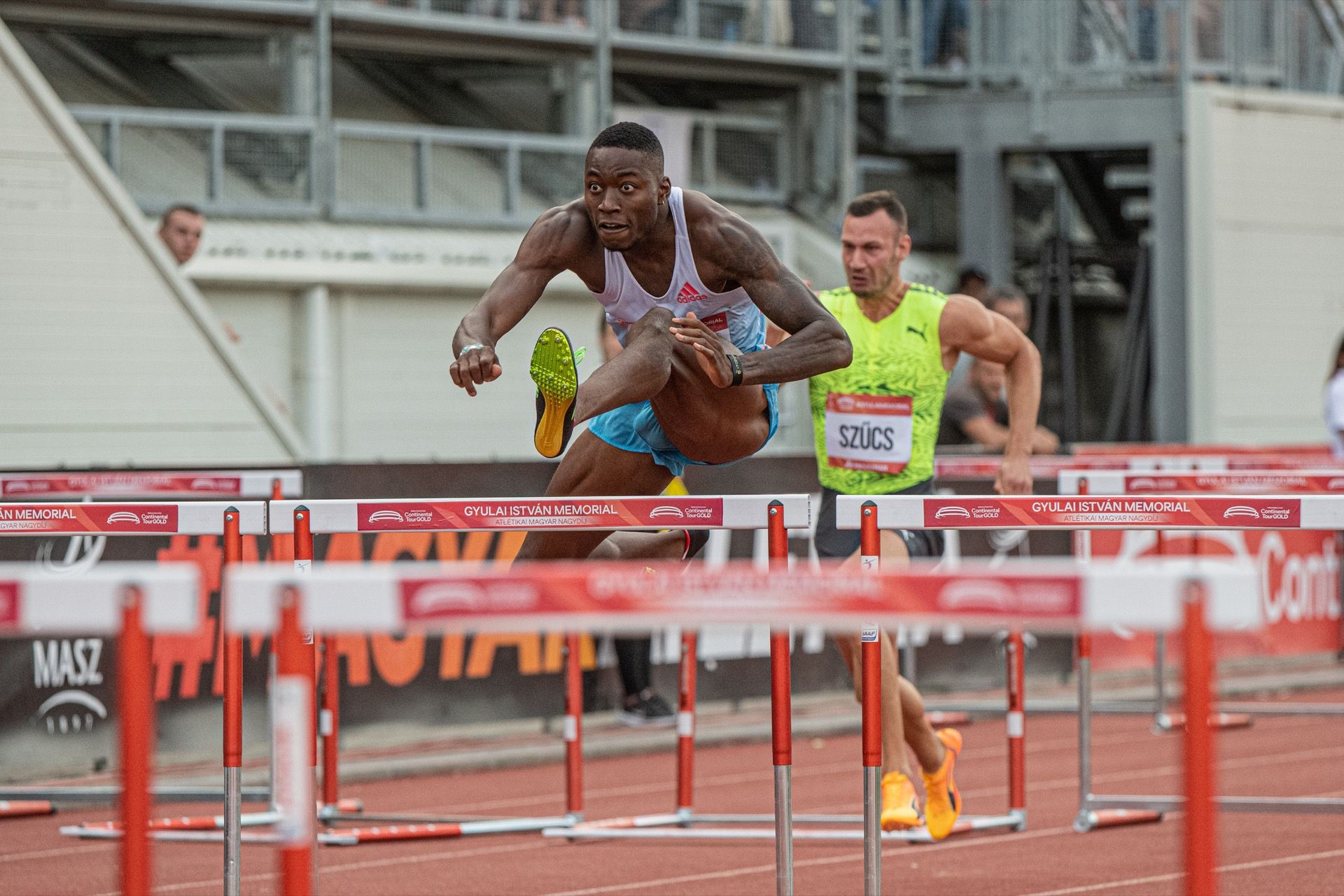 Grant Holloway and Hungary's Szűcs Valdó at the Gyulai István Memorial - Hungarian Athletics Grand Prix 2022 (© Zsigmond László)
At the Gyulai István Memorial - Hungarian Athletics Grand Prix 2022 the result was a bombshell: if only by a photo finish, Jamaica's Rasheed Broadbell beat world champion Grant Holloway. Both men had 13.12 seconds on the scoreboard. But a month later the Flamingo took the revenge at the Diamond League final in Zurich with a victory ahead of Broadbell, securing his participation at the WCH in Budapest, 2023!
We are eagerly awaiting to see Grant Holloway, now two-time World outdoor and one-time World indoor 110m hurdles champion, compete again in Hungary in August 2023!