Margaret Johnson Bailes (© OSAA)
Celebrating high school track phenom Margaret Johnson Bailes
As we celebrate
Black History Month
, it's only fitting that one of the stops on the Strides for Social Justice tour in Eugene, Oregon, honors Margaret Johnson Bailes.
Johnson Bailes was a teenage track and field sensation who competed in the 1968 Mexico City Olympics at the beginning of her senior year of high school, and then never competed again.
Despite her limited time in the spotlight, Johnson Bailes is forever remembered with the track she often ran on named in her honor at the Arts & Technology Academy, a west Eugene middle school that was Jefferson Middle School during Johnson Bailes' youth.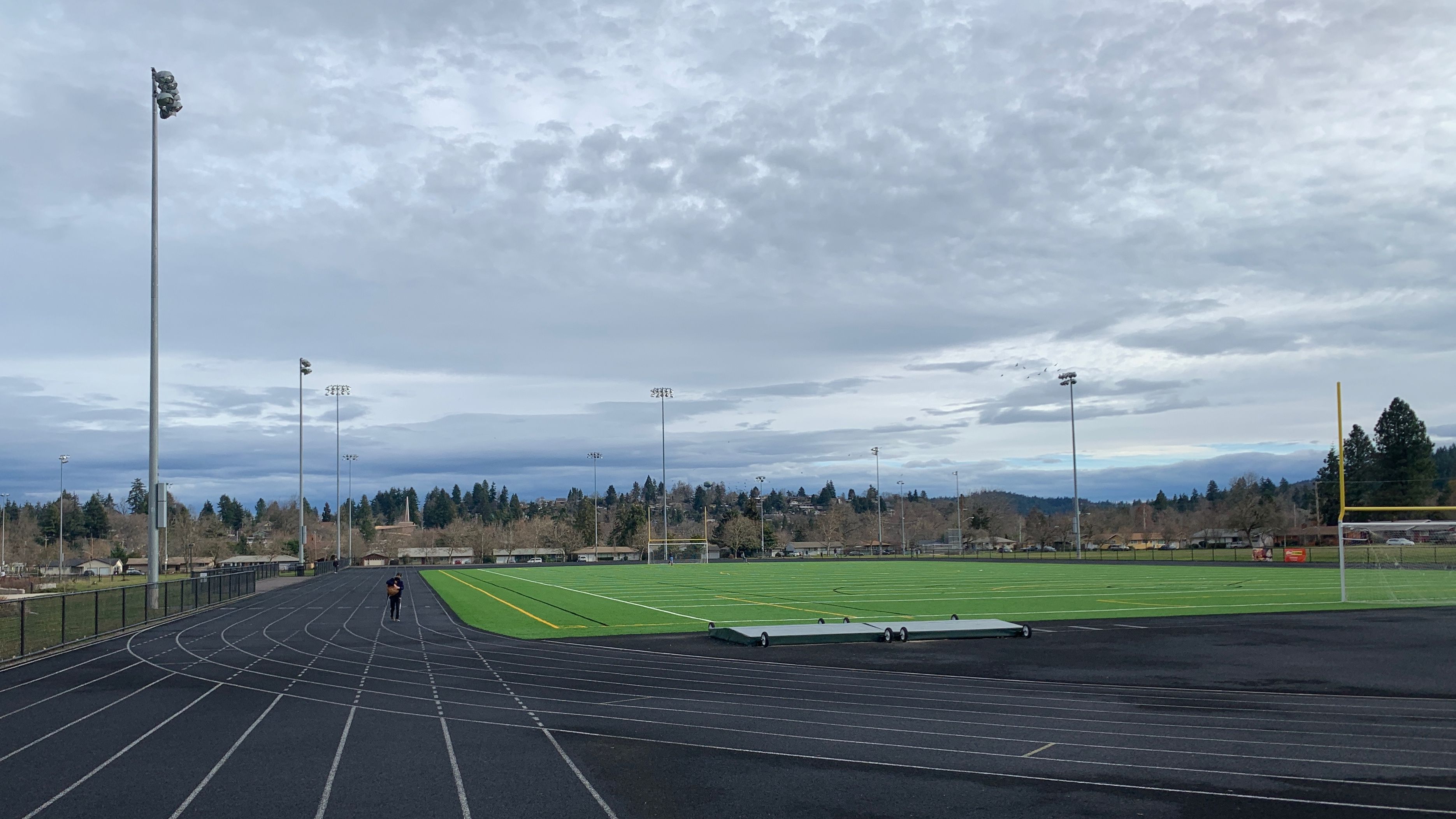 The track that bears Johnson's name is one of two main stops on the Westmoreland Park Tour on Strides for Social Justice, a collaborative endeavor between PeaceHealth and the Eugene Marathon to encourage active and healthy participation for people of all ages while learning about Eugene's early Black residents and their history.
There are seven routes on the tour that can be accessed from a free app (found
here
) that also provides historical information. As part of the tour, suggested exercise options for the Margaret Johnson Bailes Track include jogging a mile, sprinting on the straightaways and jogging on the curves, sprinting on the curves and jogging the straightaways, or walking if that's more your speed.
A plaque at the track at 1650 West 22
nd
Avenue details
Johnson Bailes' historic accomplishments.
Born in the Bronx, New York, Johnson Bailes moved with her family to Eugene at age 5 when her father, Albert "Duke" Johnson, decided Lane County would be a good place to raise a family. Johnson Bailes happened into track at age 9 when she walked by an all-comers meet at Hayward Field and decided to jump into a race despite wearing a dress and dress shoes because she was planning on meeting friends to see a movie. Her track ability caught the eye of Wendy Jerome, who would become her coach.
Jerome's husband, Harry, was a decorated University of Oregon track star who ran in the Olympics for his native Canada in 1960, 1964, and 1968. Harry Jerome won the bronze medal in the 100-meter dash in the 1964 Tokyo Olympics, and held world records in the 100-yard dash, the 100-meter dash, and the 4x100 relay with his University of Oregon teammates.
Go here to learn more
about Harry Jerome.
Growing up in Eugene, Johnson Bailes often ran against – and beat – boys because they were the only competition she had. She was the best girls youth sprinter in the country by the time she was a seventh-grader, and by then was often running locally with and against college men to find comparable training partners and competition.
Johnson Bailes, who attended Churchill High School in west Eugene, was one of the first Black superstars among Oregon high school girls athletes, and was the first Black woman inducted into
the Oregon Sports Hall of Fame
in 1991. She stood out in Eugene because of her talent, but life wasn't easy for a Black teenager growing up in the 1960s in a city that was mostly white.
"We had some problems in Eugene when I was coming up," Johnson Bailes said in a 2008 interview with the Eugene Register-Guard newspaper. "I got called the 'N' word walking down the street or going to school sometimes. ... There were only about four or five of us, and maybe that was their way of trying to get next to us. But I knew you were not supposed to say that, and we'd start fighting."
Added Wendy Jerome in the same newspaper story: "It was hard for her. It wasn't just being Black, it was being a girl involved in sports in Eugene. ... When I started the (local girls running) club, we were bad-mouthed by people who thought it was a terrible thing to have girls running and competing."
Strides for Social Justice does not shy away from the history of the Black experience in the area. The program uses its routes to foster learning and discussion amongst all those who utilize the app.
Before Title IX changed the academic and athletic landscape, Johnson Bailes twice equaled the world record of 11.1 seconds in the 100-meter dash as a 17-year-old, including winning the AAU Championship that year over Wyomia Tyus, the 1964 Olympic gold medalist who would win again at the 1968 Olympics.
More than 50 years later, Johnson Bailes' times of 11.1 in the 100 and 22.95 in the 200 remain Oregon high school records. Johnson Bailes broke 12 high school track records while at Churchill, and in 2019, she was inducted into the National High School Track and Field Hall of Fame in only its second year of existence.
The 1968 Olympics, which were held in October, were a struggle for Johnson Bailes, who turned 71 on January 23 and lives in New York. She caught pneumonia in a pre-Olympic training camp in Denver and began to lose weight in the Olympic Village in Mexico City. Existing on a diet of chicken soup and ice cream, she made the finals of the 100 and 200 but finished out of medal contention. She did, however, team with Tyus and two others to help the United States win the 4x100 relay in a race in which seven teams broke the previous world record.
"Yes, I was disappointed, but the relay made up for it," Johnson Bailes said in the 2008 newspaper interview. "I would have won if I hadn't been sick. I have no doubt about that."
Married at the time she competed in Mexico City, Johnson Bailes moved to California a year after the Olympics to be with her husband, Eddie, who had left Eugene for work. Later that year, Johnson Bailes gave birth to a daughter, Felicia, and never ran a track race again.
Margaret and Eddie later divorced, and the former high school sensation returned to Eugene in 1981 with Felicia. Margaret helped coach Churchill track teams in the early 1980s but returned to the Bay Area for work as Felicia remained in Oregon living with her grandmother and graduating from Churchill in 1987.
Felicia said in the 2008 Register-Guard story she had no idea how athletically gifted her mother was until she went to Churchill and saw the school's trophy shrine for Oregon's fastest girl ever.

"My mom is one of those humble people when it comes to that part of her life," Felicia Bailes said. "To me, it wasn't a big deal until I was up in Eugene, and people at Churchill started to realize who my mother was."