Toshikazu Yamanishi at the World Athletics Championships Oregon22 (© Getty Images)
Japan believes it can dominate the men's race walks at the World Athletics Championships Budapest 23 – providing it learns lessons from the past.
Toshikazu Yamanishi was a shoo-in for Olympic 20km gold medal on home soil last year. Indeed, his country's rising sons were favourites for a medal sweep, only to see Massimo Stano upset the apple cart. The Italian powered away towards the end, and then paid homage at the finish by bowing to Koki Ikeda and Yamanishi as they crossed in second and third.
But, spurred on by Stano's terrific 35km gold at the World Championships in Oregon, Japan too showed what they can do in that discipline at the All-Japan Race Walking event last month in Takahata.
The times recorded in just about any other country would have been very impressive, but for a country that regularly sees four or five race walkers power under 78 minutes for 20km, it's just the start.
Yamanishi won in 2:26:18, which was good enough for 11th on this year's world list, and 17th all time. He was followed home by Satoshi Maruo in 2:27:33, while Subaru Ishida completed the podium in 2:30:37. To put that into context, an end-of-season race – albeit one for World Championship and Asian Games selection – still put all three in the world's top 31 for 2022.
Yamanishi's victory was rubber stamped long before the end. He got to 30km in 2:04:57 and was 45 seconds in front of Maruo. The winner could then afford to ease off the pedal during the final 5km before breaking the tape.
Can Japan dominate both men's race walks at the next World Championships, bearing in mind their strength in depth? Yamanishi thinks they can.
"Yes, that is possible, in my opinion," he said. "Of course, it is very hard to get medals at the World Championships, but the current Japanese team have enough potential. For that, we have to enhance our performance more and to match peaks on the day of the race."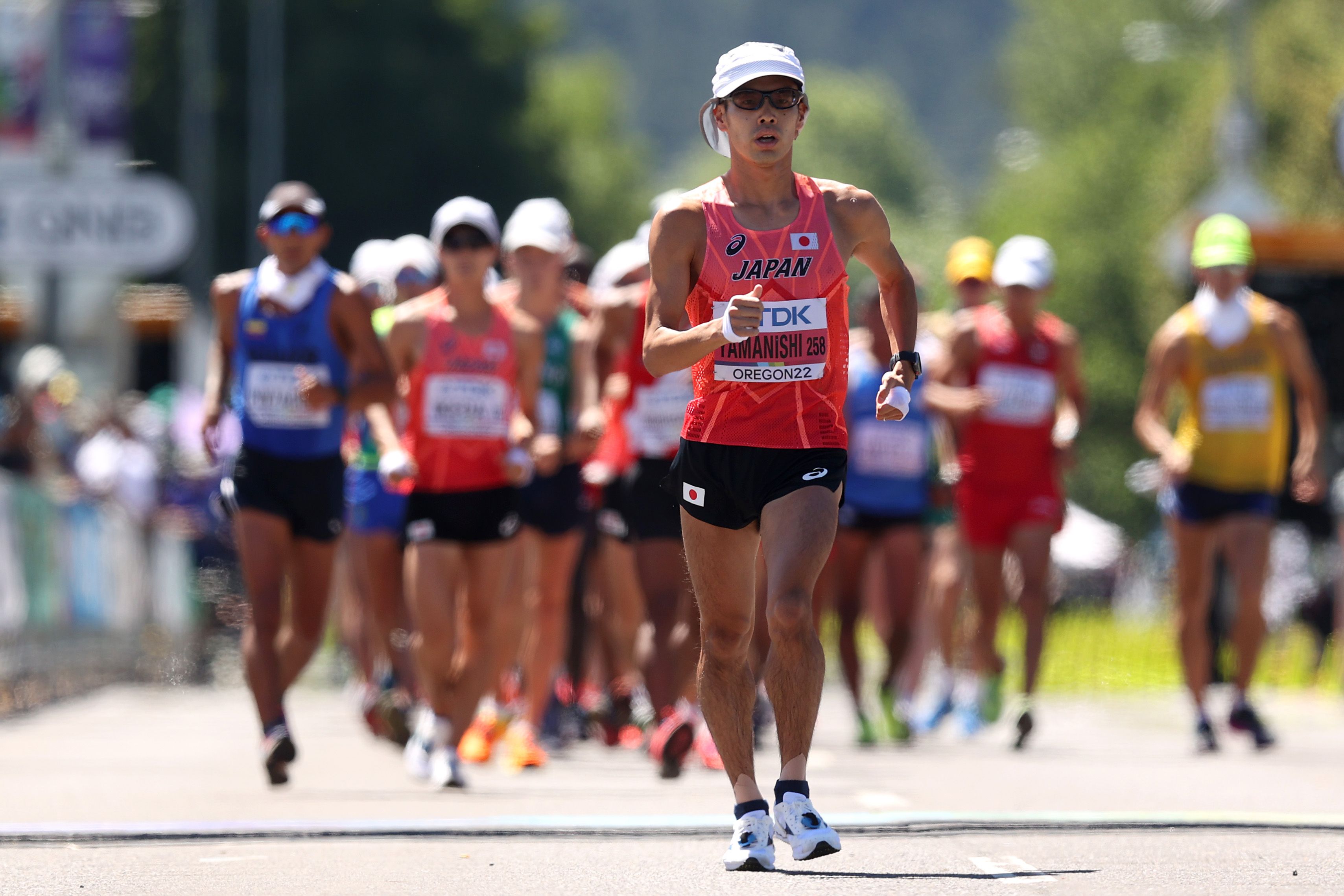 Toshikazu Yamanishi at the World Athletics Championships Oregon22 (© Getty Images)
That last part is telling. The bespectacled 26-year-old looked set to cement a glittering career at the Olympics in Sapporo as the then world champion from Doha, 2019. He also boasted the fastest 2021 time: 1:17:36 from February on home soil.
But it all started to unravel on Odori Park as he slipped back over the final 1.5km. Stano and Ikeda heard the bell with a six-second advantage over Yamanishi, who looked unusually spent over that last kilometre.
Stano had nine seconds over Ikeda by the finish, and 23 over Yamanishi, who was forced to wear a relatively disappointing bronze medal on the podium.
He was able to put that behind him in July with World Championships gold for the second time, and admits he's likely to leave it to other teammates like Masatora Kawano, second in Oregon at 35km, even if there is the tantalising prospect of double gold.
"It's not impossible (to win both), but it must be really hard, especially in the men's event," said Yamanishi. "Even so, the two golds were won by narrow margins in Oregon."
Indeed, there was only a seven-second difference at 20km (between him and Ikeda), and only one second at 35km.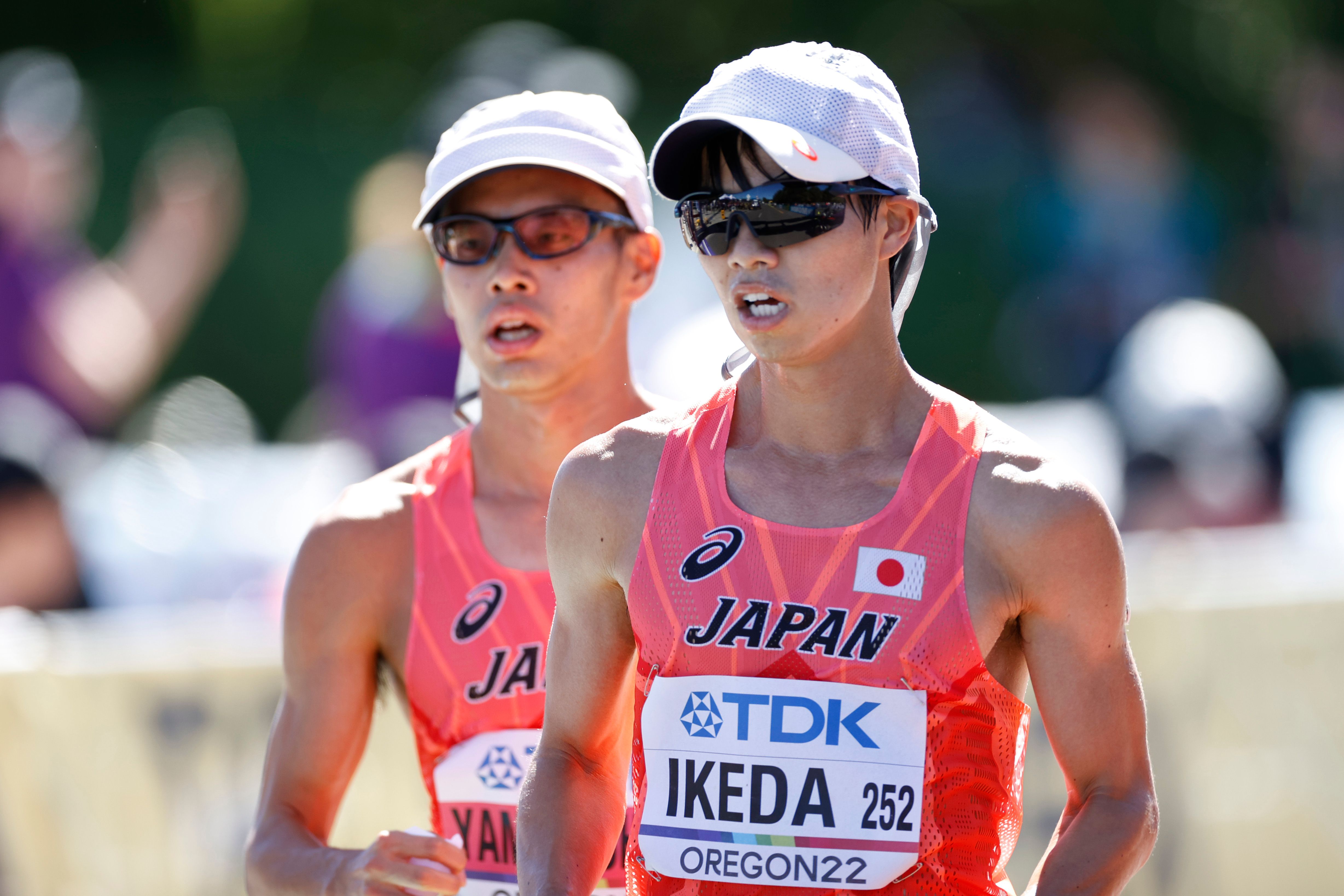 Toshikazu Yamanishi and Koki Ikeda at the World Athletics Championships Oregon22 (© Getty Images)
"Winning both requires physical and mental toughness," he added. "However, looking at the women's case (in the World and European Championships), the same thing could happen in the men's event."
For all that, Yamanishi made plain a serious tilt at 35km is for the future, even if that one-second win by Stano in Oregon was less than two minutes outside the world record (2:21:31).
"Now my main event is 20km," said Yamanishi. "So, it needs lots of preparation for me to try the current world record at 35km. When I tackle the 35km in earnest in future, of course I'll aim for it."
Although the double word champion is doubtful he will attempt both distances in Budapest, Kawano is not. Given the chance, the world 35km silver medallist thinks two races nine days apart is more than doable. After all, he was a stride behind Stano as both strove for the line in Oregon.
Mouth open, desperately sucking in air, Kawano collapsed over the line to take second place. He and top race walkers know that the difference on any given race day between a medal and nothing can be the blink of an eye.
"In the world, there are athletes who win both the 20km and the 35km," Kawano said. "That's because the strong 20km walkers are performing really well in the 35km. If I am given the chance, I too would like to challenge both 20km and 35km in the same competition."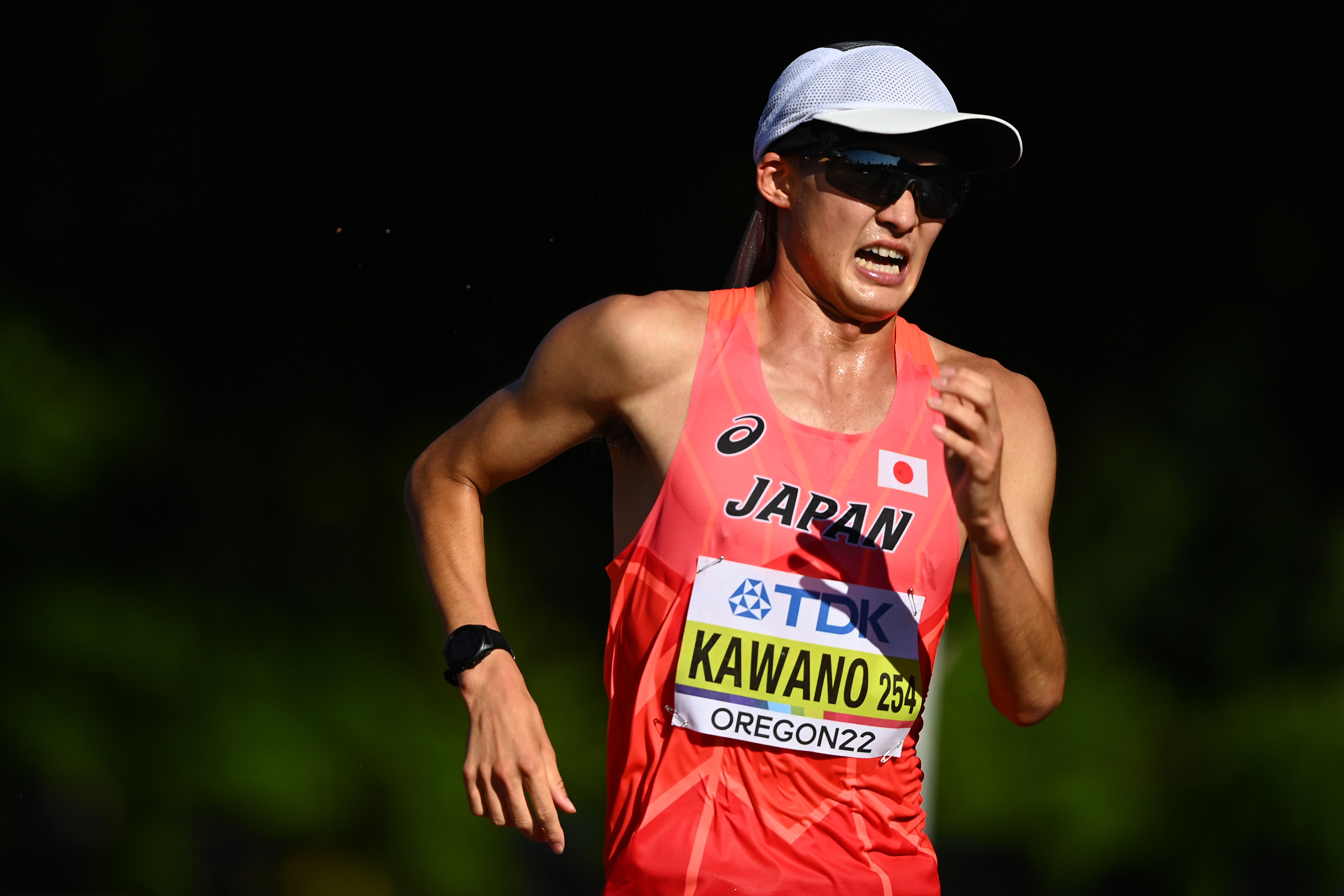 Masatora Kawano at the World Athletics Championships Oregon22 (© Getty Images)
It's worth pointing out the 24-year-old from Hyūga's personal best at the shorter distance is only nine seconds behind Yamanishi: 1:17:15 to Kawano's 1:17:24 set in 2019.
The latter now also holds the Asian record for 35km, set in Oregon, and is unlikely to be challenged for the defunct 50km national record of 3:36:45, also set in 2019.
Factor in the likes of Ikeda, Eiki Takahashi, Daisuke Matsunaga, and Isamu Fujisawa – all with 20km PBs inside 1:18 and all still active, there's reason to believe Japan's men can win all six medals in Budapest on a good day.
The country's senior women are also edging closer to global success, as Yaminishi points out.
"Step by step, Japanese women are also getting close to medals," he said.
Nanako Fujii was sixth in Oregon. The 23-year-old went one place better than she managed in Doha in 2019 where Kumiko Okada took sixth in the same race.
"They are still in the middle of the road," Yamanishi added, "but have improved their performance. I hope they get higher places in Budapest and break the current national record in 2023."
If not them, how about Ai Ooyama and Ayane Yanai in the future?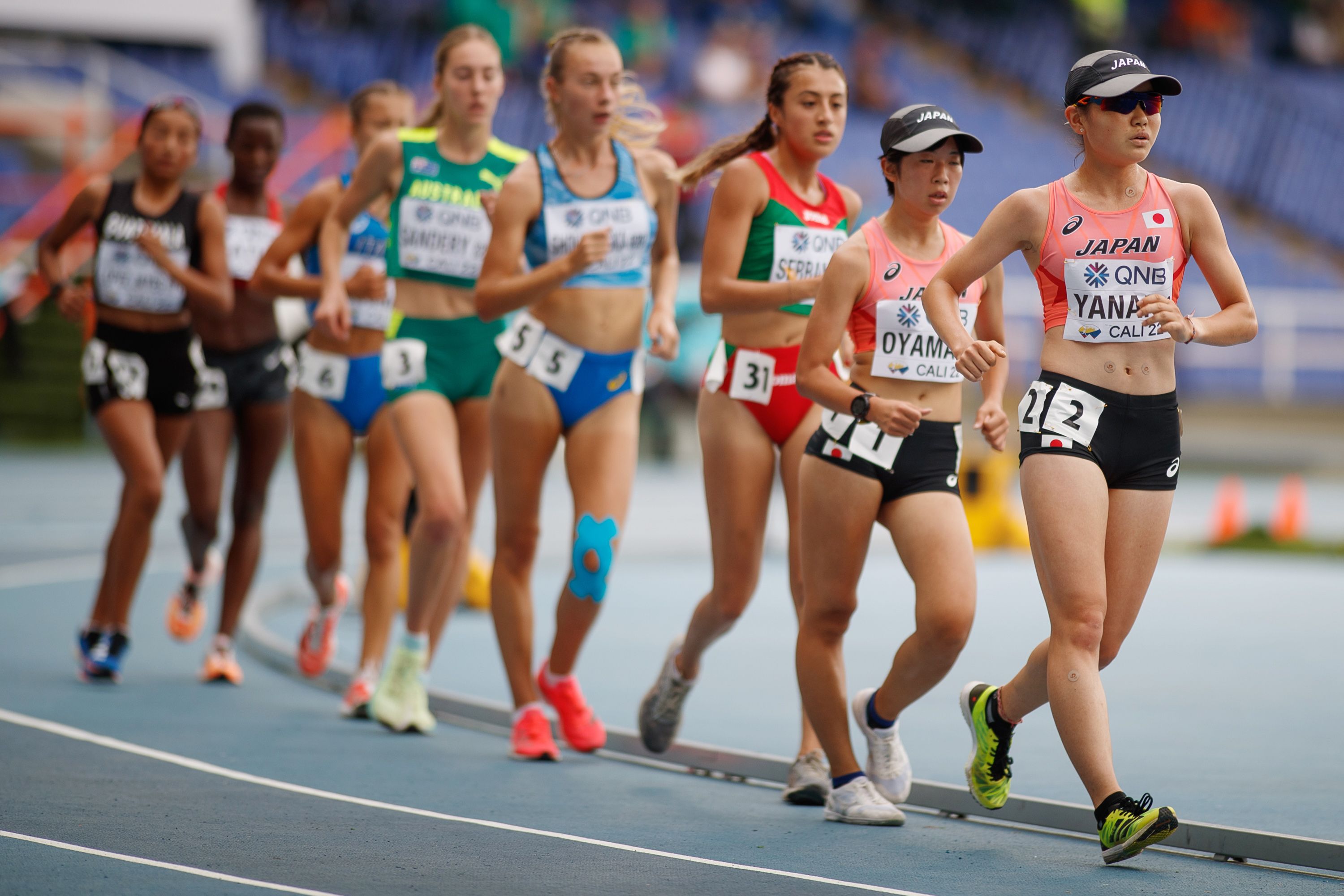 Ayane Yanai and Ai Ooyama lead the 10,000m race walk at the World Athletics U20 Championships Cali 22 (© Oscar Munoz Badilla)
If proof was ever needed the sun continues to rise over Japan's race walk future, it was the tremendous silver and bronze earned by Ooyama and Yanai in the 10,000m race walk at the World Athletics U20 Championships Cali 22 in August.
At 16, Ooyama became one of the youngest ever world U20 medallists, and teammate Yani is still 18.
In fact, had Ooyama looked over her shoulder in the last 20 metres, she might have been able to do something about the last-second sprint from Mexico's eventual gold medallist Karla Serrano.
Chances are the rest of the race walking world won't need to look over their shoulders: Japan's race walkers will be ahead in all categories and at all ages.
Paul Warburton for World Athletics