Double Olympic champion Sifan Hassan in Tokyo (© Getty Images)
On a breathtaking night of athletics, a distance runner established herself as an all-time great, a legend further polished her legacy, a triple world champion stepped on to the Olympic podium for the first time, a prodigy became a bonafide champion and almost a fifth of the world's population was celebrating India's first Olympic gold medal in athletics.
What was most difficult to believe was that all this could be packed into one stellar session to finish the stadium programme of the Tokyo Olympic Games on the highest of notes.
Coming into the Olympics, Sifan Hassan said it was a "crazy" idea to compete in the 1500m, 5000m and 10,000m at one Games but who better than someone as crazy and brave as her to achieve such a challenge.
The 27-year-old Dutchwoman was rewarded for her audacious approach tonight as she became the first athlete to win a medal in the 1500m, 5000m and 10,000m at the same Olympic Games, one of the greatest achievements in the 125-year history of the Games.
Across nine days, 24,500 metres and 61.25 laps of the track, Hassan claimed two gold medals (5000m and 10,000m) and a bronze medal (1500m), despite a fall in her 1500m heat that could have brought the whole dream undone.
Conscious of the amount of running already in her legs, Hassan took the conservative strategy into tonight's 10,000m final.
By half-way, only four women were still in the race – Hassan, world record-holder Letesenbet Gidey, world 5000m champion Hellen Obiri and Bahrain's Kalkidan Gezahegne.
Gidey took up the pace with the others in single file, leading through 7000m, ahead of Obiri and Hassan. When Obiri began to falter on the next lap, Hassan moved smoothly past her and on to the shoulder of her Ethiopian rival.
With four laps to go (1600m), Gidey gestured for someone else to take the pace but Hassan declined to relieve her, sticking to her shadow until just 150m to go when she burst free and sprinted for the finish line to win in 29:55.32.
Gezahegne also had more left in her legs and followed Hassan home for the silver medal in 29:56.18. The tiring Gidey held on to the bronze medal (30:01.72).
Hassan said she had been fueled by her third place in the 1500m and that had driven her to victory today.
"Today I'm grateful for that," she said. "That was not what I wanted, but what I needed. I was thinking about yesterday the whole race, and I've never gone deep like I did today."
She revealed that she had been waking up with nightmares every night at the Olympic village because of the size of the challenge she faced. She said she would celebrate the end of her astonishing Games by going to sleep.
Meanwhile, Norwegian prodigy Jakob Ingebrigtsen became the youngest man to win the 1500m and did it with the fastest time in Olympic history.
The 20-year-old Ingebrigtsen, the youngest of three brothers who are all elite runners coached by their father, has seemed destined for this moment since he won the European championship as a 17-year-old.
Standing in his way was the Kenyan world champion Timothy Cheruiyot who had defeated his younger rivals 12 times in succession coming into this race.
But the Norwegian has never lost faith that his time would come and it arrived tonight.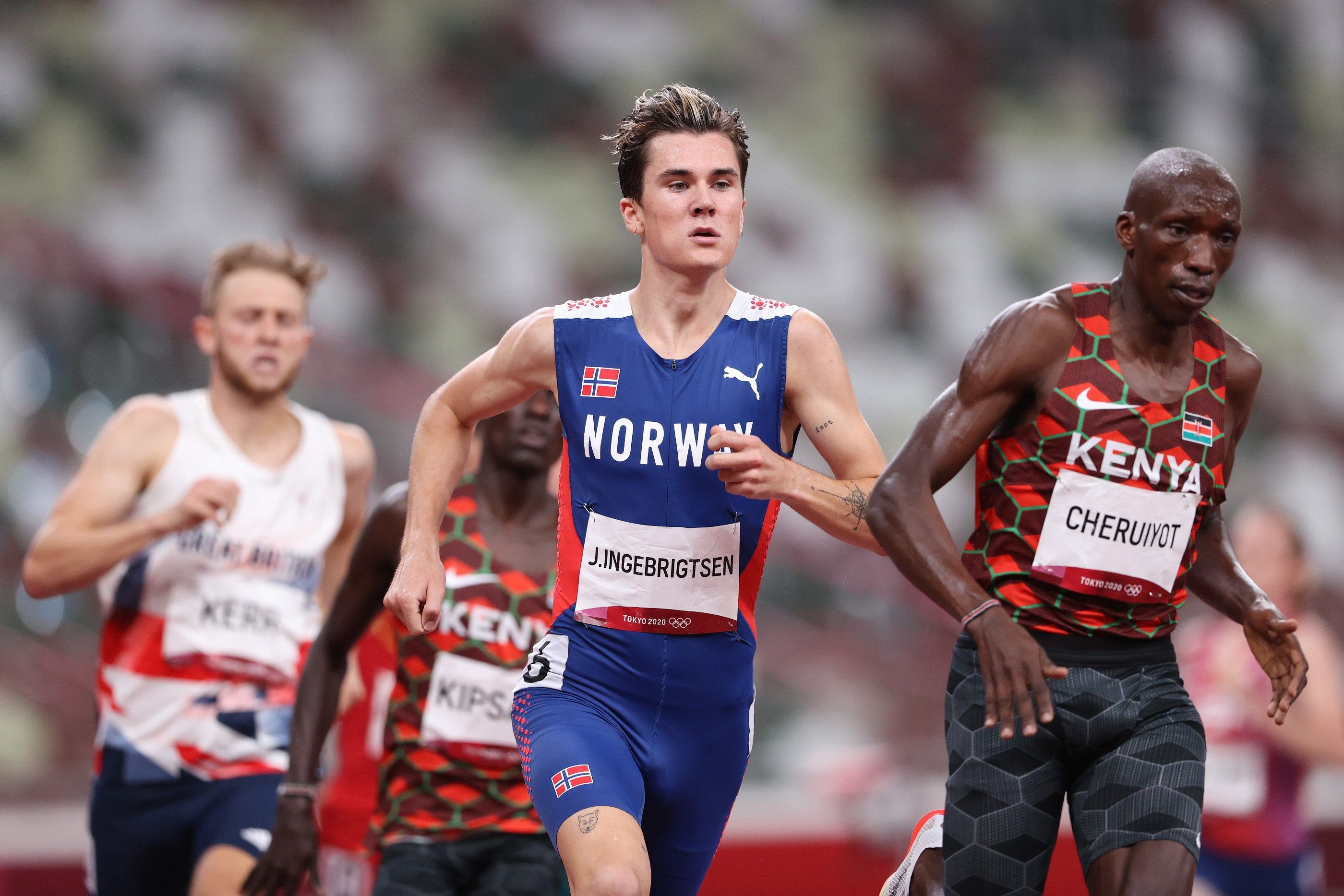 "I've been able to do it on my first try and I feel like I am just getting started," he said, in what should serve as a warning to the world's best middle distance men. "But at the same time, I have been dreaming of this for my whole life. It's crazy.
"It's not only my gold medal, it's my whole family. If it wasn't for everybody around me, I wouldn't be able to be here and I definitely wouldn't be a runner. So I'm really happy and proud to win."
After the race, Cheruiyot revealed that the two fastest men in the field had made an unusual deal, agreeing to share the pace in the first two laps to ensure this was a fast championship race.
It worked perfectly. Ingebrigtsen took the first turn, Cheruiyot the second at sub-3:30 pace and by the third lap the rest of the field was hurting and the race was between them.
With 120m to go, Ingebrigtsen turned on the afterburners and raced to the lead, gapping Cheruiyot by five metres to take the tape in a personal best time of 3:28.32. Cheruiyot took the silver in 3:29.01 with fast-finishing Briton Josh Kerr snatching the bronze in a huge personal best of 3:29.05.
"He's a good racer, he's a good athlete, a disciplined athlete. I'm happy about him," the gracious Cheruiyot said of his conqueror.
The field events were equally riveting.
Neeraj Chopra became a hero in India as he claimed his country's first Olympic medal in athletics and a gold at that.
Chopra led the javelin final from start to finish.
With his first throw, he hurled the spear 87.03m, a distance that would prove good enough for the gold medal.
However he found even more power on his second attempt (87.58m) and no-one could match him.
Czech thrower Jakub Vadlejch secured the silver medal with a fifth round throw of 86.67m, overtaking his compatriot Vitezslav Vesely, who claimed the bronze (85.44m).
However, the pre-event favourite Johannes Vetter of Germany, who has launched a series of 90m-plus throws this year, never looked comfortable on the runway and bowed out in ninth place.
Chopra was very aware of what his triumph will mean at home in the sub-continent.
"This is our first Olympic medal for a very long time, and in athletics it is the first time we have gold, so it's a proud moment for me and my country," he said.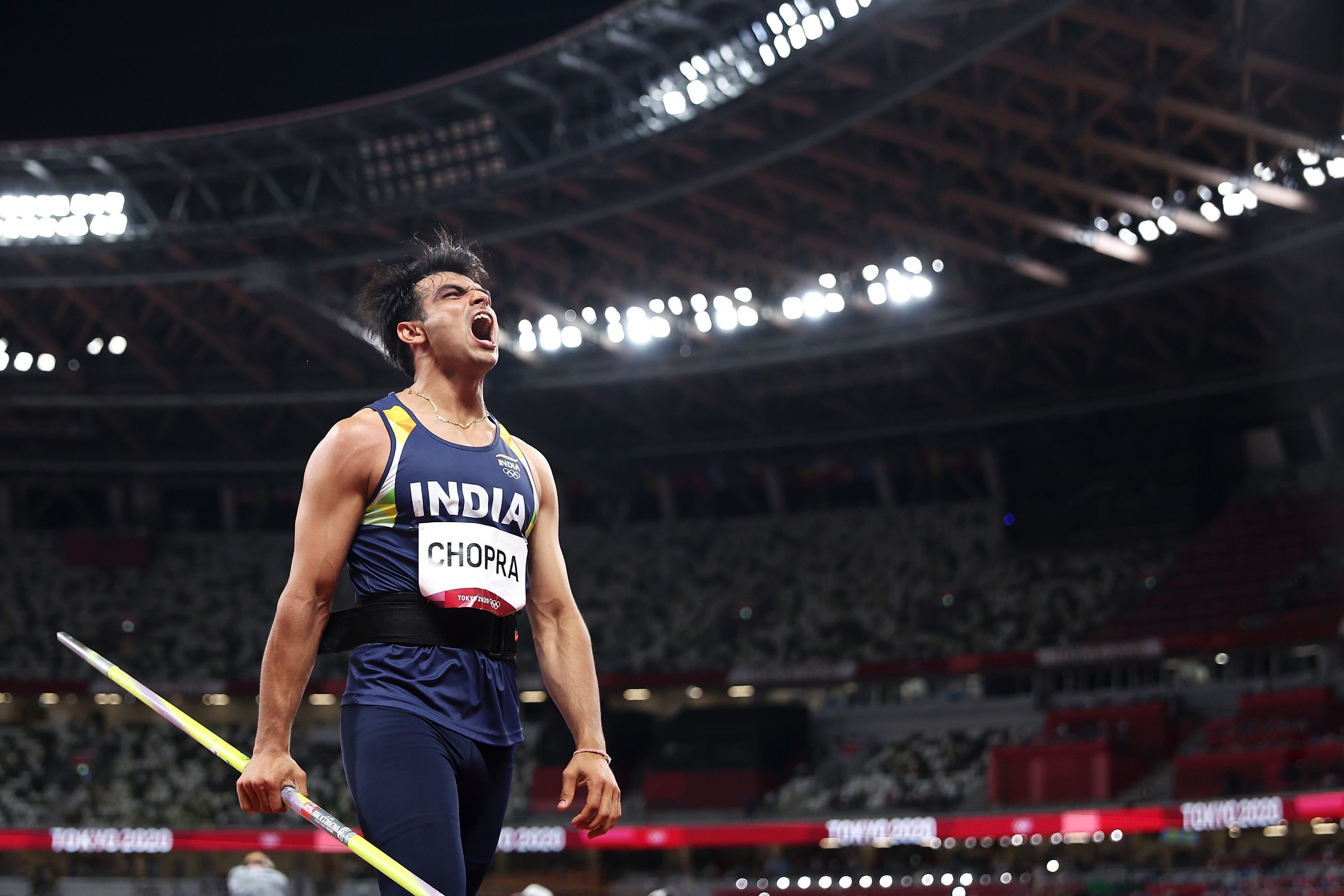 The women's high jump turned into a shootout between the long-standing queen of the event, triple world champion Mariya Lasitskene, and a new challenger to the throne, Australia's Nicola McDermott.
Denied the opportunity to win an Olympic gold medal in Rio five years ago due to her country's suspension, 28-year-old Lasitskene was determined to take this chance.
However, the authorised neutral athlete was untidy early, taking three attempts to clear 1.96m and two to clear 1.98m. By contrast McDermott kept a neat sheet and hit the lead when she was the first to clear two metres.
But Lasitskene finally clicked into high gear and jumped 2.02m straight up. McDermott matched that height (a personal best, national record and area record) on the second attempt but remained behind on the count.
Lasitskene then went over 2.04m which proved to be a bridge too far for the Australian.
Teenaged Ukrainian Yaroslava Mahuchikh cleared two metres to take the bronze medal.
The usually dominant American team has had plenty of woes this week but produced two powerful displays to claim the last two gold medals on the track in the 4x400m relays.
The All-Star team of Olympic 400m hurdles champion and world record-holder Sydney McLaughlin, the most decorated female athlete in history Allyson Felix, the world 400m hurdles champion Dalilah Muhammad and the Olympic 800m champion Athing Mu was inevitably too hot for the other contenders in the women's 4x400m final, clinching the gold medal in 3:16.85.
Almost four seconds behind, silver medallist Poland capped an excellent Olympic athletics campaign in 3:20.53, with Jamaica claiming the bronze (3:21.24).
The US men matched their female counterparts, winning their 4x400m title handily (2:55.70) after a monster anchor leg from 400m hurdles silver medallist Rai Benjamin (43.40).
The Netherlands won the silver medal (2:57.18) and Botswana the bronze (2:57.27).
Earlier on, the first gold medal of the day had been won by Kenya's two-time world half marathon champion Peres Jepchirchir. Racing on the roads of Sapporo, she ran 2:27:20 to claim the women's marathon title ahead of her compatriot Brigid Kosgei and the USA's Molly Seidel.
Nicole Jeffery for World Athletics