Italy's Xavier Chevrier and Kenya's Lucy Murigi took top honours at the highly anticipated La Montee du Nid d'Aigle, the third stage of the WMRA World Cup series, on Saturday (17).
The race hub in the picturesque Saint-Gervais-Les-Bains, in the Haute-Savoie region of France, combined with a tough course and a field of top runners made for a fantastic mountain running race.
Blue skies greeted the runners at the start, with a few whispy clouds higher up in the mountains. Conditions were hot for the runners, particularly on the exposed parts of the course, making the 19.5km uphill-only race particularly relentless.
The route starts at Le Fayet and heads along the river towards St Gervais, and then to La Villette, climbing gradually. It then heads away from the road and into the trees and begins to climb more steeply all the way up to the finish at Refuge du Nid d'Aigle at 2394m.
With deep fields in both the men's and women's races, both podiums were wide open. As expected, the flatter first few kilometres of the race were fast and furious and before too long gaps had opened for the men and women.
Murigi, who finished third at Grossglockner last weekend, struck out into a lead over French duo Anais Sabrie and Christel Dewalle. Chevrier and Italian teammate Francesco Puppi also made a break for it in the men's race, but they were hotly pursued by a group including France's Julien Rancon, Alexandre Fine and Henri Aymonod.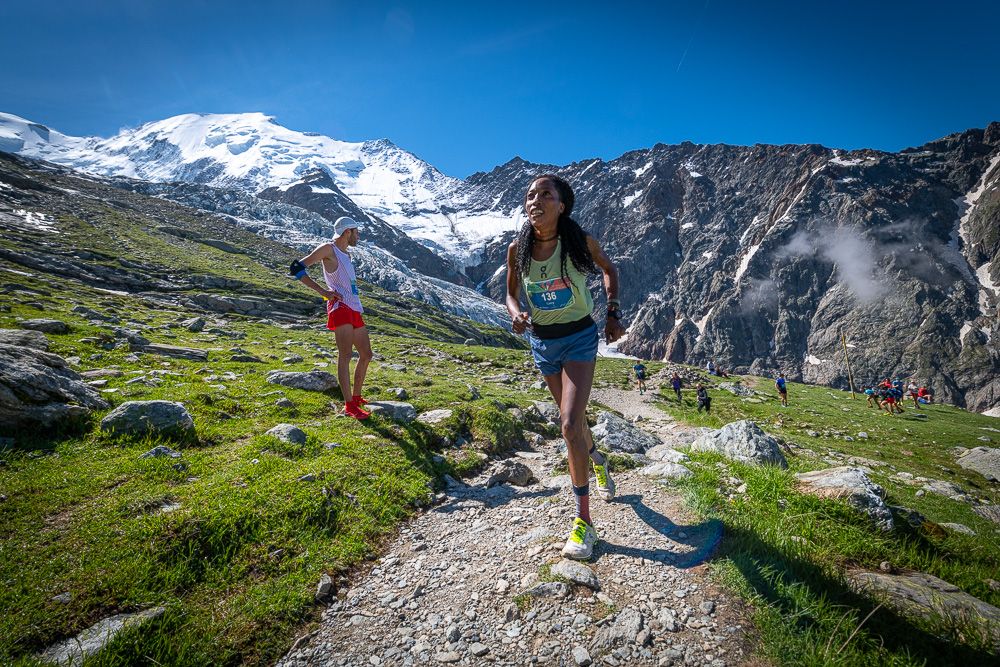 Chevrier and Murigi maintained their leads, though the races remained close. In the closing stages, Chevrier pulled away from Puppi while the chasing runners jostled for third place.
Chevrier went on to win the men's race in a course record of 1:44:25, followed by Puppi, more than a minute behind (1:45:49). Aymonod completed the all-Italian men's podium in 1:46:44. Julien Rancon was fourth in 1:48:43 and Remi Lonchampt rounded out the top five in 1:50:18.
Dewalle, who is a 10-time French VK champion and excels on the steeper climbs, chased Murigi hard on the final climb, but couldn't catch the Kenyan. Murigi won in 2:06:08, just two seconds outside the course record, with Dewalle just 21 seconds behind. Sabrie was a further minute in arrears (2:07:34).
France's Mathilde Sagnes was fourth in 2:08:37 and Simone Troxler fifth in 2:10:43 with the top five finishing within five minutes of each other.
The next stop on the WMRA World Cup calendar is the Tatra SkyMarathon on 24 July.
Kirsty Reade (WMRA) for World Athletics


Leading results
Women
1 Lucy Murigi (KEN) 2:06:08
2 Christel Dewalle (FRA) 2:06:29
3 Anais Sabrie (FRA) 2:07:34
Men
1 Xavier Chevrier (ITA) 1:44:25
2 Francesco Puppi (ITA) 1:45:49
3 Henri Aymonod (ITA) 1:46:44