Hyvin Kiyeng and Soufiane El Bakkali in the steeplechase at the Olympic Games (© Getty Images)
Women's 3000m steeplechase
Entries | timetable | world rankings | 2021 world list | world all-time list | how it works
The standout steeplechaser over the past few years hasn't quite been so dominant in 2021, throwing this event wide open going into Tokyo.
Beatrice Chepkoech broke the world record in 2018, clocking 8:44.32, and then went on to win the world title in 2019 with a championship record of 8:57.84, finishing almost five seconds ahead of the rest of the field.
She finished fourth at the 2016 Olympics and at the 2017 World Championships, despite losing precious time when missing one of the barriers. She rebounded well, and throughout 2018 and 2019 she won 17 of her 19 races. She now also owns half of history's 14 sub-nine-minute performances in the steeplechase.
But despite a promising start to her year, which included a world record of 14:43 over 5km and an indoor 3000m PB of 8:31.72 just three days later, the Kenyan hasn't won any of her steeplechase races in 2021. Her season's best of 9:04.94 was set when finishing a distant second at the Wanda Diamond League meeting in Monaco.
Her compatriot Hyvin Kiyeng was the winner on that occasion in what turned out to be an eventful race. Kiyeng misjudged her remaining laps due to a human error with the lap counter, so she started her final kick one lap early. Upon realising her mistake after hearing the bell for the actual final lap, she somehow managed to muster enough energy to hold on to her lead, winning in a season's best of 9:03.82.
Kiyeng won the world title in 2015 and went on to take Olympic silver in 2016 and world bronze in 2017. She finished fourth on her season debut in Doha earlier this year but has gone on to win the rest of her races, beating Chepkoech on all three occasions.
And if she can beat a world record-holder and world champion after having messed up her finishing kick, as she did in Monaco, Kiyeng will be a big threat in Tokyo. She could even finally improve on the PB of 9:00.01 she set back in 2016.
The fastest of the entrants, somewhat surprisingly, is African Games champion Mekides Abebe, who set an Ethiopian record of 9:02.52 at the Wanda Diamond League meeting in Doha. Her only other races this year have been against domestic opposition, but she won both the Ethiopian Championships in Addis Ababa and the Ethiopian Olympic Trials in Hengelo.
Despite being just 19 years of age, Abebe is actually the oldest of Ethiopia's steeplechase representatives. She'll be joined in Tokyo by Lomi Muleta, who set a PB of 9:14.03 this year, and Zerfe Wondemagegn, who set a national U20 record of 9:16.95 in Hengelo. All three women represented Ethiopia at the 2019 World Championships, so, despite their young age, they will have already gained some valuable experience ahead of making their Olympic debut.
US champion Emma Coburn will once again be a medal contender. Olympic bronze medallist in 2016, world champion in 2017 and world silver medallist in 2019, Coburn is always in the mix at major events.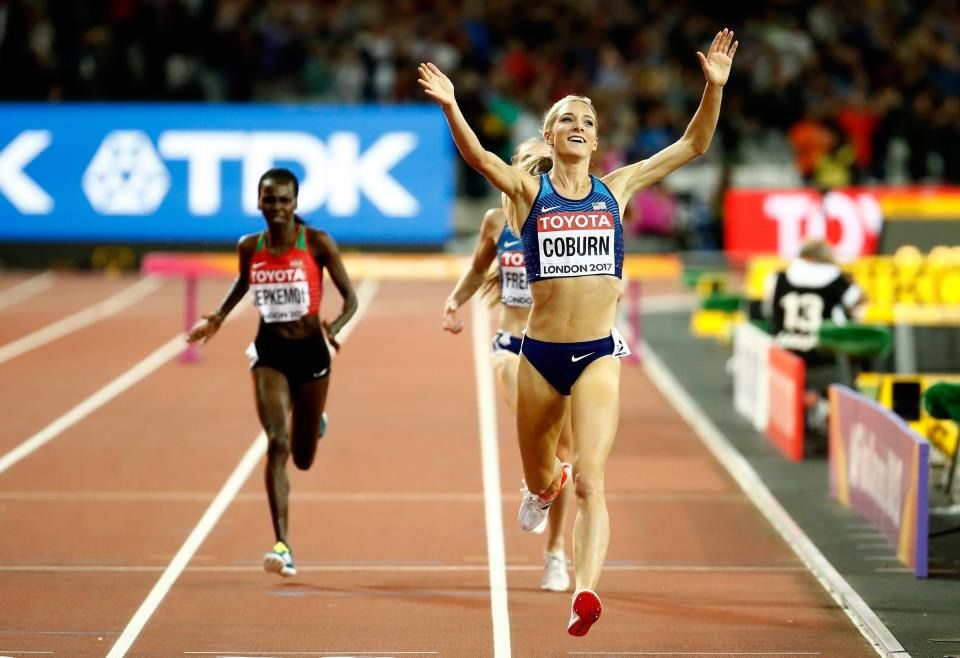 She fell at the last water jump in her final pre-Olympic race at the Wanda Diamond League meeting in Monaco, eventually finishing fourth in 9:09.02. She had watched Kiyeng's blunder from afar and had started to reel in the Kenyan, though there's also no guarantee Coburn would have won on that occasion had she stayed on her feet. Regardless, assuming she makes no such mistake in Tokyo, Coburn will be in the medal hunt.
Gesa-Felicitas Krause is another strong championship performer. The German won European golds in 2016 and 2018, sandwiched between world bronze medals in 2015 and 2019. She heads to Tokyo with a season's best of 9:09.13, though it's highly likely she'll improve on that; in all but one of her 10 seasons between 2010 and 2019, Krause's fastest times of each year were set in championship finals.
Bahrain's Winfred Yavi just missed out on the medals at the World Championships in Doha, but gained some form of redemption when she returned to the Qatari capital for the Wanda Diamond League meeting earlier this year as she came away with a PB of 9:02.64, beating Kiyeng, Coburn and Krause.
Others who could feature in the final include North American record-holder and 2017 world silver medallist Courtney Frerichs, Slovenian record-holder Marusa Mismas-Zrimsek, 2014 Commonwealth champion Purity Kirui, Oceanian record-holder Genevieve Gregson of Australia, Chinese record-holder Zhang Xinyan and Ugandan record-holder Peruth Chemutai.
Jon Mulkeen for World Athletics
Men's 3000m steeplechase
Entries | timetable | world rankings | 2021 world list | world all-time list | how it works
By any measure, the men's 3000m steeplechase has been Kenya's event. Athletes from the east African athletics powerhouse have captured the discipline at all but two Olympic Games since 1968 - and those were the two the nation boycotted. But for the first time in recent memory its squad will be arriving at an Olympic Games without a reigning world or Olympic champion.
Conseslus Kipruto, the champion in Rio five years ago and winner at the past two World Championships, did not finish his race at the Kenyan Trials last month, and won't be in Tokyo to defend his title. That passes the pressure of the nation on to the lean shoulders of Leonard Bett, Banjamin Kigen and Abraham Kibiwott.
Hopes are high for Bett, the 2017 world U18 champion, 2018 African champion and 2019 World Championships finalist, who took the top honours at the brutally competitive Kenyan Olympic Trials on 19 June, clocking 8:17.26 in the altitude of Nairobi. He's raced sparingly this season, however, so his true form won't be revealed until opening round action gets under way on Friday 30 July.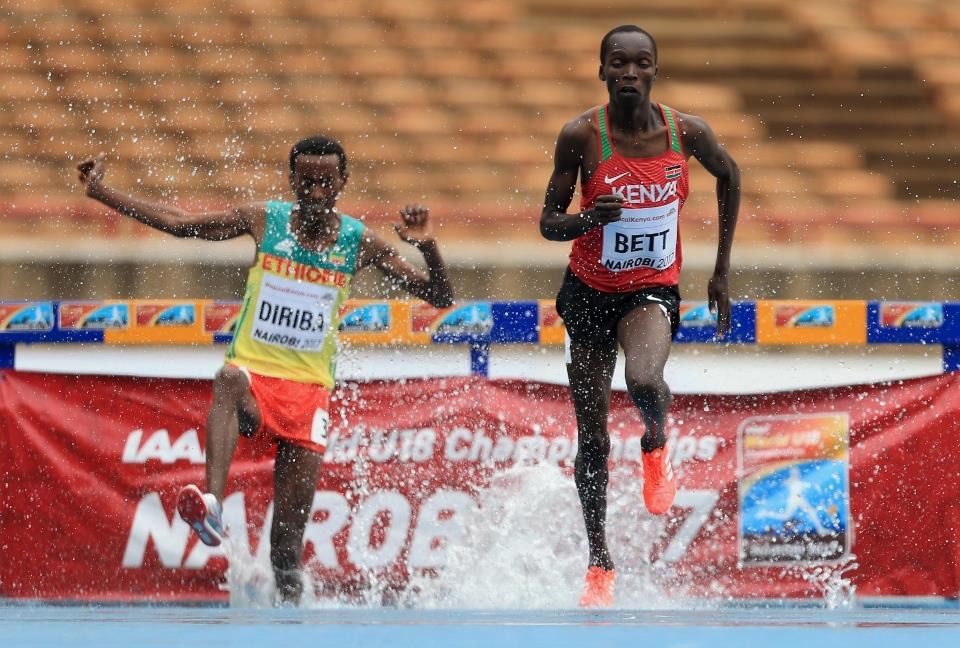 Like Bett, Kibiwott, 25, was also a finalist at the 2019 World Championships where he finished seventh, so he too also brings major competition experience to the Japanese capital. The 25-year-old has an 8:05.72 career best from 2019 and has five sub-8:10 performances to his credit. The most recent came in Monaco on 9 July where he finished second in 8:07.81.
Kigen, 28, was sixth at the last World Championships and raced to victory at the African Games earlier that year, and with several Wanda Diamond League and World Athletics Continental Tour victories to his credit, is also a proven commodity on the international stage. But with an 8:15.09 season's best, he hasn't been particularly fast this season, but that performance came at the Wanda Diamond League meeting in Monaco where the official rang the bell one lap early, causing Kigen and a couple of other runners to launch their finishing kick with two laps to go. Kigen had been in the lead up until the point the athletes realised there was another lap to go.
To keep their streak alive, the Kenyan trio will have to get past a short list of proven stars who will arrive as the favourites.
Moroccan Soufiane El Bakkali, 25, battled to silver and bronze, respectively, at the last two World Championships, has a dozen sub-8:10 performances to his name and a 7:58.15 career best, the fastest among the Tokyo entrants. He's raced sparingly but well this season, winning at the Golden Gala in Florence in 8:08.54 and perhaps more notably, clocking 3:31.95 in the Doha Diamond League 1500m, clipping 1.5 seconds from his previous lifetime best.
Lamecha Girma, meanwhile, burst on to the world stage with a stunning performance at the 2019 World Championships, where the then 18-year-old fiercely battled Kipruto to the line, only to be beaten to gold by a scant 0.01. After a somewhat low-key 2020, Girma has raced just once outdoors this year but made it count, winning in Monaco on 9 July in 8:07.75, the fastest in the world in 2021.
Bikila Tadese Takele, who will turn 19 one day after the Olympic final, won the Ethiopian Trial race in Hengelo with a PB of 8:09.37 and went on to finish second at the Wanda Diamond League meeting in Florence.
Compatriot Getnet Wale, the 2019 Diamond League champion and fourth-place finisher at the World Championships later that year, was initially named in the steeplechase but now looks to be focusing solely on the 5000m.
Behind them, the form chart is less certain. France comes armed with Djilali Bedrani (8:11.17 SB) and Mehdi Belhadj (8:12.43 SB, PB), who finished third and fourth in the Monaco race. Bedrani finished fifth at the 2019 World Championships in 8:05.23, still his lifetime best, so also looks to be a factor.
Hillary Bor, the US Trials champion, was seventh in Rio and eighth at the last World Championships, and could also be in medal contention.
Meanwhile, local hopes lie with Ryuji Miura, the 19-year-old who twice broke the national record this year, first with 8:17.46 in Tokyo in May and again to 8:15.99 to win the national title in Osaka one month ago.
Bob Ramsak for World Athletics