Yalemzerf Yehualaw in Gdynia (© Gdynia LOC)
Finding the next great endurance talent from the conveyor belt that is East African running has almost become a sport within a sport.
Fans and writers alike love to speculate on the next Eliud Kipchoge or Tirunesh Dibaba and while predicting future talent can be a tricky business there is little doubt that the huge amount of recent attention thrust upon Yalemzerf Yehualaw is justified.
Boasting just two years of international experience, the Ethiopian has already snared an African Games half marathon title and claimed a Word Half Marathon Championships bronze - and but for an unfortunate slip it could have been more.
Yet perhaps most eye-catching of all was her blistering performance at the Delhi Half Marathon on 29 November when she claimed victory in 1:04:46, the second fastest women's performance of all-time.
"Many Ethiopian athletes have a natural gift but Yalemzerf had three very good qualities: speed, endurance and good core strength," says her coach Tessema Abshero.
"Looking at her speed and body structure, I have not been surprised by her performances over the past two years."
A standout from age 12


Born the eldest of six siblings, Yehualaw enjoyed a typical rural upbringing in West Gojjam in the Amhara region of Ethiopia.
From the age of 12 she was winning track races at school before later progressing to youth track titles in her highly-competitive region.
Such was her talent, she was invited to join the Ethiopian Athletics Federation Academy in Addis Ababa and then, three years ago, to join the NN Running Team coached by Abshero, a group which includes 2019 Amsterdam Marathon winner Degitu Azimeraw and Ethiopian 10km road record holder, Tsehay Gemechu, who has become a close friend.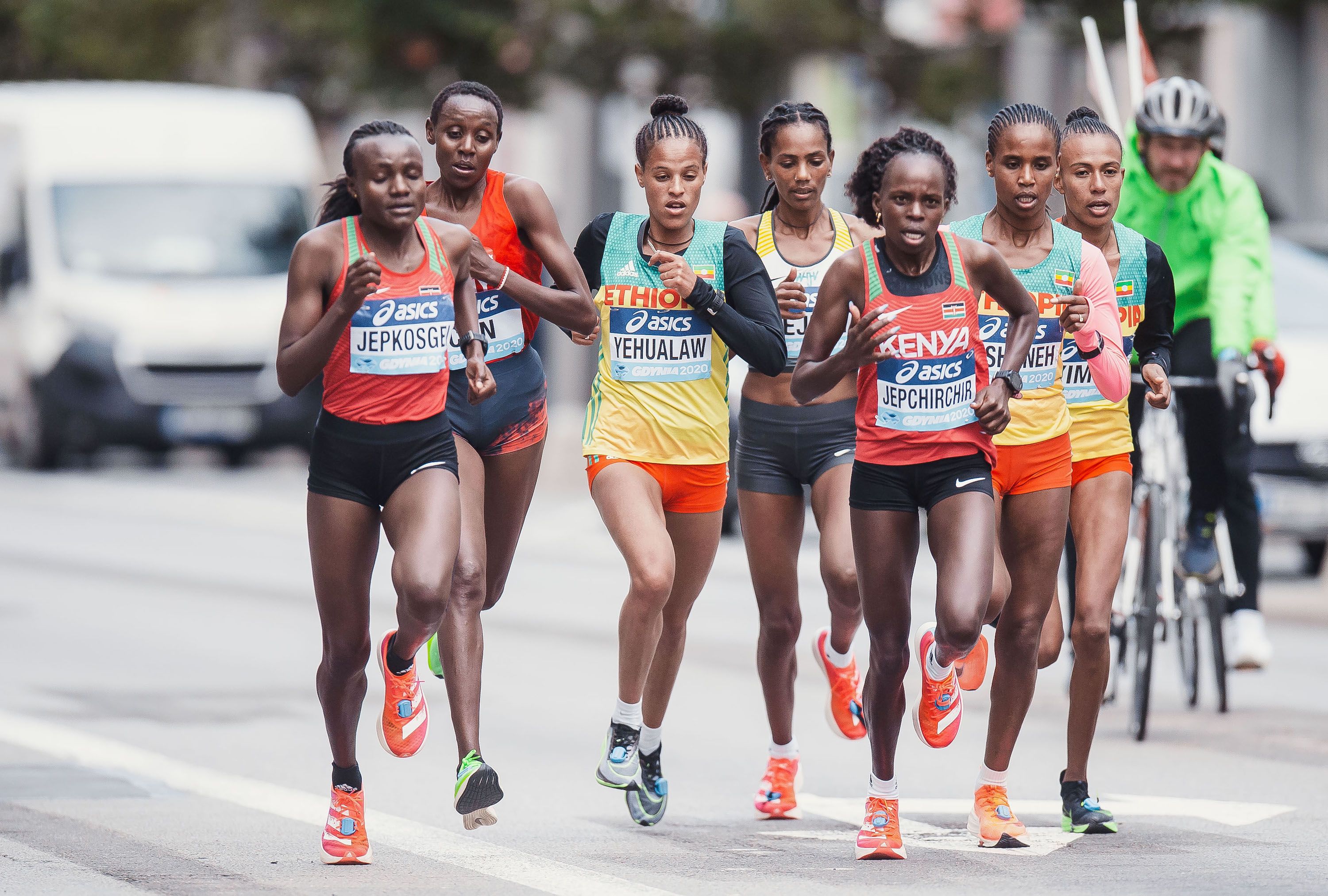 "I was very happy to join Tessema's group," explains the ever-smiling Yehaulaw. "He is a good coach with a good structure, and I also have very strong training partners."
Visa issues delayed the opportunity to race overseas in 2018 but after she finally made her international debut in the Rabat Half Marathon in April last year, she did not disappoint. Claiming victory in the Moroccan capital by a winning by a margin of almost three minutes in 1:09:13, she declared herself "very satisfied" with her efforts.
A little over two weeks later, she performed with pride on the track to finish fifth at the Ethiopian Championships over 10,000m. Running at an altitude in excess of 2300m she recorded 32:21 – in a race won by world 5000m record-holder Letesenbet Gidey.
Victory in first national team appearance


Highly encouraged by her performance level, Abshero made a strong case for her selection in the Ethiopian team for the half marathon at the African Games in Rabat.
Given her half marathon potential coupled with her experience of racing and winning in the Moroccan city, selectors were convinced by Abshero's urgings and Yehualaw secured a berth on the Ethiopian team – alongside her training partner Degitu Azimeraw – for the half marathon distance.
Abshero viewed competing at the African Games as a genuine medal opportunity and was confident his athletes could climb the podium.
"I said to them, 'try and help each other during the race and in the final kilometre decide the order.' Looking at how they were performing in training, I knew both ladies could win the medals."
Abshero was right to be confident as the Ethiopian pair dominated. However, it was Yehualaw who prevailed to win by a five-second margin in 1:10:26 and strike gold on her debut for Ethiopia.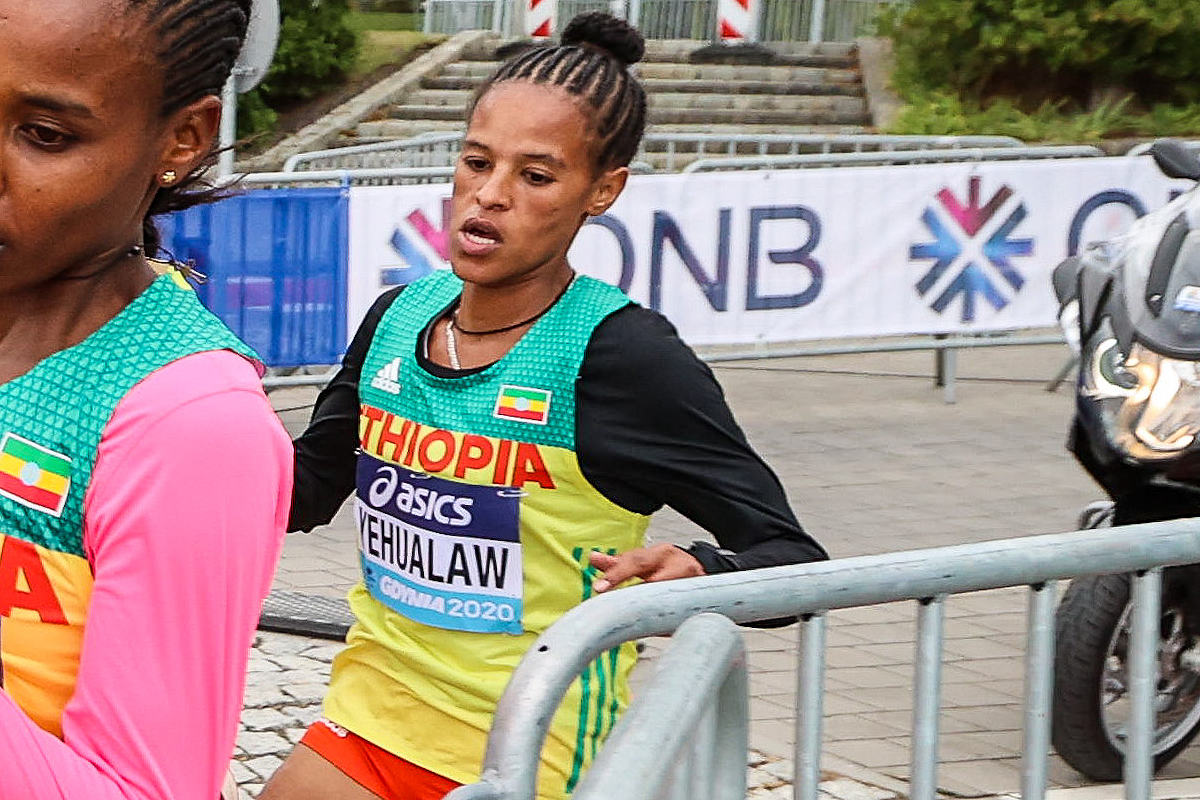 "I was very happy to win gold and see the Ethiopian flag so high," she explains. "Victory in Rabat gave me a lot of confidence for my future competitions and also a certain financial security."
Buoyed by her performance in Rabat and boasting a new profile, Yehualaw was suddenly a woman in demand. At the 2019 Delhi Half Marathon she posted a massive new PB by more than three minutes to record 1:06:01 and place second, just one second behind her training partner Tsehay Gemechu.
In November she clinched victory in the 10km Great Ethiopian Run in Addis Ababa and concluded a highly successful maiden international year with victory in the Xiamen Marathon in China (1:07:34).
Returning to training at her base in Addis Ababa, she has continued to develop and build her fitness.
Team berth for Gdynia secured, then pandemic hits


An unfortunate stomach issue hindered her attempts to produce her best at the Ras Al Khaimah Half Marathon in February, where she finished sixth in 1:06:35. But she bounced back to win the Women's First 5km in 15:27 in Addis Ababa only for the global pandemic to strike causing the postponement of the World Athletics Half Marathon Championships – for which she had been selected for the Ethiopian team.
During the early stages of the pandemic she returned to her home village for a month and took some time away from serious training.
However, since returning to the Ethiopian capital and training as part of a smaller COVID secure group, she has gradually rebuilt fitness.
In preparation for the rescheduled World Half Marathon Championships in Gdynia, Poland, the Ethiopians organised a 15km trial race in which Yehualaw impressed by winning, defeating a world-class group of athletes.
"In those final weeks of preparation (before Gdynia) her form got better and better," explains Abshero. "You could see her improving. I remember she ran 15:45 for the final 5km. That race was at an altitude of 2500m, so I told her then she is in shape to win a gold medal at the World Half Marathon Championships."
Skidding to Gdynia bronze


In an incident-packed women's race in Gdynia – in which several of the main contenders took a tumble – Yehaulaw produced a mature and perfectly controlled race – at least for the first 21km.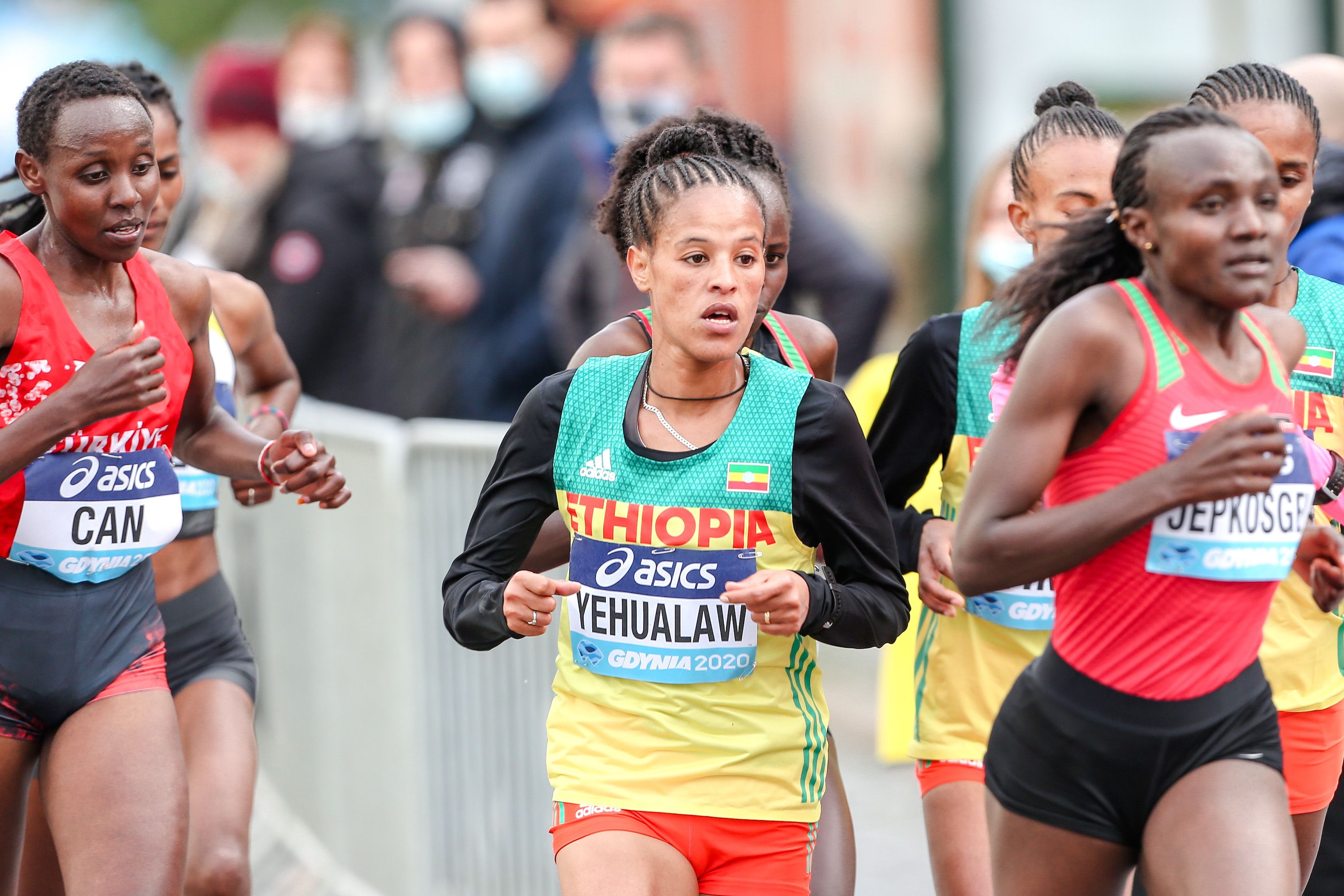 Entering the final 100 metres in a three-way battle for the medals she was poised to make her strike only to skid and almost fall on the carpet which covered the sand on the beach finish. Losing vital momentum at that key moment she had to settle for bronze, albeit with a massive new PB of 1:05:19 – just three seconds behind gold medallist Peres Jepchirchir – who posted a women's only world record.
Yehualaw says she was "very happy" to win a first global international medal but her perfectionist coach was disappointed it was not more.
"I know Yalemzerf was happy but I knew she could have won gold," adds Abshero, who believes the untimely skid cost her the ultimate prize.
Making amends in Delhi


Moving on the New Delhi Half Marathon, where she faced a world-class field which included reigning world marathon champion Ruth Chepngetich, world marathon record-holder Brigid Kosgei and Gemechu, the two-time defending champion, was a daunting prospect.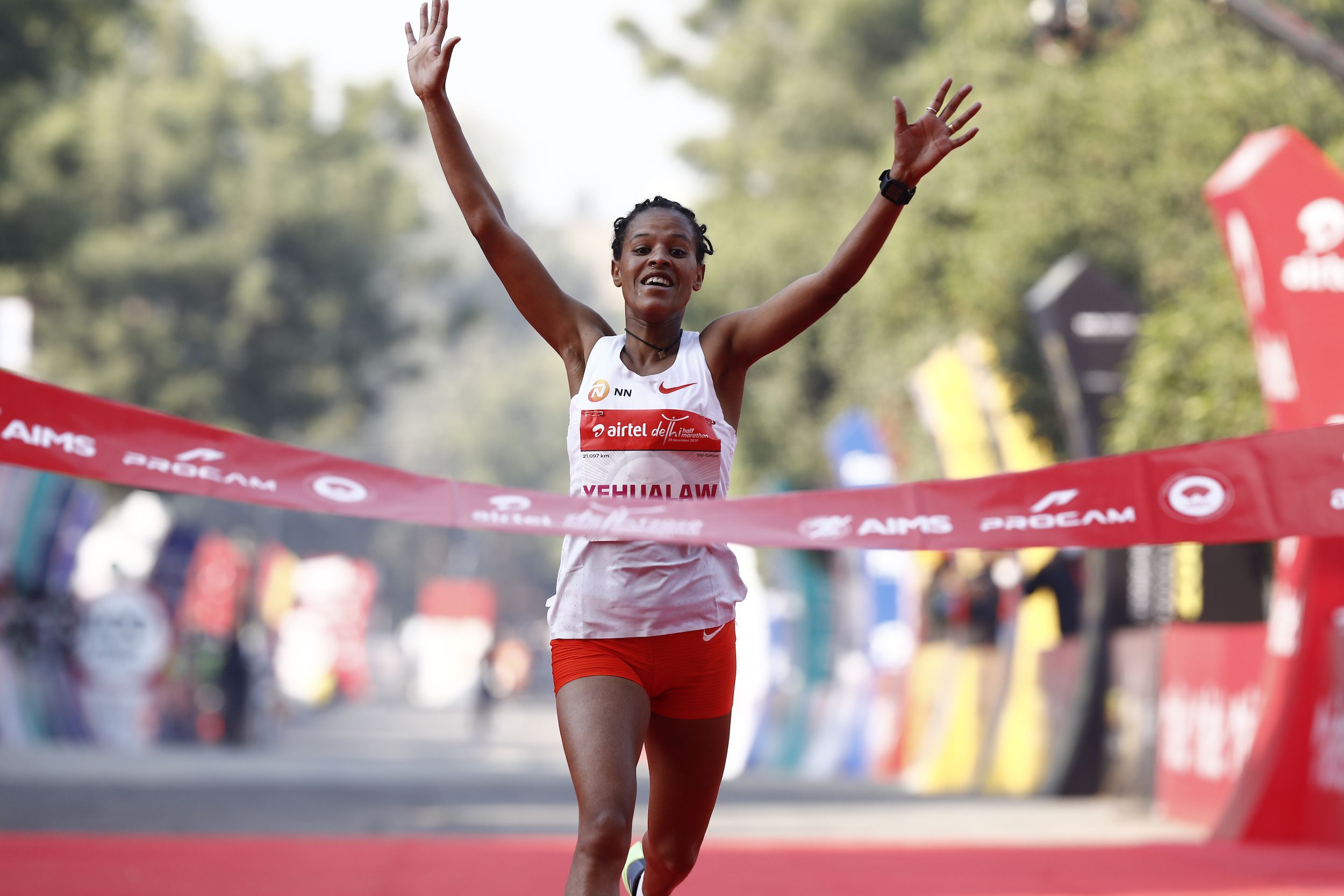 Yet running in ideal conditions, Yehualaw ran with the composure and confidence of a champion. Hitting the 10km checkpoint in a blistering 30:49 as part of the lead group, she kicked clear of her rivals in the final three kilometres to stop the clock in a dazzling 1:04:46 – to come within 15 seconds of Ababel Yeshaneh's world record time set earlier this year in Ras Al Khaimah.
It was comfortably the most impressive performance of the 21-year-old's exciting career, and served special notice of her potential.
"I went out to break the course record here in Delhi and I was hoping for a new PB, but I did not expect to come so close world record," explains Yehualaw. "It was more than I expected."
Abshero was similarly stunned and impressed.
"I knew she was in good shape and I expected a good performance but never in my dreams did I expect this," he says.
The future looks to be extremely rosy for the Ethiopian who has some big ambitions. Her goal is to win titles over a range of distances and surfaces and according to Abshero her versatility is a huge asset.
"She can run well over 5000m and 10,000m on the track, half marathon and one day the marathon on the road."
Yet whatever she goes on to achieve Yehualaw is at this moment one of the world's most exciting young endurance talents and we should take the time to sit back and enjoy the journey over the months and years to come.
Steve Landells for World Athletics