Yusuke Suzuki wins the men's 50km race walk title at the World Athletics Championships Doha 2019 (© Getty Images)
Yusuke Suzuki is unrepentant about the fast starts in races that cost him in the past.
In fact, the world 20km race walk record-holder promises more of the same as he bids for an Olympic gold at 50km to go with his World Athletics Championships triumph in Doha.
The 33-year-old admits he takes risks. If they pay off, then all well and good, but he has no regrets about charging off and leaving the rest in his wake on a good day.
As he approaches the race this weekend that put his name on the map in 2015, Suzuki knows his future lies at the longer distance, because as he says himself, there are plenty of teammates itching to break his superlative 1:16:36.
On that March day in 2015, he was out of the blocks like a sprinter at the Asian Championships in Nomi City. It was a classy field, but nobody could live with Suzuki's relentless pace.
He recalls how he lost his Japanese record to Eiki Takahashi in the national championships the previous month. But that second place in Kobe also landed Suzuki a PB.
His plan at Nomi was a modest tilt at the Asian record, with only the 'slight expectation' of a world record. Even that slight hope took a nosedive when Yohann Diniz broke the world record in Arles (1:17:02) the week before.
The poor Frenchman had barely time to savour his success before Suzuki knocked off 26 seconds and recorded still the only ratified time under 77 minutes. It even surprised the man himself.
At the time, Suzuki said: "My body felt the same as usual," as he slowed only very slightly from 15km to come home nearly three minutes ahead of second place.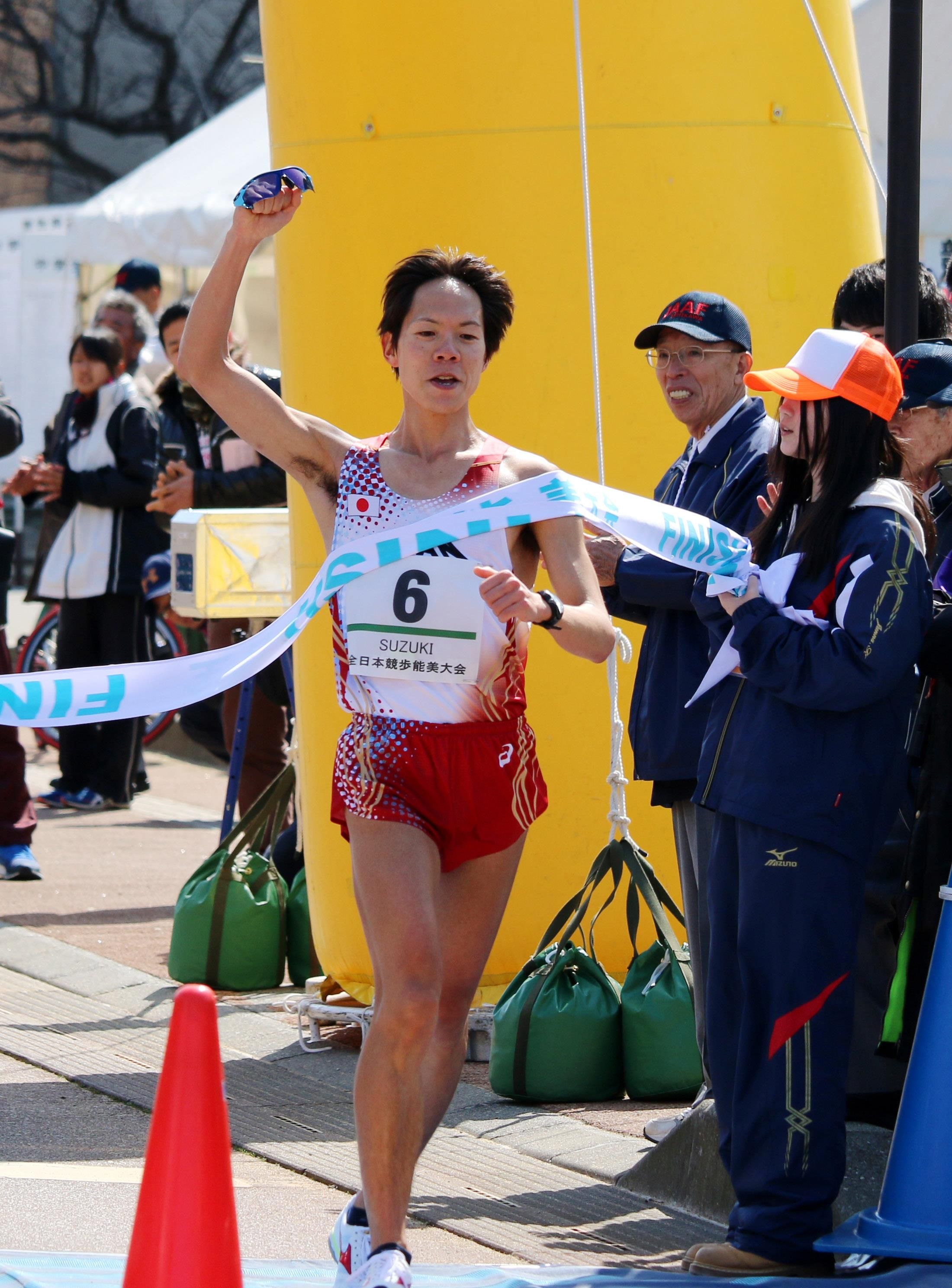 Yusuke Suzuki breaks the world 20km race walk record in Nomi (© Rikkyo / Getsuriku)
Interestingly, that Nomi course, unlike most modern race courses, had seven turns on a 2km loop.
That charge worked spectacularly, but plenty haven't.
In London for the 2012 Olympics, Suzuki was injured from winter to spring, and lacked proper preparation.
"However, I wanted to get a medal, and knew that I had no chance of winning if I walked normally, so I started fast," he said.
Suzuki led past the 8km mark, but eventually faded to a distant 36th.
At the Moscow World Athletics Championships in 2013 he admitted: "I was the top in ranking, but I did not have enough confidence in myself.
"I overtrained and was not in the best condition before the race, so I got worried and started too fast." He finished a disappointed 11th.
A familiar early theme, but he insists it's part of who he is.
"My active style of racing is part of my identity as a walker," he explained. "Now, I race depending on how I feel on the race day and the purpose of the race."
Like his Nomi world record, his win in Doha threw up double sixes as he gambled in the stifling heat. By 5km he had a 10-second lead, and that grew all the more as Diniz and the likes of current Olympic champion Matej Toth were powerless to do anything but watch the Japanese disappear into the night.
His eventual 4:04:20 was way behind his PB of 3:39:07 set in Wajima in April 2019. But there again, everyone else had to forget about times in the challenging conditions.
Now Suzuki's only regret during lockdown is missing the medical treatment that eases the toll it has taken on his limbs, and which he hopes will keeps injuries at bay.
He said: "Training itself hasn't been an issue, but I couldn't go to physiotherapy as often as I wanted to, and that made it more challenging to maintain my condition".
Like his friend and fellow world champion Toshikazu Yamanishi, Suzuki likes the genre of mystery or suspense as a way of relaxing after training.
Yamanishi likes Agatha Christie, Suzuki's happy with what Japanese TV has on offer. He said: "I watch mostly Japanese TV dramas during my spare time. I like mystery or the suspense genre."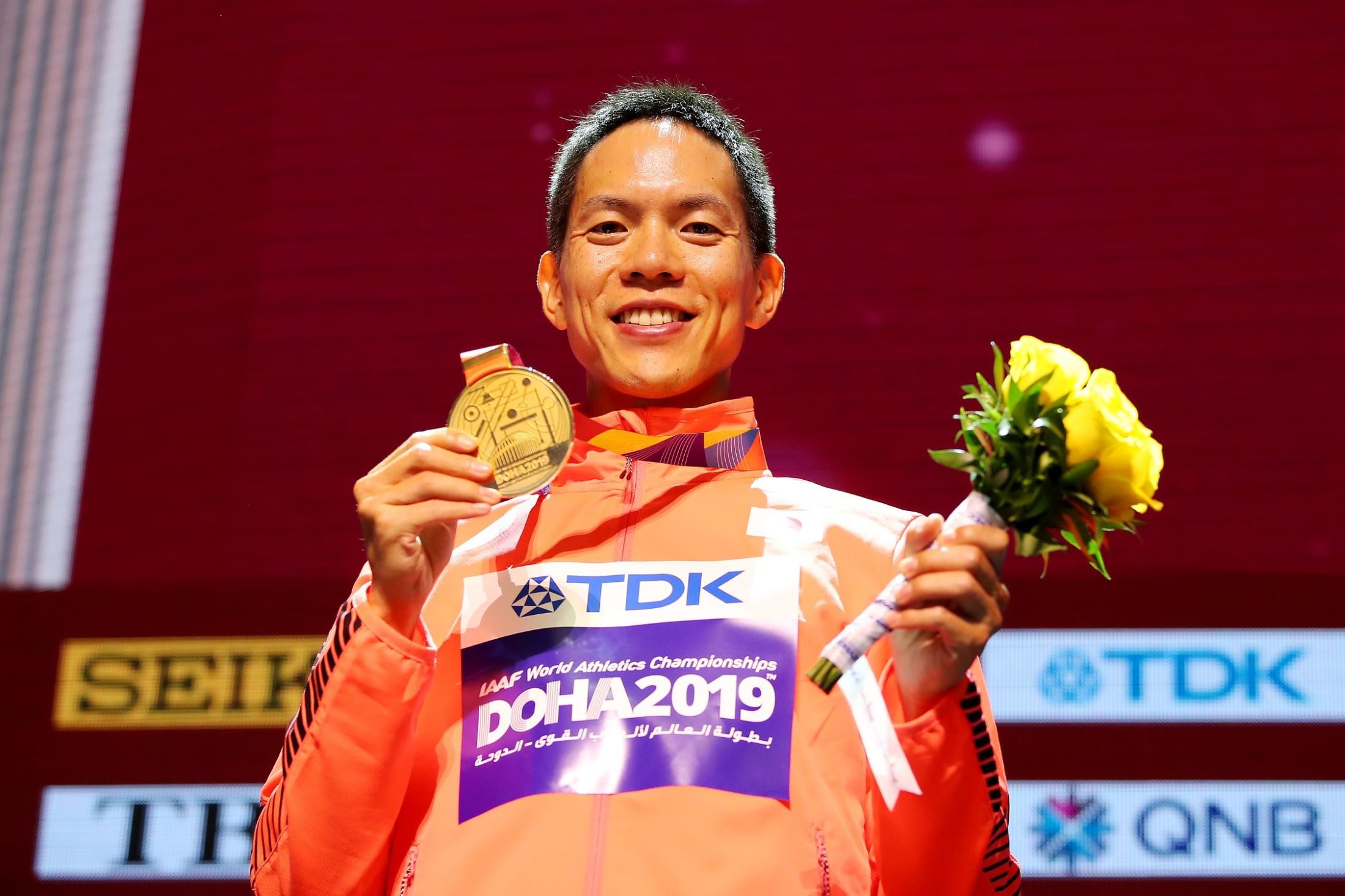 World 50km race walk winner Yusuke Suzuki with his gold medal in Doha (© Getty Images)
As regards the possibility of a spectator-less Olympics in his home country, Suzuki has adopted a philosophical approach.
Sure, there may be no one to cheer him in Sapporo as he goes for gold, but there again, he won't have to travel half the world to get there, or spend time adapting to foreign conditions and timelines.
"Being able to race in an environment I'm familiar with, and no need for a long travel or the time difference, racing on home ground is a huge advantage," he added.
Suzuki is playing his cards closer to his chest over who will eventually break his 20km world record.
But he hints that Japan's chosen trio for the distance in Sapporo have the best chance, with Toshikazu Yamanishi only 39 seconds in arrears with a PB of 1:17:15, intriguingly also set in Nomi in 2019.
Suzuki said: "There are some young talents in Japan, who train or compete with me, who I think can break the world record."
Like Yamanishi, he also believes sheer weight of competition has made Japan a walking force the whole world envies. There are pockets of elite in other countries, but nothing like the depth his country currently enjoys.
At the Kobe national championships last month, there were 28 athletes under 1:30:00 at 20km, and even that number was down on recent editions.
"Training methods of top-level athletes in Japan have evolved: the bar has gone up on the level of training intensity," he said.
Perhaps it's the thought that old foe Diniz is having a last hurrah in Sapporo at the age of 43, while walking's Peter Pan, Jesus Angel Garcia, is still a force at 51, but Suzuki has no intention of calling it quits if he has a bad day in Sapporo.
He will be 37 by the time Paris picks up the flaming torch in 2024, but all things are possible, he believes.
"Last chance in Sapporo (for Olympic success)? I don't think this is my last chance, no, not at all."
Paul Warburton for World Athletics