Renaldo Nehemiah on his way to a sub-13-second time in the 110m hurdles in Zurich (© IMAGO)
On this day in 1981 in the Weltklasse Zurich, 110m hurdles world record-holder Renaldo Nehemiah, who had run 13 seconds dead two years before, took seven tenths of second off his best to become the first sub-13-second hurdler in history – 12.93 (-0.2m/s).
On the eve of the 40th anniversary of that record run, Nehemiah reminisced about that night in Zurich. The 1979 World Cup winner and Pan American Games champion also reflected on the US boycott of the 1980 Moscow Olympics, his decision to play professional American football and his return to track both as an athlete and an athlete representative.


Running angry
"I had been on a personal quest the entire spring and summer of 1981 to prove and finally achieve the breaking of the 13 barrier," began Nehemiah.
"I had gone to train at the home of the well-known hurdling guru, Wilbur Ross. His arrogance was that little bit of "extra" I needed during my training sessions. Over the course of my training with him, I was steadily improving and even surprising myself. The stage was set for me to believe and expect that the world record would be broken in Zürich.

"All was going well right up to the day of my departure flight from Newark, New Jersey, to Zurich. Except for one last minute shock. Coach told me on my day of departure that he wasn't going. He had no justifiable reason for not going. He just wasn't.
"His sudden reversal to accompany me angered me immensely. For some reason, I sensed that he was setting me up to fail. The biggest and most important race of the year, and he simply wasn't going.
"I tried everything to get him to go. Even missing my flight, having to depart a day later. Meaning, instead of arriving the day before the meet. I would actually arrive the morning of the meet.
"Fortunately, TWA airlines had a double decker L1011, and they recognised me and permitted me to construct a make-shift bed with blankets and pillows. I was able to sleep the entire flight. When we arrived the following morning in Zurich, I felt fresh."


No umbilical cord necessary
"Throughout the day in Zurich leading into my actual warm-up preparations, I was angry. I couldn't believe that after all our training and preparations for this big moment, Coach Ross left me to fend for myself. As we were called to the starting line, I tried to remain focused on what I knew that I could do. Yet, thoughts of Coach Ross at home thinking I would fail without him, only fuelled my resentment toward him.
"As the start commanded 'set' followed by the sound of the gun, I took off like a bat out of hell! I vividly remember being out of control over the first three hurdles. I initially had a lead from the first hurdle. But, going over the third hurdle, I had so much adrenaline that I soared high over it out of control. Realising my plight immediately, I slowed myself just a bit to gain full control over my speed and hurdling.
"It was at that point that Greg Foster pulled even with me. We then had a side-by-side foot race over the next five hurdles. I still felt in control and started to assert my speed and hurdling prowess over nine, which gave me a bit of a lead.
"I aggressively attacked the 10th hurdle, enabling me to create great speed and momentum off the 10th and final hurdle, knowing that momentum would be needed to enhance my acceleration home. It did, and I sprinted victoriously across the finish line.
"I curiously chose to look left to see the digital screen some 5-10 metres to my left on the infield. Seeing 12.93 confirmed that I had finally done it. The mythical 13 barrier was finally eclipsed. And I was the first man to ever do it.
"Equally as important to me, I did it in spite of Coach Ross not coming. Maybe that was his intention all along. To have me prove to myself that I was able to do it without an umbilical cord."
RESULT
Weltklasse, Letzigrund Stadium, Zurich (SUI).
Men's 110m hurdles, 9:55pm (-0.2m/s wind)
1 Renaldo Nehemiah (USA) 12.93 world record
2 Greg Foster (USA) 13.03
3 Sam Turner (USA) 13.38
That world record was unbeaten until Roger Kingdom, the 1984 and 1988 Olympic champion, ran 12.92 on the same track at the Weltklasse Zurich on 16 August 1989.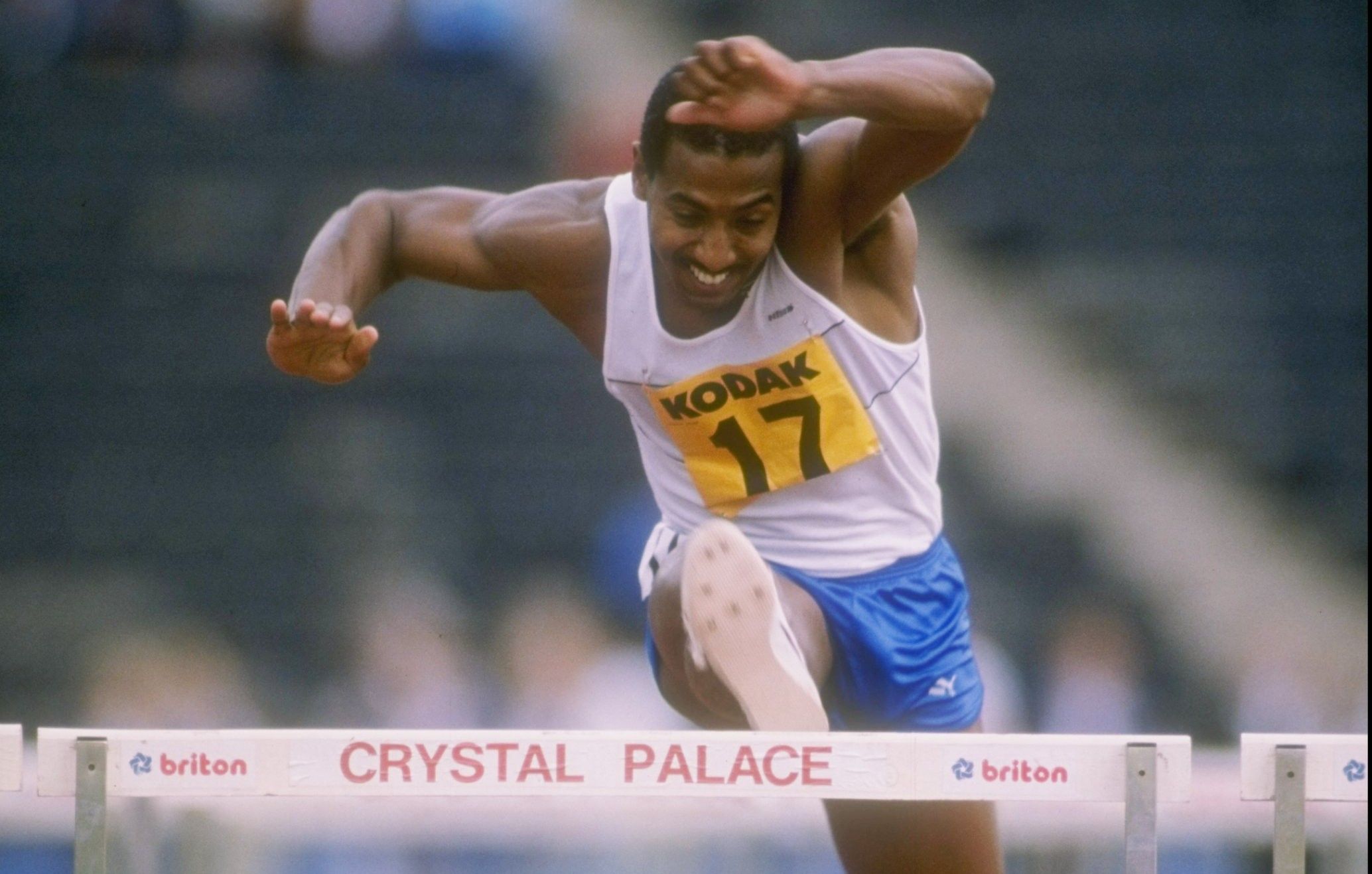 Renaldo Nehemiah racing in London's Crystal Palace in the late 1980s (© Getty Images)


Olympic Games - only left with 'What ifs'
The year before going sub-13, Nehemiah along with the rest of his generation of USA athletes were forced to sit out the Moscow Olympic Games.
"As for the US boycotting the 1980 Olympics, it took me practically 20-plus years to ever want to talk about 1980. Imagine being the favourite to win the gold medal, only to have those dreams dashed through no fault of your own," he said.
"I had just turned 21 that March. I was just beginning to scratch the surface of my potential in the 110m hurdles. Although the then President, Jimmy Carter, announced the US boycott from the Moscow Games because the Russians had invited Afghanistan, I still held out a glimmer of hope that maybe in time leading up to our Olympic Trials, things would change.
"First off, I knew that to be eligible to go to Moscow, I would have to make our Olympic team. There's irony in that statement, because even though the boycott was announced, we were still holding the Olympic Trials. So, I prepared to not just make the US yeam, I was prepared to win our Olympic Trials.
"Leading up to the trials, I would have to endure yet another painful reality. President Carter permitted our winter Olympians to go to the Games. And the US hockey team shocked the Russians by beating them in the gold medal match.

"Surely, President Carter would want to show our total dominance, and grant permission for us summer Olympians to go to Moscow? But Carter held firm to the US boycott of the Summer Games.
"With a heavy heart, as heavy as the cloud cover on the day of my Olympic Trials final, I mustered the intestinal fortitude remaining inside of me, and marched forward to win a birth on my first Olympic Team. I succeeded and was victorious, coming in first place with a time of 13.26.
"The Games went on and Dr. Thomas Munkelt of East Germany would go on to win in a 13.39 time. I'm fairly confident that I would have won that gold medal. I'm only left with 'what ifs.'"


The world never got to see me in my prime as a hurdler
"So, I'm an Olympian that has never actually walked into an Olympic stadium.

"Equally as painful was over the countless years that have passed since 1980, I would almost always be introduced as 'Olympic gold medallist and world record-holder', to which I'd have to correct them and thank them for the compliment, but that I never went to the Olympics. Most just assumed due to my dominance and winning everything, that the gold medal had to have been a given. That remained a painful reminder for many, many years.
"The blessing that was borne out of my missing the Olympics is that that one race (Moscow 1980) didn't define who I was and am. I'm still one of the most mentioned and revered hurdlers ever. And a Hall of Famer. I accomplished most of my fame by the age of 22. I know that the world never got to see me in my prime as a hurdler."


Super Bowl ring "my Olympic gold in sports"
"Soon after the US 1980 boycott, there were talks of the Eastern Bloc countries retaliating and boycotting the upcoming 1984 Olympics, which were to take place in the US, in Los Angeles. Not knowing if the 1984 Games would happen or be tarnished, I struggled to find the motivation to continue running a sport I loved. I didn't know if training another four years would materialise into a chance to go to another Olympics. As I persevered and pushed through, I broke the outdoor world record in Zurich.
"As talks continued about a certain boycott, I could emotionally no longer bear the thought of our government taking away the joy I got from running track and field and my love for the hurdles."
The answer to Nehemiah's questions came when Bill Walsh, head coach of the Super Bowl-winning San Francisco 49ers American football team, called him in 1982. The rest is history.
"It was during my USATF Hall of Fame induction speech that I referenced my 1984 Super Bowl ring as my Olympic gold in sports," he said. "I played four seasons with the 49ers, winning a Super Bowl ring with the team in 1984."
In 1986, with track and field athletics having turned professional, Nehemiah returned to hurdling but immediately suffered a ruptured achilles tendon.
"I would return (again) in 1988. I noticed that American football had taken a toll on my body, as it broke down and I had trouble enduring training at efficient levels."

Nehemiah suffered another Achilles rupture on the opposite leg in 1989.
"I fought through other injuries and had my best season in 1991," he added. "I made the US World Championships team that would go to Japan. I didn't even get to race there. During my 14-hour flight to Tokyo, I apparently sat the wrong way, and it caused severe back spasms, which prevented me from being able to train. The doctors advised me not to run to avoid further injury.
"So, I watched Greg Foster and Jack Pierce run a dead heat of 13.06 in the finals. Again, struggling with injuries throughout the 1992 season, I realised that my body and mind could no longer start to stop anymore. I had to realise at 32, that my body was no longer able to train at the elite status. Football has really done a job on my body."
Nehemiah retired in 1992 and today he is one of the most respected authorised representatives in athletics.
"I love working with and developing young aspiring athletes. I get to share my personal experiences and wisdom, as a mentor to my clients. I get to be around and in a sport I absolutely love. And I get to witness greatness up close and personal," concluded Nehemiah.
Chris Turner for World Athletics Heritage