Stefan Holm celebrates his high jump win at the 2001 Goodwill Games in Brisbane (© Allsport / Getty Images)
The American humourist and novelist, Mark Twain, once observed: "Everybody talks about the weather, but nobody does anything about it."
Like many famous quotations, its attribution is sometimes contested. We can be sure, however, that in the mid-1980s, successive and debilitating boycotts of the Moscow 1980 and Los Angeles 1984 Olympic Games had everybody talking about the potential demise of the Olympic Games.
Ted Turner did something about it. He created the Goodwill Games.
Turner, the billionaire media proprietor, philanthropist and founder of the Cable News Network (CNN), proclaimed the lofty goal of easing the tensions between the capitalist West (read the USA) and communist East (Russia and its post-war Eastern Bloc) nations which had culminated in tit-for-tat boycotts of the two Olympics.
Lamenting the breakdown in relations between the two superpowers, Turner brokered business and sporting deals with the then Soviet Union. In 1985, he reached agreement between his company, Turner Broadcasting Systems (TBS), and Soviet broadcasting and sporting organisations to stage a multi-sport event in 1986.
"This agreement calls for the two systems to act in the spirit of friendship and goodwill to further international television cooperation," Turner said. "It is our hope that through programme exchange, we can further peace, understanding and friendship between our nations."
Moscow hosted the first Games, with athletics competition at Luzhniki Stadium, the 1980 Olympic venue.
Overall, the Games were contested by 3000 athletes from 79 countries. Not until Rome 1960 had more nations participated in an Olympic Games and not until the post-World War II era did athlete numbers reach, and remain above, 3000.
The Goodwill numbers dropped off as the Olympic movement regained strength. Seattle in 1990 had 2300 competitors from 54 nations; St Petersburg 1994 (2000/59) and New York 1998 (1300/60) continued the downward trend. Brisbane, the fifth and final edition, had 1300 competitors from 58 nations.
In 1996, TBS had merged with Time Warner, which henceforth controlled the Games. After Brisbane, Time Warner announced that falling television ratings meant the Games would no longer be held.
Turner blamed Time Warner for the demise of the Games. In a 2009 interview he said: "If I'd stayed there the Goodwill Games would not have been cancelled." He also reiterated his belief in the power of international sporting competitions to prevent war, saying that "as long as the Olympics are taking place and not being boycotted, it's virtually impossible to have a world war."
Some edition-by-edition highlights:


Moscow 1986
Two athletics superstars, Jackie Joyner-Kersee and Sergey Bubka, provided the brightest highlights.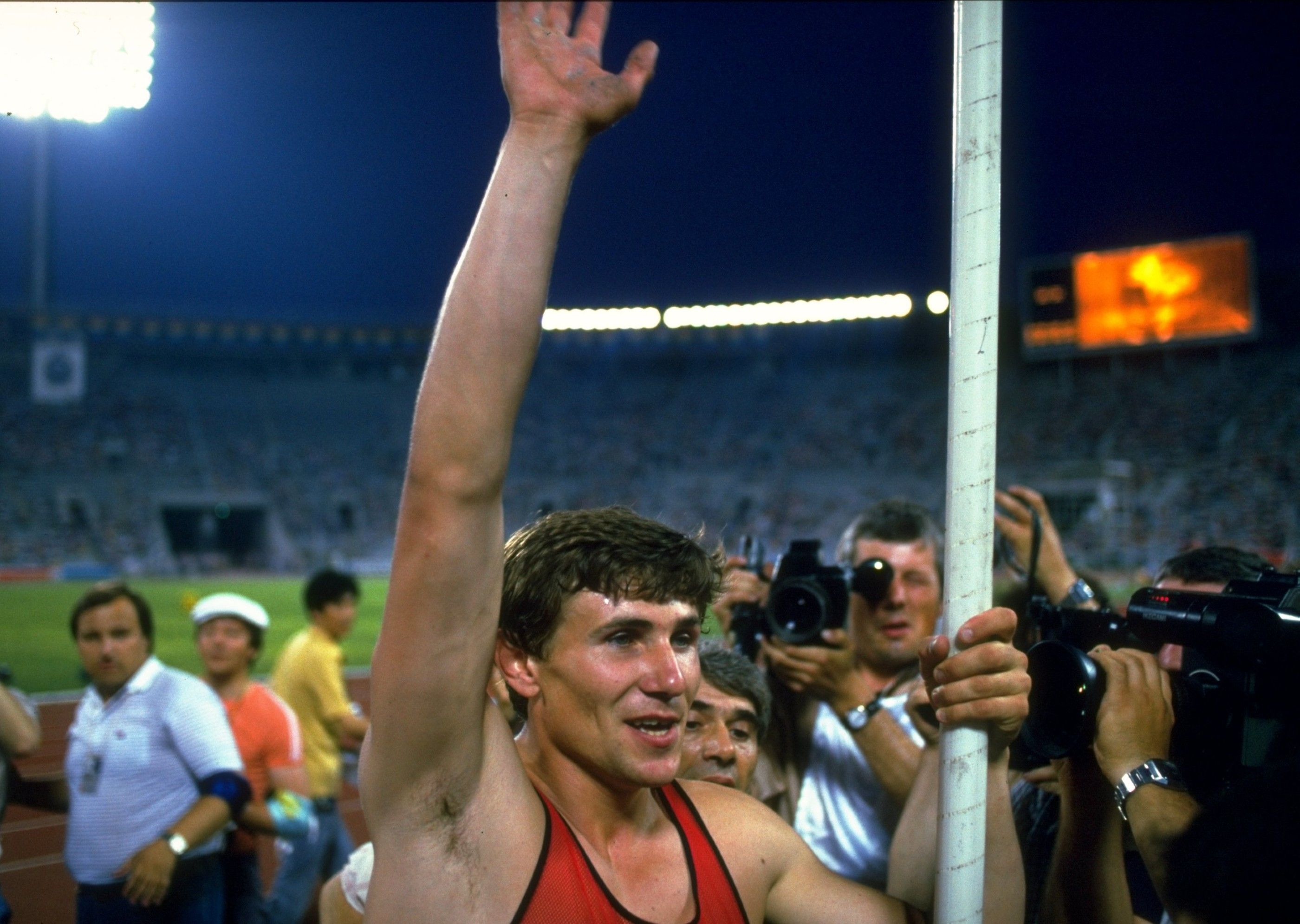 Sergey Bubka (© Allsport / Getty Images)

Joyner-Kersee took the first of her four Goodwill heptathlon gold medals with a world record 7148 points. The first woman to score over 7000, Joyner-Kersee didn't so much break the world record as put it out of sight, adding a massive 203 points to the previous mark while relegating the previous holder, Sabine Paetz, to a distant fourth.
"We're trying to make it so Jackie only has to walk the 800 to get the record," coach Bobby Kersee said pre-competition. Instead, Joyner-Kersee produced a near-personal best 2:10.02 to close out in style.
Bubka belied a previous dislike for the Luzhniki.
"I used to think I was a little bit cursed here," he said. "The wind swirls around ... and can be very distracting. But if I can jump 6.01m here, I know I can do even better elsewhere."
The horizontal jumps were high-class. Robert Emmiyan leapt 8.61m to beat Larry Myricks's 8.41m in the men's long jump, while Mike Conley won the men's triple jump with 17.69m and Galina Chistyakova went 7.27m to win the women's long jump. In the women's 100m, Evelyn Ashford edged Heike Drechsler, both being given 10.91.
US magazine Track & Field News reported: "Judging by the financial bath which Ted Turner is rumoured to be facing, the first Goodwill Games could be the last."


Seattle 1990
In the University of Washington stadium, Joyner-Kersee again won the heptathlon while Cuba's redoubtable Ana Fidelia Quirot completed a 400m/800m double.
In his first Goodwill appearance, Carl Lewis lost the men's 100m to his Santa Monica Track Club teammate Leroy Burrell, who ran 10.05 to Lewis's 10.08. In the long jump, Lewis's 8.38m edged Mike Powell by four centimetres. Both these results would be overturned at the following year's Tokyo World Championships when Lewis would beat Burrell in a world record 9.86 and Powell stun Lewis with a world record 8.95m.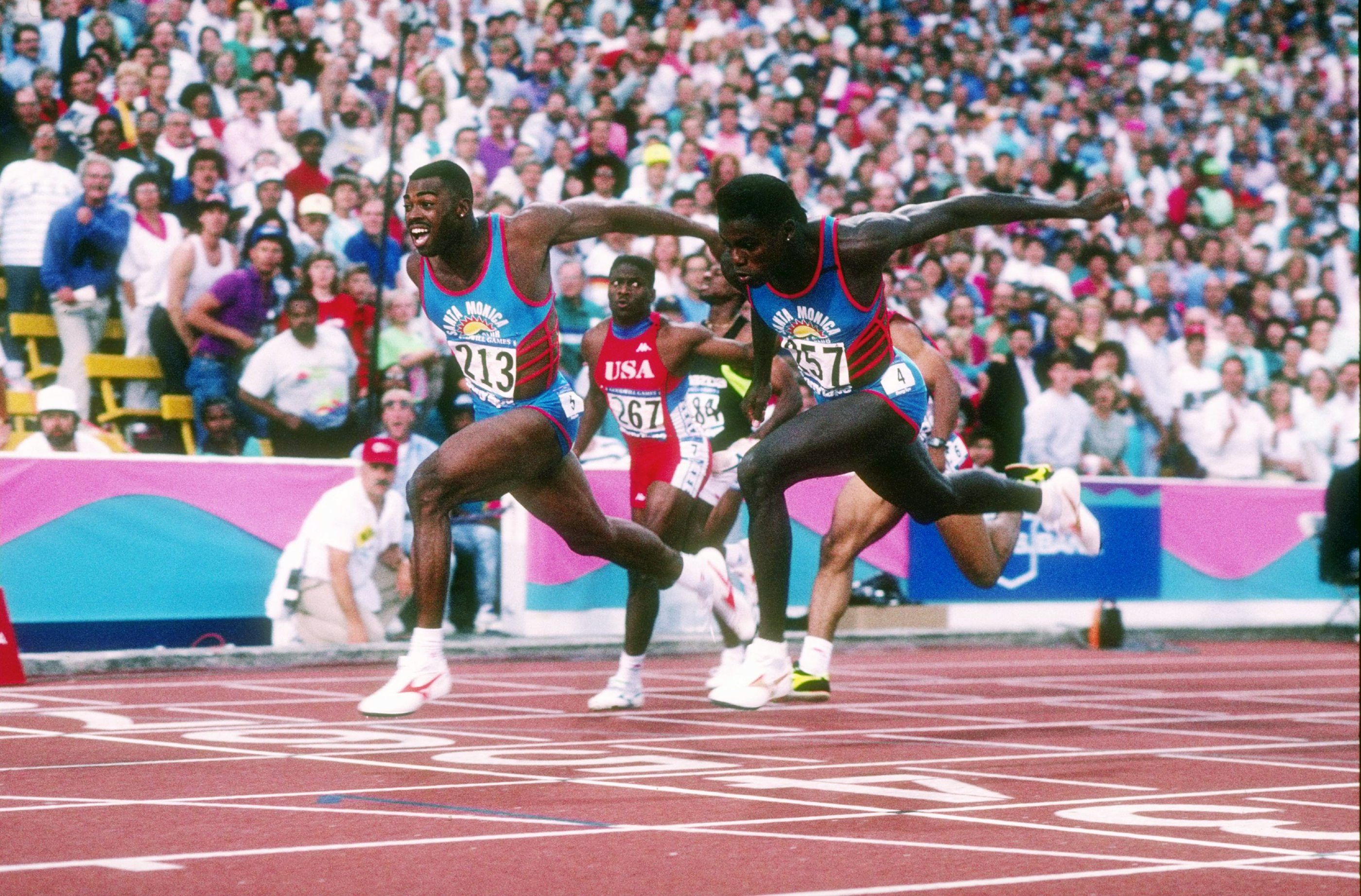 Leroy Burrell and Carl Lewis (© Getty Images)

The rivals-but-friends relationship between Lewis and Burrell fascinated the Games' media. Burrell took exception when a journalist asked why there wasn't more "hate" involved.
"Why does it have to be an adversarial thing," Burrell demanded. "These are Games about good will. Why must there always be hate involved in a competition."
Fans voted with their feet. The 100m final drew 28,555 spectators, the largest attendance of the 115,000 over five days.
Amid the turmoil of the former Soviet Union and its Eastern Bloc breaking up, European participation in the Seattle Goodwill Games was markedly reduced.


St Petersburg 1994
To Russia and St Petersburg for the third edition, Kirov Stadium the venue.
The world record-breakers from the first Games experienced contrasting outcomes. Joyner-Kersee made it three straight in the heptathlon, defeating strong opponents in Russia's Larisa Turchinskaya and Syria's Ghada Shouaa.
Bubka, however, was no better than third as Igor Trandenkov won the pole vault. Six days later, Bubka bounced back with the 35th world record of his career, 6.14m in Sestriere. It was a performance which netted him a red Ferrari.
With performance bonuses on offer, a minor controversy erupted when pacemakers helped Noureddine Morceli to a 3:48.67 in the mile.
Morceli brushed it off as all part of modern athletics. "If you run 1:56 (for 880m), I think it's impossible to break 3:50," he said. "I'm very satisfied with 3:48."
Gwen Torrence won a women's sprint double, despite claiming the starter had let the field go before she was ready in in both races.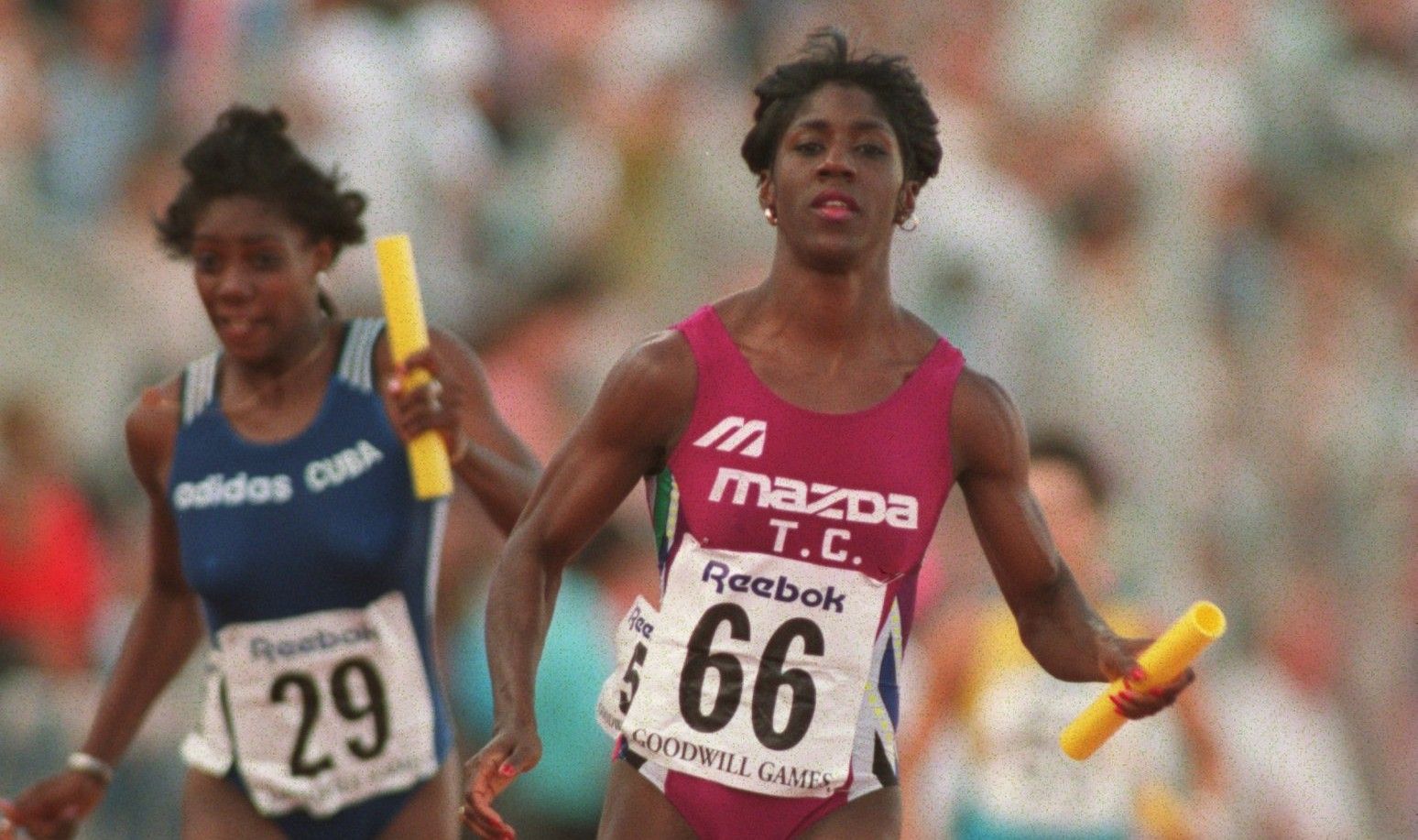 Gwen Torrence (© Allsport / Getty Images)

Torrence, who also claimed 4x100m gold, said she wasn't even on her marks in the 200m. "I couldn't believe it. I thought about giving up, but I thought about all the people who came to see me race ... (and) I made up my kind to run like hell."
Other stand-out winners were Javier Sotomayor with a 2.40m high jump, Dan O'Brien with 8715 points in the decathlon and Drechsler with 7.12m in the long jump.


New York 1998
Jim Dunaway reported for Track & Field News magazine that the 1998 Games assembled the best non-Olympic entry list ever in a US meeting.
Michael Johnson ran 43.76 in the men's 400m and there were winning times of 9.96 in the men's 100m from Maurice Greene, 20.15 from Ato Boldon in the men's 200m, 10.90 and 21.80 from Marion Jones in winning the women's sprints and 13.06 from Mark Crear in the 110m hurdles.
A lowlight was the ruptured achilles tendon sustained by Moses Kiptanui in the steeplechase, as another Kenyan, Bernard Barmasai, won.
Joyner-Kersee, just weeks away from retirement, won a fourth heptathlon title.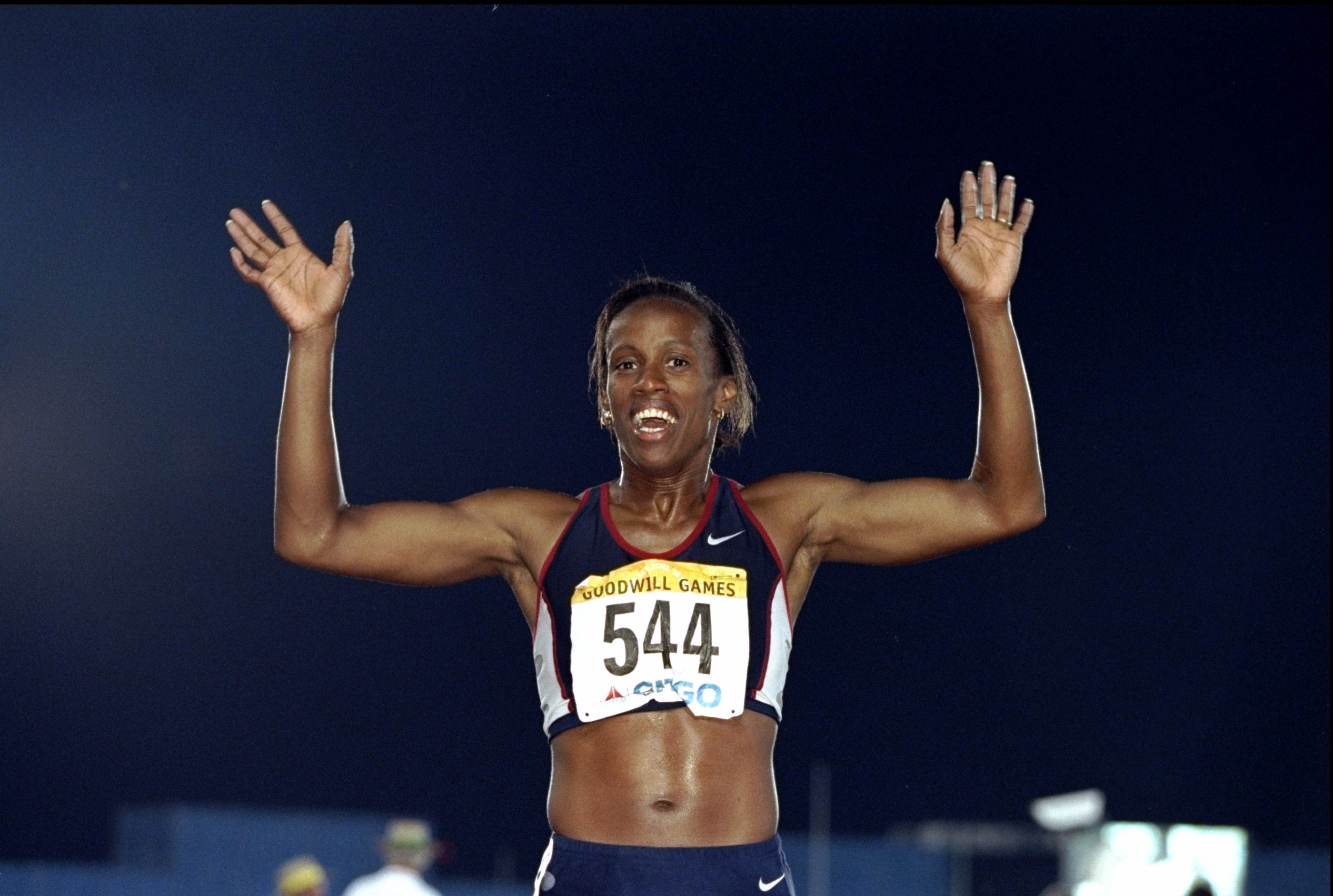 Jackie Joyner-Kersee (© Allsport / Getty Images)

Leading by 46 points coming into the 800m – an event Joyner-Kersee disliked intensely – she had to work hard to hold off fellow US athletes DeDee Nathan and Kelly Blair-LaBounty. Joyner-Kersee retired as the one-and-only Goodwill Games heptathlon champion.
O'Brien won the men's decathlon with 8755 points while Jeff Hartwig joined pole vault's six-metre club, equalling Bubka's Goodwill record of 6.01m.
The Games' future was again under discussion. Track & Field News's Dunaway mused their continuation was "not so much a question of competition as of whether Turner Sports can turn a profit on this made-for-TV event, or is willing to continue it at a loss for the 'prestige' and worldwide TV programming pluses it generates."


Brisbane 2001
Johnson ended his career in the Brisbane Goodwill Games 4x400m, anchoring the US to first across the line in 3:00.52 on the final night of competition.
Good crowds attended the Games and around 30,000 cheered Johnson to the echo. Sadly, the result was subsequently annulled when one of the other team members admitted to doping, victory going to Poland.
That didn't spoil the feeling in the moment.
Noah Ngeny, who famously upset Hicham El Guerrouj in the Sydney Olympic 1500m, won the mile in Brisbane. Jonathan Edwards defeated career-long rival Christian Olsson in the triple jump and Jan Zelezny dominated the javelin. Allen Johnson narrowly defeated Anier Garcia in the 110m hurdles.
Maria Mutola won a high-class 800m from Kelly Holmes and Stephanie Graf. Stacy Dragila triumphed in the pole vault and Kamila Skolimowska, still U20-eligible, won the hammer throw.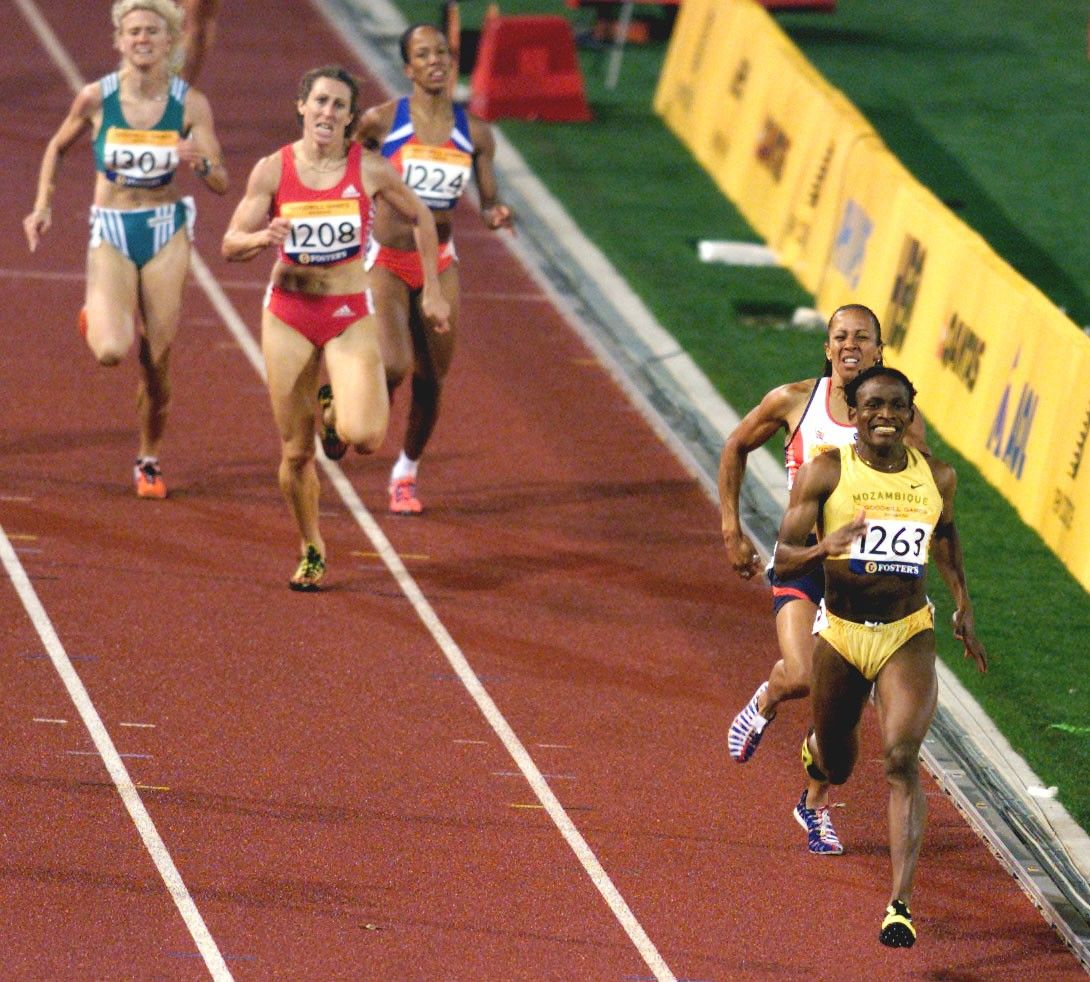 Maria Mutola (© Allsport / Getty Images)

For the hosts, teenager Melissa Rollison won the 3000m steeplechase in a world U20 record 9:30.70 and Nathan Deakes beat Sydney 2000 road race walks dual gold medallist Robert Korzeniowski to win the 20,000m track race walk. Bronwyn Thompson took a silver medal in the long jump, and bronze medals went to Matt Shirvington in the 100m, the men's 4x100m team, vaulters Dmitri Markov and Tatiana Grigorieva and Susie Power in the 10,000m.
Power was undaunted by the presence of reigning world and Olympic champion Derartu Tulu and Ayelech Worku, the world championships 5000m bronze medallist in 1999 and 2001. Power made a long run for home before finishing third in 31:50.36 behind Tulu's 31:48.19 and Worku's 31:48.57.
In a bizarre men's 5000m, the field dawdled to the bell in 14:36 before a sub-50-second final lap took Kenya's Paul Bitok to victory. His 15:26.10 would have placed him sixth in the women's 5000m. Even more bizarre, the crowd loved it.
Shortly after the Games closed, Time Warner announced Brisbane would be the last edition. They had delivered on Turner's stated aim of easing the superpower tensions of the 1980s. And, while there remains room for improvement in international relations today, the probability is that the rebuilding of the Olympic Games after the boycott era rendered the raison d'être of the Goodwill Games largely redundant.
Len Johnson for World Athletics