Australian sprint hurdler Liz Clay (© Getty Images)
When Sally Pearson abruptly announced her retirement last August, it seemed Australian women's hurdling would be waiting some time for another athlete capable of reaching global championship finals.
Turns out the wait may not be so long at all. The next contender had been there all along, hiding in plain sight.
Liz Clay had drawn some attention to herself when she ran 12.94 to win at the Melbourne Track Classic earlier in 2020. A 2021 season opener of 12.84 in Brisbane interclub competition spread the ripples a little wider on the pond. The next step – a 12.72 at Clay's first major hit-out in Canberra on 13 February – made a really big splash. The 25-year-old Clay had stepped into territory previously occupied by Pearson only.
Clay is well aware of where she stands and the opportunity the delayed Tokyo Olympics could present. For one very important thing, she now has achieved the automatic qualifying standard (12.84).
"Last year I believe I was on track to get that big Q (the qualifying standard)," Clay says. "More likely, though, I would have had to get in on the rankings. Either way, my goal would have been to get there.
"This year, I see no reason why I can't push to make the final."



Clay is confident she can improve further. Pearson won her first world title in Daegu in 2011, pushing women's hurdling back into the low-12-second range with her time of 12.28, faster than anyone had run for 20 years. Asked if she can envisage a time of that order, Clay responds with the "never say never" line.
"Obviously, I've surprised a lot of people already this year, especially myself. When I ran 12.8 and then 12.7, I felt almost comfortable, a controlled sort of a race. I've never been to a major championship before, but if I can handle that I don't think a time in the 12.4-12.5 range is out of the question."
Also not "out of the question" is that more than one Australian could be lining up in Tokyo. Australian hurdling had great success in the 80m hurdles era – successive Olympic gold medals to Shirley Strickland in 1956 and 1960, another to Maureen Caird in 1968 and minor medals to Norma Thrower (1956) and Pam Ryan (1964 and 1968); world records to Strickland, Ryan and Caird – but it has largely been Ryan (fourth in 1972) and Pearson (Olympic gold and silver and two world titles) only who have succeeded in the 100m hurdles.
Only five Australian women have ever run under 13 seconds but, pleasingly, three of those athletes are active now. Clay leads the way from Michelle Jenneke (12.82) and Celeste Mucci (12.98 behind Clay in Canberra).
Three more – Brianna Beahan (13.02), Hannah Jones (13.03) and Abbie Taddeo (13.05, also behind Clay) – are also active.
Jones is coached by Pearson, which is a neat bit of symmetry as Clay is mentored by Sharon Hannan, who guided Pearson from her junior days to an Olympic silver medal in 2008 and World Championships and Olympic gold medals in 2011 and 2012.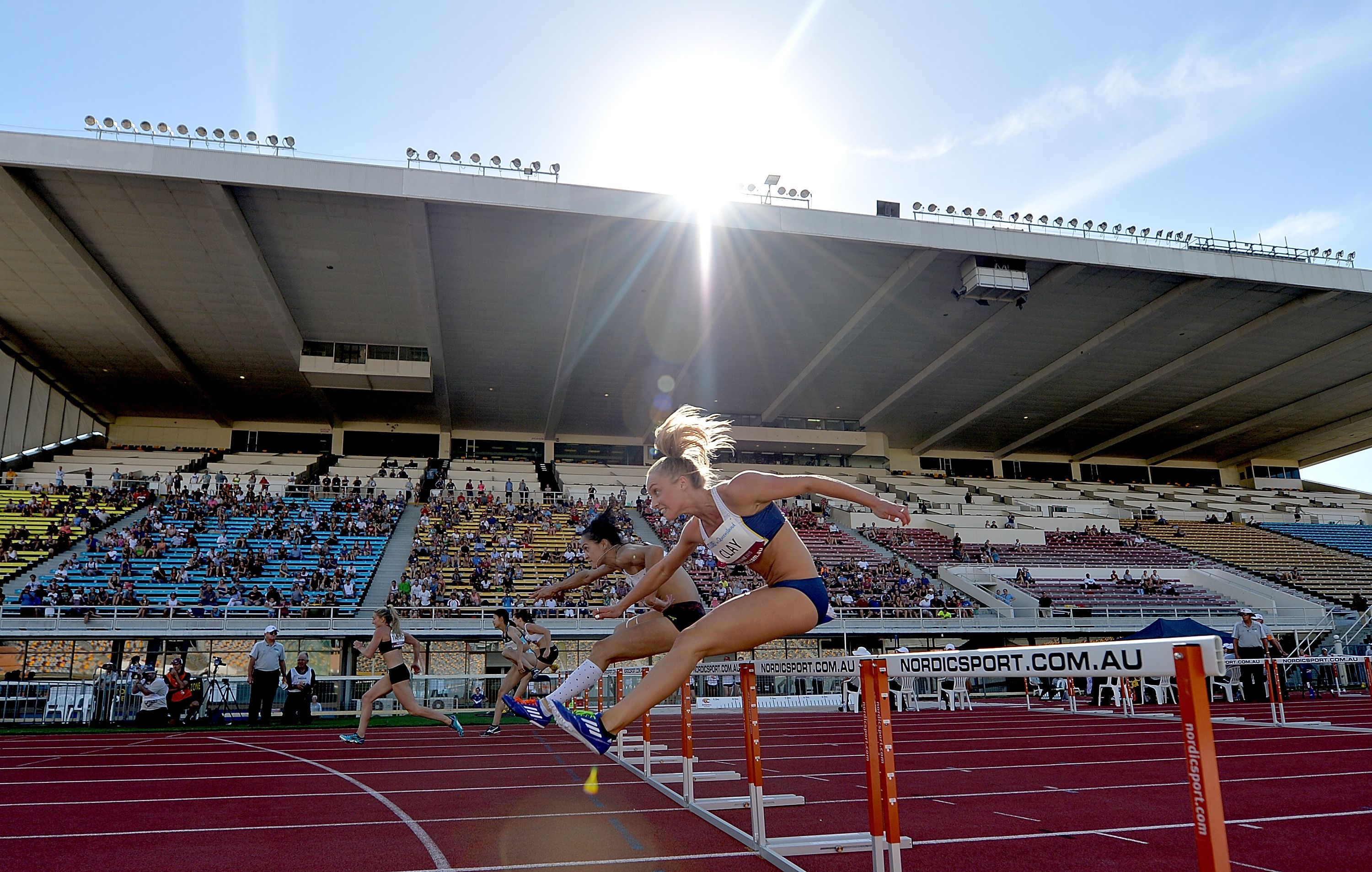 Clay, from Sydney's northern suburbs, moved to Hannan's Gold Coast base some five years ago. Success has not come quickly: Clay's progression from 2016 to 2021 went 13.51, 13.36, 13.51 and 13.43 before the significant jump to 12.94 and 12.72 in the past two years.
Clay says she always had good hurdles technique, but not good speed. "I couldn't break 12 seconds (for 100m flat). (The lack of flat speed) stood out like a sore thumb."
Not happy with the coaching available in Sydney, Clay was given a push by a colleague while she was doing some coaching at an exclusive private school. "She was coaching sprints. She said, 'you've got someone in Queensland who can help you. You've got to just go'."
Sound advice, as it has turned out, but progress was frustratingly slow for a couple of years.
"We hadn't got the breakthrough we wanted, so Sharon and I took a step back after the (2018) Commonwealth Games and talked about what we could do." Out of that discussion, Clay started working with a gym coach twice a week and added plyometrics to her weekly routine.
Queensland had an interesting time of it through Covid-19. The northern state was quite successful in keeping cases extremely low, but at the cost of shutting down interstate travel.
Clay said she had a lot more one-on-one time with her coach. "Sharon was great at motivating me. I've always loved hearing more about the sport, so we bonded there." Tracks and facilities largely remained open, which helped.
Now, Clay is in the fortunate position of being able to pick up where she left off and do so from an improved position.
"When the Games were postponed, I was a little sad. I'd just had a breakthrough and now I had nothing to look forward to. In the end, I tried to think of it as you would a major injury. First you deal with it, then you can move forward again."
Clay's momentum has taken her from the ruck to a position as Australia's top sprint hurdler. With the build-up of talent behind her, she will need to work hard to remain top of the domestic pile, but Liz Clay may just have caught a wave she could ride all the way to an Olympic final.
Len Johnson for World Athletics