US triple jumper Keturah Orji (© Getty Images)
Keturah Orji has a skill for making history in Olympic seasons. Five years ago the eight-time NCAA champion leapt 14.53m to break the 12-year-old US triple jump record and went on to improve that mark to 14.71m at the Games in Rio. Her fourth place there, just three centimetres off a medal, was the highest ever Olympic Games finish by a US athlete in the event. On to 2021 and Orji opened in the triple jump by leaping 14.92m to regain the national record, after it had been taken to 14.84m by Tori Franklin in 2018.
Now, as the Atlanta Track Club athlete prepares for the US Olympic Team Trials starting Friday (18), her focus is on securing a place for her second Games where she could well make history yet again.
"It's kind of hard to grasp, I don't think about it often," says the 25-year-old on how it feels to be a history maker. "When people say 'no one has jumped further than you in the history of America', that sounds crazy. But it is an honour to be creating this path for any other person that wants to follow down the same route and be a triple jumper too."
But it is not only future athletes Orji hopes to inspire, or just within athletics that she shares her knowledge. With a degree in financial planning and a master's degree in sport management & policy, she also writes blog posts on topics including financial advice and at college she launched a mentoring programme for eighth-grade girls in Athens, Georgia, where she was then based.
"Representation is extremely important to me," she says. "Especially being a woman of colour, there are a lot of times when you are looking for a role model, and there's no one that looks like you. So, I just think it's important to have people that represent all races, genders, all types of people in positions of power, especially, so that younger people will know that they can also be in those positions and they can really strive for those same areas of success."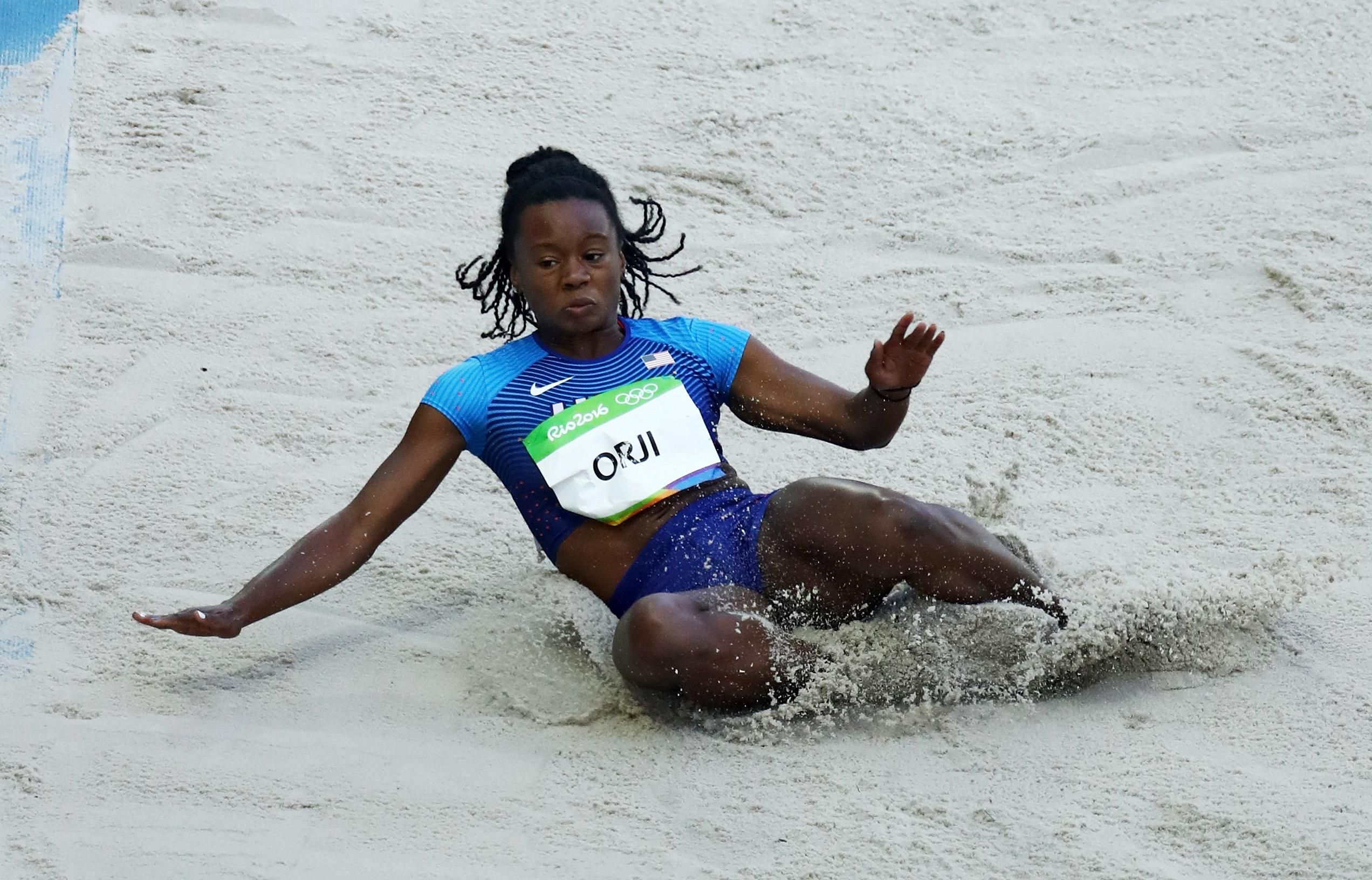 Keturah Orji competes at the Rio 2016 Olympic Games (© Getty Images)

When it comes to her own role models, Orji has looked to her mother ("her faith in God and the way she lives her life, the way she cares about others") and tennis star Serena Williams. In athletics, she admires four-time world long jump champion Brittney Reese, who is now among her training partners under coach Jeremy Fischer in California.
"It's amazing to be able to train with her," says Orji of Reese. "She is so competitive and really strong when she trains. You can just tell she is very experienced and knows how to handle competition and so it is amazing that I used to look up to her and now I am training with her."
Having started out as a gymnast, Orji took up athletics in her freshman year of high school and soon after claimed two medals – long jump silver and triple jump bronze – at the 2013 World Athletics U18 Championships in Donetsk. "That's when I realised that this could be an event I could do in the future and go to college for, and it really became more reality that I would be doing this long-term," she explains.
Since then, Orji has also improved her long jump best to a mark of 6.85m when making her season debut in April and she will be contesting both events at the US Trials. Her focus for Tokyo, however, is on the triple jump – an event in which she is currently ranked fourth this season behind Yulimar Rojas (15.43m), Shanieka Ricketts (14.98m) and Liadagmis Povea (14.93m).
"It was really exciting to get the American record back because it was something that I had previously, then it had been broken, and I had been working to get it back," she says reflecting on her 14.92m leap, also achieved in April. "It was a 20-centimetre PB and just something that I had been waiting for, for a long time. I jumped 14.72m in Paris in 2019 but that was only one centimetre better (than her previous best).
"So it had been quite some time and I think it means even more this time to break it than it did the first time."
On having that domestic competition, she adds: "It does help having Tori (Franklin) and there's another American triple jumper that has the standard, Jasmine Moore. It's just so exciting to have three women with the standard again in Olympic year."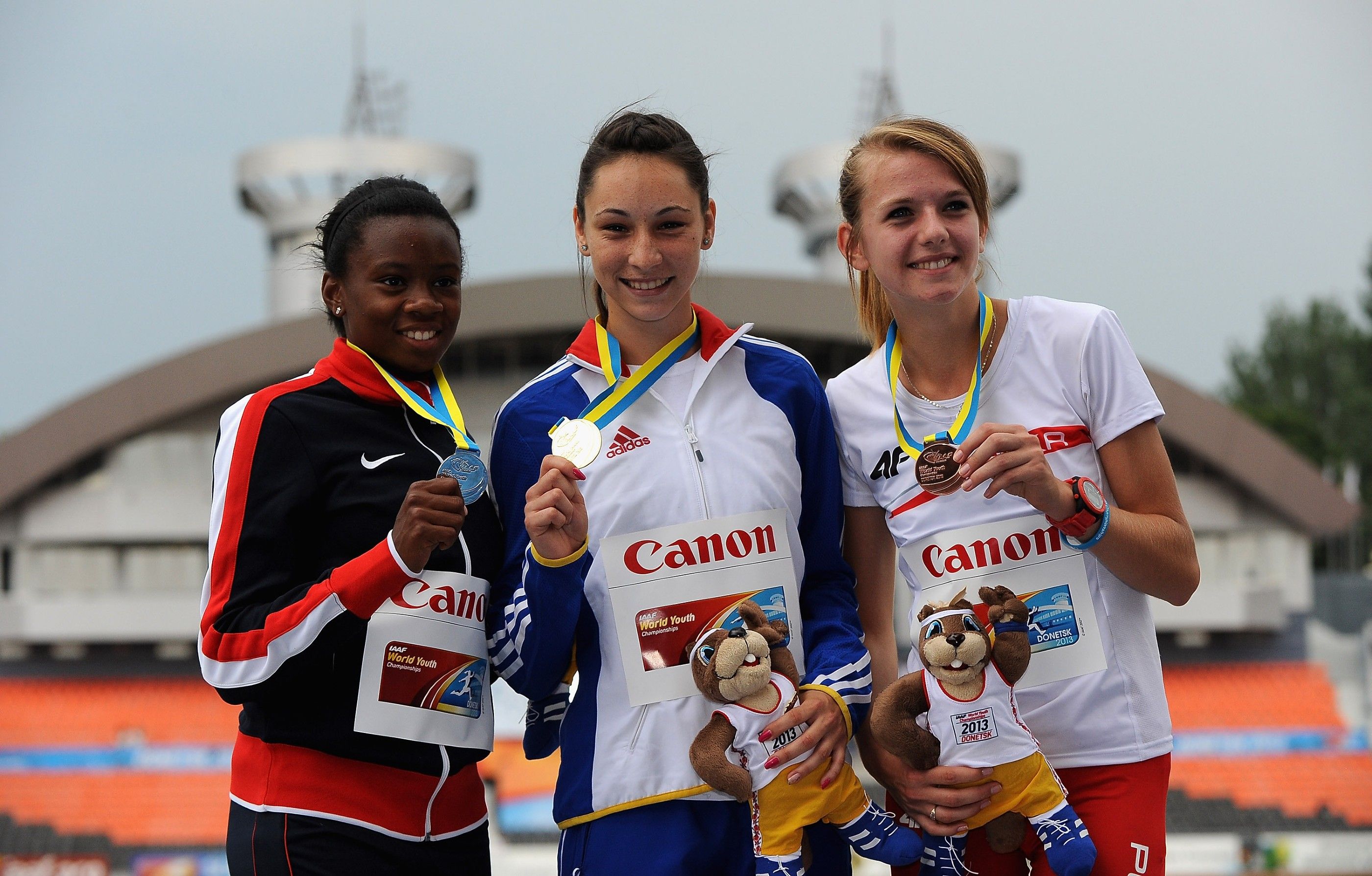 Silver medallist Keturah Orji with Florentina Marincu and Natalia Chacinska at the 2013 World U18 Championships (© Getty Images)

When it comes to numbers, unsurprisingly 15 metres in the triple jump and seven metres in the long jump are the figures at the forefront of Orji's mind, but she is also focused on longevity.
"For any jumper, those are really the two barriers that, if you eclipse them, it's seen as amazing and really successful, so that's the place I'm at right now," she says. "But if I achieve those, then I will obviously push the barrier even further.
"I think the Olympics and all the meets that I have been to are all just a part of the journey," she adds. "Obviously we all want to reach the place where we can win an Olympic or world medal, but sometimes that doesn't happen so I have to just enjoy the journey and the process, and everything that I learn, the mistakes I make, it all helps me to be the person that I will be in the future."
But with a nickname of 'KO', to deliver a knockout jump at the Olympics would be a fine way for that journey to continue.
"I know that my name is a little bit more difficult to pronounce – Keturah Orji is not a common name at all – so it's easier for people to call me 'KO'," she explains. "Then, on top of that, my hashtag is '#KOtheCOMP', so 'knock out the competition', and I feel like that stuck with people.
"Winning a medal in Tokyo would be so amazing," she adds. "I don't know, again it's hard to grasp, because obviously everyone puts that on their list of goals. It would be an honour because there are so many people who work towards that and are never able to actually get there, so to be a part of that small club would be amazing."
Historic, some might say.
Jess Whittington for World Athletics