Helena Duplantis and son Mondo (© Gladys Chai von der Laage)
On the day that Helena and Greg Duplantis were jointly recognised with the World Athletics Coaching Achievement Award for their work with their world record-breaking son Mondo, Helena was expecting some other news.
Earlier last year, she completed her Level 3 – Sprints and Hurdles coaching course and she was waiting to hear if she had passed.
Whether or not she has the paper qualifications, her work writing and managing her son's strength and conditioning programme speaks for itself.
There were awards all around for the family last year. At just 21, Mondo Duplantis was named the World Athletics Male Athlete of the Year for his perfect 2020 season – which included two world pole vault records (6.17m and 6.18m indoors), a world outdoor best (6.15m) and an unbeaten run of 16 victories against the world's best vaulters.
But Helena admits she came to coaching by accident. A national-level heptathlete in Sweden in her youth, she attended Louisiana State University, where she met fellow athlete Greg, an international pole vaulter, and stayed.
She had no ambitions to become a coach, but it became a case of needs when she realised that the exceptional athletic abilities of her four children were in danger of foundering for a lack of access to expert coaching in Lafayette, where they live.
"I saw a need to get involved," she recalled, her voice revealing twangs of both Sweden and Louisiana.
"It's easy to find coaching in Sweden with all the track clubs but in the US that's done through high school. If you don't do track in high school there are no meets and no other clubs or facilities."
With football dominating the high school sports landscape in the US, she was concerned that even the coaching that was available was not focussed on track and field as more than a means to an end.
She began helping out at the high school, took some personal training and coaching courses and she and Greg fell back on their own experience as athletes. The division of coaching responsibility came naturally as she took charge of strength and conditioning and he focussed on technique.
"We had both made a lot of mistakes (as athletes), but we learned from those and we could avoid those mistakes with Mondo," she said.
They have coached all their children but from very early on it was apparent that Mondo, their third son, had a particular gift for pole vaulting.
His parents have guided him but not pushed him, protecting his future by making sure his training programmes were appropriate for his stage of physical development.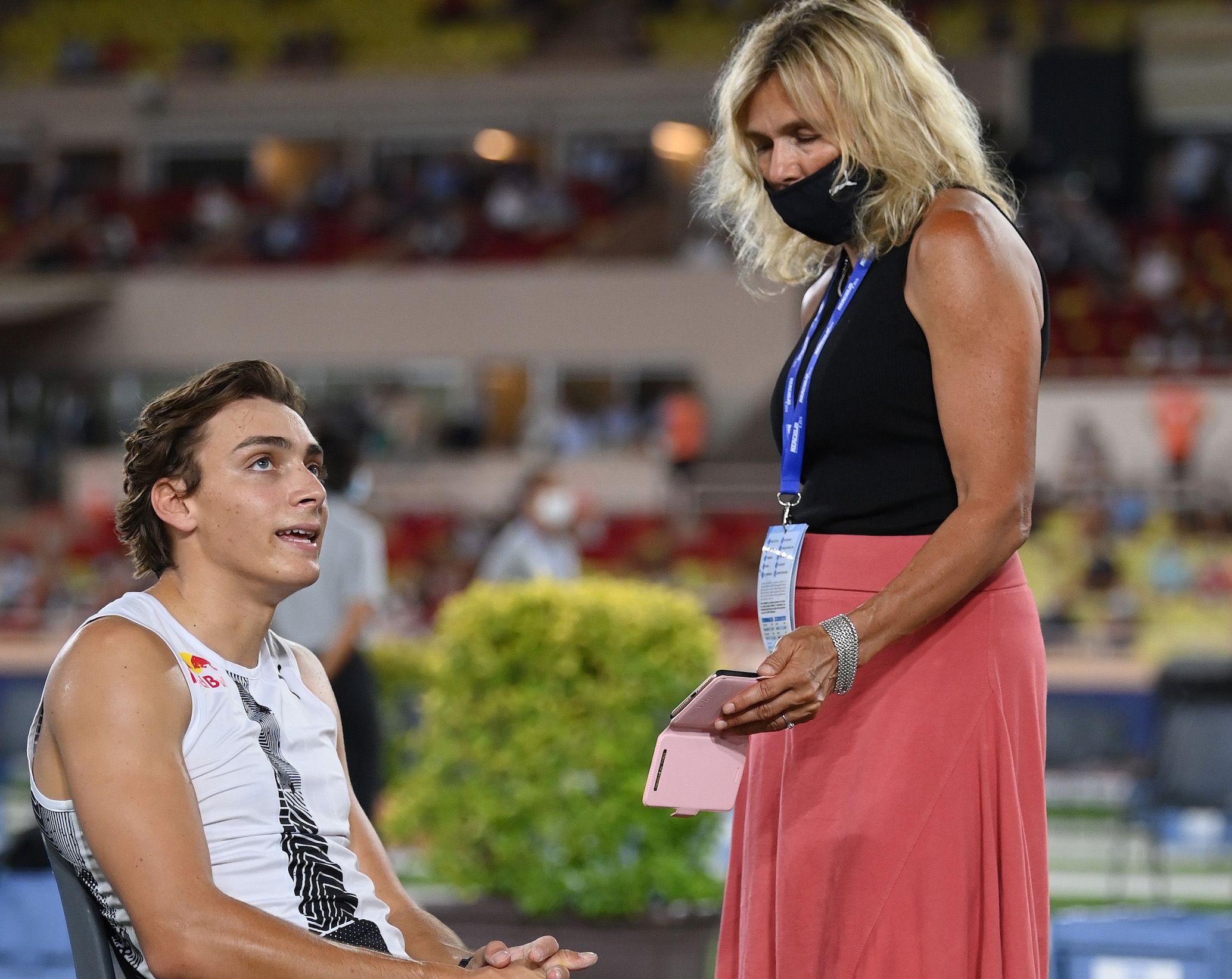 Helena may never have wished to become a coach, but along the way, she has discovered the joy in the art.
"Being part of somebody's success, being able to help someone who's falling in love with their event, or the sport itself, helping them, it's a great feeling. It's very gratifying to be part of that."
As a woman in elite athletics coaching – indeed a woman in elite sports coaching – she remains in the minority, and she recognises that her situation is unique. Not every woman who wants to become a coach has the opportunity to start working with a world-class talent under her own roof.
Traditional female responsibilities for family life can also be a barrier for women entering the field.
"It's a very time-consuming commitment – you spend lots of weekends travelling and going to competitions," Helena said.
But she believes that there is opportunity for women to enter and make a mark in a still male-dominated field and she would encourage other women to get involved.
"More courses are available online but getting practical experience is more difficult, particularly in the US because it's part of the school system, so you need to be a teacher as well. But there's more opportunity out there than you might think."
More women are breaking through to the elite ranks. Olympic 400m champion Wayde van Niekerk's former coach Ans Botha is a previous winner of the World Athletics coaching award, and 2004 Olympic 100m hurdles champion Joanna Hayes has made her name as a coach, most recently with Rai Benjamin and Sydney McLaughlin.
Another Olympic 100m hurdles champion Sally Pearson was guided for much of her career by Sharon Hannan, and Pearson has now started out on a coaching path of her own.
"We see a lot of women at the youth level but they dwindle out at the elite level, I don't know if it's the time and the travelling, but I think women bring a different perspective to coaching," Duplantis said.
She notes that when she and Greg are both watching Mondo compete or train "I look at his body language and Greg looks at his technique".
She was the one travelling with Mondo for much of last year's watershed season as he became the dominant competitor in his event.
That was only possible with his mother going above and beyond to support him – most notably by taking a 29-hour drive from Sweden to Monaco with her sister and a friend to transport his poles for the opening Diamond League meeting in August, and then doing the reverse journey.
"There was no plane that would fit the poles, and he had a quick turnaround afterwards (to return to Sweden for the national championships)," she recalled.
"We just tag-teamed it and made a little road trip about it, 29 hours straight. We only stopped for bathroom breaks and gas, taking turns driving three hours at a time, one person navigating, and one sleeping in the back."
She brings the same dedication to coaching and is confident that her son's startling arc of improvement will continue this year.
"He has so much more he can improve physically-speaking. That's the part we just keep slowly working on. Pole vault is really hard on your body, especially your shoulders and back so we're just trying to get all those parts strong so he can jump as much as he needs to jump. He can make gains in both his physical conditioning and technical improvement."
But she predicts that gains in strength and speed as Mondo approaches full adult maturity will make the most difference. The one-year delay to the Tokyo Olympics can only benefit him at this early stage of this career.
"He never stops surprising me as far as what he is able to do at the track," Helena said.
He's already faster than most people think. His personal best 100m of 10.57 was set in high school, the last time he ran a sprint race, and he regularly hits 10m/sec on the pole vault runway.
She revealed that he has a quiet ambition to explore his 100m potential in future.
"One day he wants to see if he can make the 4 X 100m team for the dual meet between Sweden and Finland – 10.49 was fourth on the team last time."
That coaching credential in sprints won't go to waste.
Nicole Jeffery for World Athletics