Hansle Parchment celebrates his 110m hurdles win at the Olympic Games in Tokyo (© Getty Images)
Sometimes you just have to roll the dice: take the risk or lose the chance. For Hansle Parchment, having the courage to do so ahead of the biggest race of his career is ultimately what led him to gold.
The Jamaican hurdler might have made headlines around the world for what happened in the days after his Olympic final – returning an act of goodwill to a Games volunteer who'd helped him make it to the stadium ahead of his semifinal – and while there's no doubting the importance of that in his journey to gold, there was also a subtle change, made far from public eyes, that played a key role.
Going to Tokyo, everyone knew the man to beat in the 110m hurdles was Grant Holloway, who'd lined up for 23 hurdles races in 2021 and won them all, his 12.81 at the US Trials putting him more than two tenths of a second clear of his rivals – at least on paper.
Parchment was drawn alongside Holloway in the heats, and clocked 13.23 behind the US star's 13.02. He'd been closing down Holloway near the finish but his mediocre start – one of the drawbacks of being 1.96m (6ft 5in) tall – left him with far too much to do.
After the heat, while back in the Olympic village, Parchment spoke to his sprinting teammates Julian Forte and Tyquendo Tracey about ways to shave time to that first hurdle.
He was understandably hesitant to make changes at such a crucial time, and went with what he knew for the semifinal. The change would come after. But before we get to what occurred then, let's go back to his chaotic journey to that second race in Tokyo.
As anyone who has watched his viral video, uploaded shortly after the Games, now knows, Parchment very nearly ruined his medal chance by boarding the wrong bus in the Olympic village ahead of his semifinal, arriving at one of the aquatics venues. With the clock ticking, he was told by Games volunteers he'd have to take a bus back to the village and then another bus to the Olympic Stadium.
Doing so would have got him to the stadium in time for the race but without any time to warm up, and amid that stressful situation along came Tijana Stojkovic, a volunteer who offered him the only note she had – 10,000 yen ($90 US) – to take a private taxi.


View this post on Instagram


"Without meeting Tijana, I wouldn't have made it to the final," he says. "I was very thankful for that."
The stress wasn't over, though, with Parchment's taxi soon hitting heavy traffic.
"I did start to panic then," he admits. "The traffic was moving so slowly and I was drinking all the water I had, I was putting the number on my shirt, sweating, but the driver did a really good job."
He arrived at the stadium about 40-45 minutes before the last call for his race, allowing him time to do a shortened warm-up. In that semifinal, he ran an identical time to his heat, 13.23, but this time he was closer to Holloway, just 0.10 behind.
"It was a pleasure to compete against Holloway for three rounds and I used that very wisely to study how he was running," says Parchment. "Of course he's getting out way ahead of everybody and it's a challenge to get close, but after the first two rounds I realised I can get him. I realised how quickly I was closing him down."
But he knew he needed to find something at the start of the race. It was time to roll the dice.
"I decided, 'if I'm going to get this win, I need to make these changes,'" he says.
Parchment talked again to Tracey and Forte about the first two to three steps of his race.
"I've been working on that for years with no improvement," he says. "We had that chat and made a few changes with the block placement and the positions."
He moved his front foot a little back from the start line and repositioned his foot slightly lower on the blocks. "That simple change made a world of difference," he says.
In the final, he was a half-stride behind Holloway to the first hurdle, but that was a victory in itself, and while the world indoor record-holder extended that advantage to halfway, that's when Parchment started to eat into his lead. He was still behind at hurdle eight, slightly closer at hurdle nine, and almost in unison with Holloway over hurdle 10, his momentum carrying him past on the final run to the line, which he crossed in 13.04 to Holloway's 13.09.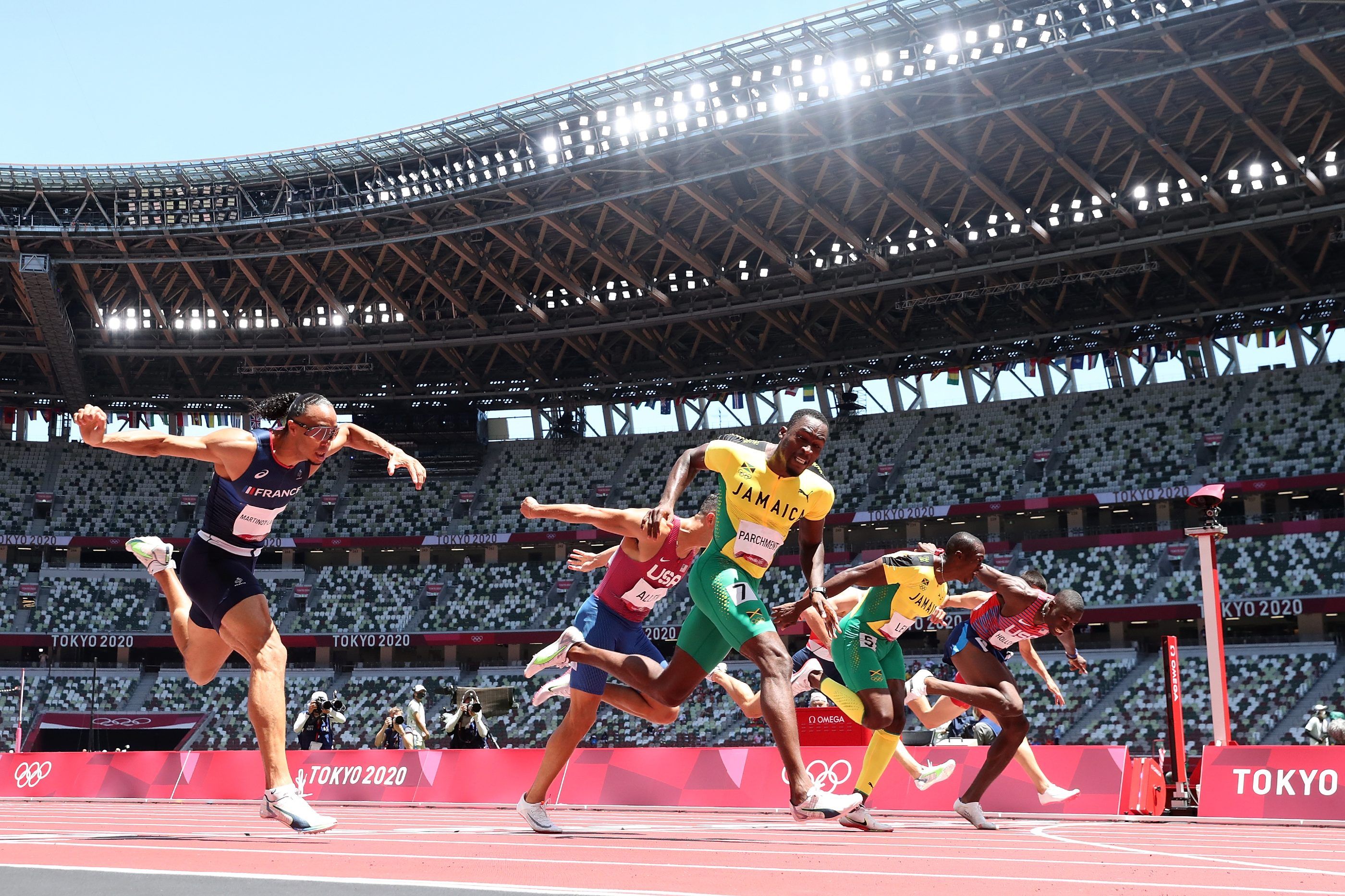 His gold medal capped a journey that began 16 years earlier, when Parchment first found his way to athletics at the age of 15.
In second form at Morant Bay High School in St Thomas, he went along to a sports day that drew huge crowds among locals, featuring as it did some of the best teenage talents who would go on to represent the area at the renowned High School 'Champs'.
"After watching that I decided I'm going to join the track team," recalls Parchment. "I feel like I'm fast: why not join the team?"
As it turns out, he was fast, and in 2007 Parchment won 110m hurdles silver at the World U18 Championships in Ostrava, clocking 13.95. He went on to study psychology at the University of the West Indies in Kingston, winning the 2011 World University title in 13.24, followed by 2012 Olympic bronze in London in 13.12.
In 2014 he lowered the Jamaican record to 12.94 and in 2015 he won world silver in Beijing, but for many of the years since, injuries kept his ambitions shackled. A hamstring issue he first picked up in high school "doesn't seem to go away," says Parchment, something he has to "always keep managing".
On that front, the pandemic proved a blessing in disguise, allowing his body the time it needed to reset.
"In 2019 after trials I did nothing and 2020 was almost a blank season," he explains. "Mostly we weren't even training because of lockdown and the tracks being closed. The rest was so good for me because sometimes those injuries are not going away."
But in February this year, his Olympic ambitions were again in doubt after he got a stress fracture in his ankle that limited his training to the pool and weights room, his coach Fitz Coleman adapting the programme as well as he could.
Coleman has been coaching for 45 years, and among his achievements is guiding Usain Bolt to the world U20 200m record of 19.93 back in 2004. While his athletes have won Olympic silver and bronze medals in the past, he had never coached a champion at the Games – at least until Parchment.
His other top-level athlete, Candice McLeod, finished a fine fifth in the women's 400m final in Tokyo, but it was the sprint hurdler's success that drew international recognition – particularly in its aftermath.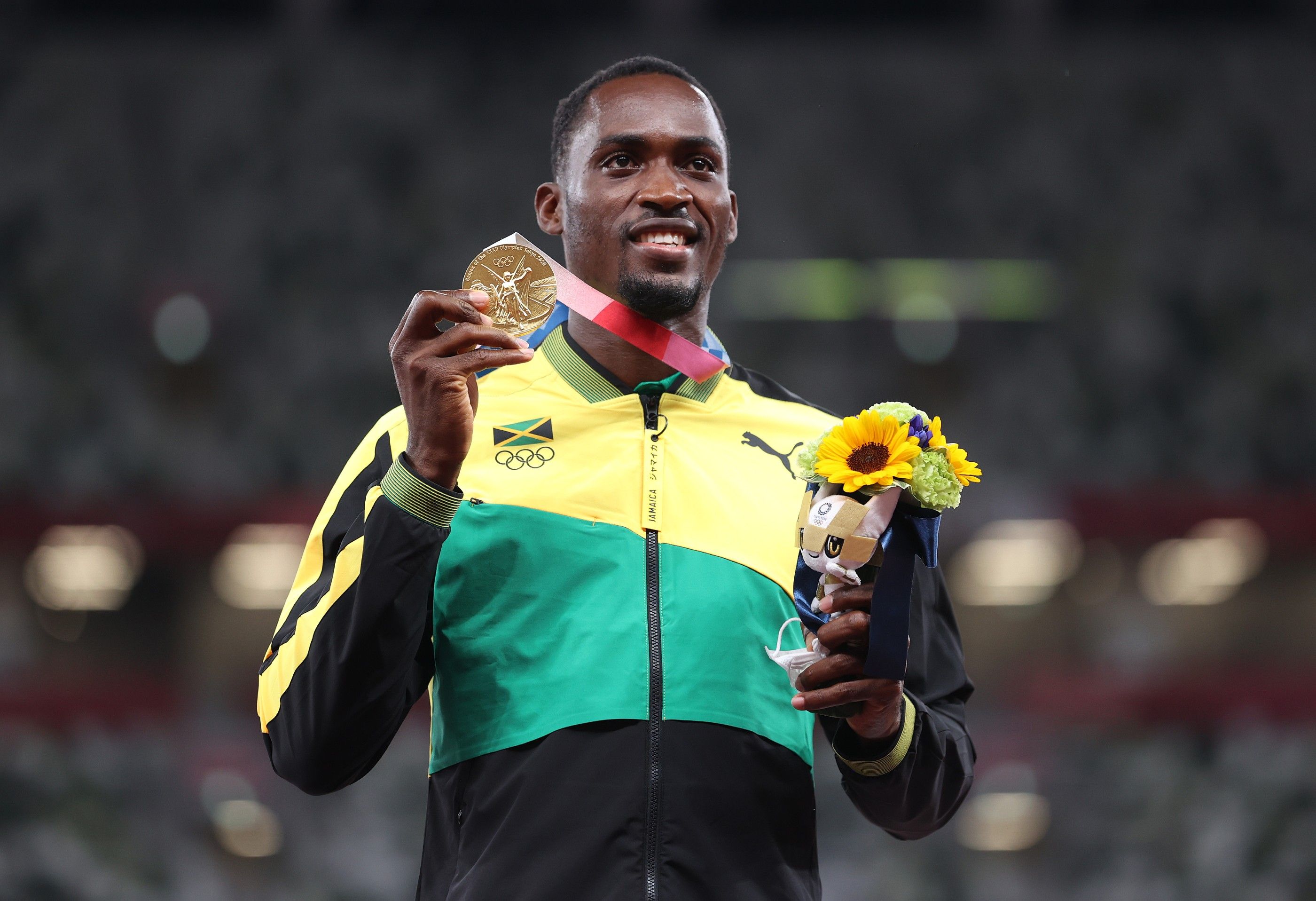 Two days after the final, Parchment set off on a solo journey through Tokyo to find the volunteer who helped him make it to the stadium ahead of his semifinal.
"I was telling her I'd come back with the money and she was saying, 'no, it's fine, keep it,' and I was like, 'no, if you didn't give me this money I wouldn't have made it to the track in time to get warmed up.' There's no way you can run a hurdles race without warming up so I felt it necessary to go back and show her, 'you were instrumental in this win.'"
When he arrived he showed Tijana the gold medal, repaying her the money and presenting her with a Jamaican t-shirt. The goodwill didn't stop there.
"The tourist section of the government are putting something together for her to come over (to Jamaica) with her family," says Parchment.
His own return to Jamaica after the Games was as crazy as you might expect in the sprints-mad nation.
"Lots of excitement, lots of celebration," he says. "I had to leave home a little earlier than expected to get back in the groove of training and racing. We had a whole parade through my hometown and everyone came to support. It was just awesome.
"A gold changes everything, trust me, but I feel like everybody else is more excited than I am, because I've been thinking of this for so long. I've been in shape to do this so many times but have been stopped by injuries and I feel sometimes that's been my own doing."
But now that he's at the top, Parchment hopes to stay there as long as he can. He'll be 34 come the Paris Olympics in 2024, and that seems an appropriate finish line.
"I feel like for hurdlers we can go a little longer, it doesn't require that much fast running to get the right times, it's more technique and execution," he says. "My plan is not to go past 2024; that is where I'd cap things off."
With a third Olympic medal?
Parchment smiles: "Hopefully."
Cathal Dennehy for World Athletics