Icelandic discus thrower Gudni Valur Gudnason (© Getty Images)
Reflecting on the men's discus results from the 2019 World Athletics Championships, it is a little hard to believe that the thrower who finished plum last in qualification would set a stunning Icelandic record of 69.35m in 2020. But that is the unlikely journey undertaken by Gudni Valur Gudnason.
The 1.98m tall thrower unquestionably had an off day in Doha, best explained by a period of serious illness and prolonged injury over the ten months in the lead-up to the marquee event of the 2019 campaign.
However, for Gudnason to advance his previous best by close to four metres and end the season as No.5 on the 2020 world list was a performance few would have predicted.
With the rescheduled Tokyo Olympics set to take place in July and August, the 25-year-old is among a crop of potential medallists in the men's discus, where if his plan fall into place, he could become the first male Olympic track and field medallist from Iceland since Vilhjalmur Einarsson, who won triple jump silver at the 1956 Games in Melbourne.
Swimming, basketball and golf lead to shot and discus


Based in the town of Mosfellsbaer just outside of the capital Reykjavik, Gudnason is the latest powerhouse to emerge from the small north Atlantic nation with a reputation for strongmen.
Three times in the past an Icelandic athlete has secured the World's Strongest Man title, a fact Gudnason partly attributes to his compatriots' love of milk.
"When I was younger, I used to drink two litres a day," he says. "I think maybe that's what makes us so strong."
With a huge passion for all sport, Gudnason was an accomplished swimmer and basketball player in his youth but his main pursuit as a child was golf and today he plays off a handicap of 3.5.
His athletics journey began at school, where at the age of "13 or 14" he set an Icelandic age-group record in the shot put.
Dismissing the feat at the time because he believed the shot was "probably too light" it was only later that he revived the prospect of once again throwing the shot – initially to pursue a desire to travel overseas.
"A friend and I really wanted to travel abroad but like a group of 16-year-olds we had no money to do so," he recalls with a chuckle.
"It is then I thought maybe I should throw the shot, because if I reach the national team I'll get to travel abroad for free."
Gudnason joined his local athletics club and quickly connected with his current coach, Petur Gudmundsson.
Within just two years of taking up athletics he realised his dream to represent his country overseas, competing in shot and discus in a Nordic junior match in Kristiansand, Norway.
Yet not only was he earning international experience in 2014, that same year he converted from shot to discus after being crowned national champion and setting a PB of 53.25m.
"Not much was happening for me at that time in the shot, so I decided to try discus. I didn't really train for it, I just competed but quickly got a feel for the event.
"My arm length at 2.06m is slightly longer than my height but I think why the event works is because of my sense of timing developed as a golfer," he adds.
Under Gudmundsson's tutelage – a man Gudnason describes as having a "good eye for technique" but also who gives his athletes "a lot of freedom" – the discus convert made significant technical progress and in 2015 landed the Games of the Small States title in Reykjavik and extended his PB out to a national U23 record of 63.50m.
Aged just 19 at the time, Gudnason clearly had a rich talent but it took maturity to fully understand the size of his progression.
"At the time 63.50m seemed like no big deal," he explains. "But over time I understood that many people train their whole lives and don't even throw 60 metres. I don't think I'd been in the sport long enough to understand what a big deal it was."
Olympic debut at 20


In only his third year of international competition Gudnason represented his country at the 2016 Rio Olympics throwing 60.45m for 21st in qualification. Satisfied to register a 60-metre plus throw in the cauldron of Olympic competition, injuries, however, were to impact his 2017 campaign. That year he finished a solid fifth at the European U23 Championships in Bydgoszcz and recorded a season's best of 60.94m but struggled to recapture his best form.
After plateauing for a couple of seasons, the powerfully-built thrower – who weighs in at around 140kg – launched the 2kg discus to a big new lifetime best of 65.53m in his homeland during the 2018 campaign.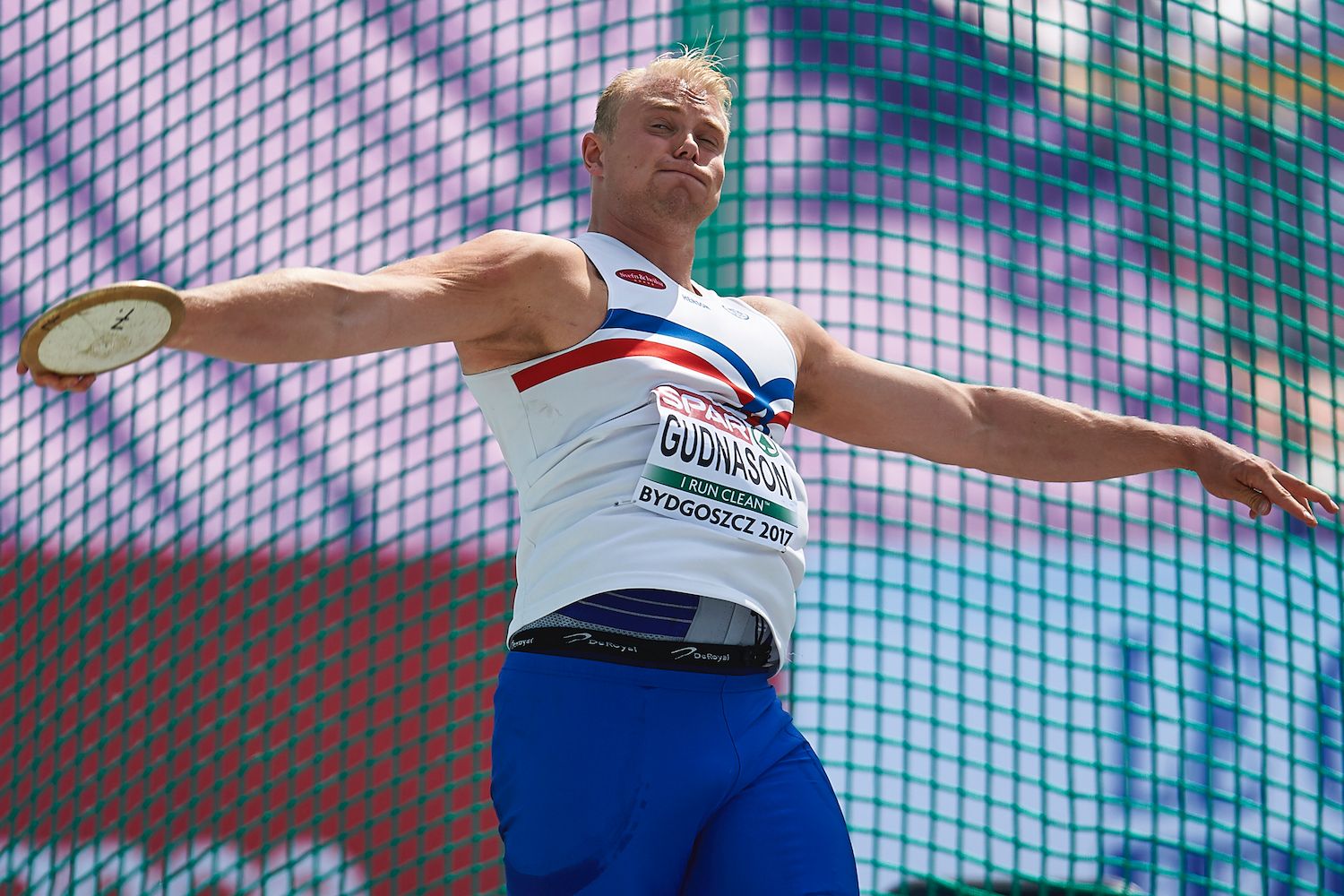 "It was amazing for me, a moment I'd be waiting for some time," he recalls. "On release I actually didn't like the throw so I was extremely surprised with how far it went. I also managed to throw over the qualification mark for the Europeans, which was a big relief."
Despite throwing well in warm-up, Gudnason then underperformed at the European Championships in Berlin.
Competing in extreme heat he placed 16th in qualification with a best of 61.36m. Frustrated he let off some steam post-competition with several throws in the warm-up facility, where he achieved one throw of 66 metres – a performance which would have earned him bronze had he repeated it in the final.
More injuries and illness strike in 2019


Yet the frustration of the way he performed in the German capital was to prove inconsequential compared to the medical traumas he suffered during the winter of 2018-19.
In December he underwent appendicitis but five days after coming out of surgery he suddenly started to experience pain he likened to "a knife going through my abdominals" while putting up Christmas decorations at home.
He was rushed to the hospital where he was diagnosed with Peritonitis, a life-threatening infection caused by a leakage from the burst appendix.
Treated by antibiotics to rid him of the infection which was attacking his essential organs, Gudnason went through a three-week ordeal in a Reykjavik hospital where he shed more than 20kg in weight.
While personally never fearing for his life, he sees now, when looking back at photographs during that period, why people would have been concerned.
"I looked extremely sick, just like a ghost," he recounts.
Despite the serious nature of the illness, he was back throwing again within six weeks of his release from hospital. He quickly piled back on the weight and threw an impressive 64.77m in Randvere, Estonia, in May.
But in his next competition at the Small States of Europe event in Montenegro he picked up a groin injury which was to badly hamper the remainder of the season.
Doha disappointment


He secured the national title in July but did not compete again for two-and-a-half months and perhaps understandably, given his lack of competition he could only summon a best of 53.91m in Doha to finish 32nd and last in World Championship qualification.
"I threw as hard as I could but at that time I was kind of pissed and angry at myself for not throwing further. Although it was important not to dwell on it for long."
Returning to winter training – where he uses an impressive indoor facility in Reykjavik – he was all set for a strong campaign in the countdown to the Tokyo Olympics only for the global pandemic to hit.
National record, 70-metre barrier threatened


Like so many athletes around the world he no longer had access to training facilities. He was forced to improvise and train from home but following the lifting of the restrictions he opted to compete in seven domestic discus competitions in an effort to extract something from what had been a hugely frustrating year.
In this third discus competition of the summer he achieved a handy 62.76m throw but it was on 16 September in Reykjavik when he unleashed his 69.35m effort to shatter the national record.
"I woke up in a good mood and said to my coach later that morning, 'I have a good feeling about today'. It was one of those competitions when I just threw further and further. I went out to a PB of 65.71m in round three before throwing 69.35m in round five. Honestly, I'm not sure I could have thrown that any better. My grip was perfect. Following the weird season we'd had it just seemed ridiculous to have thrown that far.
"Everything went well for me that day. It meant a lot for me to break Vesteinn Hafsteinsson's 31-year-old national record (of 67.64m). It was a long-term goal of mine."
Given the journey he has experienced to this point in his career, Gudnason is more than justified in citing his mental strength as his greatest quality.
But given his breakthrough throw in 2020, what does he hope to achieve in 2021?
"I just want to continue to do my best," he says. "The first goal is to reach the Olympic final and once there I want to achieve a place in the top three – that is my ultimate goal."
Steve Landells for World Athletics