Gudaf Tsegay in action at the World Championships London 2017 (© Getty Images)
Gudaf Tsegay remembers her early days in the sport when she would look up to two-time Olympic gold medallist Meseret Defar as a role model.
Like many top Ethiopian runners, Tsegay – the newly minted world indoor 1500m record-holder – began running in school. The youngest of five, Tsegay was living in the city of Bora, in the region of Tigray, but knew little about the range of distances she could run and the scores of Ethiopian women she could look up to.
As it became clearer that she would find success in the middle distances, she turned her eyes to another Ethiopian legend: Genzebe Dibaba.
While Tsegay dreamed of emulating Dibaba's success, breaking her icon's world record was not a part of the original plan. "Genzebe is a strong athlete," Tsegay said last week in Addis Ababa, having briefly returned to the Ethiopian capital in between her appearances on the World Athletics Indoor Tour. "I began to think if I can train hard like Genzebe, I can become strong and successful too, and make it far."
And make it far she did. She soon progressed to a club in Mekele – the capital city of Tigray – and then to Addis Ababa, where most top athletes in Ethiopia train, and went abroad for the first time in 2013.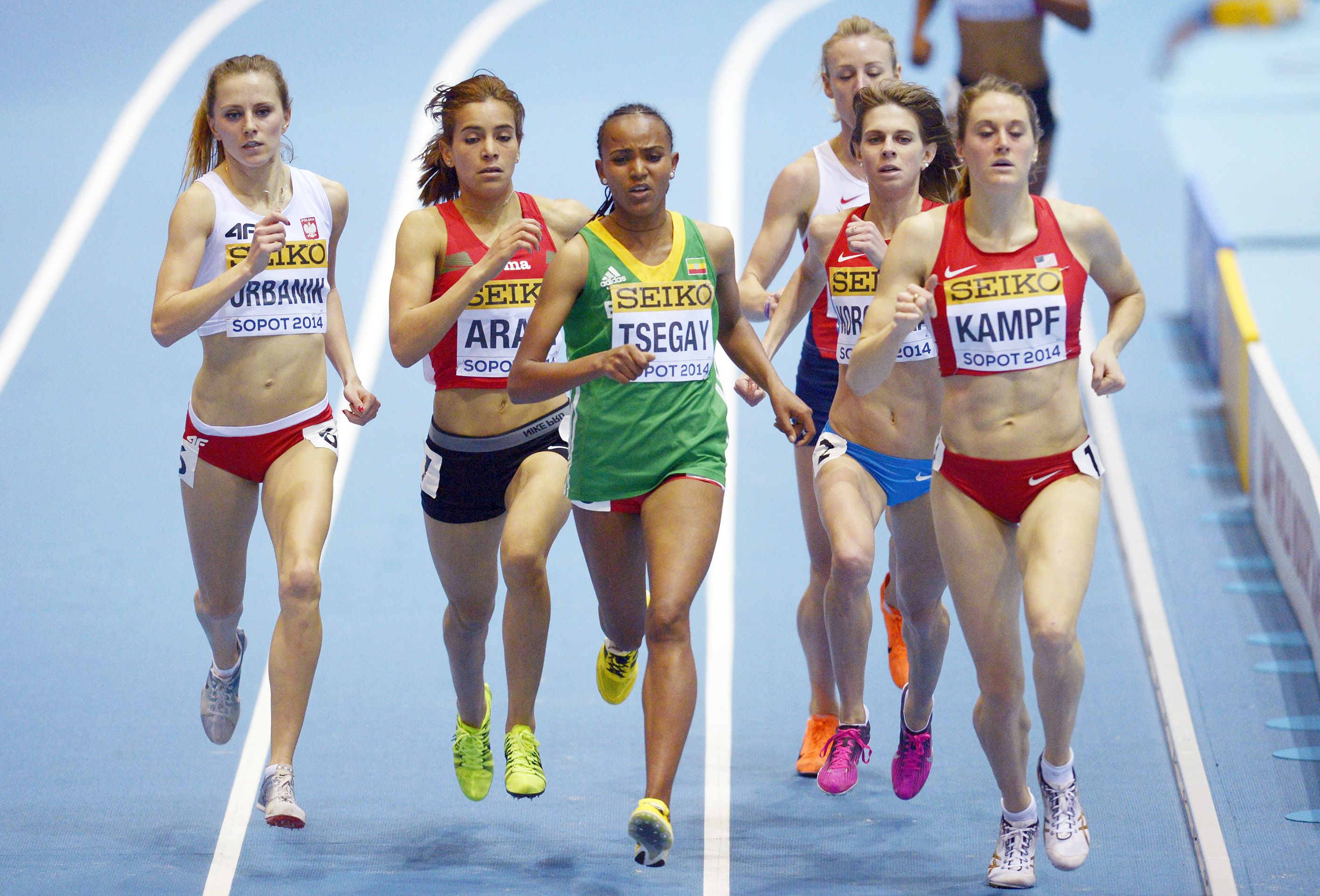 In 2014, she represented Ethiopia at the World Indoor Championships in Sopot and then at the World U20 Championships, where she took home silver in the 1500m. And over the next few years, she slowly chipped away at her personal best times, eventually breaking the world U20 indoor record in 2016.
Despite incremental success, she conjectures that she and her training partners – Lemlem Hailu and Hirut Meshesha – were not focusing as much on speed as they could have been. This was a change ushered in this year by her coach, Hluf Yihdego, which she thinks helped her break her former idol's world indoor record by two seconds with her time of 3:53.09 in Lievin.
"I had this record in my mind for a long time – maybe six or seven years," Tsegay says.
Despite looking up to Dibaba, Tsegay has also always seen her as beatable. "But the finishing speed was not there," she says. "Year by year we were getting stronger and faster, but we weren't doing enough speed work. But this year, we have really focused on speed. And it finally paid off."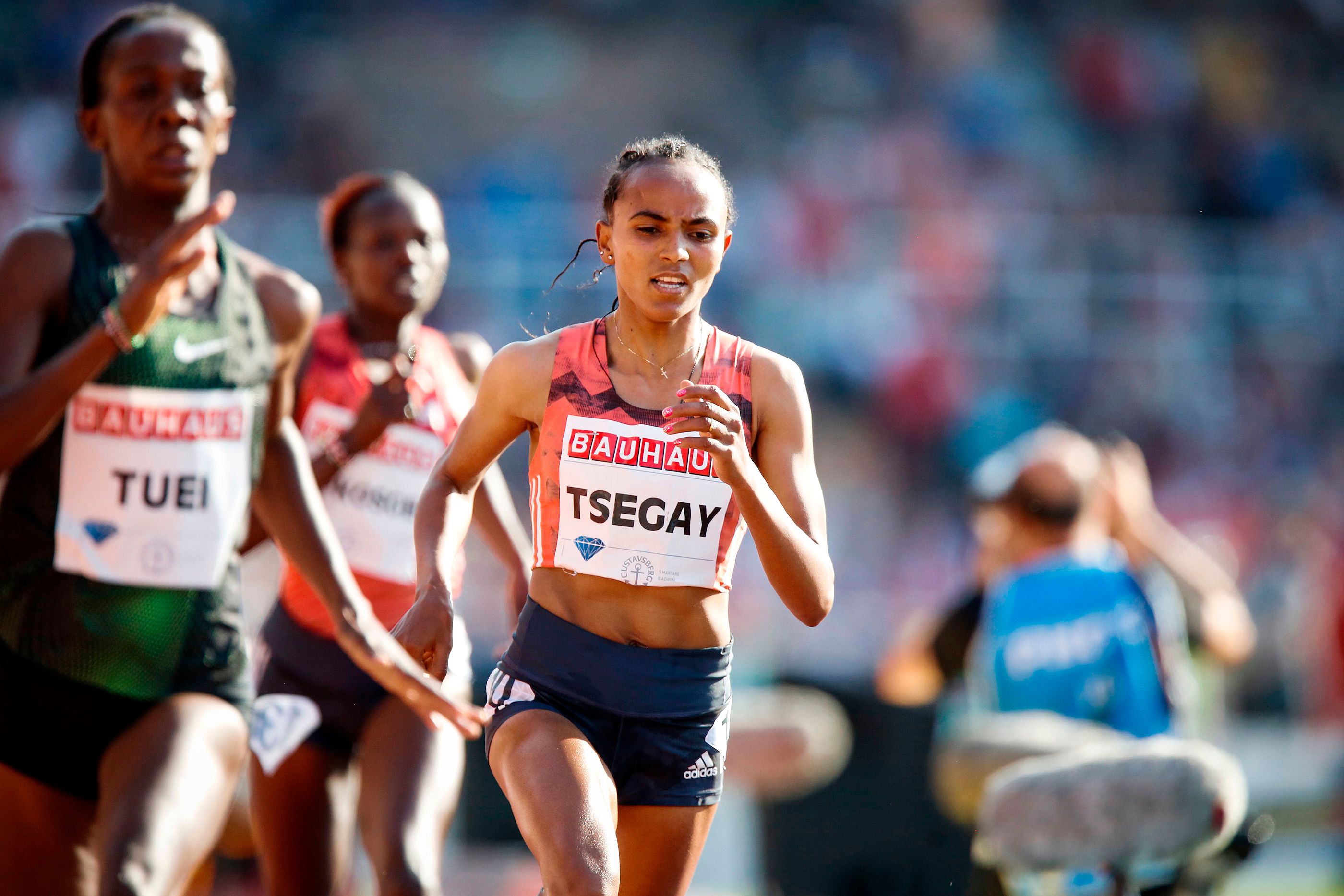 Tsegay also won the 1500m in Lievin last year in what was an incredibly electric atmosphere, in the company of her coach, training partners, and a packed indoor stadium. This year was different, but she found comfort in what she could.
Watching Hailu outkick Sifan Hassan in the 3000m, and knowing that her training partner, Meshesha, was ready for her pacing duties, eased Tsegay's pre-race anxieties. But underlying everything was a substantial self-assurance gained from a recent stellar performance in Addis Ababa that indicated the time to take a stab at the world indoor record had arrived.
In mid-January, the Ethiopian Athletics Federation held a pre-trials track competition at the national stadium in Addis Ababa, which is at 2300m altitude. Tsegay won by a margin of four seconds to finish in 4:02.4, the fastest time ever recorded in Ethiopia.
"That's what really gave me the confidence to go after the record this time," said Tsegay, who earned bronze in the 1500m at the World Athletics Championships Doha 2019 in 3:5438, making her one of the fastest runners in history for the distance. "I knew running that fast in Addis Ababa meant I was ready."
For Ethiopian athletes who do almost all of their training at high altitude, getting confidence from these conversions is critical. Unlike many parts of the world where athletes train at high altitude, Ethiopian runners never have the chance to test their sea level speed until they actually travel to race abroad.
Over years of trial and error, coming and going, Tsegay and her support team have learned what times in training and competition translate well.



While TV commentators for the Lievin meeting assumed that Meshesha took Tsegay out at too fast of a pace, her confidence throughout the race did not fade. The commentator fretted that going through the first 600m in 1:31 and 800m in 2:05 would be too fast, but Tsegay never faltered. In fact, her final 800m was also covered in 2:05.
And her confidence for the future is only growing.
In a year where forming concrete plans is difficult, Tsegay is not sure which world record she will go after next, but she has her eyes set on breaking more records. She and her coach are confident there will be a chance outdoors to chase a world record in either the 1500m or 5000m.
At 24 years old, Tsegay is putting no limitations on herself for time or distance. She believes, and has believed for a long time, that she can compete at a world-class level from the 800m to the 5000m, and break intimidating records along the way.
Despite her humble and unassuming demeanour, Tsegay's bold ambitions are not new. The only novel aspect of her training she now contends with is that the Ethiopian hero she looks up to now is herself.
Hannah Borenstein for World Athletics