Basil Heatley in the 1964 Olympic marathon in Tokyo (© IMAGO)
Historically at least, Great Britain can claim to be the hotbed of marathon running.
The first marathon to be held over what became the standardised distance of 26 miles 385 yards was the 1908 Olympic race in London, from the grounds of Windsor Castle to the track at White City Stadium. Since 1981, the annual London Marathon, from Blackheath to the shadow of Buckingham Palace on The Mall, has been established as one of the world's major city races.
No country has provided more world record-breaking performances in the men's marathon than Britain, with eight. And yet, 125 years on from the original marathon race in Greece in 1896, the United Kingdom has yet to produce a men's or women's winner of the Olympic marathon.
Charlie Spedding took bronze behind Portugal's 'Peter Pan', Carlos Lopes, and Ireland's John Treacy in Los Angeles in 1984. In addition, four British marathon men have stood on the penultimate step of the Olympic podium. None, however, has done so for more than half a century now.


Silver in Tokyo
It was at the last Olympic Games in Tokyo, back in 1964, that Basil Heatley of the delightfully named and hugely influential Coventry Godiva Harriers followed in the footsteps of Sam Ferris (1932), Ernie Harper (1936) and Tom Richards (1948) with a silver medal-winning run. In doing so, of course, he followed in the immediate shoe tread of the great Abebe Bikila.
A barefoot winner in Rome four years previously, Bikila overcame the effects of a recent appendectomy to become the first man to successfully defend the Olympic marathon crown. The Ethiopian crossed the line in 2:12:12, 1:43.8 inside Heatley's four-month-old world record, then delighted the 75,000 crowd with a display of calisthenics.
Heatley, who had been back in 12th at the halfway turn, proceeded to deflate the Japanese crowd by sprinting past Kokichi Tsuburaya on the track to snatch the silver medal. His final 200m was clocked at 32.3 but the 30-year-old Englishman took little consolation in that. He was mortified at having finished a whopping 4 minutes and 17 seconds behind Bikila.
It was to be the self-effacing Heatley's farewell performance on the international stage. He hung up his racing shoes at the end of 1964 and went on to become a national team manager and president of the English Cross Country Association.
He outlived his fellow medallists from that Tokyo Olympic marathon by almost half a century. Tsuburaya ended his own life in 1968, struggling with the thought that injury was ruining his Mexico Olympic chances. Bikila was paralysed after a road accident in 1969 and died of a brain haemorrhage at the age of 41 in 1973.
Heatley died in October 2019, aged 85.
His running CV also included succeeding his boyhood idol Emil Zatopek as world record holder for 10 miles and a victory in the International Cross Country Championships, forerunner of the World Cross Country Championships.
Inevitably perhaps, it is as a marathon man that Heatley is mostly remembered. That, however, would have been a considerable irony to the affable Englishman himself. He was a hugely reluctant marathon runner.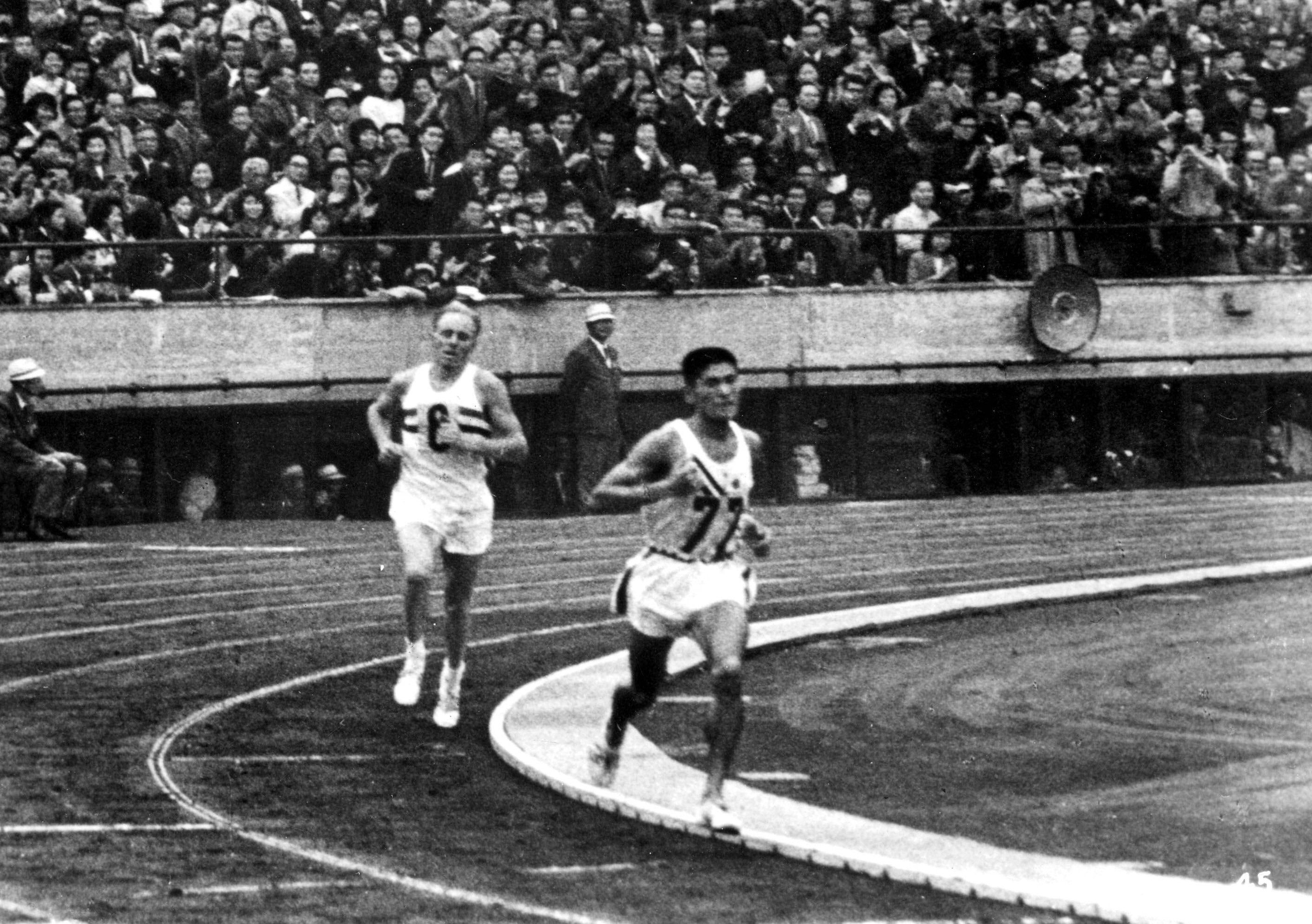 Basil Heatley and Kokichi Tsuburaya in the Tokyo 1964 Olympic marathon (© IMAGO)
Inspired by Zatopek
Born on Christmas Day, December 25, 1933, Heatley grew up on a farm near Coventry, in the English Midlands. As a 14-year-old schoolboy, he was inspired by the deeds of Zatopek at the 1948 Olympic Games in London, where the Czech soldier won gold in the 10,000m and silver in the 5000m.
After joining the Godiva club, he incorporated the Czech's legendary work ethic into his own training regime, performing sessions up and down the driveway of the family farm and gaining extra conditioning with daily farm work and by cycling eight miles to and from school.
In 1951 Heatley won the youths title at the English Midland Cross Country Championships. He ran his first marathon in 1956, winning the Midlands Championship race in 2:36:55. He defended his title in 1957, improving to 2:23:01, but harboured a lingering distaste for the 26.2 mile slog on the roads.
Recalling the aftermath of his debut race in an interview with author Roy Tomizawa (for the book '1964: Japan's Greatest Year'), Heatley revealed: "When I looked round the dressing room and saw everyone in an awful state, I remember saying that if we were four-legged, the RSPCA (Royal Society for the Prevention of Cruelty to Animals) would ban the marathon."


Marathon world best
Heatley did not return to the cruelty of the marathon for six years – and, only then, because he came to conclude that it was his most realistic route to Olympic glory.
In the meantime, he became a three-time winner of the coveted English national cross country title (1960, 1961 and 1963). He finished runner up to his England team-mate Frank Sando in the 1957 edition of the International Cross Country Championships and won the 1961 race in Nantes, finishing 23 seconds clear of Belgium's Gaston Roelants.
In April 1961 Heatley ran 47:47.0 in the English AAA Championship 10-mile race at Hurlingham Park in London, breaking Zatopek's 10-year-old world record figures of 48:12.0.
In the winter of 1962-63, the self-coached Heatley began preparing for his marathon mission, by upping his weekly training mileage to a punishing 125. In the 1963 AAA Marathon on home ground in Coventry he finished runner up to his Godiva club-mate Brian Kilby, the reigning European and Commonwealth champion at the distance, in 2:19:56. He also finished fourth in that year's Kosice Peace Marathon in Slovakia in 2:20:22.
Then, in June 1964, Heatley forged his major breakthrough as a reluctant marathon man, setting the fifth of six world records (best) to be run in the London Marathon of its day, the celebrated Polytechnic Harriers Marathon from Windsor to Chiswick.
Forging clear of fellow Briton Ron Hill at the 21 mile mark, Heatley crossed the line in in 2:13:55. That was a 33-second improvement on the mark set in the previous year's 'Poly' race by Buddy Edelen of the USA.
"It made me think: 'Okay, there's a breakthrough;," Heatley told Roy Tomizawa. "I thought, 'I'm obviously going to go out to Tokyo with a chance'."


Crushed in Tokyo – "I'd been annihilated"
Heading out to the Japanese capital, Heatley considered Kilby to be the favourite for gold. He, discounted Bikila because of the appendix operation he underwent just six weeks before the race.
Kilby finished out of the medal frame in fourth and Heatley took scant consolation from his own silver medal run, feeling crushed by the margin of Bikila's decisive victory.
"Look at the photo of me on the rostrum at the finish and then realise what was going through my mind," he urged Vivien Thomas in an interview for Marathon and Distance Runner magazine. "I should have been pleased that I'd finished my international career on a high but I'd been annihilated.
"A complete mixture of emotions made me the glummest creature ever that appeared on an Olympic rostrum. I could just see absolutely no reason for being pleased up there.
"I was extremely off form on that day. It was a bad run from start to finish. The weather was extremely humid and I developed a stitch very early on, which stayed with me the whole of the race.
"I don't think there was any way I or anyone else could have lived with Bikila on that day. I'm sorry that I didn't get to know him but I remember him as a very quiet, very dignified man."
In 2014, on the 50th anniversary of the first Tokyo Olympics, Heatley and his wife Gill travelled out to Japan and met relatives of Bikila and Tsuburaya.
A dignified and devoted servant of grass roots athletics, the former farm boy was inducted into the England Athletics Hall of Fame in 2015 by David Moorcroft, another Coventry Godiva great who made it into the world record books.
Simon Turnbull for World Athletics Heritage