Sasha Zhoya wins the 110m hurdles at the European U20 Championships (© Getty Images)
French sprint hurdler Sasha Zhoya, Irish sprinter Rhasidat Adeleke and Swedish jumper Maja Askag were among the star performers at the European U20 Championships in Tallinn, which concluded on Sunday (18) after four days of action.
Zhoya, an all-round talent who has produced incredible marks in the pole vault, 200m and decathlon in recent years, dominated the 110m hurdles. After breezing through his heat, he won his semifinal; in a marginally wind-assisted 12.98 (2.4m/s) – the fastest time ever recorded by an U20 athlete in any conditions.
He went on to comfortably win the final in a championship record of 13.05, just 0.03 shy of the PB he set earlier this month.
"Finally my first international medal," he said. "I cannot wait for August to come for the World U20 Championships. I still have to work on some things but I have some time to correct it. I'm glad I managed to break the championship record of my compatriot, Wilhem Belocian, who is a good friend of mine. He also holds the world U20 record – and I want to break that too."
Adeleke was similarly dominant in winning the 100m and 200m sprint double, going one better than her gold medal haul from the European U18 Championships three years ago.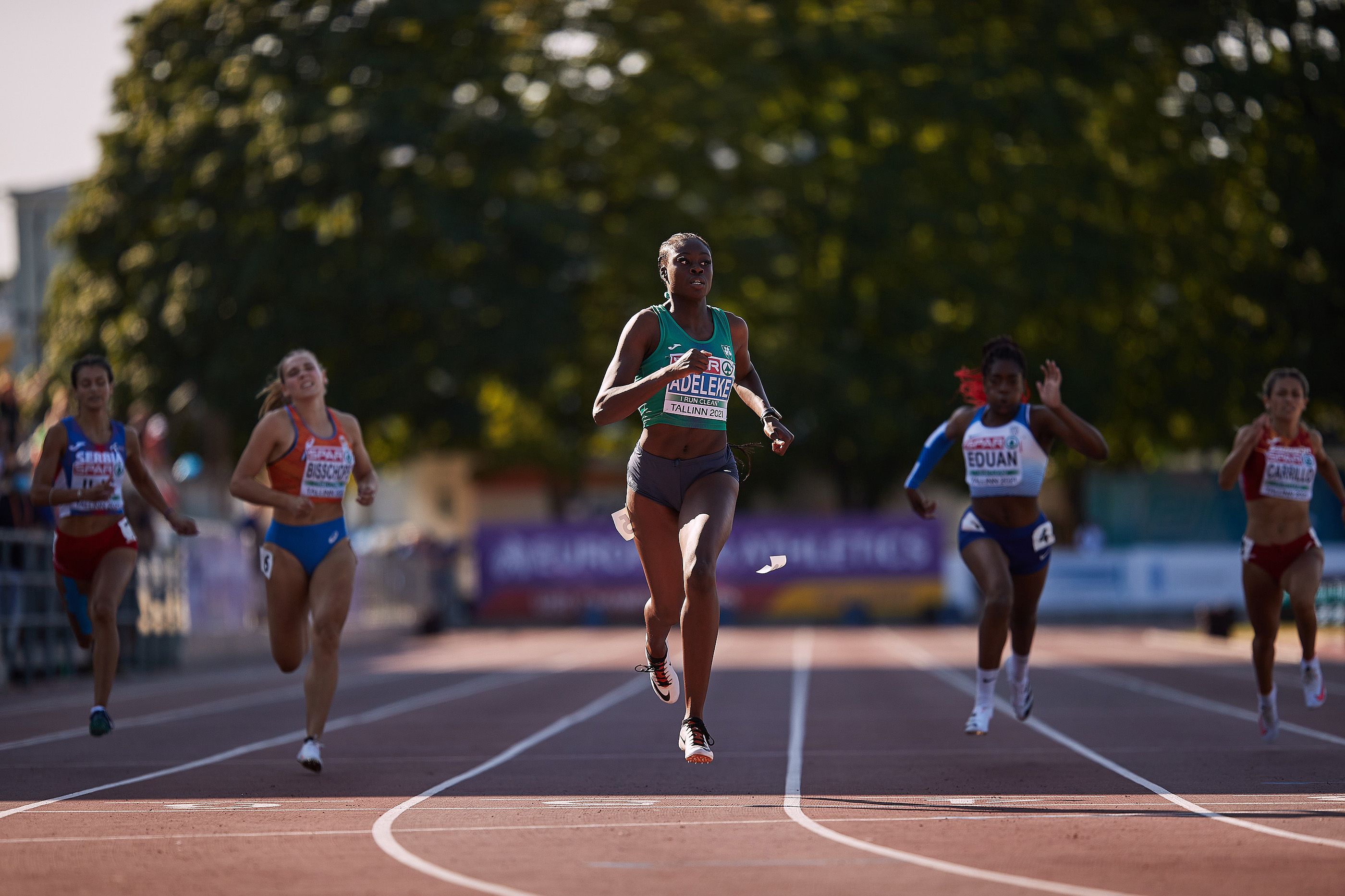 The 18-year-old took the 100m title in 11.34 (1.4m/s) with Serbia's Ivana Ilic taking silver (11.42). The next day, Adeleke won the 200m by 0.65, clocking a senior Irish record of 22.90 (0.1m/s).
"When I decided to come here, I just told myself that since I am doing double, I need to win them both," said Adeleke, who went on to run a 52.54 split in the 4x400m, helping Ireland to a fifth-place finish. "Now I've done it, it's such a huge relief."
Adeleke wasn't the only double individual champion in Tallinn. Sweden's Maja Askag produced the performances of her life to secure the horizontal jumps titles.
The 18-year-old, who headed to the Estonian capital with PBs of 6.38m and 13.67m, sailed out to a national U20 record of 14.05m (0.8m/s) to win the triple jump by 40 centimetres. Two days later, she was back on the runway for the long jump final.
In an enthralling contest, she took the lead in round two with a PB of 6.54m and improved to a wind-assisted 6.60m (4.1m/s) in round three. She briefly lost her lead to Spain's Tessy Ebosele (6.63m) in the penultimate round, but responded with a windy 6.76m (2.5m/s) before ending her series with a marginally wind-assisted 6.80m (2.2m/s).
Ebosele held on to the silver while German duo Mikaelle Assani and Laura Raquel Muller battled for the bronze, Assani eventually taking it by one centimetre with her last-round leap of 6.62m.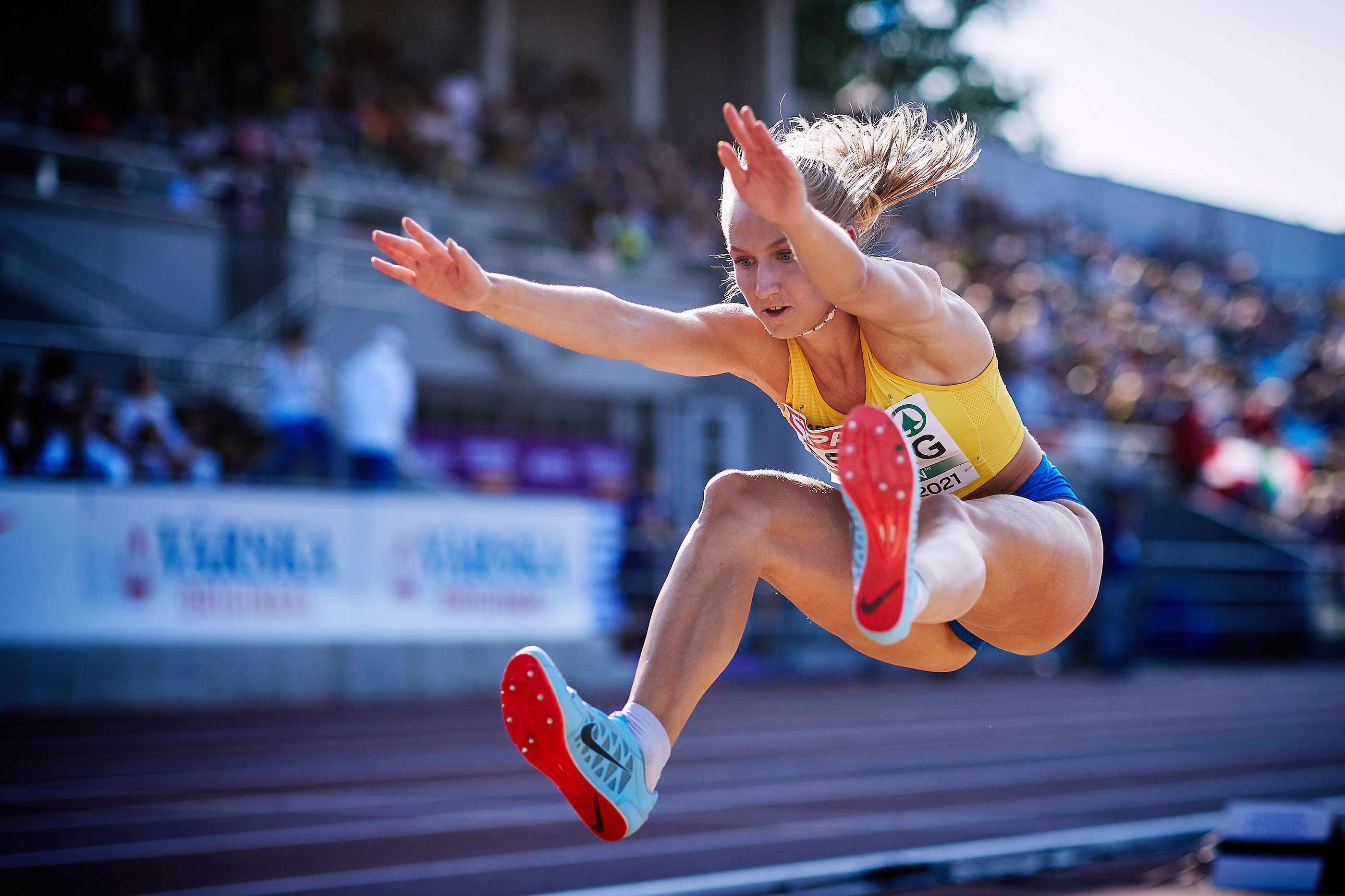 Aside from Zhoya, Silja Kosonen was the only other athlete to break a championship record.
The Finnish hammer thrower, who set a world U20 record of 73.43m last month, was a comfortable winner with all three of her valid efforts – 71.06m, 70.47m and 69.69m – landing beyond the previous championship record, set 12 years ago.


Double gold for British sprinters Makoyawo and Faulds
British men won all of the flat sprint titles – individual and relays – contributing five of the six gold medals won by the table-topping nation.
Toby Makoyawo won the 100m in a PB of 10.25 (1.3m/s) with French 17-year-old Jeff Erius taking silver in 10.27. Makoyawo went on to run the third leg on Britain's victorious 4x100m team, clocking 39.74 to take gold ahead of the Netherlands.
Edward Faulds smashed his PB in the semifinals (45.95) en route to taking gold in the 400m final in yet another PB, 45.72. Two days later, he ran a stunning anchor leg of 44.97 to carry Britain to gold in the 4x400m in 3:05.25, the fastest time in the world this year by an U20 quartet.
Derek Kinlock completed Britain's sweep of the men's sprints, taking the 200m in a PB of 20.72.
Several winners came close to breaking championship records.
Anthony Ammirati won the men's pole vault with 5.64m, just one centimetre shy of the championship record set by Mondo Duplantis. Ammirati was pushed all the way by 17-year-old Matvei Volkov of Belarus, who cleared 5.44m for silver before taking attempts at 5.59m and 5.64m.
Mykolas Alekna, son the Lithuanian legend Virgilijus Alekna, maintained his family's proud discus-throwing tradition, winning gold with 68.00m, just two centimetres short of the championship record.
Elina Tzengko's opening effort of 61.18m in the women's javelin was enough to win gold, coming within 34 centimetres of the championship record. Serbian 17-year-old Adriana Vilagos also landed her spear beyond 60 metres, taking silver with 60.44m.
His winning mark may not have been a championship record, but shot put winner Muhamet Ramadani made history by becoming Kosovo's first European champion in an athletics event, throwing a PB of 19.92.


Hauttekeete and Vanninen set world U20 leads
Combined events winners Jente Hauttekeete and Saga Vanninen were among the many athletes to produce world-U20-leading performances to take gold.
Hauttekeete, who earlier this year set a world U20 indoor heptathlon record, won the decathlon with a Belgian U20 record of 8150. He took the lead after the shot put (15.31m) and never relinquished it, despite a sustained challenge from Norway's Sander Skotheim, who took silver with a PB of 8012.
Vanninen, winner of the European Youth Olympic Festival two years ago, was competing in her first heptathlon of the year but showed no sign of rust en route to her dominant 6271 victory, helped by PBs in the 100m hurdles (13.55), shot put (14.90m), long jump (6.34m) and 800m (2:24.62).
Other world U20 leading marks were set by Germany's Oliver Koletzko in the men's long jump (7.98m), Sweden's Gabriel Wallmark in the men's triple jump (16.39m), Ukraine's Artur Felfner in the men's javelin (78.41m) and Germany in the women's 4x400m (3:35.38).
Jon Mulkeen for World Athletics