World U20 400m champion Anthony Pesela with fellow medallists Luis Aviles Ferreiro and Antonie Nortje (© Dan Vernon)
The African charge continued on the penultimate day of the World Athletics U20 Championships in Nairobi as Botswana revealed more of the exciting sprinting talent it has coming down the pipeline.
In the men's 400m final on Saturday (21), Anthony Pesela came from fourth place at the turn with an irresistible surge in the home straight to seal the southern African nation's best ever showing at this level of championship competition.
His teammate Letsile Tebogo had opened Botswana's account with victory in the 100m and backed that up to win the silver medal in the 200m today to give their team two golds and a silver medal from the individual men's sprints. It was just a shame that Botswana's 4x100m relay team was disqualified for a false start in the heats earlier in the day.
Previously the Batswani had won just one gold medal in their history at the World U20 Championships, with Nijel Amos' win over 800m in 2012.



Pesela, 19, was an alternate on Botswana's Olympic 4x400m relay team this year but didn't have the opportunity to run in Tokyo. However he made up for that disappointment in Nairobi, running a remarkably mature race to secure the gold medal.
South African favourite Lythe Pillay roared past him in the inside lane in the first 150m, but Pesela remained relaxed and waited to unleash his impressive finish.
"I didn't panic, I knew that I had a strong last 100m," Pesela said.
So strong that he improved his personal best by more than a second in the final, clocking a championship record of 44.58 to win comfortably from Mexico's Luis Aviles Ferreiro in a national U20 record of 44.95 and South Africa's Antonie Nortje, in a personal best of 45.32. Pillay faded to fourth place.
By the end of the session, Pesela's teammates were singing and dancing in the grandstands, overjoyed by the performance of their team here.
Earlier, another Tokyo Olympian, Nigeria's 17-year-old pocket rocket Imaobong Uko, secured her first individual world title in a personal best of 51.55.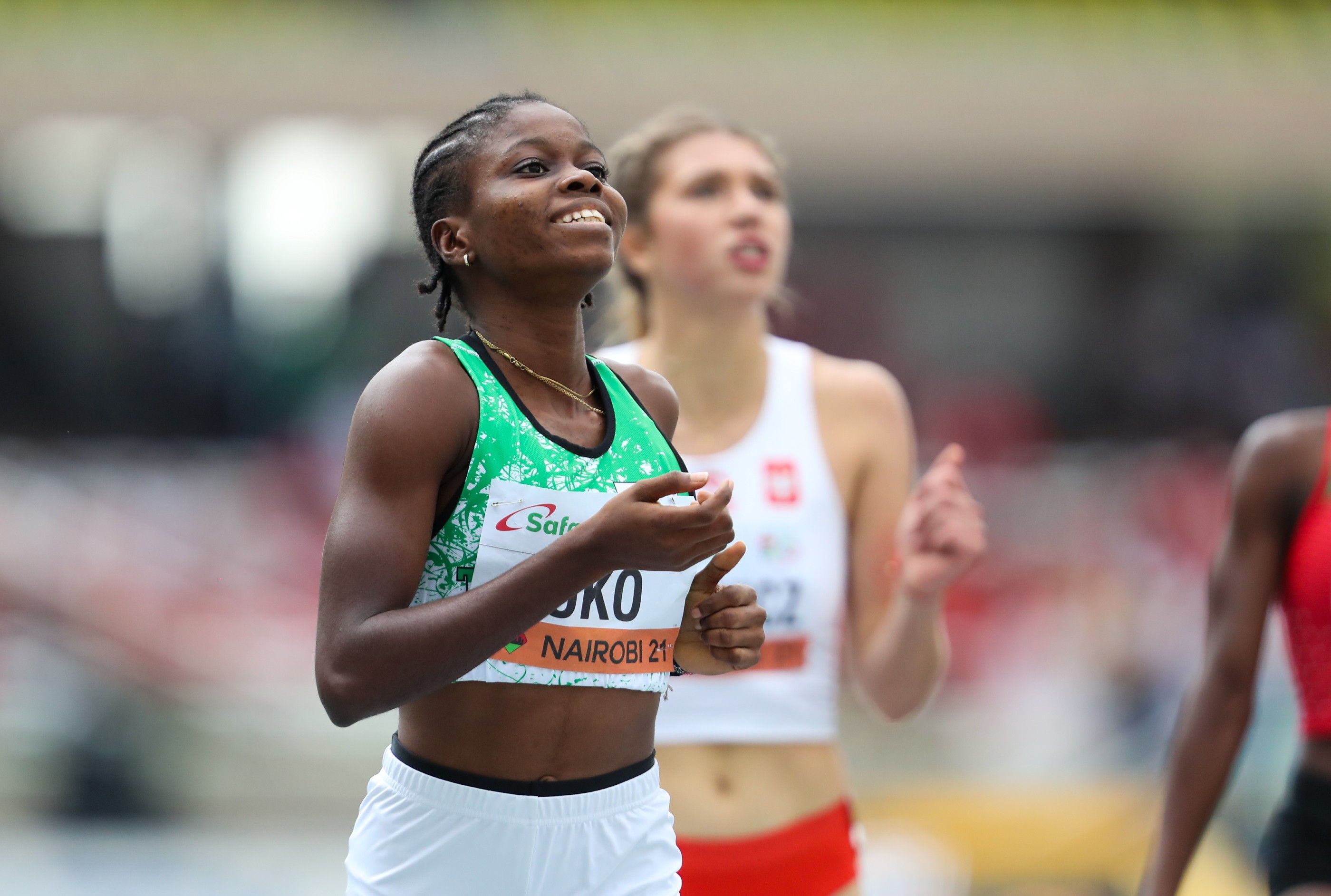 (© Roger Sedres)

Uko was a member of the Nigerian mixed 4x400m team in Tokyo, and won her first gold medal with her team in the mixed 4x400m relay on the opening day of these championships.
Poland's Kornelia Lesiewicz came through to win the silver medal in a personal best time (51.97), while Kenya's surprise packet Sylvia Chelangat slashed three seconds from her PB during the course of the event to secure the bronze medal (52.23).
"It's unbelievable that I am a two-time gold medallist in this competition," Uko said. "I followed my coach's advice to hit it hard from the very beginning. Now I'm going home with a gold medal and a new PB."
Given her relative youth, she will have the opportunity to defend her title at the next World U20 Championships in Cali, Colombia, next year.
Chelangat, also 17, said that she was delighted to win a medal over 400m but that her future would lie with the 800m.
The future of Kenyan middle distance running looks secure after world 1500m champion Timothy Cheruiyot's young training partner Vincent Keter claimed the world U20 title over 1500m today.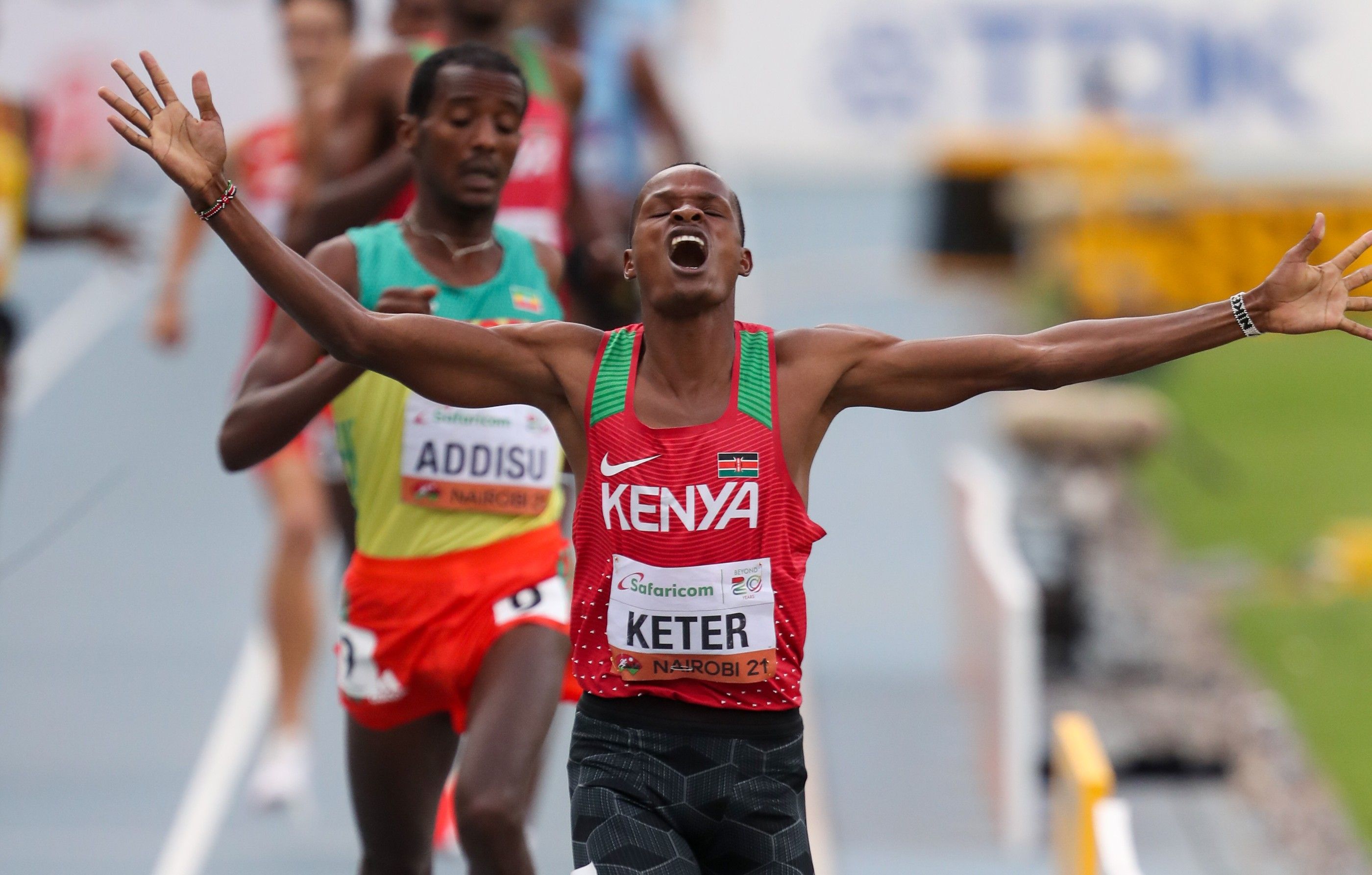 (© Roger Sedres)

Keter, 19, who trains with Cheruiyot under coach Bernard Ouma at the Rongai Athletics Club, has clearly adopted the front-running style of his mentor Cheruiyot.
He took the lead with 600m to go and attacked at the bell, stretching his advantage to some four metres down the back straight, and holding the lead to the finish line, stopping the clock in 3:37.24.
"I used Timothy's tactics," he said.
"He is a world champion and now I am a world champion."
Ethiopia's Wegene Addisu came through to win the silver medal in 3:37.86 with his compatriot Melkeneh Azize claiming the bronze (3:40.22). Kenya'a Kamar Etiang, third across the finish line after carrying a leg injury into the race, was disqualified for stepping inside the kerb on the bend during the race.
The East African dominance of the middle distance continued in the women's 800m final where Ethiopia's Ayal Dagnachew put on an exhibition, winning by more than a second in 2:02.96.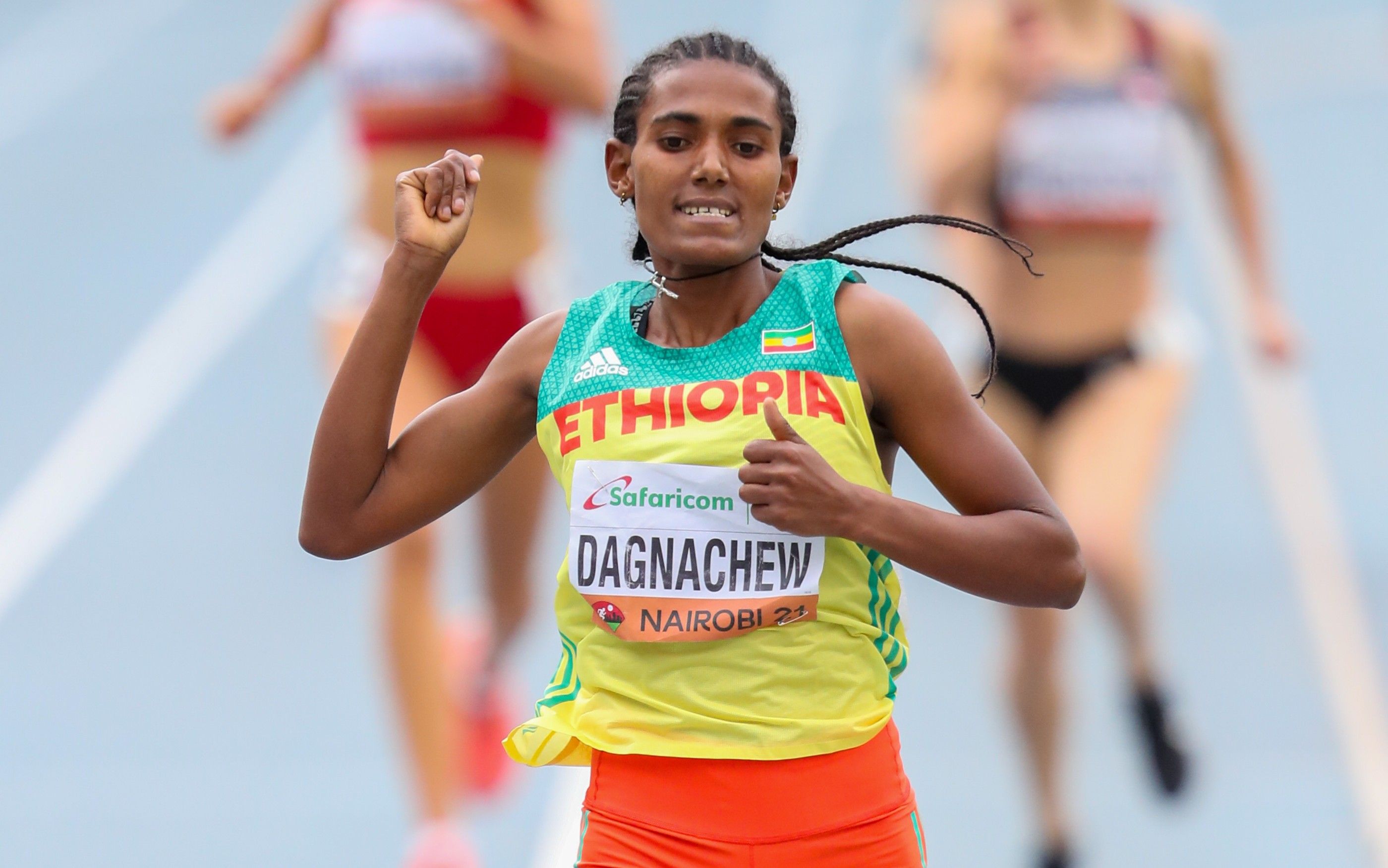 (© Roger Sedres)

Switzerland's Valentina Rosamilia came through to claim the silver medal (2:04.29) from Greece's Elli Deligianni (2:04.66).
In the men's 800m semifinals, Kenyan athletes again prevailed. Emmanuel Wanyonyi won the first qualifying race comfortably in 1:46.16, more than a second ahead of Algeria's Mohamed Ali Gouaned (1:47.35) and Ethiopia's Daniel Wolde (1:47.53). In the second semifinal, another 17-year-old Kenyan Noah Kibet was fastest (1:46.47), holding of Czech runner Jakub Davidik (1:46.59, national U20 record) and Canadian Abduallah Hassan (1:46.89).
Nicole Jeffery for World Athletics