Shaili Singh, Maja Askag and Mariia Horielova celebrate their long jump medals at the World U20 Championships in Nairobi (© Dan Vernon)
Sweden's Maja Askag capped her U20 career in style in Nairobi, completing a superb horizontal jumps 'double double' with long jump victory at the World Athletics U20 Championships on Sunday (22).
On an action-packed final session at the Kasarani Stadium, Lithuania's Mykolas Alekna achieved the second-longest U20 throw in history to break the discus championship record, while Sweden's Gabriel Wallmark took the men's triple jump title and authorised neutral athlete Natalya Spiridonova won the women's high jump.
Askag had gone into the competition as a double European U20 champion, with the 18-year-old having won both the long jump and triple jump titles at the European U20 Championships. She achieved the same feat in Kenya, leaping a PB of 6.60m to seal long jump success after her triple jump win two days earlier.
"I'm super happy," said the two-time national indoor triple jump champion. "Everything has happened so fast. At the beginning of the season, I wouldn't have believed this, so now standing here with four championship golds, it's crazy."
The teenager had enjoyed a brilliant breakthrough to win her continental titles, leaping beyond 14 metres for the first time in the triple jump and soaring a marginally wind-assisted 6.80m (2.2m/s) in the long jump. In Nairobi, she improved her wind-legal long jump PB to win by just a single centimetre ahead of India's Shaili Singh, who recorded a slightly wind-aided 6.59m (2.2m/s) in the third round.
There was a close battle for bronze and that medal was won by Ukraine's Mariia Horielova as she leapt a PB of 6.50m, just 3cm further than Jamaican Shantae Foreman's PB performance, while Spain's triple jump silver medallist Tessy Ebosele was fifth with a best of 6.46m, just 1cm off Foreman's mark.



Askag started her series with 6.29m, before improving to 6.33m and 6.44m. Her 6.60m (1.5m/s) came in the fourth round and after a fifth-round foul she jumped 6.48m with her final attempt.
"It's a PB but, as I felt in the triple jump, I have more in me," Askag added. "So it's a little bit frustrating. But I have nothing to complain about. I am super happy and it's an honour to be here and represent Sweden.
"This is a big step up. I am competing against the world's best juniors. Next season I will be aiming for the senior European Championships."
Singh, meanwhile, opened with 6.34m and matched that in the second round, improving to her 6.59m in the third round to make history for India. Never before had an Indian athlete claimed a jumps medal at the World U20 Championships, with Singh's medal the fifth ever claimed for her nation at this event. The 17-year-old, who is coached by former triple jumper Robert Bobby George, the husband of 2003 world long jump bronze medallist Anju Bobby George, will hope to add to her medal tally at the next edition of the World U20 Championships in Cali.


Wallmark also does a double for Sweden
Sweden's Wallmark had started the season with two goals – to win the European U20 title and to claim gold at the World U20 Championships. With the continental title secured in Tallinn, he completed the double in Nairobi – leaping a national record of 16.43m to do so.
The 19-year-old had jumped 16.39m to win in Tallinn, adding more than a metre to his pre-2021 best. He improved that by another 4cm to get his global gold and feels he still has much more to give.
"It feels amazing," he said. "This has been the main goal for this season, as well as the European Championships. I feel like I have even more in my body to get out in my jumps.
"It was a great competition with great weather, great winds. I couldn't really ask for more."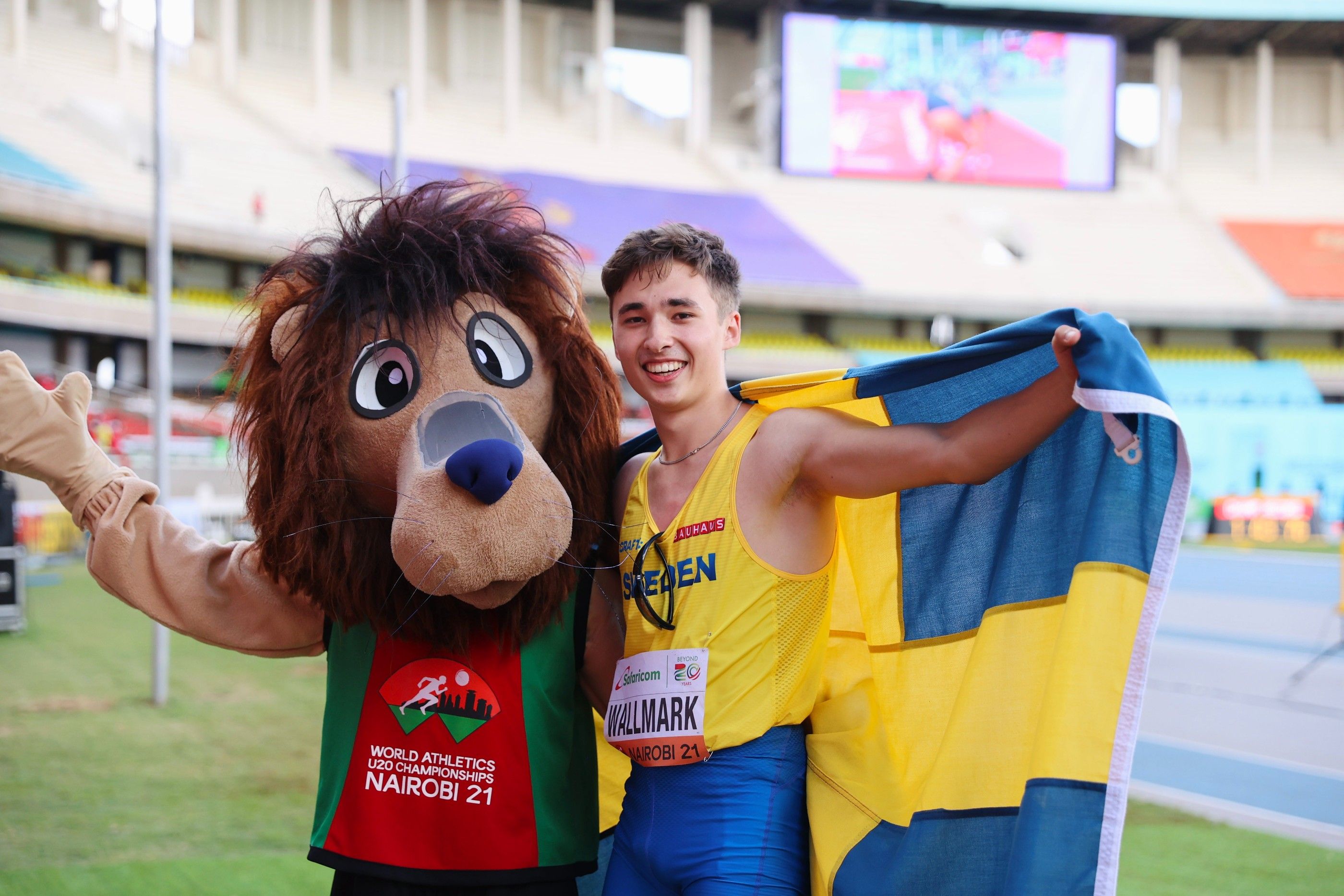 Wallmark was one of two 16m-plus athletes on the entry list and Jamaican 16-year-old Jaydon Hibbert, who jumped 16.02m to win at the NACAC U18 Championships, also matched his billing as No.2 to secure the silver with a PB of 16.05m.
That mark had come in the second round and Wallmark explained how it motivated him into action.
"People were jumping great today," he said. "When the Jamaican guy jumped 16.05m and passed me there, the adrenaline just pumped up and I knew the next jump was going to be far."
Wallmark had opened with a 15.91m leap and followed that with a foul, but when Hibbert soared out to his 16.05m, the Swedish star responded with 16.29m and then achieved his best of 16.43m in the fourth round. He passed the fifth and closed his series with 16.05m.
At just 16, Hibbert will still be eligible for U20 competition through to 2024 and after adding 3cm to his PB he said: "To be competing against the world's best, it feels good! On my second attempt I was feeling some pain in my shin area, but I had to do what I had to do. I jumped and I set a PB, so I'm grateful."
Trying to manage his discomfort, Hibbert passed his third attempt and failed his fourth and sixth, also recording 15.68m in the first and 14.74m in the fifth rounds.
"At a young age, it's overwhelming because a lot of people don't expect young people like me to do this good," he added. "I can't believe it, to be honest!"
Simon Gore of France had been a metre down on his best in the European U20 Championships final and placed 11th, but he bounced back with a PB performance of 15.85m in Nairobi which gained him bronze.


Alekna gets his global gold
Lithuania's Alekna lived up to his billing as favourite in the men's discus and followed in the footsteps of his father to become a global champion.
The son of 2000 and 2004 Olympic gold medallist Virgilijus, Mykolas was another athlete to add the world U20 title to the European U20 gold he gained in Tallinn and he did so thanks to a championship record-breaking throw.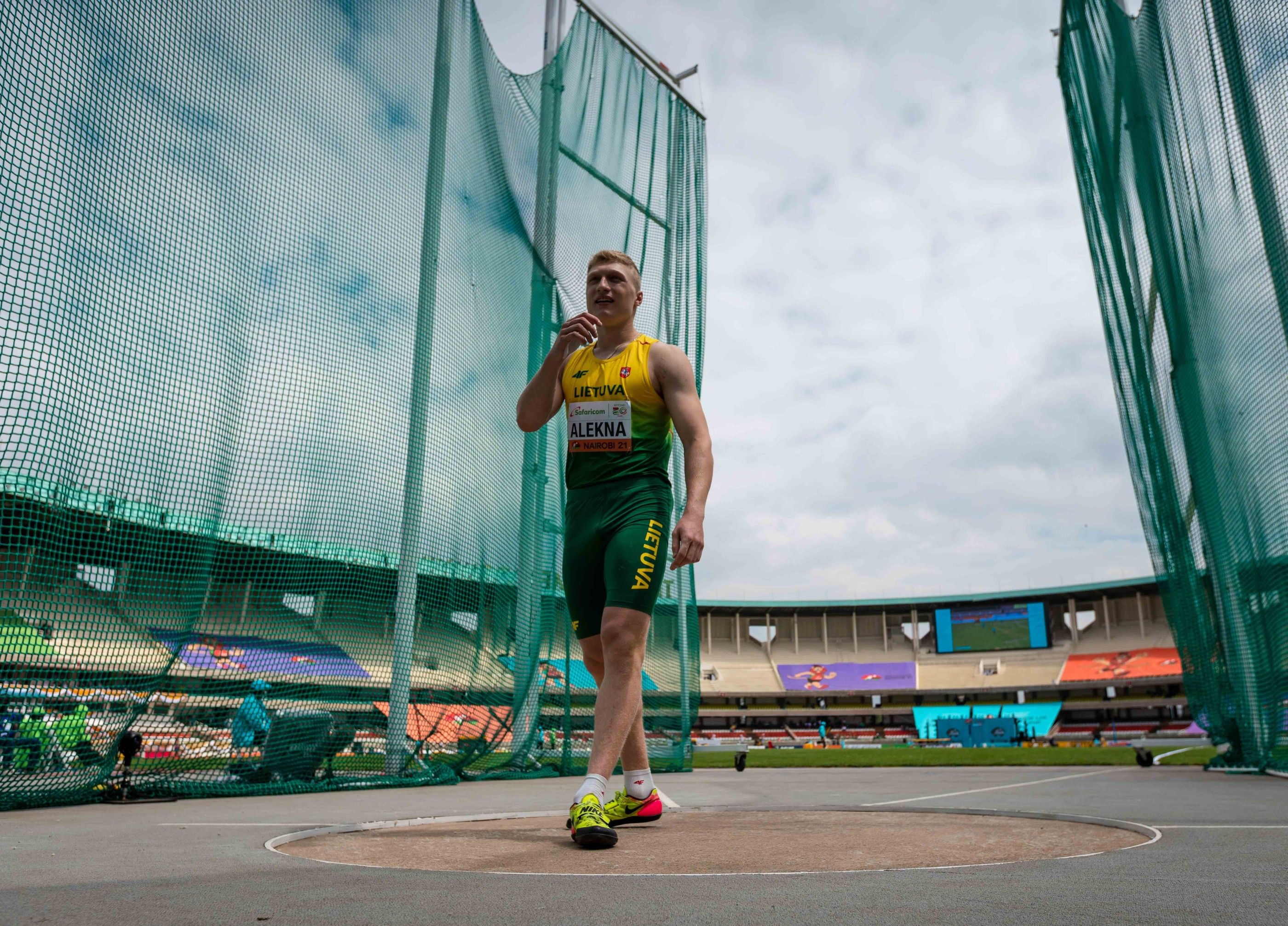 Alekna, who was already second on the world U20 all-time list with 69.77m from June, improved by 4cm and is now just 32 centimetres off the world U20 record set with the 1.75kg implement.
Jamaica's Ralford Mullings threw a PB of 66.68m to secure silver, while bronze was claimed by Raman Khartanovich of Belarus with a 62.19m PB.
One throw is all it would have taken for Alekna to make history. He launched the discus to his championship record in the very first round and followed it with a foul, then marks of 68.52m, 67.67m, 67.10m and 66.46m.
For Mullings, his 66.68m PB was backed up with marks of 64.90m and 64.74m.
"I'm feeling great," said Alekna. "It was a great competition, good athletes. It was amazing to be here. I tried to do my best with the first throw and I did a personal best. I was very excited. Then I just felt more confidence for my other throws. I have been working for this moment for many years."
On learning from his father, the 18-year-old added: "He gives me very good tips and he is really experienced so he gave me a lot of good advice. He said I should be relaxed and that I could do it."


Spiridonova goes from European medallist to world champion
The women's high jump saw Spiridonova progress from European U20 silver medallist to world U20 champion as she equalled her PB of 1.91m on her first attempt to win the title.
The 19-year-old led a record-breaking podium, with Marithe-Therese Engondo setting a Swiss U20 record of 1.89m for silver and 17-year-old Styliana Ioannidou claiming a first ever medal for Cyprus at the World U20 Championships with a national U20 record of 1.87m for bronze.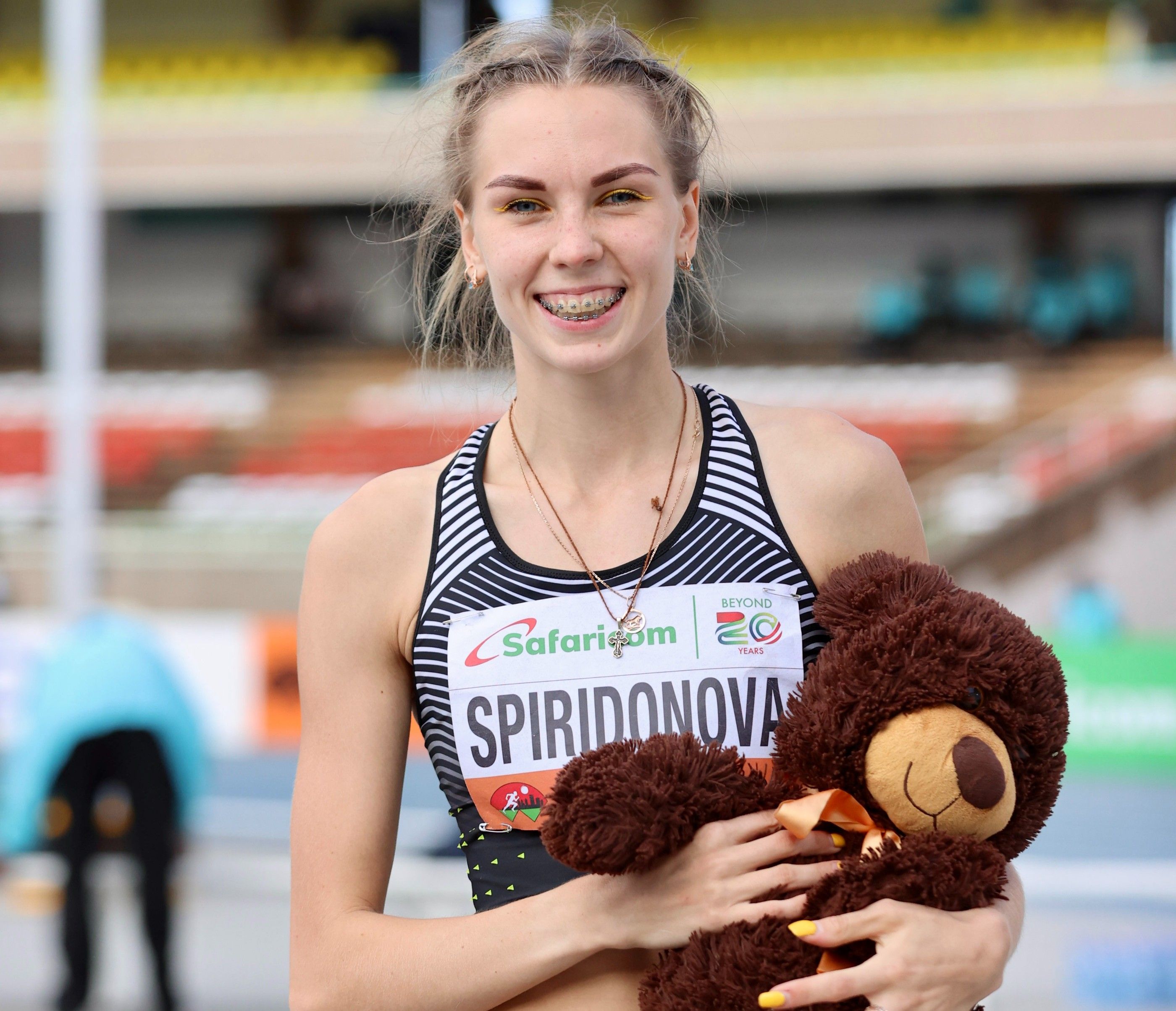 Spiridonova, who claimed European U20 bronze in 2019 and went one better than that with her silver in Tallinn, began her competition at the opening height of 1.75m and she cleared that and 1.80m first time. She needed all three tries at 1.84m, before managing 1.87m on the second time of asking. For 1.89m she also needed three attempts and she then soared over 1.91m on her first go to get gold. She went on to have one attempt at 1.93m before having the bar moved to 1.94m, which she missed twice.
Leaving the track clutching a teddy bear, which was a good luck gift from her grandfather, she said: "I am very happy to claim my first world title. It is a very cool experience, a high level, and I am glad to be here."
Engondo had one attempt at 1.91m after her first-time clearance of 1.89m and then passed to 1.93m, but she was unable to make that height.
Ioannidou, meanwhile, had a perfect record of first-time clearances up to her national U20 record height of 1.87m for bronze.
Jess Whittington for World Athletics