Mike Powell, World Athletics ambassador, visited Cali's educational institutions. (© Marabunta Agency)
The long jump legend and world record holder, Mike Powell, who serves as ambassador of World Athletics U20 Championships Cali 2022, met with the children of Cali in the educational institution Simón Rodríguez.
He shared in an emblematic cultural act, at the nexus of education and sport.
The outstanding world-renowned athlete was accompanied by José Darwin Lennis (secretary of education), Noralba García (deputy secretary of quality), Isabel Reyes (director of the educational institution) and the president of the world championship organizing committee, Ramiro Varela.
The children were excited by the presence of such an outstanding world figure from the United States, and frantically applauded to the rhythm of cumbia, the folklore of the llano and salsa caleña. Finally, Mike Powell left them with the following words: "I am very happy to be in Cali. Remember that everything is possible. With effort, dedication, perseverance and discipline, you can be the best."
The Olympic and world champion also thanked Mayor Jorge Ivan Ospina for the support he has given to the championship, which is one of the most important sporting events that has taken place this year worldwide. Powell dedicated some words to the directors of the educational institution Simón Rodríguez for having the initiative to invite him and thus perform in an optimal way his duties as ambassador of World Athletics, in addition to expressing his happiness and excitement to be there at the school.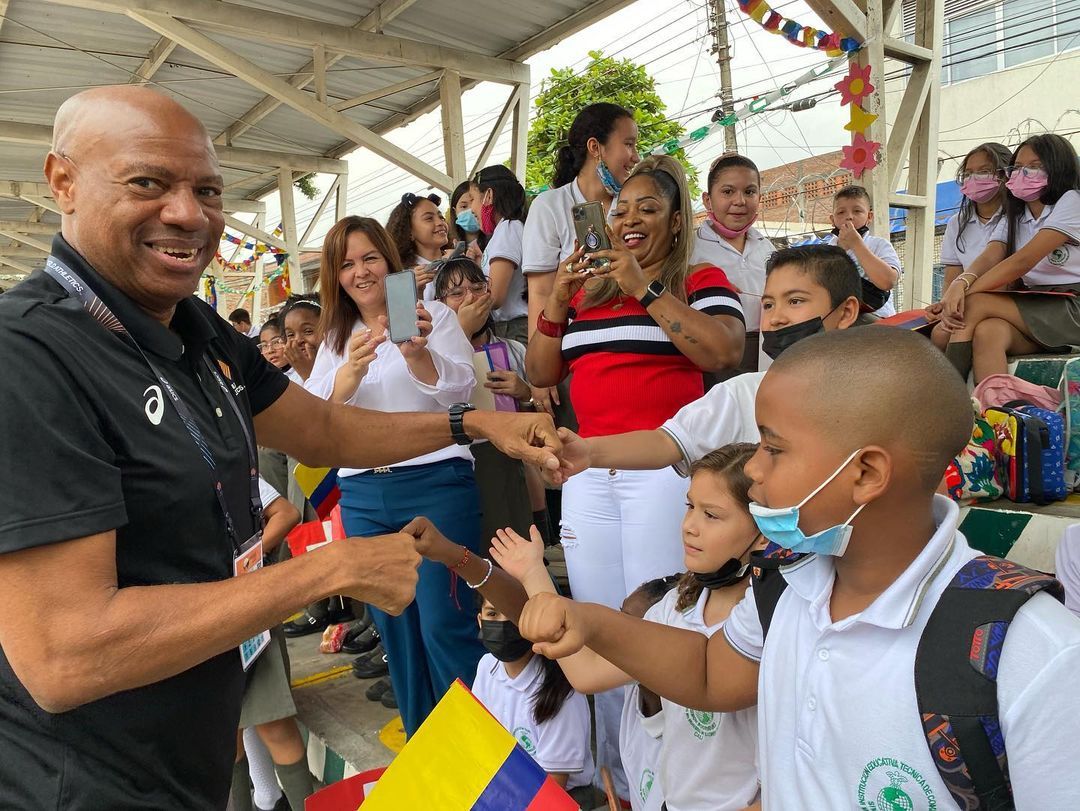 At the end of his visit, the children waved small flags that they had prepared to welcome the delegations, and surrounded Mike to take some pictures and chant his name with joy.
Powell said goodbye saying: "I'd love to return to Cali, I am happy to be here."
Communications LOC World Athletics U20 Championships Cali 2022