Bianca Baak, Lieke Klaver, Lisanne de Witte and Femke Bol in Doha (© Getty Images)
To best describe the close friendship between training partners and occasional on track rivals Lieke Klaver and Femke Bol, perhaps the Dutch word of 'gunnen' (not begrudge) might be most apt.
The Dutch duo have independently and collectively made quite an impact over the past 18 months or so. Last year Bol rocketed to No.1 on the world lists for the women's 400m hurdles, posting a huge national record of 53.79, and earlier this year emphatically snared the European indoor 400m title.
Klaver, meanwhile, earlier this year set national indoor records for 200m and 400m (before Bol claimed the latter mark at the same meeting in Vienna) and the pair featured as one half of the Dutch sprint team which banked the European 4x400m crown with a national record time.
The duo have also occasionally competed against one another, but this has not compromised their relationship and their close bond is described by Bol as like a "sisterhood".
"We feel more like family and get on really well," adds Bol. "We are like sisters and learn to help each other. If we need advice, she (Klaver) would the first person I would go to."
The start of the

sisterhood

The pair first met at the 2017 European U20 Championships in Grosseto – where Klaver finished sixth in the 200m final and Bol exited at the 400m semi-finals – but they barely uttered a word to each other during that trip and it was only while sharing a room at the 2019 World Athletics Relays in Yokohama that the athletes started to build a friendship in a slightly quirky manner.

"Our friendship started out of our clumsiness," recalls Klaver with a smile. "We shared a room with a high window but as I tried to open the window I banged my head. Two minutes later Femke did the same thing and we had such a laugh about it."

Aged just 18 months apart, Yokohama also represented the starting point of their respective senior international careers. In fact, their shared experiences on that trip brought them closer and the pair laugh about their "fan girl" behaviour in Japan.

"Some athletes who competed in Yokohama had started to follow me on Instagram," recalls Klaver. "I kept saying to Femke, 'that girl is following me (on Instagram) and that guy is following me.' On the track I was awestruck at seeing Andre De Grasse and others."

Femke was similarly giddy on that trip when identifying top athletes.

"We spotted athletes in the elevator, we were like young girls on an adventure," adds Femke. "At one point Lisanne de Witte (fellow Dutch athlete) walked over and said: 'Girls, you have to focus on your own game because you have to run against them'!"
View this post on Instagram

If World Relays provided the spark for their future friendship, the closeness of their relationship started to bed down later that year after both athletes joined the same Papendal-based training group led by Swiss coach Laurent Meuwly.
Klaver, who grew up in Enkhuisen in Noord Holland, a little under a 90-minute drive from Bol's home town of Amersfoort, came under Meuwly's guidance in August of 2019 with Bol joining the successful sprint group a month or so later.
Training and living together in the same Papendal facility, which sees around 20 athletes live in separate bedrooms with a shared kitchen, the pair's friendship strengthened.
"We were discovering a lot of lot of new things at the same time, which felt like we had a special bond," explains Klaver, 22.
Yet Klaver and Bol are far from two peas in a pod. In fact, their friendship is more a case of opposites attract.
Klaver is the more outgoing and forthright of the pair, taking on the role of 'older sister'. Bol, a more introverted and softer personality, is happy to play the part of 'younger sister.'
The pair listen to different music – Klaver is a big fan of rap and hip hop while Bol prefers pop music from the Dutch top 40.
"I think the fact we are so different is maybe why we have such a good relationship," explains Klaver, a 50.98 400m flat runner. "In some ways we don't have a lot in common, although we do share a similar sense of humour.
"Femke is so much more of a perfectionist than me. She has seven books where she writes down all of her plans, I'm more go with the flow, which is not always a good thing and I can learn from her structure."
On the flip side, Klaver is also a good foil for Bol.
"Lieke has helped me learn to relax a bit more," adds Bol. "At 10 o'clock I would think, right, I have to go to sleep right now but she was a bit more loose with that. I was more strict but not in a good way. She made me more relaxed to the point we really learned from each other."
Even in training the pair possess a complimentary skill set which can benefit each other. Klaver admits she would love to have Bol's endurance. Meanwhile, Bol would dine out on her good friend's speed, strength and tough mindset in training.
Friendly rivalry
While Klaver is chiefly a 200m and 400m flat exponent and Bol a 400m hurdles specialist, during the indoor season the pair stepped on one another's toes by meeting over the one-lap distance.
In Vienna in January, while not in direct combat, Klaver set a national indoor record of 51.48 in the 400m B race only for Bol to supersede it just 10 minutes later with a 50.96 clocking.
Then at the European Indoor Championships in Torun in March, Bol sped to 400m gold with Klaver back in fifth. So how do the pair manage their friendship when they are both out to beat one another on the track?
"We felt at the European Indoors that the natural thing to do was give ourselves a little space, so we didn't share a room at the meet hotel," explains Klaver.
"We often drink tea together in the evenings but we stopped doing that around the competition period.
"When people didn't see us together I got questions from people asking; did we have a fight? But we just needed a bit of space because we had a race to run. It was nothing bad for the friendship."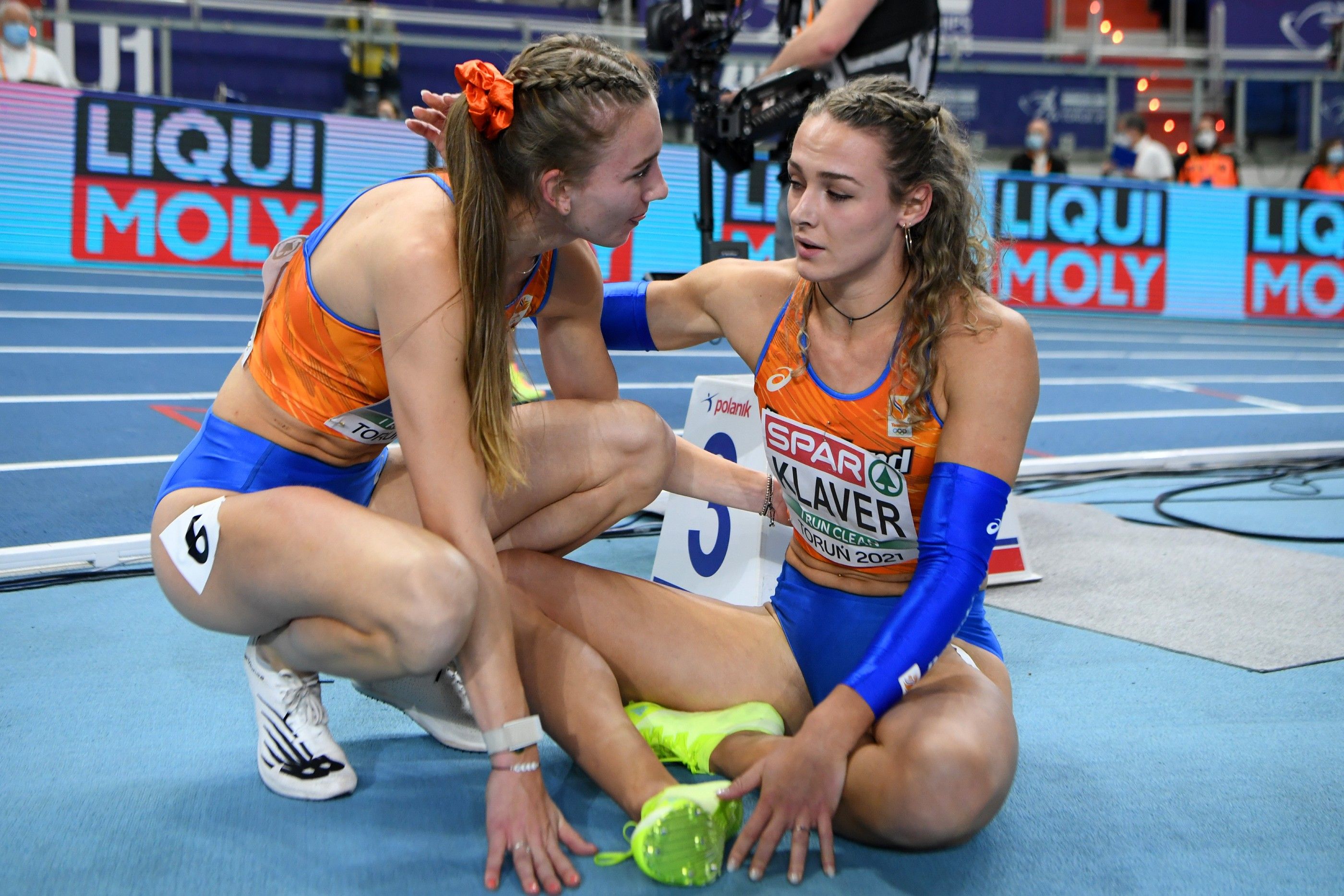 Winner Femke Bol and Lieke Klaver after the 400m final at the 2021 European Athletics Indoor Championships (© Getty Images)

Bol, a 21-year-old communications science student, adds: "Of course during a competition we would love it if we could both win but somebody has to be first and second. But as a competitor I switch my mindset to say "okay, I want to beat everyone, whoever it is."
Klaver too supports this viewpoint and sees the advantages in occasionally racing one another.
"We are at a similar level, so we know if we want to reach a higher level we need to push and help each other," she says. "If we are both chasing PBs, we are helping each other progress."
In Torun their friendship faced a severe test. Klaver admits she was far from happy to place fifth in the 400m final and needed time to herself to absorb the disappointment. It was only later that could she express her happiness for Bol.
Yet the following day the dynamic duo came together as one half of the Dutch 4x400m relay team that raced to gold in a national record of 3:27.15 – which helped to wash away any disappointment Klaver may have felt.
"The next day Lieke ran a crazy split in the 4x4 and showed she could do it - I was very happy for her," explains Bol. "The relay success makes it even more beautiful because we have been through so much together in training. To share that memorable moment together was very special."
The pair both believe their close bond has enabled them to improve as athletes. Klaver admitting the inspirational feats of Bol over the past year has generated an extra motivation in her and given her a new level of confidence.
"The friendship makes me relaxed. Friendship is a sign of trust and when I trust people I can be myself and when I can be myself I can run fast on the track," explains Klaver.
The next time that friendship will come together will be at the World Athletics Relays in Poland on 1-2 May.
Klaver and Bol could compete as part of a women's 4x400m team or mixed 4x400m team – providing the heartbeat of what is likely to prove a pair of impressive quartets.
"Of course, we want to put in some good races and show what we can do as a country together," adds Bol. "We will try to do our best and see where we are placed compared to the rest of the world."
Given their close friendship coupled with their rapidly developing form, the Bol-Klaver factor could prove a very potent weapon in Silesia.
Steve Landells for World Athletics