Perseus Karlstrom celebrates his win at the World Athletics Race Walking Team Championships Muscat 22 (© Getty Images)
It has become a familiar sight, something of a trademark for Swedish race walker Perseus Karlstrom.
Whenever he is heading to victory in a big race, he will put on a novelty Swedish Viking hat in the final few hundred metres as he approaches the finish line, ready to celebrate his triumph in his own unique way.
He did it at the 2019 European Team Championships in Alytus and at the 2021 edition in Podebrady. Inside the hat he has written the words 'Alytus ETC 2019' and 'Podebrady ETC 2021'.



And he has no doubt added another inscription to the inside of the hat after his performance at the World Athletics Race Walking Team Championships Muscat 22, where the hat was on display as he strode to victory in the 35km.
He was in disbelief at his performance in the Omani capital; so much so, just moments after the race he burst into fits of uncontrollable hysterics, unable to process what had happened.
"I shouldn't be able to win this," he said, still chuckling. "It's just too funny."
Despite being the world bronze medallist over 20km and holding one of the fastest 35km PBs heading into the championships, Karlstrom didn't feel overly confident ahead of the race.
"I just don't know what to say, I did not expect that," he said moments after the race. "I've been having a tough time coming out of last season with a hamstring injury and building back from that.
"I did a 35km race in Ireland in December but I got Covid afterwards and I was really sick for three weeks. I've been building really slowly since then, and the past few weeks (before Muscat) were really tough. I haven't been able to push the intensity. I've basically been having five or six training sessions each week that felt really hard, then just one good session.
"I'd been having really bad days all week (while in Muscat), but I was like, 'there are only two days left now, so maybe my one good day of the week will be on race day'."
Fortunately for the 31-year-old, that turned out to be the case. He bided his time in the large lead pack during the early stages and remained in contention as the group was whittled down. When he made his break in the latter stages, no one was able to go with him and he went on to win by 40 seconds in 2:36:14.


View this post on Instagram

"After 5km, I realised I was having a good day," he explained. "It's very seldom I have that kind of feeling so early on. It happened about 3km into the European Team Champs in 2019 and at the World Champs in Doha. It feels so easy and I just have to stay relaxed and wait for everyone to settle in. I felt it so early.
"What I wanted was a slow race at the beginning, which is better for me, and I knew if I felt ok at the end I could push. I'm also a really strong hill walker, so the course was to my advantage.
"I was planning to make a break with three laps to go, but the Chinese race walker (Lu Ning) went in front with four laps to go, so I went with him and decided to push from there. It broke up the pack instantly and I felt I could push on.
"It's probably the toughest course I've raced on to date, but I just felt so amazing in this race," he added. "It was so good."
Tokyo turnaround
Karlstrom had high hopes heading into the year of the Tokyo Olympics.
He had enjoyed a superb 2019 campaign, during which he earned world bronze in Doha, set a Swedish 20km record of 1:18:07, won 10 of his 13 races, and clocked world-leading times for 5000m and 10,000m on the track.
He maintained that form throughout 2020, winning 11 of his 12 races. Although no major championships took place, he defeated strong international fields in Adelaide, Alytus and Podebrady, and he ended the year in second place on the world rankings, behind only world champion Toshikazu Yamanishi of Japan.
But as the Olympics drew closer, Karlstrom's preparations started to unravel.
Restrictions brought on by the Covid pandemic meant he was unable to travel to Australia to train with his coach, Brent Vallance. They ended up parting ways, and Karlstrom was forced to go it alone – right before the biggest competition of his life at what could have been the peak of his career.
"Sapporo was a huge disappointment," he says. "It was just a really difficult time for me. I lost my coach in Australia, I lost my training squad. I was completely alone in my build-up for the Olympics. Basically my whole routine and the model that was so successful, it was just thrown away out of the window and I was forced to train alone for so long. I also suffered from vaccination side-effects just before the Olympics, so I just went into that race in a bad state mentally. During the race I just didn't have the hunger for it."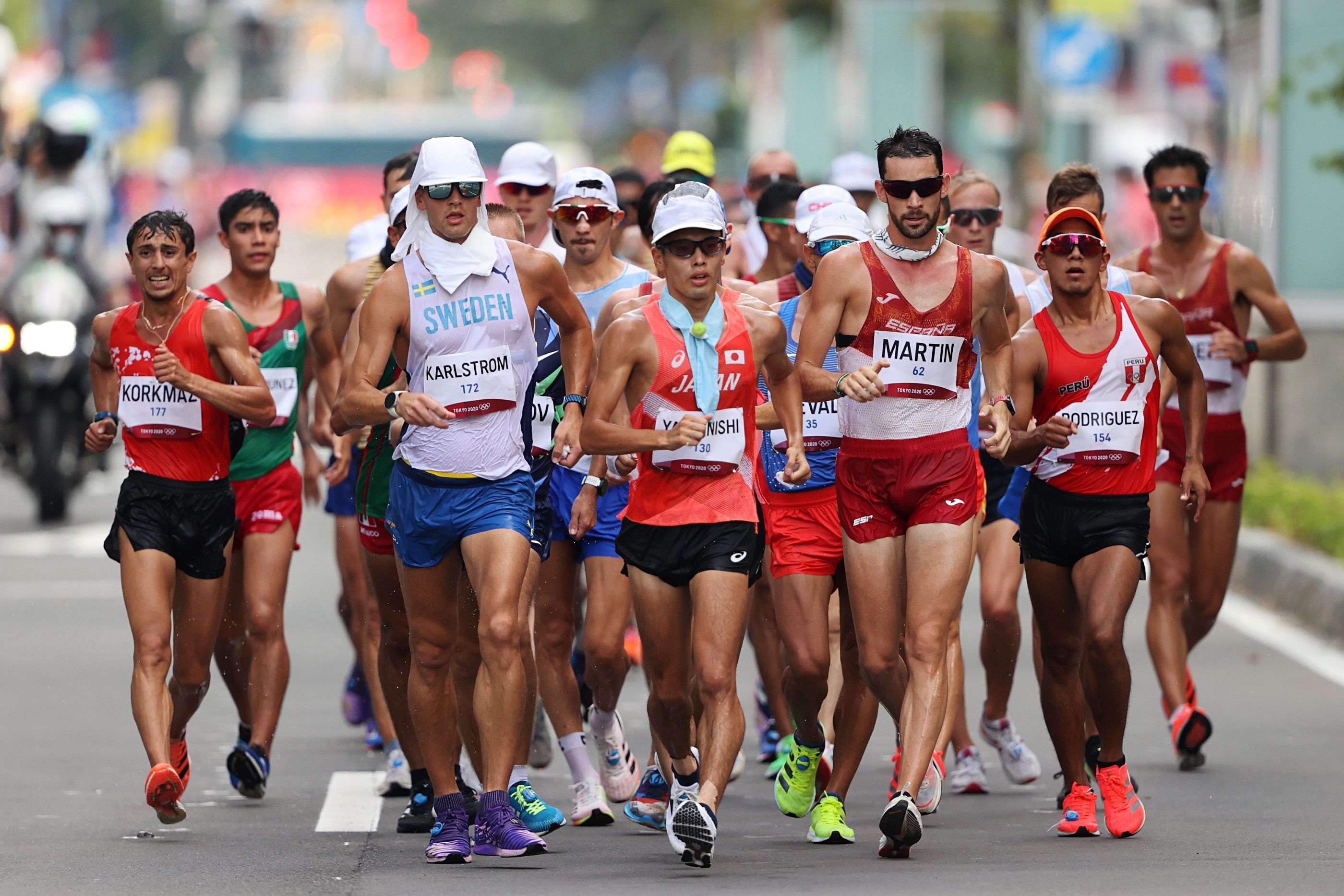 Looking out of sorts for most of the race, Karlstrom ultimately finished ninth in Sapporo. Not a bad result given the circumstances, and an improvement on his DNF from the 2016 Olympics. But he knew he was capable of so much more. And that's why his victory in Muscat meant so much.
"It absolutely makes up for the Olympics," he said after winning his first senior global honour.
Guided by a champion
In October last year, Karlstrom joined 2013 world 50km champion Rob Heffernan's training group in Ireland.
"He had an outstanding career as an athlete and he's got some big shoes to fill after my switch from Brent, but what drew my attention is the fine work he has done with his group of athletes in recent years," said Karlstrom.


View this post on Instagram

Illness and injury at the start of 2022 has meant that it hasn't been the smoothest of transitions for Karlstrom, but things are finally starting to click now.
"I'm not far into the programme because I was coming out of an injury at the beginning of the winter, so it's only these past two months I've been able to properly follow Rob's training programme," he explains. "It's very different to anything I'd previously done in my life. It's a completely new set-up; we don't go off a normal weekly schedule that most coaches would do. Instead we work in blocks of four or five days. I'm still adjusting to the new programme, but it's exciting."
Karlstrom says the turning point came in February at the Spanish Championships in Pamplona, where he was competing as a guest in the 20km. Despite his less-than-ideal preparation, and the fact he badly rolled his ankle mid race, he finished sixth in a competitive field in 1:22:48. Three weeks out from the World Race Walking Team Championships, it was a small but significant confidence booster.
Following his triumph in Muscat, Karlstrom raced at the Swedish Indoor Championships and led a family 1-2-3 finish in the 5000m race walk. Oldest brother Ato Ibanez, who briefly came out of retirement for the race, finished second and his other brother Remo placed third – adding to the family race walking dynasty which started back in the 1970s when Karlstrom's father Enrique Vera Ibanez and mother Siv Gustavsson were among the world's leading race walkers.


View this post on Instagram

In fact, before Karlstrom's Muscat victory, the last Swedish race walker to win at the World Race Walking Team Championships was his mother Siv, who achieved the last of her three victories in 1981.
"It's just incredible to keep the family legacy alive," said Karlstrom, who earlier this month clocked a season's best of 1:19:42 when finishing second over 20km in Podebrady.
And the family's sporting genes isn't just limited to race walkers. Karlstrom recently discovered that he is the third cousin of North American record-holder Keira D'Amato.
"She's on the other side of the world, clocking the best marathon times by a US woman, and I'm over in Sweden doing the same in the race walks," he said. "It's a very funny and cool coincidence."
Seeking further global glory
Now that Karlstrom has had a taste of success on the world stage, it has made him hungrier than ever.
The World Athletics Championships Oregon22 is, of course, his big target for the year. And after winning in Muscat off disrupted preparation, he knows he could be even stronger when it comes to the peak of the season.
As things stand, though, he is undecided about which discipline to focus on. He'll likely enter the 20km and 35km in Oregon, as the nine-day gap between races makes it easier for athletes to double up. But in terms of which event to gear his training around, it's still somewhat up in the air.
"It's too early to say but my ambition for Oregon is to do the 20km and the 35km," he says. "I only did my first ever 35km in Dublin in December, and it's a new distance so I want to take things step by step and gain more experience so I can perform at my best in Oregon.
"The 20km was always the focus for the World Champs, at least for my coach," adds Karlstrom. "But this (the 35km in Muscat) is what I had secretly been really looking forward to, so I guess we will evaluate things. It's not going to be a hilly course at the World Champs (like it was in Muscat), so we'll see."
One thing is certain, though – if Karlstrom's preparations from now continue to go well, there's every chance the spectators at the World Championships will catch a glimpse of the Swede's trademark Viking hat on the roads of Eugene in July.
Jon Mulkeen for World Athletics