High jump champion Yaroslava Mahuchikh at the World Athletics Indoor Championships Belgrade 22 (© Getty Images)
Sometimes in the sporting arena, you have to sit back, wipe a tear from the eye, and ask yourself if what you have just witnessed really happened.
Thus it was on the morning of day two at the World Athletics Indoor Championships Belgrade 22 as Yaroslava Mahuchikh emerged from the conflict raging in her homeland to take high jump gold.
The triumph of the 20-year-old Ukrainian would have been dramatic enough had it not been for the horrific backdrop. Her first-time clearance at 2.02m took her into the lead in the competition for the first time and, after Australian Eleanor Patterson was unable to respond at that height and then twice at 2.04m, on to her first senior global title.
Having awoken at home in Dnipro three weeks ago to the sound of explosions and gunfire, then fled to safety in the countryside and taken three days to get to Belgrade, Mahuchikh cleared a barrier far higher than 2.02m in metaphorical terms to earn the right to fly the yellow and blue flag of her country at the top of the global pile.
It was the golden kind of inspiration with which track and field can transcend all barriers.
Whatever else the still coltish Ukrainian proceeds to achieve in her career, Mahuchikh has etched an indelible impression on her sport.
Goodness only knows how the Olympic bronze medallist, 2019 world silver medallist and European indoor champion managed to summon the resolve to hold her nerve after a first-time failure left her playing catch up at 1.92m.
First Kazakhstan's Nadezhda Dubovitskaya, with a clear card through to 1.98m, and then Patterson, with an Oceania record-equalling second-time success at 2.00m, held pole position and looked set for gold.
But Mahuchikh nailed 2.00m at the third time of asking and, after her first-time success at 2.02m, came tantalisingly close to negotiating 2.04m with her second attempt.
Patterson, the 2013 world U18 champion, ended her first indoor season with silver while Dubovitskaya took bronze with her Asian indoor record 1.98m.



The session will take some topping in this evening's programme, though there is no shortage of sporting drama to anticipate.
The men's 60m is heading towards a fascinating head-to-head as it progresses to the semi-finals and final. A head-to-head-to-head, quite possibly.
Though the spotlight has been trained on Italy's Olympic 100m champion Marcell Jacobs and defending champion Christian Coleman of the US leading into the championships, Marvin Bracy has been a somewhat overlooked third man.
That is no longer the case. While Jacobs and Coleman both kept plenty in reserve, Bracy took the eye in the morning opening round, looking a class apart as he powered to victory in heat four in 6.46, a personal best for the 28-year-old from Orlando, Florida.
Runner up to Coleman at the US Indoor Championships, Bracy also has a silver medal from the 2014 World Indoor Championships.
Qatari Femi Ogunode, who took bronze in that final on the Polish coast, finished runner-up in 6.52, with Karl Erik Nazarov clocking an Estonian record of 6.55 in third.
Jacobs – having false started for the first time in his career on his recent visit to Belgrade, and with painful memories of failing to reach the 2017 European indoor long jump final in the Stark Arena – took no risks in his heat. He was happy to sit safely in his blocks before easing to victory in 6.53.
"I hope to go better in the semi and faster than ever in the final," he said. "Trying to take gold is not easy because the Americans are so fast. It is not my distance but I will try."
Coleman breezed to victory in the opening heat in 6.51, 0.10 clear of Serbia-born German Aleksandar Askovic.
Ivorian Arthur Cisse took heat three in 6.55, ahead of Japan's Shuhei Tada (6.57) with third placed Lalu Muhamad Zohri of Indonesia (6.58) and fourth placed Botswanan Stephen Abosi (6.62) both setting national records.
Having missed the cut for the final by a tantalising 0.001 in Birmingham four years ago, Cisse goes into the semis with no shortage of motivation.



As for Damian Warner, the world's preeminent all-round male athlete, a golden finish beckons in the decathlon – despite dropping to second place with just this evening's 1000m to go.
Leading the heptathlon field by just two points overnight, the Olympic decathlon champion from Canada stretched the gap to 38 points after a quick but far from clean 60m hurdles win.
Warner clipped the last three flights, stumbling off the final one, but still crossed the line a clear first in 7.61 – not just a lifetime best but 0.03 inside the championship heptathlon best owned by one Ashton Eaton.
Overnight second placer Simon Ehammer, the 2019 European U20 decathlon champion from Switzerland, finished second in 7.75 and Australia's Olympic decathlon bronze medallist Ashley Moloney third in 7.88. Moloney strengthened his hold on third place overall – not just with his performance but with the withdrawal of USA's Garrett Scantling, a victim of food poisoning.
A lifetime best clearance of 5.10m in the pole vault elevated Ehammer to first place but Warner, who equalled his PB of 4.90m, is just 23 points down and is substantially quicker over 1000m (2:37.12 to 2:51.14).
Moloney, having nailed a 5.10m PB, holds third with 5504 – closely pursued by Estonian Hans-Christian Hausenberg, whose 5.30m PB vault elevated him to fourth.
The morning after her big sister's big win in the 60m final, Ditaji Kambundji attacked from the start in the opening 60m hurdles heat and the 19-year-old from Switzerland was rewarded with a passage through to this evening's semi-finals in 7.97 as runner-up to Cyrena Samba-Mayela (7.91).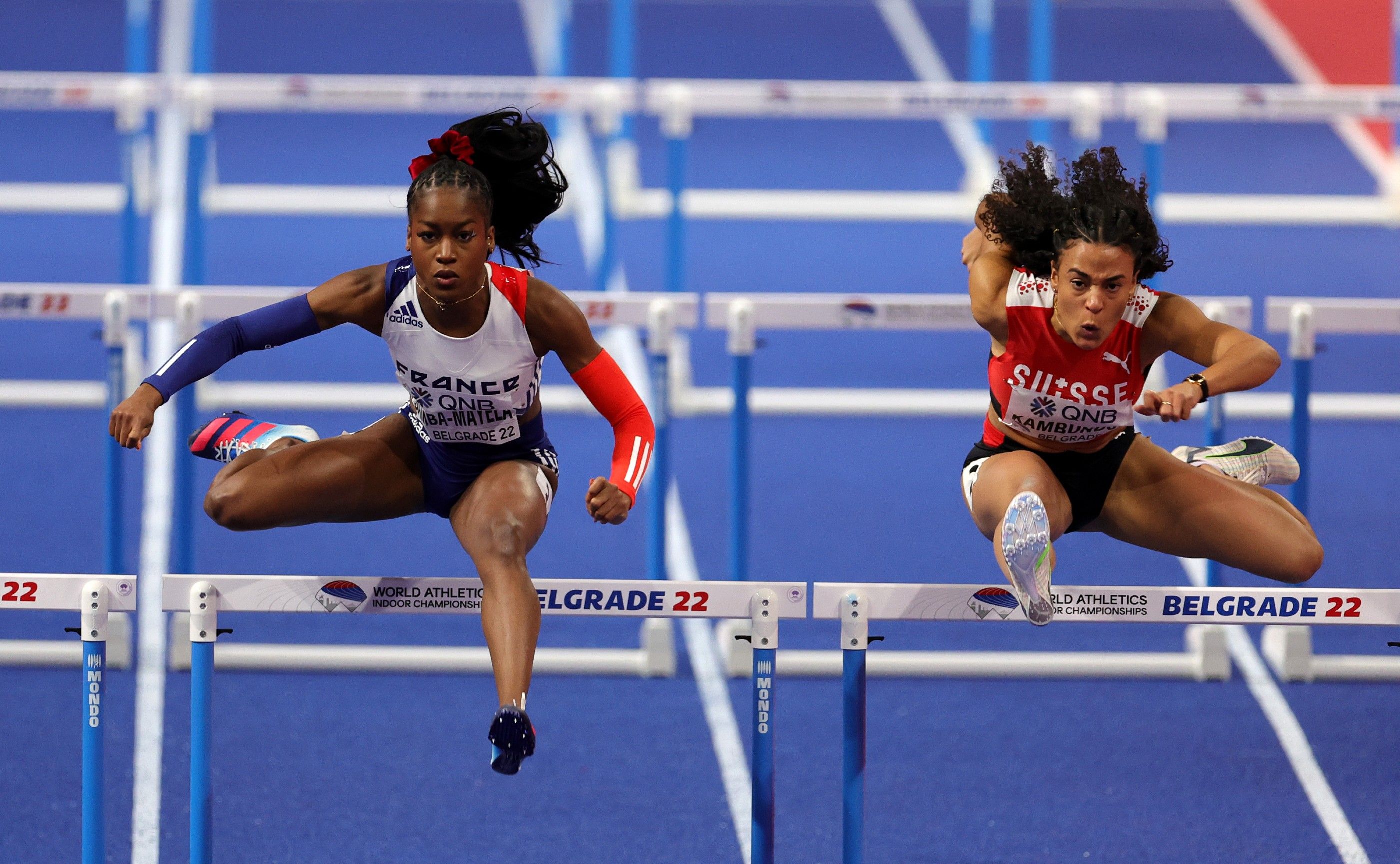 Heat two produced one of the big shocks of the championships so far as clear favourite Danielle Williams cruelly bowed out after stepping on top of flight three with her lead leg and losing all rhythm and momentum.
The 2015 world 100m hurdles champion from Jamaica smashed the next flight in two with her knee and struggled home seventh in 8.23 – 0.48 down on her 2022 world lead. Denmark's Mette Graversgard crossed the line the surprise winner in 8.08.
Just four other women dipped under eight seconds. US champion Gabby Cunningham led the way in heat three in 7.93, followed by Zoe Sedney of the Netherlands in 7.98 and Australia's Liz Clay in 7.99.
Kambundji's Swiss teammate Noemi Zbaren took the final heat in a lifetime best 7.95, ahead of Olympic eighth-place finisher Brittany Anderson of Jamaica (8.10).
There was a huge shock before the women's 800m heats got underway, Britain's 2world leader and Olympic silver medallist Keely Hodgkinson withdrawing because of a slight tear to her right quadriceps.
"It's all about looking at the bigger picture," she said, with a nod to July's World Athletics Championships Oregon22. "There's a weakness there that I need to fix."
In Hodgkinson's absence from heat two, two-time runner-up Ajee Wilson of the US hit the front at the bell before easing to victory in 2:03.42. Spain's Lorena Martin produced a storming finish to snatch the second automatic qualifying spot in Sunday's final in 2.03.85 – Ethiopia's Tigist Girma missing out by 0.002, and ultimately failing to nail a non-automatic qualifying berth.
Jamaica's Natoya Goule took the opening heat in 2:01.65 from Ethiopia's Freweyni Hailu (2:01.70), whose compatriot Habitam Alemu won the final heat in 2:01.12, with Australia's Catriona Bisset qualifying second in 2:01.24.
New world indoor 1500m record-holder and Olympic champion Jakob Ingebrigtsen never needed to shift out of third gear in the opening heat of the men's 1500m.
The 20-year-old Norwegian eased to the front with 500m to go and shut down in the home straight, allowing Ethiopia's Taddesse Lemi take first place in 3:38.25 as he eased into Sunday's final as runner up in 3:38.42.
Fastest overall was defending champion Samuel Tefera, the Ethiopian winning heat three in 3:37.05.
Simon Turnbull for World Athletics