Karoline Bjerkeli Grovdal on her way to winning the European Cross Country Championships (© Getty Images)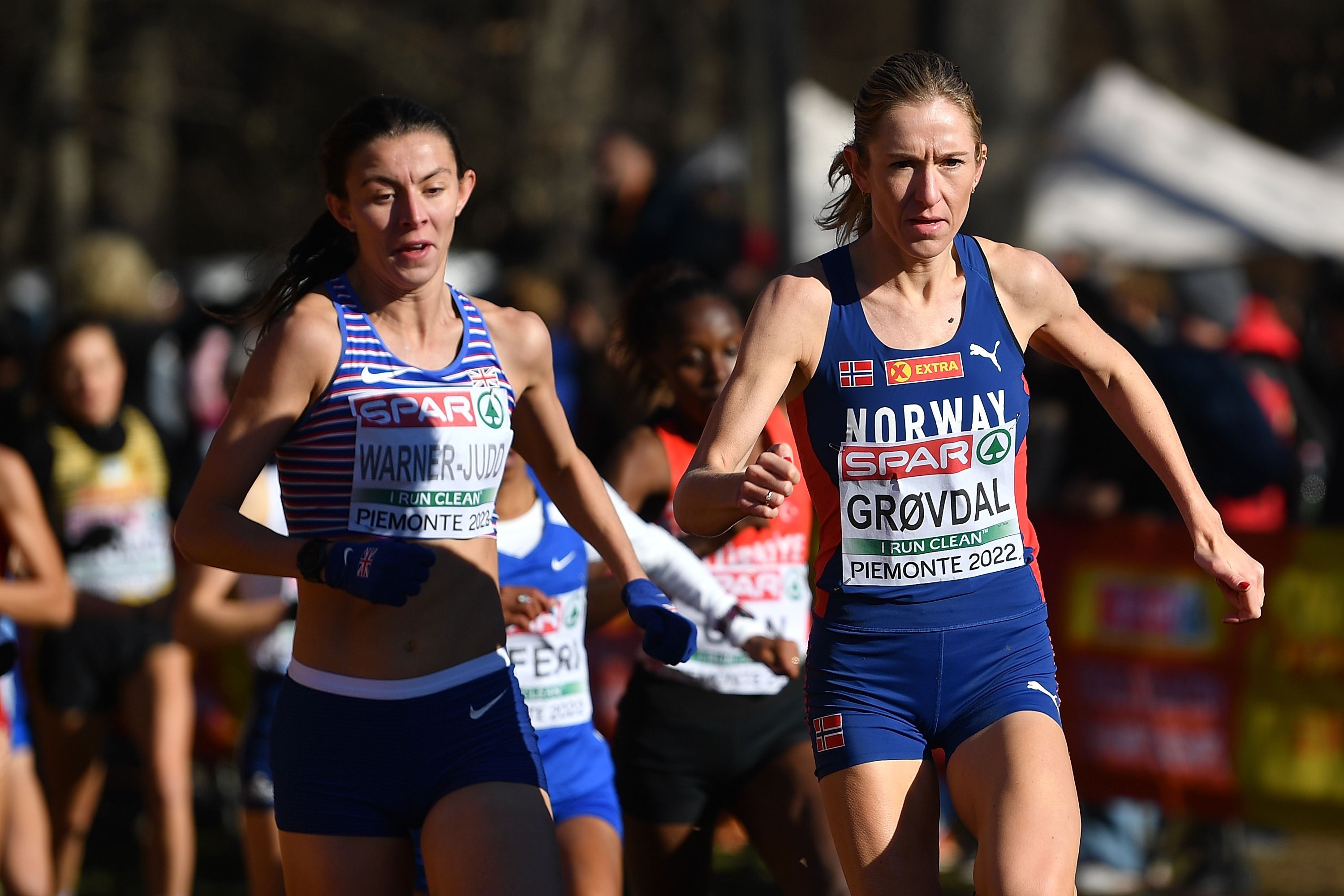 Karoline Bjerkeli Grovdal on her way to winning the European Cross Country Championships (© Getty Images)
The countdown to the World Athletics Cross Country Championships Bathurst 2023 is well and truly on and competition is heating up across the globe as distance runners vie for team selection.
Kenyan Cross Country Championships
A new crop of cross-country runners dominated the Kenyan Cross Country Championships, with all titles won by athletes aged 20 and below.
Held at Kenya prison's Training College in Ruiru, Kiambu last weekend, the event also served as Kenya's trials for the Bathurst, which will take place on February 18, 2023.
In the Women's Open 10km race, it was 19-year-old Grace Loibach who emerged as the winner, while Men's title was the only race not won by a teenager, when Sebastian Kimaru Sawe crossed the line first.
Both senior 2km races, held mainly to select the team for the relay event in Bathurst, were won by 18-year-olds Brenda Chebet and Emmanuel Wanyonyi. In the U2- races, Ismail Kirui won the men's event and Faith Cherotich topped the women's field.
Kenya has won the past seven editions in the senior women's category, will Grace Loibach continue the momentum for her country?
European Cross Country Championships
Norway continued their domination of European cross country as world number one in the 1500m, Jacob Ingebrigtsen and Karoline Grovdal retained their senior titles outside of the Italian city of Turin over the weekend.
It was a tight race in the Senior Men's competition over 9.6km, as Ingebrigtsen surged forward away from Britain's Emile Cairess on the last lap to win by 29:33 as he won his sixth consecutive European Cross title. Belgium's former U23 winner Isaac Kimelli took bronze in 29:45, two seconds ahead of European 10,000m champion Yeman Crippa from the host nation.
Over 7.7km, Grovdal went head-to-head with Germany's Kontanza Klosterhalfen, and it was only in the final downhill in the last 200m that the Norwegian clocked 26:25. Klosterhalfen clocked 26:29, ahead of Alina Reh.
Will Barnicoat from Great Britain took out the Under 20 title over 5.7km in 17:40, but only after Ireland's Nicholas Griggs began to stumble on the frozen surface in the final 30 metres. Ireland won two medals in the meet, with Dean Casey crossing the line third in 17:46. Spain's Maria Forero claimed gold by three seconds over Norway's Ingebord Ostgard in 13:04. Ilona Mononen was third with 13:08.
In the mixed relay, it was Italy that won the title as Pietro Arese, Federica Del Buono, Yassin Bouih, and Gaia Sabbatini clocked a combine time of 17:23. Italy beat Spain by one second, and Team France came in third place seven seconds later.
Ugandan Cross Country Championships
Stella Chesang put a fitting end to her comeback year while teenager Martin Kiprotich Magengo announced his arrival with victory at the Ugandan Cross Country Championships in Tororo on Saturday (10).
Chesang, the 2018 Commonwealth 10,000m champion, cut a confident figure as she beat a field of about 40 competitors to the tape in the senior women's 10km race at Tororo Golf Course, located some 210km away from the capital Kampala.
Returning to compete at this championship for the first time in three years, Chesang's form came to the fore as she held off her challenger Prisca Chesang Chemweno to win in 33:57.
After beating Chemweno (34:06) and Annet Chelangat (34:13), Chesang will lead Uganda's senior women's team at the World Athletics Cross Country Championships Bathurst 23 on 18 February.
Like Chesang, teenager Kiprotich is looking to shine in Bathurst after upstaging seasoned competitors to win the senior men's 10km.
Uganda's top stars Joshua Cheptegei and Jacob Kiplimo, who took gold and silver respectively in Aarhus three years ago, were not present in Tororo. Two-time world 10,000m champion Cheptegei is recovering from a knee problem he picked up at the World Championships in Oregon, while Kiplimo was a late withdrawal.
The U20 men's race ended up being 10km long and not 8km after some confusion from the technical officials. They appeared somewhat divided when the lead trio of Kenneth Kiprop, Dan Kibet and Feb Chelogoi passed through 6km. Because of their swift pace, some officials weren't convinced that they had already completed three laps, so the entire field was directed to go back for an extra lap. Kiprop somehow maintained that pace and won his debut cross country race in 29:29, faster than the winning time in the senior men's race, which was held over the same distance.
Silas Rotich finished second in 30:27 and Kibet survived the burn-out to clock 30:39 for third place. Some runners didn't survive the extra 2km though after charging too hard in response to the bell.
In the U20 women's race, the day belonged to Isella Chebet of the Joshua Cheptegei Development Foundation (Jocdef) club who beat Peace Hope Chemutai in a photo-finish.
By WXC Bathurst 2023 LOC & Ugandan report by World Athletics