Javelin thrower Christin Hussong (© AFP / Getty Images)
Christin Hussong and Marvin Bracy were among the winners as the World Athletics Continental Tour moved on to the Palio Citta della Quercia in Rovereto, Italy, on Tuesday (31).
The USA's Bracy won the men's 100m in 9.98, as he became the first sprinter in the 57-year history of the meeting to break 10 seconds for the discipline.
The former American football player made a breakthrough in 2014 when he won world indoor 60m silver in Sopot. Earlier this year Bracy improved his 100m PB to 9.85 in Memphis and won a non-Diamond League 100m race in Paris last weekend in 10.04.
Olympic 4x100m bronze medallist Jerome Blake took the runner-up spot with 10.15, edging Julian Forte from Jamaica (10.16).
"I am very happy with this performance. I expected this time," said Bracy, who improved the meeting record held by Femi Ogunode since 2015. "I am proud that I am the first sprinter in the history of this meeting to break the 10 seconds barrier."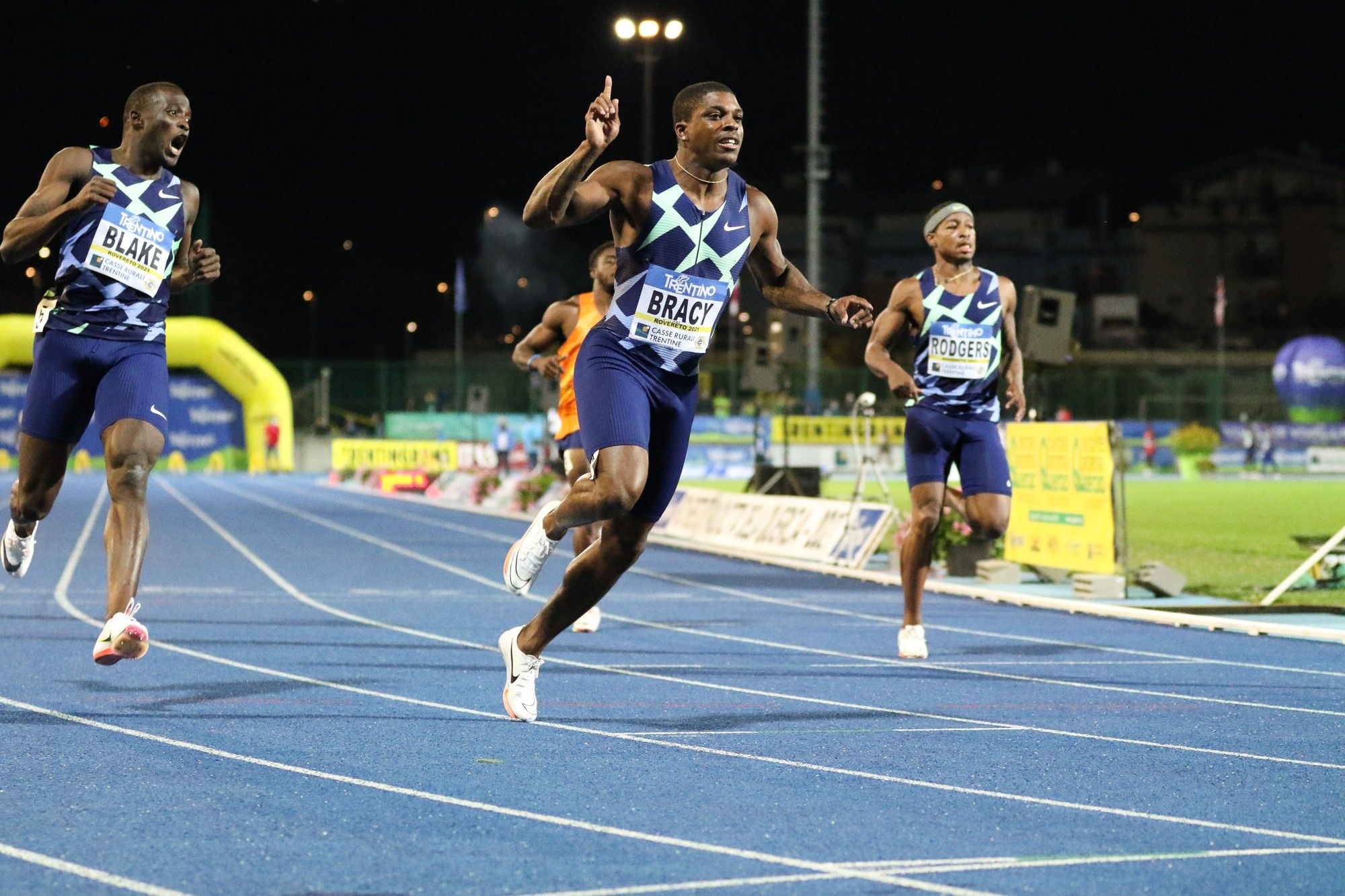 (© Valeria Biasioni)

The Palio Citta della Quercia, a Continental Tour Silver meeting, staged a Wanda Diamond League competition in the women's javelin throw, with athletes earning qualifying points for next week's Diamond League final in Zurich.
Reigning European champion Hussong from Germany produced the best throw of the evening with 66.08m in the fifth round before winning the 'final three' with a throw of 58.14m. Lina Muze and Nikola Ogrodnikova qualified for the final three with 63.42m and 60.87m. Muze took the runner-up spot in the decisive round with 57.44m ahead of Ogrodnikova (55.27m).
Olympic finalist Michael Cherry clocked an impressive 44.55 in in the men's 400m, smashing the meeting record of 44.86 held by Kenya's Samson Kitur since 1992.
Shelby McEwen won the eagerly-awaited men's high jump competition with 2.28m, beating Olympic champion Gianmarco Tamberi, who had to settle for second with 2.25m. McEwen had a clean sheet at 2.10m, 2.15m, 2.19m, 2.25m and 2.28m before failing three attempts at 2.32m. Tamberi, meanwhile, cleared 2.15m, 2.19m and 2.22m on his first attempts before clearing 2.25m at the second time of asking. The Italian star failed three attempts at 2.30m.
"My attempt at 2.30m was very close. I was too tired after winning the Olympic title in Tokyo, but I really want to honour the post-Olympic meetings to thank my fans and all those who supported me during these years. The Olympic gold medal has changed some aspects of my life, but I am always the same person," said Tamberi.
Italian shot putter Zane Weir won the men's event with 21.32m in the sixth round, producing the second best performance of his career.
Weir took the lead with 21.17m in the third round, but former world U20 champion Jacko Gill from New Zealand overtook him with 21.20m in the final round. Weir responded with 21.32m a few minutes later to take the win after a thrilling competition. Josh Awotunde from the USA took third place with 20.59m ahead of Italian indoor record-holder Leonardo Fabbri (20.09m). Weir produced his sixth competition of the year over the 21-metre barrier.
Weir grew up in South Africa and studied at the University of Cape Town, but having listened to his Italian grandfather Mario's sporting tales he made the decision to represent Italy. Weir trains with Fabbri under the guidance of former Italian shot putter Paolo Dal Soglio and completed his finance and accounting degree. He finished fifth in the Olympic final in Tokyo with 21.41m and continued his great season with a solid 21.20 in Lausanne last week.
Thea LaFond from Dominica produced the best two jumps of the evening, bounding out to 14.33m and 14.31m in the first two rounds to win the women's triple jump. LaFond improved her PB to 14.60m in the qualifying round in Tokyo to reach the Olympic final. Hanna Minenko from Israel took second spot with 14.25m, beating Olympic fifth-placer Liadagmis Povea (14.01m).
Svetlana Aplachkina came through in the final straight to win the women's 3000m, improving the meeting record with 8:39.95. The authorised neutral athlete held off Germany's Elena Burkard (8:40.46) and Kenya's Mercy Cherono (8:40.76).
Elzan Bibic from Serbia pulled away in the closing stages to take a surprising win in the men's 3000m, setting a meeting record with 7:39.45 ahead of Abdelaati Iguider from Morocco (7:41.75), George Beamish from New Zealand (7.42.39) and Italian record-holder Yeman Crippa (7:42.81).
Olympic bronze medallist Ronald Levy from Jamaica won the men's 110m hurdles in 13.37 ahead of USA's Michael Dickson (13.50) and Valdo Szucs from Hungary (13.65).
Klaudia Siciarz from Poland took a close win in the women's 100m hurdles in 12.95 into a slight headwind of -0.2 m/s, edging 2021 European indoor silver medallist Cindy Sember by 0.01. US hurdler and heptathlete Taliyah Brooks took third place in 13.01.
Authorised neutral athlete Polina Miller claimed the win in the women's 400m in 51.21 ahead of Junelle Bromfield (51.49) and this year's US Trials fifth-placer Kaylin Whitney (51.78).
Catalin Tecuceanu, a Romanian middle-distance runner who has been based in Northern Italy since he was a child, took a surprising win in the men's 800m in a 1:45.19, beating British indoor record-holder Elliot Giles (1:45.58) and Jake Wightman (1:46.00).
Mary Moraa from Kenya won the women's 800m in 2:00.40, holding off Deborah Rodriguez (2:00.50) and Chanelle Price (2:00.89).
Diego Sampaolo for World Athletics