The world's leading 400m hurdlers (© AFP / Getty Images)
It was 24 hours that shook up the athletics world. Two races, taking a cumulative 97 seconds, that will forever be etched into the sport's memory.
For decades to come, they'll talk of this week's Olympic 400m hurdles finals as events that changed everything we thought we knew about the limits of human performance. First there was the men's race and that magnificent, mind-altering moment when Karsten Warholm crossed the finish line and the digits on the clock, somehow, read 45.95.
His time was 0.76 seconds faster than anyone had ever run, and 0.84 faster than anyone not named Warholm. Not so much one small step for man as one giant leap towards a new era in the event they call the man-killer.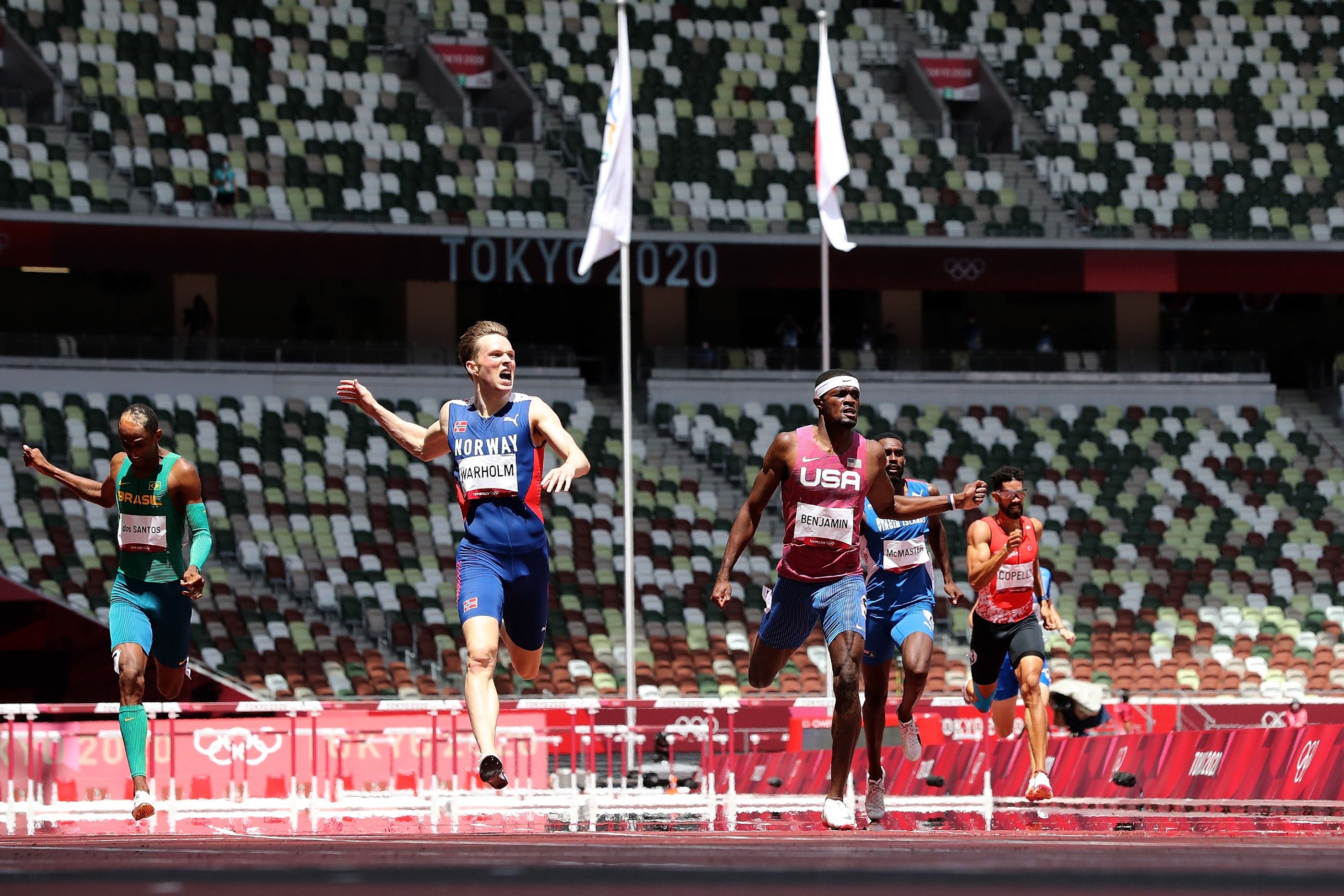 The adrenaline had barely stopped flowing for athletics fans when, the very next morning, along came a trio of generational talents for the women's 400m hurdles final. Sydney McLaughlin led them home in 51.46, 0.44 quicker than the world record, and 0.70 quicker than anyone not named McLaughlin had ever run.
A couple of hours later, the US 21-year-old sat in front of a room of journalists and tried to explain what it meant to have helped her event progress with such a quantum leap.
"It's not one of the hot events people would usually watch," she said. "But it's definitely been made something interesting. Every time we step on the track, there's some record being broken and it's exciting to be a part of that and push the boundaries."
Muhammad, a decade older than McLaughlin at 31, knew exactly what she was talking about.
"It hasn't always been that way," she said. "I've been part of it on the journey from the event no one watched to the event everybody wants to watch and being the main event. I'm proud to be part of that."



A day before, Rai Benjamin had neatly captured the mood after producing what was likely the best performance in athletics history that was not rewarded with victory, clocking 46.17.
"It's insane," he said. "All of us came out and tore it to pieces. Now we're in a different stratosphere."
Warholm was asked shortly after his race whether he'd just been part of the greatest race in history.
"Your words, not mine," he said. "But I think it's up there. I hope it will be."
Listening to the four over the past couple of days, along with bronze medallists Alison dos Santos (who set a South American record of 46.72) and Femke Bol (who set a European record of 52.03), it was clear we are living through the definitive golden era of the 400m hurdles.
This captivating crop of talent has pushed the boundaries into a previously unthinkable place, and while there's no doubt improved track and spike technology could have played a part, the way in which these athletes have demarcated their discipline from other events at the Games – events where such breakthroughs have not occurred – means the chief explanation is very straightforward: this is a generation of genuine all-time greats.
Since Muhammad and McLaughlin began their assaults on Yuliya Pechonkina's world record of 52.34, set in 2003, they have taken a total of 0.88 off the mark, reducing it by 1.29%.
With his pair of world records this summer, Warholm has hacked 0.88 from the record held by Kevin Young since 1992, a reduction of 1.79%.
This happens on occasion in athletics – clusters of champions popping up together, driving standards higher – though usually such breakthroughs occur due to one outlying individual. Here are some of the most memorable athletes to blaze a groundbreaking trail in their respective events.


Bob Beamon, 1968 Mexico City Olympics
The word Beamonesque was thrown around quite a bit on Tuesday – a description usually reserved for a breakthrough so colossal that the initial assumption is it must be some kind of mistake.
The US jumper was 22 when he ventured into thin air in Mexico City to chase Olympic glory in the long jump, for which he was the favourite after winning 22 of the 23 events he contested that year. The world record at the time was 8.35m, held jointly by Igor Ter-Ovanesyan of the Soviet Union and Ralph Boston of USA. In the 33 years prior to 1968, since Jessie Owens set the world record at 8.13m, it had been improved seven times, but all those added up to just 23cm.
And then along came Beamon.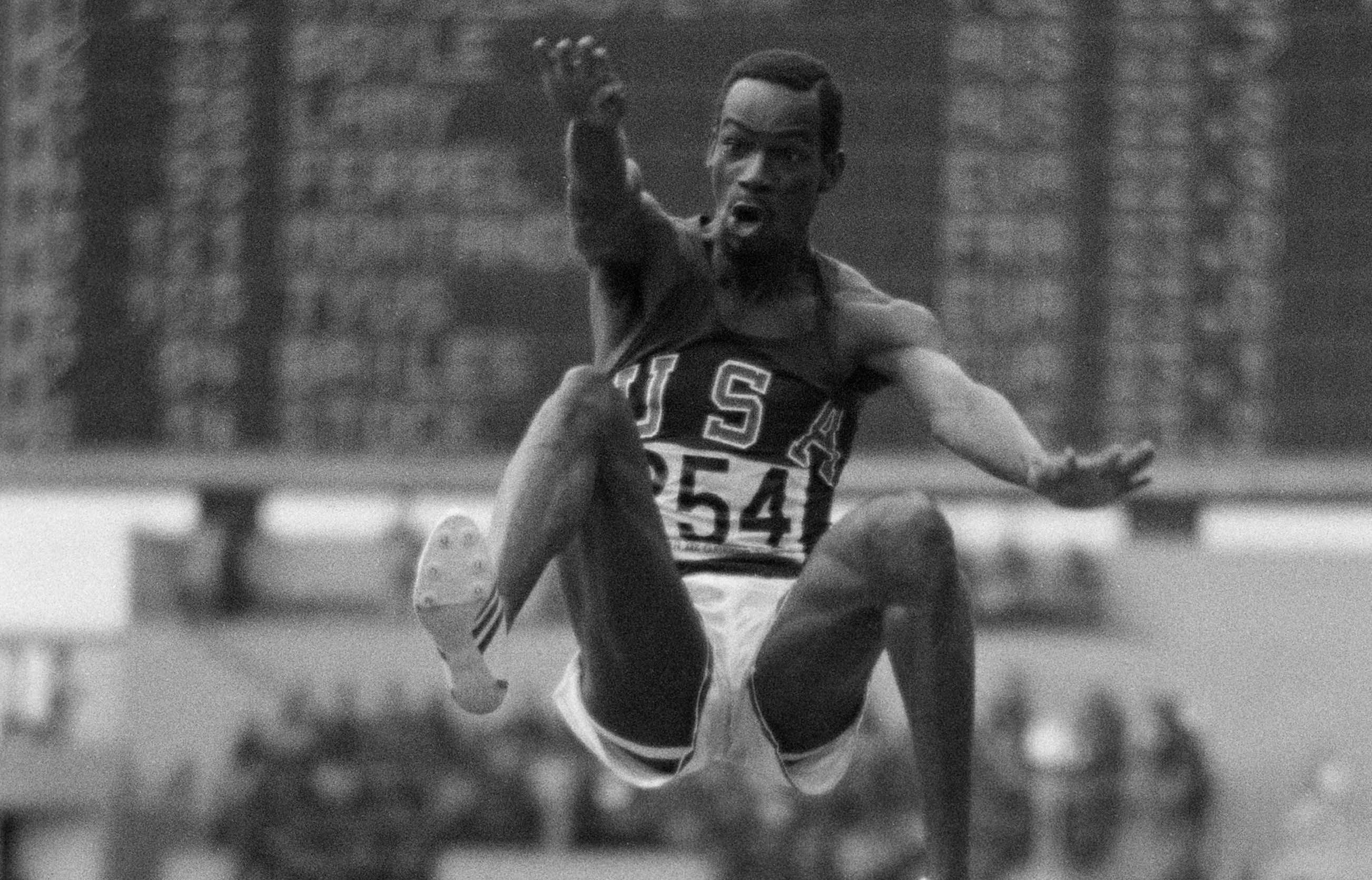 Tony Duffy's iconic photograph of Bob Beamon's world record leap in Mexico City (© Getty Images)

With a perfect 2.0m/s wind he soared into the Mexico City sky, coming down close to the edge of the pit. His world record of 8.90m added 65cm to the previous mark, an astonishing 7.78% improvement. The mark stood for 23 years before Mike Powell bettered it during the unforgettable 1991 long jump final, where he edged Carl Lewis to gold with 8.95m.


Paula Radcliffe, 2003 London Marathon
Before the British great took her talents to the marathon in 2002, the women's world record stood to Kenya's Catherine Ndereba at 2:18:47, and it had been improved four times in the four years prior to her lining up at the Chicago Marathon in 2002. She made her debut six months earlier in London, missing the world record by just 11 seconds, but in Chicago she carved 89 seconds off Ndereba's mark, running 2:17:18, before taking another 113 seconds off that mark six months later in London, clocking 2:15:25.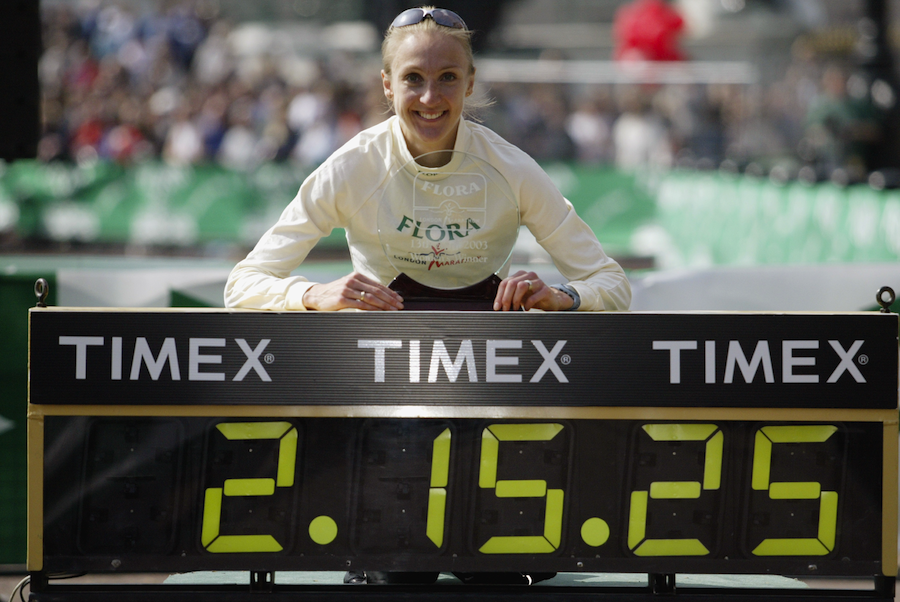 Paula Radcliffe in London with her world record figures (© Getty Images)


Over the course of her second and third marathons, Radcliffe had taken a whopping 3:22 off Ndereba's mark, a reduction of 2.42%. Her mark stood unchallenged for 16 years before Brigid Kosgei took another 81 seconds off it in Chicago in 2019, a record that still stands.


Usain Bolt, 2008 Beijing Olympics, 2009 Berlin World Championships
Two races, exactly one year apart, accounted for a 0.14 improvement in the men's 100m world record, which has remained static ever since that magnificent 2009 World Championships in Berlin. Before 2008 most people thought of Usain Bolt as a 200m runner – including his coach – but Bolt long reckoned he had the gears to become the fastest man in the world and urged Glen Mills to let him try it.
In 2008 he proved himself capable, taking 0.02 off Asafa Powell's world record when clocking 9.72 in New York and he then shook up the sprinting world even more with one of the all-time Olympic moments in Beijing, clocking 9.69 despite beating his chest in celebration before the finish line.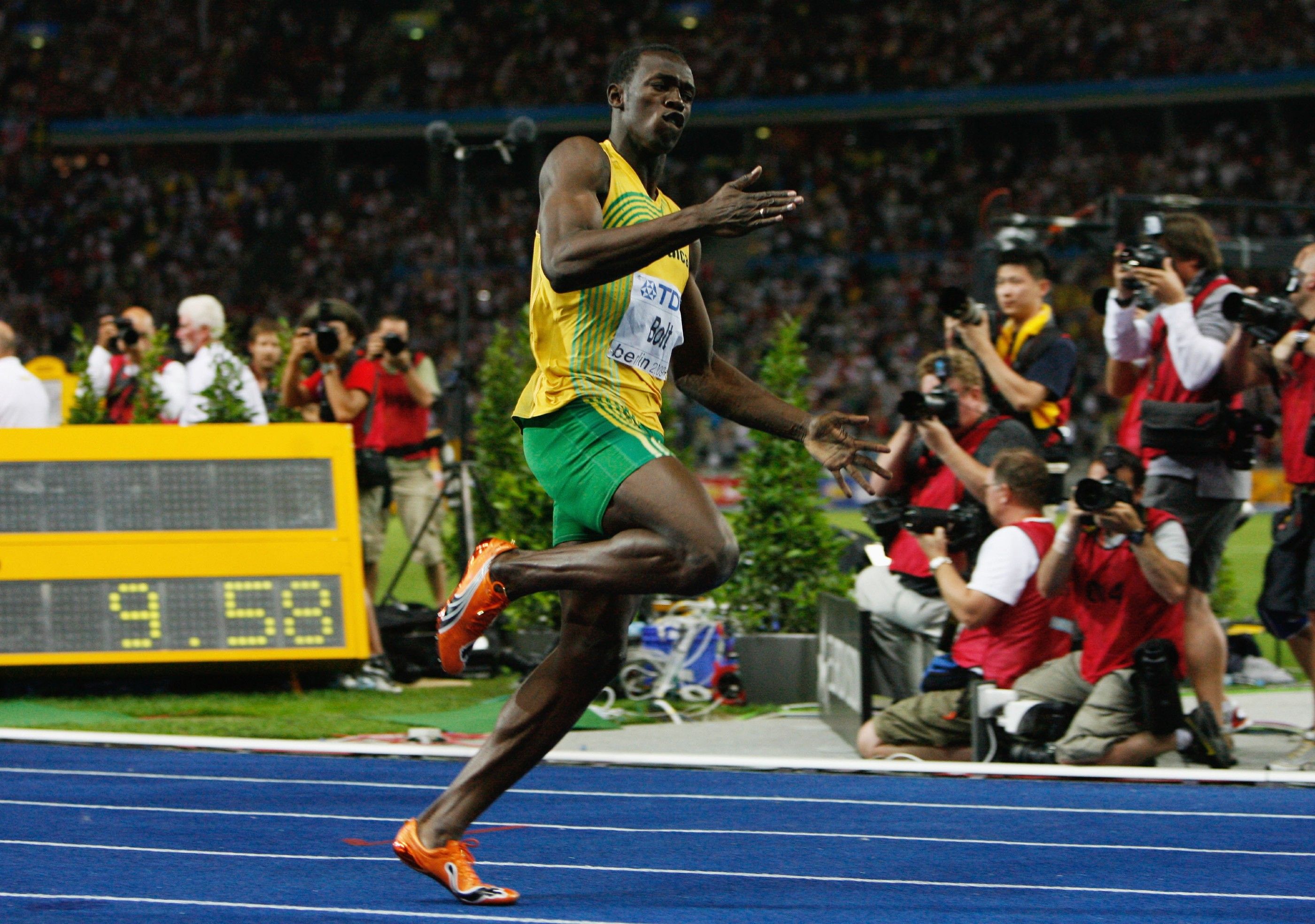 Usain Bolt breaks the world 100m record with 9.58 in Berlin (© Getty Images)


Twelve months later, again on 16 August, Bolt ran all the way to the line during the world 100m final in Berlin, clocking 9.58. No one has got within a tenth of a second of that time since. Bolt's three record runs accounted for a 1.64% improvement on Powell's mark. The two 200m world records he set in Beijing and Berlin accounted for a 0.67% reduction in Michael Johnson's long-standing world record of 19.32.


Anita Wlodarczyk, 2009-2016

One of the all-time greats of the sport, Wlodarczyk stepped into sporting history this week by winning her third consecutive hammer throw title in Tokyo, her 78.48m effort in Tuesday's final cementing her place in the pantheon of greats.
In addition to her four European titles and four world championship wins, the 35-year-old has rewritten the world record six times across a seven-year stretch. She set her first one at the 2009 World Championships in Beijing, her 77.96m throw adding 16cm to Tatyana Lysenko's mark. She added another 34cm the following year before surrendering the record to Germany's Betty Heidler, but Wlodarczyk reclaimed it in 2014 when throwing 79.58m.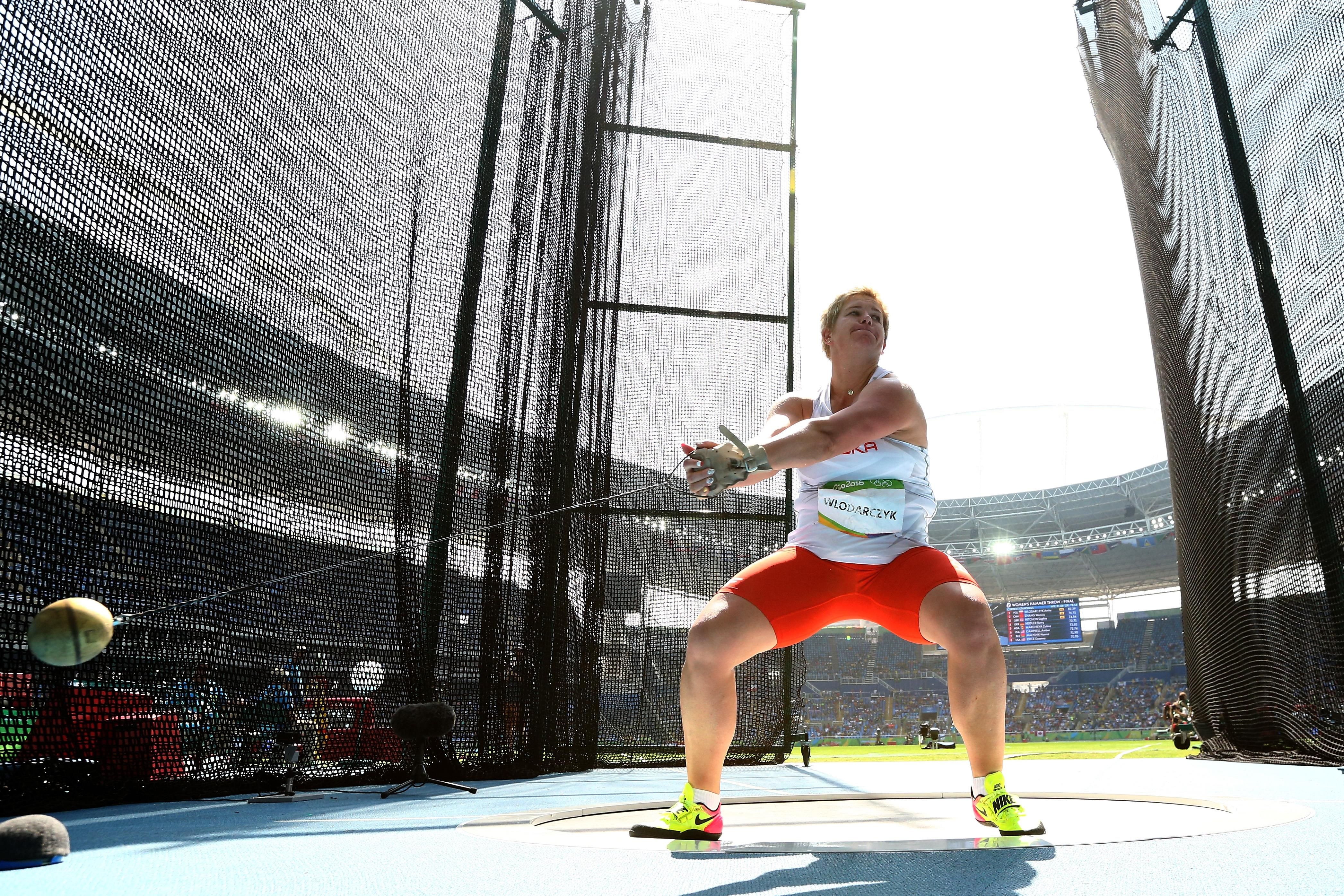 Anita Wlodarczyk at the Rio 2016 Olympic Games (© Getty Images)


In 2015 she extended it again to 81.08m, before twice breaking her own mark in 2016, with 82.29m at the Rio Olympics and then 82.92m in Chorzow, Poland, at the event named after her late friend Kamila Skolimowska. In total Wlodarczyk was responsible for improving the record by 4.18m, or a whopping 5.37%.


Jan Zelezny, 1993-1996

The history of the javelin world record is long and complicated, and we know nobody's got time for that midway through this Olympic programme, so here's a very brief synopsis: As the world record sailed past the 100-metre barrier in the mid-1980s new specifications were introduced to make things a little safer at your average athletics stadium, forcing the world record books to start afresh. The new mark went from 85.74m to 96.96m in the five years that followed.
Then the rules changed again, with javelins with serrated tails outlawed in 1991. By 1992 Steve Backley of Britain had the world record (on the specifications we use today) at 91.46m, but then along came Jan Zelezny, the Czech great who between 1993 and 1996 sent the world record out into the stratosphere.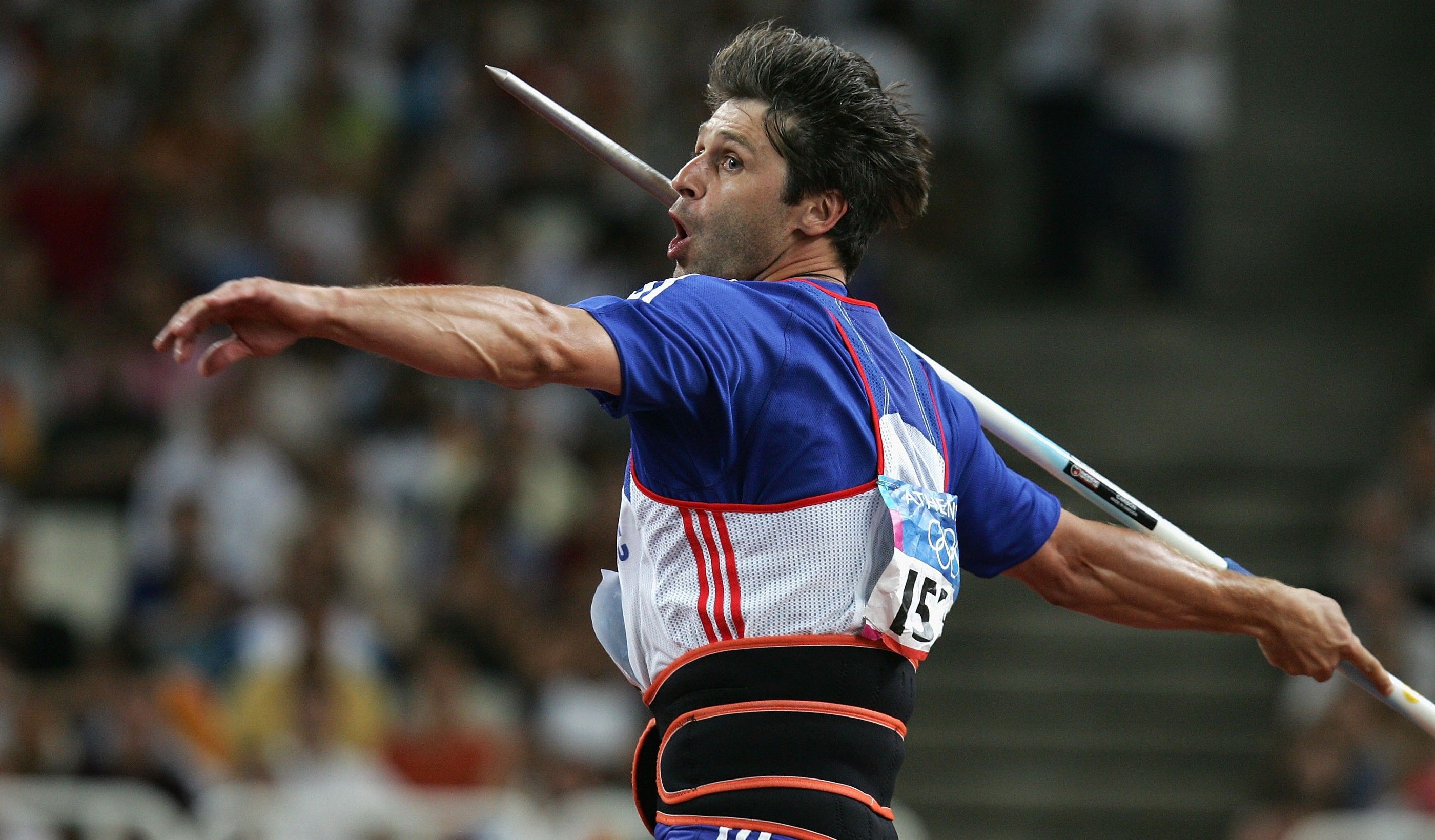 Czech javelin legend Jan Zelezny (© Getty Images)


He improved it three times to its current mark, 98.48m, which he set in Jena, Germany, in 1996. It meant Zelezny was responsible for a 7.67% improvement in the record. His mark seemed utterly untouchable for the next 24 years until September last year, when Germany's Johannes Vetter unleashed a 97.76m throw in Chorzow, Poland.
Cathal Dennehy for World Athletics