Stephenie-Ann McPherson and Steven Gardiner in the 400m at the Olympic Games (© Getty Images)
Women's 400m
Entries | timetable | world rankings | 2021 world list | world all-time list | how it works
The women's 400m in Tokyo looks wide open and there will be many athletes looking to make the most of the opportunity.
There is uncertainty regarding 2016 Olympic champion Shaunae Miller-Uibo of the Bahamas, who won silver in Doha with the fifth-fastest time ever (48.37) and posted the second-best time this year (49.08) in breaking the stadium record in Eugene, Oregon.
Miller-Uibo has said she is likely to run the 200m, where she is unbeaten this season, and not the 400m, going for only one event in Tokyo because the schedule does not easily allow for the double. However, she remains entered in both events and could still decide to opt for the 400m.
If Miller-Uibo does run the 400m, she will be considered the favourite, and it would set up a compelling Olympic rematch against the USA's Allyson Felix.
Miller-Uibo delivered one of the most lasting images of the Rio Games, diving at the line to edge Felix by 0.07 for the gold.
The 35-year-old Felix qualified for her fifth and final Olympics, and first as a mother, by using a strong finishing burst to place second at the US Olympic Trials in 50.02 behind Quanera Hayes' 49.78.
"It has been a fight to get here, and one thing I know how to do is to fight," Felix said. "I just did it all the way home."
Felix owns nine Olympic medals (six gold and three silver). Just one more medal and she will match Jamaica's Merlene Ottey in being the most decorated female track and field athlete in Olympic history, and equal Carl Lewis for most medals by a US track and field athlete.
Still chasing an elusive individual 400m Olympic gold, Felix qualified for Tokyo less than three years after giving birth to her daughter, Camryn, via an emergency delivery that threatened the life of both mother and child.
US trials winner Hayes is also the mother of a two-year-old child. She brought her son, Demetrius, on the track to celebrate along with Felix and her daughter after the 400m final in Eugene.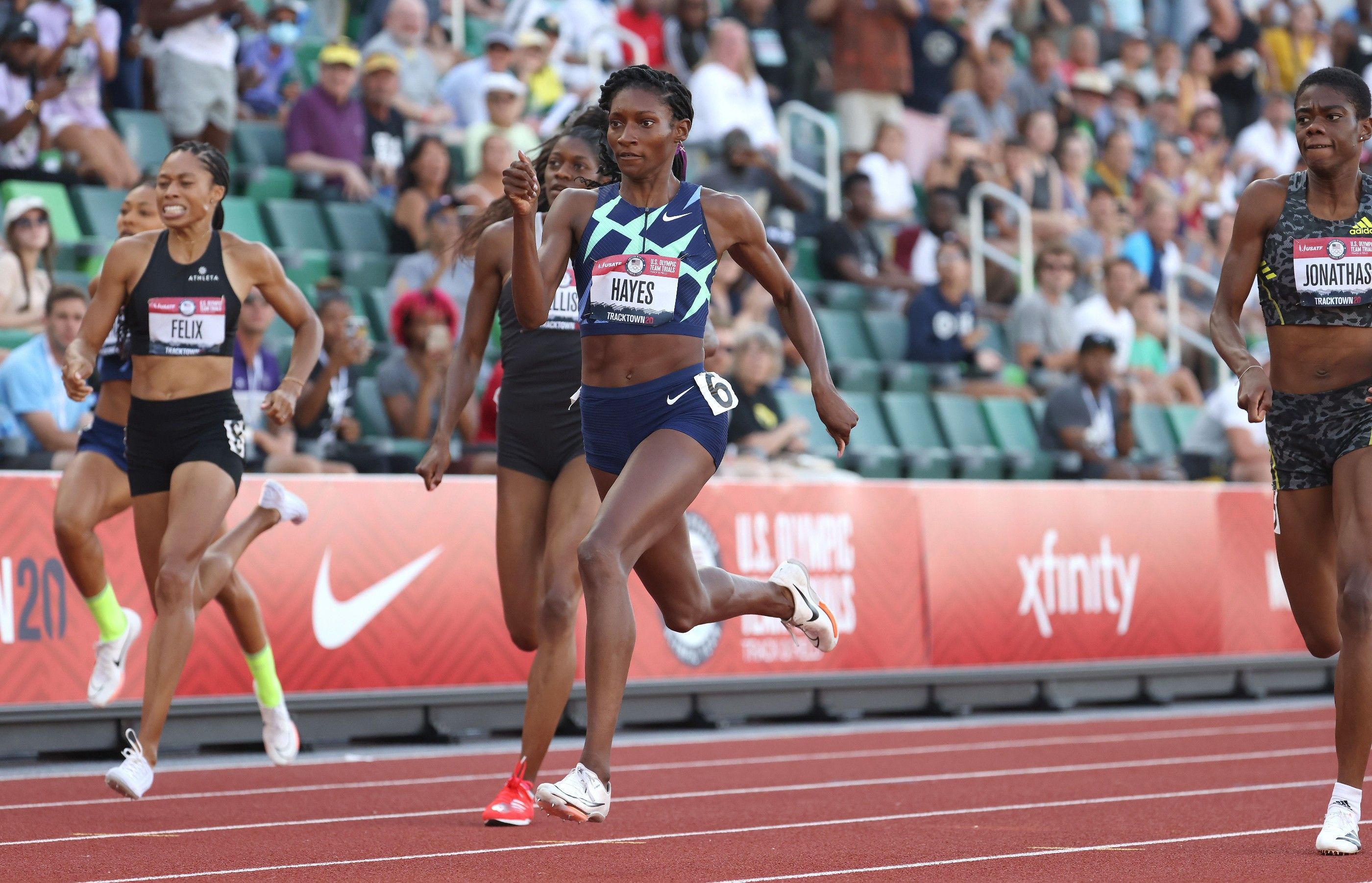 Hayes and Wadeline Jonathas, who finished third at the trials in 50.03, will be making their Olympic debuts in Tokyo.
Another leading contender is Stephenie-Ann McPherson, who ran a personal best of 49.61 in winning the Jamaican trials in Kingston on 27 June. McPherson, who finished sixth in Doha, won a 4x400m relay silver medal in Rio and relay bronze in Doha.
She heads to Tokyo off the back of a series of wins, her most recent being at the Wanda Diamond League meeting in Gateshead on 13 July. "I came out here to Gateshead to work on my technique and other areas," she said. "Now the preparation begins and watch out for Stephenie McPherson."
Also in the mix could be the in-form Marileidy Paulino of the Dominican Republic, who set a national record of 49.99 in June and is unbeaten in nine races over the distance this year. She also earned a bronze medal in the mixed 4x400m at the World Athletics Relays in Poland.
The 2019 European indoor silver medallist Cynthia Bolingo, who set three Belgian records in the lead-up to Tokyo, now has a best of 50.29 and will be targeting a place in the final.
Jamaica's Shericka Jackson, bronze medallist in the 400m and silver in the 4x400m relay in Rio and a two-time world bronze medallist at the distance, decided to move down to the 100m and 200m for Tokyo. Athing Mu, the 19-year-old American middle-distance star, produced the fourth-fastest 400m this year (49.57) but has chosen to run the 800m in Tokyo.
Steve Wilson for World Athletics
Men's 400m
Entries | timetable | world rankings | 2021 world list | world all-time list | how it works
For so long, US runners had dominated the Olympic men's 400m, winning gold in seven straight Games from 1984 to 2008. Then Grenada's Kirani James broke the streak in 2012 and South Africa's Wayde van Niekerk claimed gold – and the world record – in 2016.
The time may have come for the USA to reclaim the one-lap throne.
Michael Norman, considered one of the faces of the future of US track and field, shapes up as the favourite for gold in Tokyo. His USA teammates Randolph Ross and Michael Cherry are also title contenders in a highly-competitive field that also includes Van Niekerk and reigning world champion Steven Gardiner of Bahamas.
The 20-year-old Ross, son of former Olympic hurdler Duane Ross, has the world's fastest time this year after winning the NCAA title in June in 43.85, putting him 13th on the world all-time list.
But it was Norman who prevailed at the US Olympic Trials nine days later, clocking 44.07 for the year's second-best time. Cherry, a world relay gold medallist, finished second in a personal best of 44.35, fourth-best this year, and Ross was third in 44.74.
The 23-year-old Norman is viewed by many as the potential heir apparent to US 400m greats such as Lee Evans, Quincy Watts and Michael Johnson.
"In terms of the pressure, do I feel obligated to live up to these hypes?" asked Norman, who is coached by 1992 Olympic champion Watts. "I don't feel obligated to live up to them. I would like to live up to them."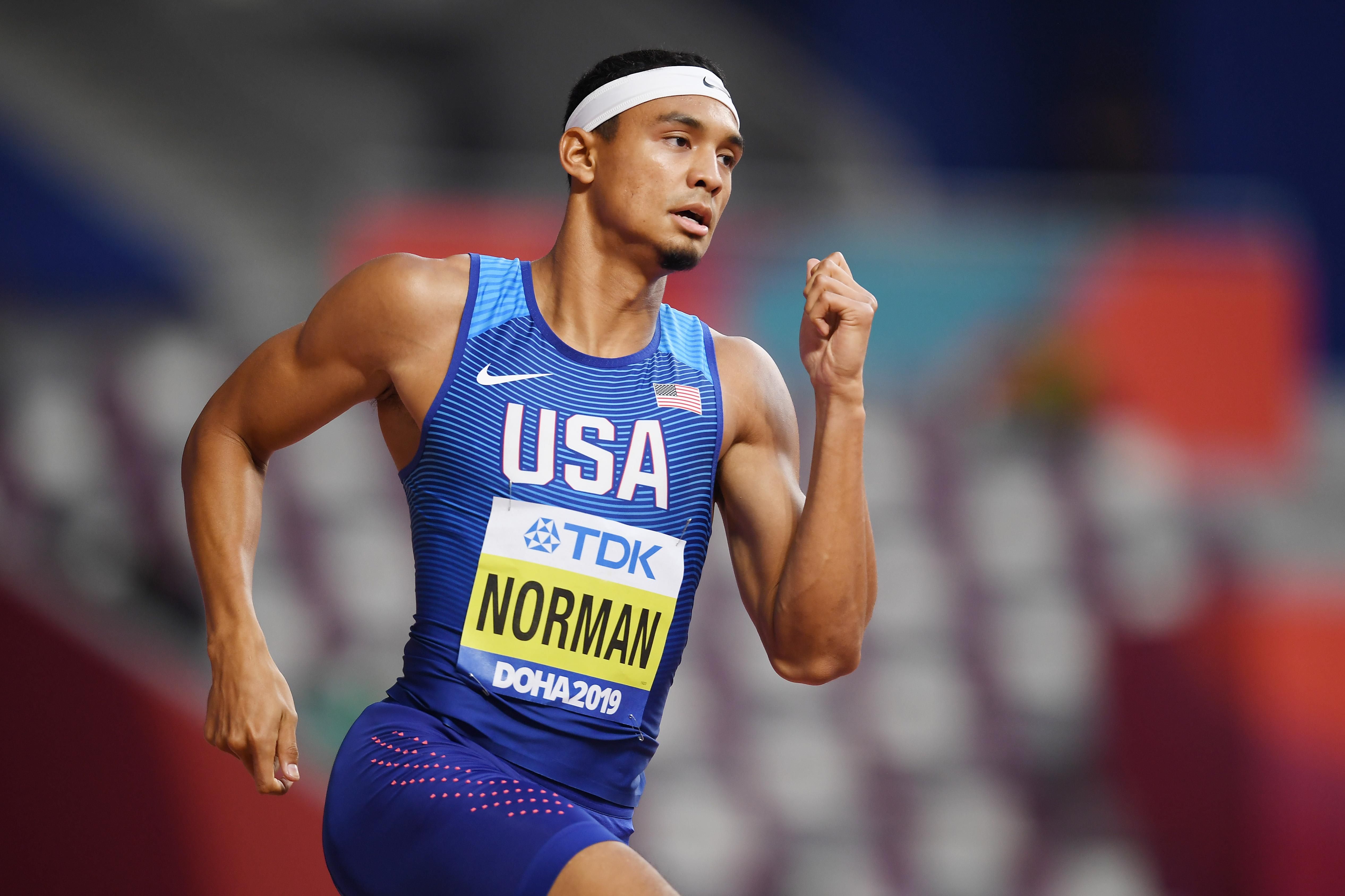 This will be the first Olympics for Norman, who narrowly missed qualifying for the 2016 Rio Games when, as an 18-year-old high school student, he made a name for himself by beating Justin Gatlin in the 200m semifinals at the US trials.
Norman went on to claim the world U20 200m title later that year and captured four NCAA titles at the University of Southern California. He posted the world's fastest 400m times in 2018 and 2019, and is joint fourth on the all-time list with a personal best of 43.45. He also holds the indoor 400m world record of 44.52.
Hobbled by a lingering hamstring injury, Norman failed to make the final at the 2019 World Championships in Doha. But he has been flashing top form in this Olympic year. He has won five of seven races this season, including the Diamond League meeting in Doha in May where he ran 44.27. He finished third in his most recent 400m race, clocking 44.65 on 6 July in Szekesfehervar, Hungary.
Norman and Van Niekerk are the only two men who have run under 10 seconds in the 100m, 20 seconds in the 200m and 44 seconds in the 400m. Many experts believe Norman is the man who will break Van Niekerk's world record and become the first to go under 43 seconds.
Competing in Tokyo has special significance for Norman, whose mother, Nobue Saito, was born in Japan and set a national middle school record in the 100m. Norman, who enjoys celebrity status in Japan, has been learning some Japanese ahead of the Games.
Winning a gold medal in Tokyo would elevate him to superstar status in both countries.
What about the defending Olympic champion and world record-holder?
Since breaking Michael Johnson's 17-year-old world record in Rio, Van Niekerk's career has been beset by injuries. The two-time world champion tore his ACL in a charity touch rugby match in 2017 and has competed very little since.
Van Niekerk left it late to qualify for Tokyo, running 44.56 in Madrid on 20 June in a race where he finished second to Colombia's Anthony Jose Zambrano, the Doha world silver medallist. It was the first time Van Niekerk has run under 45 seconds in four years.
While the South African may not be in his 2016 form, Americans Ross and Cherry figure to be in the thick of the medal chase.
Gardiner, who took gold in Doha in 43.48, has won five of his six 400m races this year, including a run of 44.47 in Szekesfehervar on 6 July when he finished ahead of Bryce Deadmon, Norman and Cherry. In fact, his only loss was when he fell during a race in Fort Worth.
As well as his world title win in a national record, he also claimed world silver in London in 2017.
Zambrano won three of four races this season, including a best time of 44.51 in Madrid in June.
Also in contention could be Isaac Makwala of Botswana, who posted a season's best 44.47 in Chorzow, Poland, in June.
Ten years after his stunning win as a teenager at the London Games, James has flown under the radar but he did run a season's best 44.61 in Doha in May.
Steve Wilson for World Athletics