Malaika Mihambo competes in the women's long jump final at the Tokyo 2020 Olympic Games (© Getty Images)
For the most part the women's long jump final in Tokyo on Tuesday (3) was more like an arm wrestle than a jumping competition, so closely matched were the leading contenders.
In the end it took one moment of brilliance to claim the Olympic gold medal.
World champion Malaika Mihambo trailed until the final round, when she unleashed the only seven metre jump of the competition to snatch victory.
Until then, the USA's 2012 Olympic champion Brittney Reese and Nigeria's Ese Brume had traded the lead through the first five rounds.
Brume opened with a 6.97m leap that kept her in the hunt for the gold medal until the last moments of the contest.
Reese joined her with a 6.97m best in the third round and for much of the competition it appeared likely that the gold medal would be decided on a countback between them.
Meanwhile Mihambo, who has struggled to find her rhythm on the runway all season, was gradually finding her range.
She jumped 6.83m in the first round and 6.95m in the third round to leap into a medal position but was still in third when the final round began.
None of the five athletes before her could challenge for the medals so Mihambo knew the bronze was secure and she had nothing to lose on her final jump.
The 27-year-old German flew down the runway and launched herself, touching down exactly seven metres into the sandpit to take her first Olympic title.
Brume jumped next and register 6.90m, leaving Reese with one last chance to take her second Olympic gold medal.
The 34-year-old American, arguably the greatest female long jumper in history, is an expert in these situations, and Mihambo could not watch as her rival began her run.
But Reese could not find one last moment of magic before she leaves the stage. Her last jump measured 6.84m and the gold moved to a new generation with Mihambo, who promptly burst into tears.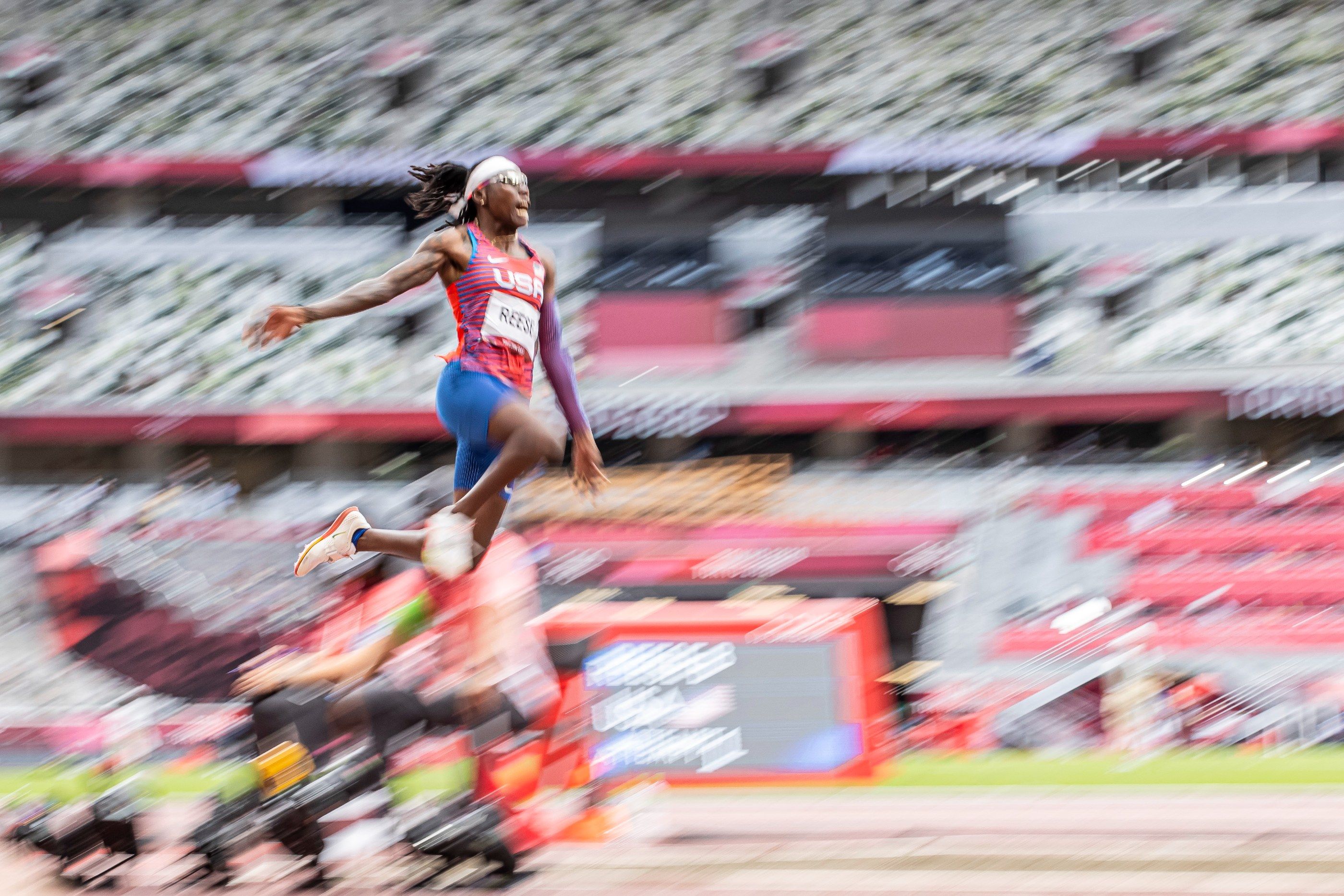 (© Christel Saneh)

"This means really a lot – the last year was not easy for me, I struggled a lot with my run up," she said afterwards.
"It was not easy to come back, to find my strength, to find my approach, so I'm particularly grateful, thankful, overwhelmed and really happy that in the end I was still able to compete on a really high level, show my best and win a gold medal."
Mihambo said she tapped into every ounce of inner strength she possessed to produce her best performance on the last jump.
"I told myself this is the last chance to show what's in you," she said.
"I knew there was more in me than 6.95m and I knew I wanted to go from the stadium with a smile on my face, knowing that I gave my best. It was not about the medal, the colour of the medal, for me it was about being able to give my best, so I was concentrating on the trust I have in myself and my capabilities and my inner strength. Then I felt just calm."
Reese took the silver medal, defeating Brume on a countback as her second best jump was 6.95m to Brume's 6.88m. Reese ends her global championship career with an unprecedented 11 long jump medals, eight of them gold.
She said she was ready to pass the torch to a new generation, headed by Mihambo.
"I am used to beating people on the sixth jump so it's kind of funny to get beaten that way," she said. But I am grateful, I am blessed. The younger athletes are moving up. I have done all I can and it's time to move on."
As Brume did at the World Championships in Doha in 2019, she took the bronze medal, Nigeria's first athletics medal in Tokyo.
"I am super excited, I can't express how I feel," she said.
"The journey this season was hard. I was injured in the middle of the season but I was able to continue and move forward thanks to my coach and everyone who has supported me."
For the first time in the history of the event, the top eight women in the final all jumped more than 6.80m. At times you could have thrown a handkerchief over the best marks of all eight athletes.
Fourth-placed Serbian Ivana Spanovic (6.91m) was six centimetres from a medal, with fifth-placed Ukrainian Maryna Bekh-Romanchuk (6.88m) just three centimetres behind. US college star Tara Davis (6.84m), Australian Brooke Stratton (6.83m) and Briton Jazmin Sawyers (6.80m) rounded out the top eight.
Nicole Jeffery for World Athletics
WOMEN'S LONG JUMP MEDALLISTS
🥇
Malaika Mihambo 🇩🇪 GER
7.00m
🥈
Brittney Reese 🇺🇸 USA
6.97m
🥉
Ese Brume 🇳🇬 NGR
6.97m
Full results